This blog post is in partnership with The Quaker Oats Company, but all opinions expressed are my own.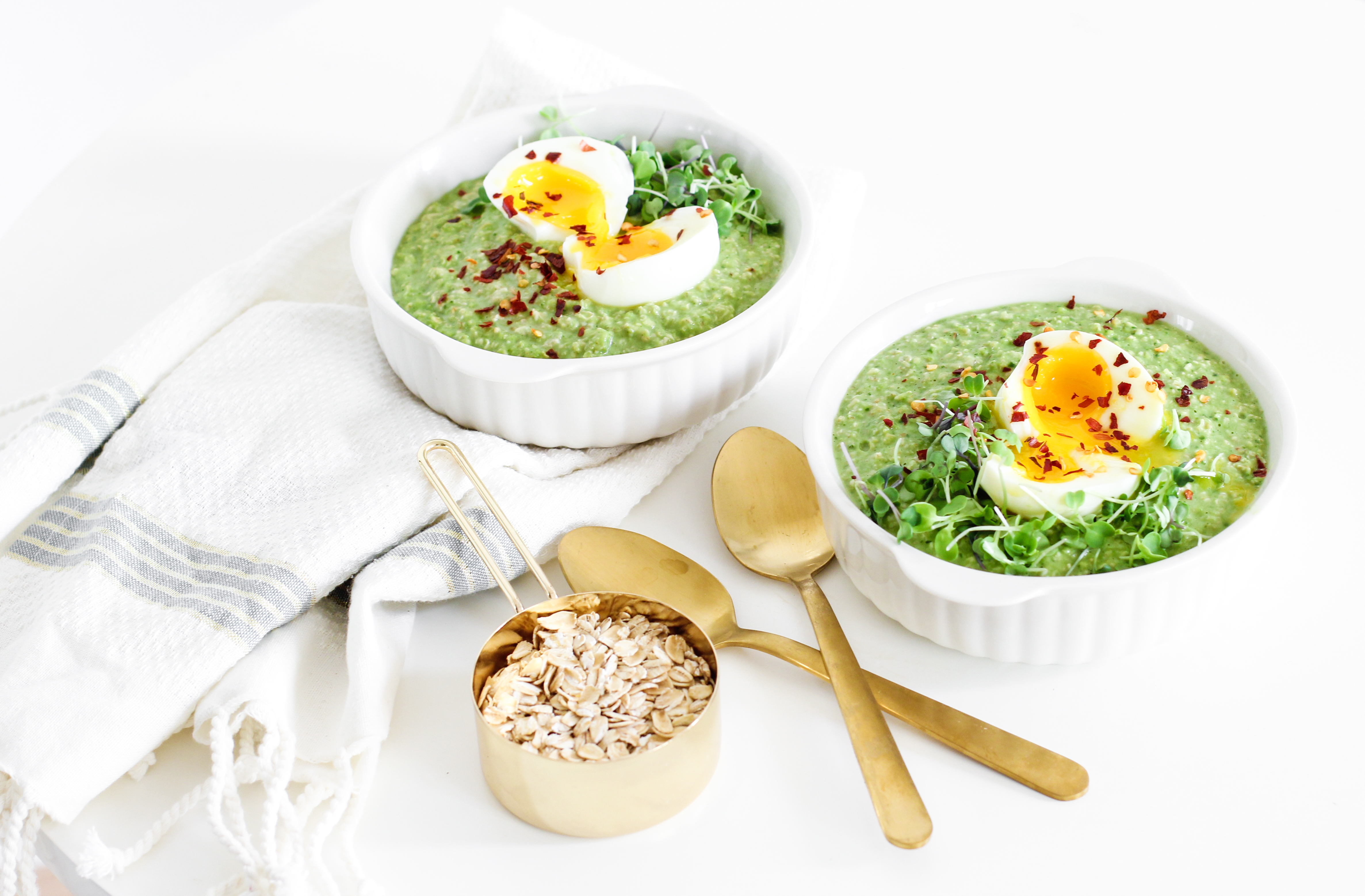 In college, I ate oatmeal EVERY single day from freshmen to senior year. True story – all of my old roommates can all confirm this! While for most people coffee comes to mind first thing in the morning, it was a running joke in our apartment that I did not (and could not) function for the day without eating my bowl of oatmeal first.
Oatmeal is such a quick and easy meal that I found comfort in the daily routine. It also helped that you can find a canister of Quaker oats at most grocery stores and it fit perfectly into my college budget. It cooks quickly, stores in the pantry forever, and can be made into a nutritious meal. I found myself eating it not only for breakfast, but for lunch, dinner and even as a snack.
Four years of oatmeal for breakfast has given me a million opportunities to experiment with the ways to eat it (it's just so versatile!). But for me, savory is ALWAYS the way to go.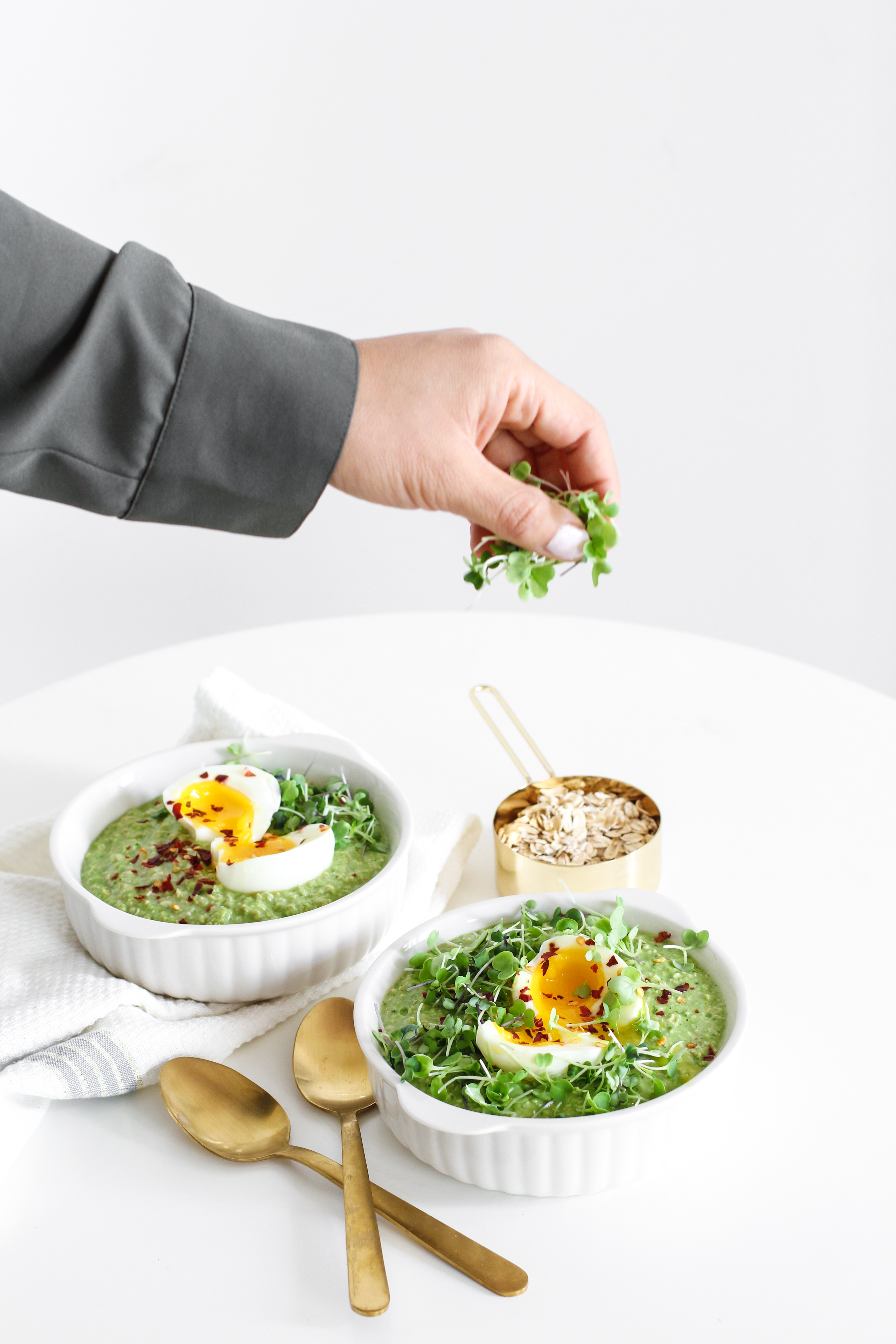 In true essence of a nutrition fanatic, I'm always down to throw some greens into a meal whenever possible. This recipe is the perfect way to get some greens in the morning – can you guess the secret ingredient?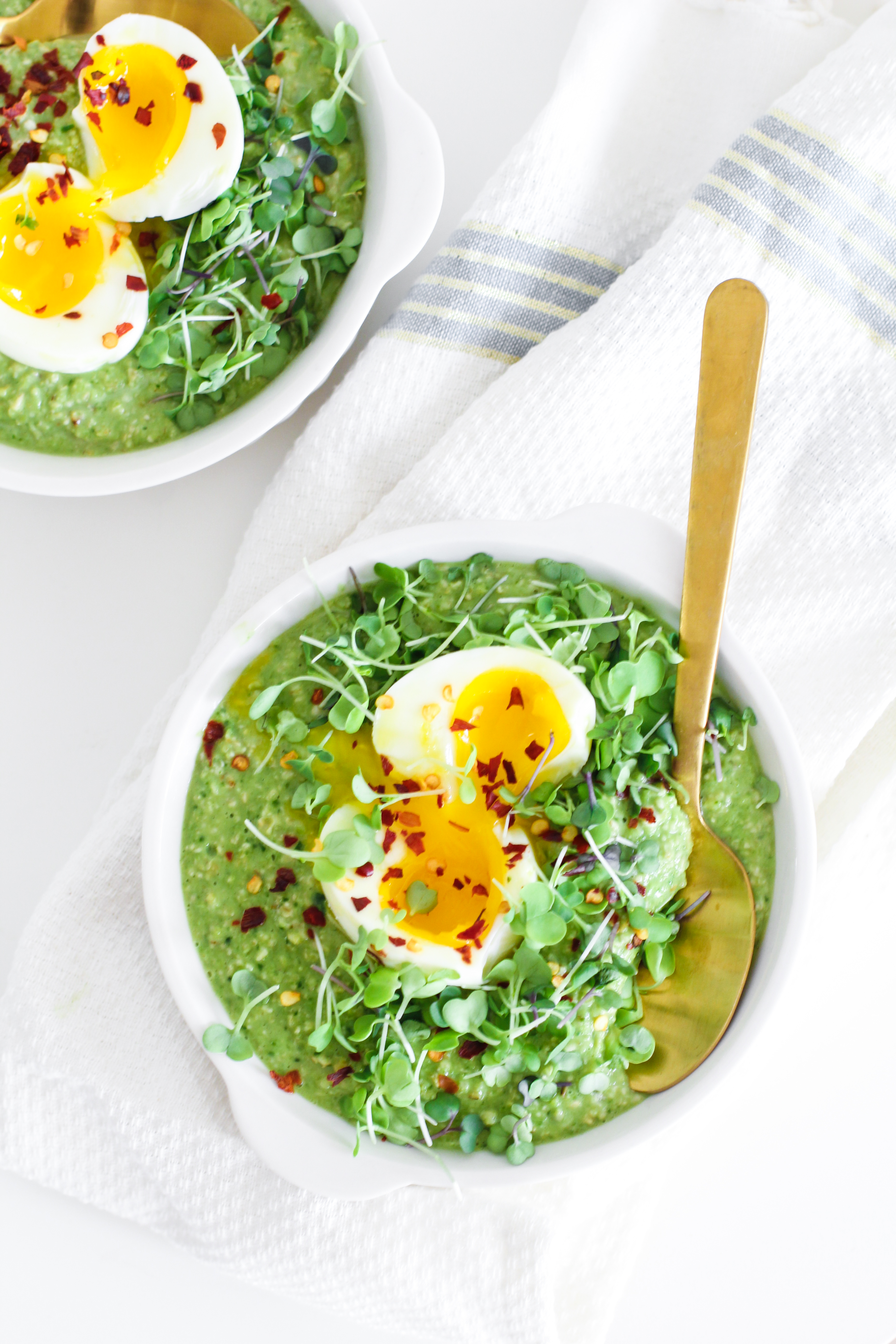 Broccoli stalks.
Yep, the same stalks you probably threw away last night after roasting those beautiful florets.
But really, how many times have you thrown away broccoli stalks? (I'm totally guilty of this too!) The reality is broccoli stalks are just as nutritious as the florets. We don't tend to be as mindful as we should about this, but how many times have you thrown away produce that you either bought too much of or just didn't get to on time (maybe both…guilty here too!)?
According to the U.S Environmental Protection Agency, approximately 130 billion pounds of food goes to waste each year (mainly fruits, vegetables, dairy and grains!). Given that food insecurity and hunger is still a big problem in this country, we could all do our parts to be more conscious of the food waste we individually produce. That's why I'm partnering with Quaker who launched More Taste, Less Waste this fall in partnership with James Beard Foundation to create recipes that explore all the ways to use oats to "rescue" often-wasted foods.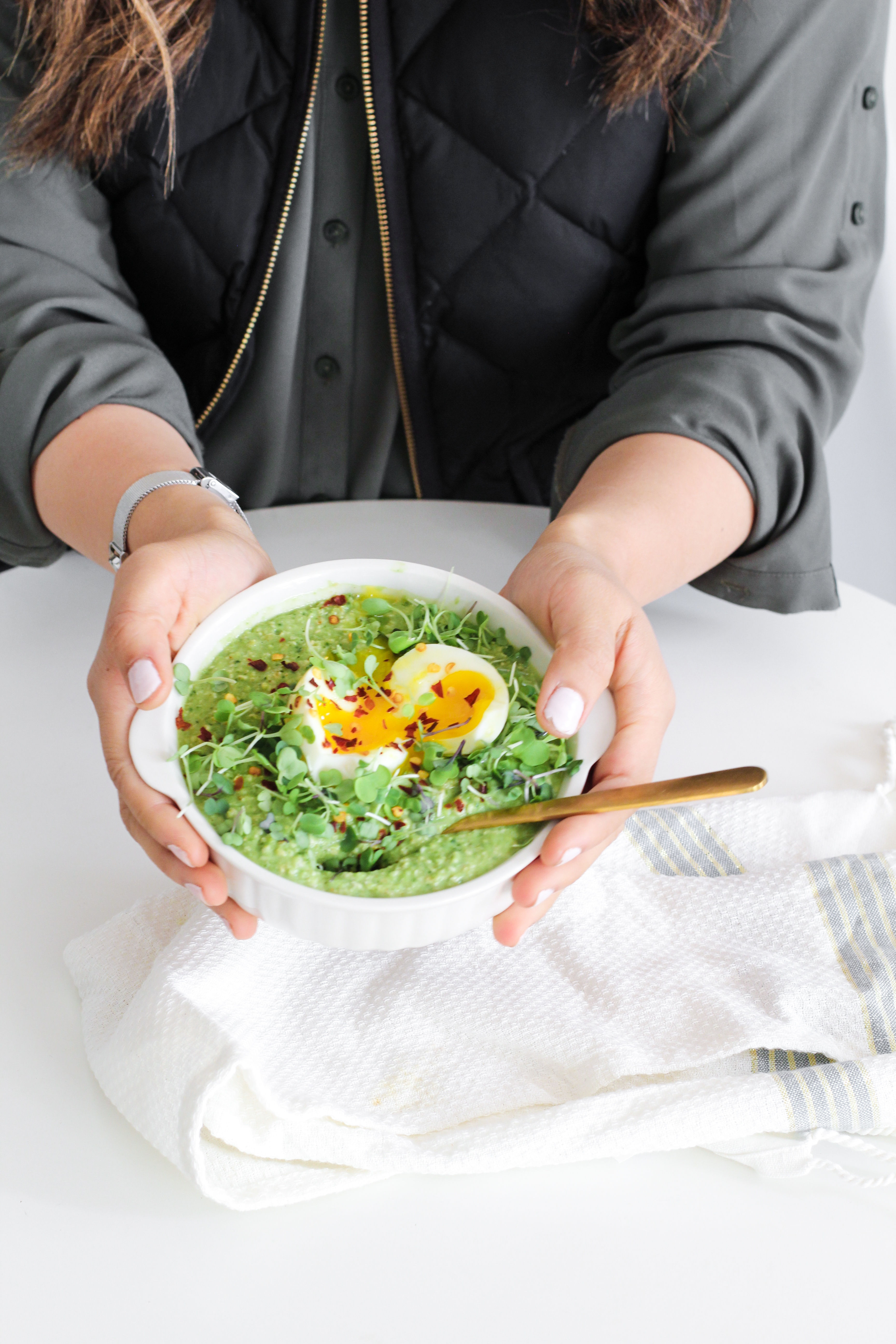 I love a good plate of roasted broccoli but always have the tendency to toss the stems. But it's incredibly easy to revamp it and turn it into a meal – like tossing it into a puree with spinach and avocado, and then combining with oats to make this savory bowl of YUM. And obviously, you can't go wrong with a soft-boiled egg on top.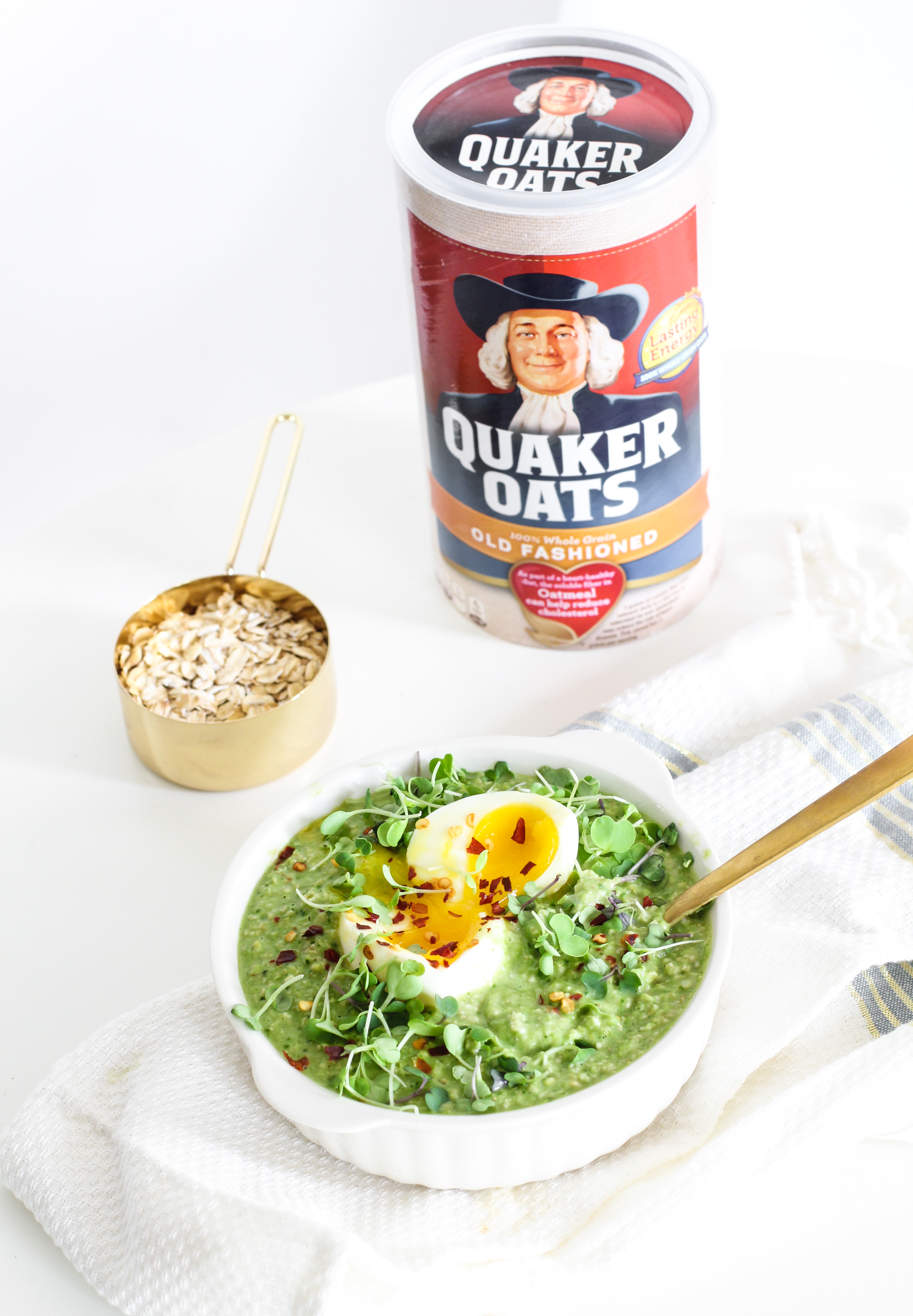 The combination of the fiber from the oats AND broccoli paired with the additional healthy fats and protein is a nutrition POWERHOUSE in my book. Perfect for breakfast, but honestly great for anytime of the day. Chances are you'll already have all of these ingredients in your pantry – this recipe is quick + easy, cleans up your fridge when things are low in inventory, AND makes sure you're getting in your greens for the day. That's truly the power of making the foundation of the foods you eat come from real, wholesome ingredients. Greens and grains – both are definitely my staple items!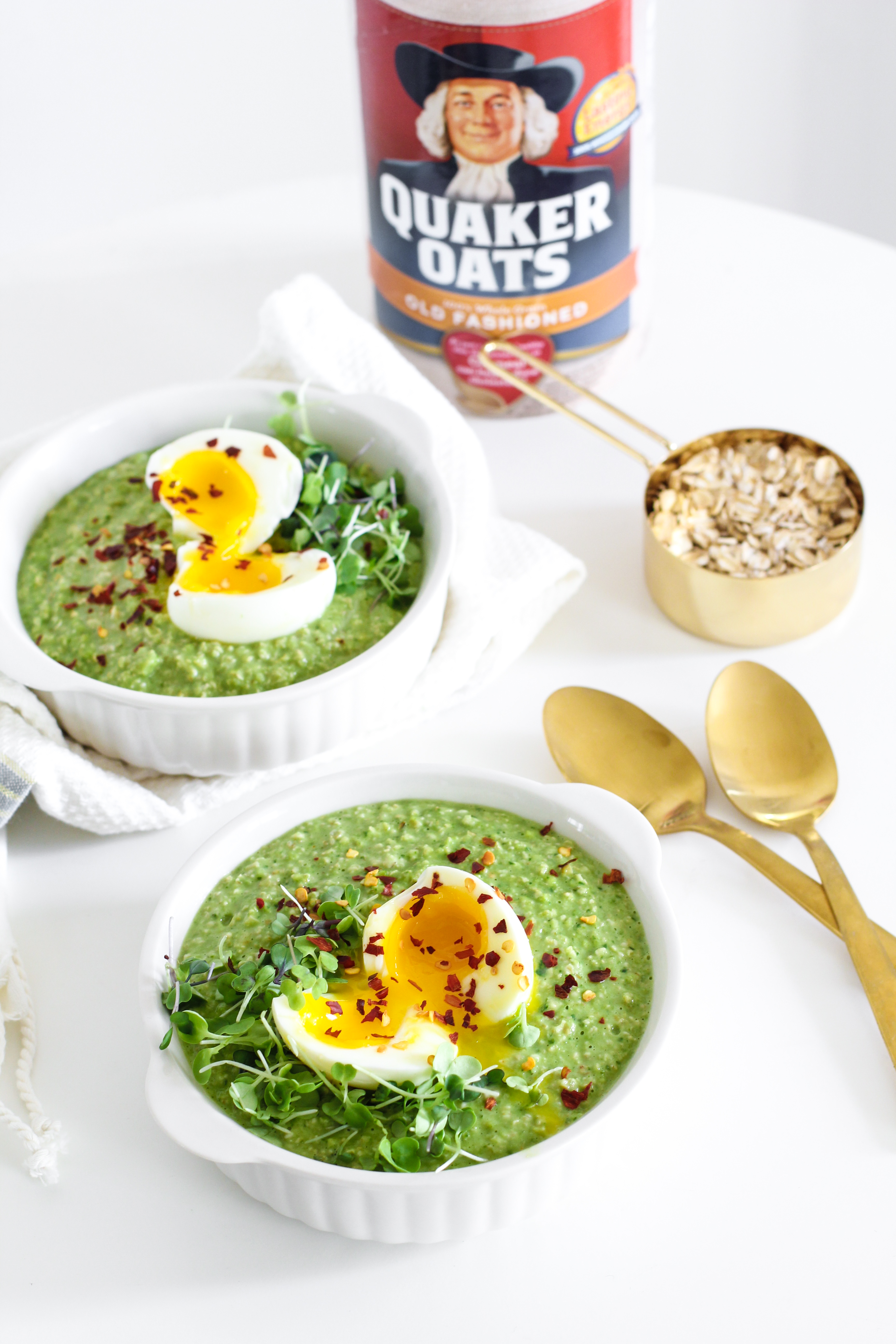 Savory Green Veggie Oatmeal
2017-10-14 21:12:51
Serves 1
A vegetable packed, hearty and delicious oatmeal for anytime of the day.
Ingredients
½ cup Quaker Old Fashioned Oats
1 cup of broccoli stalk
1 cup of spinach
½ avocado
⅓ cup almond milk
1/4 cup microgreens
2 tbsp nutritional yeast
1 tsp garlic powder
1 tsp red pepper chili flakes
1 large egg
Salt / pepper
Instructions
To prepare broccoli puree, add broccoli stalks, spinach, avocado, almond milk, nutritional yeast, and garlic powder to a food processor. Blend until smooth. Set aside.
In a small sauce pan, add 1 cup of water and bring to boil.
Add in oats and stir - reduce to medium heat and simmer until tender, for around 5 minutes.
In a separate sauce pan, fill up halfway with water and bring to a boil. Add in egg, cover the saucepan and cook for 6 minutes. Immediately remove the egg and place in an ice bath. Remove eggshell prior to serving.
Transfer oatmeal to bowl. Add in 3 tbsp of the vegetable puree and mix in well. Top oatmeal with an egg and microgreens; season with salt, pepper, and red pepper chili flakes as desired.
Nutrition Happens http://www.nutritionhappens.com/
(Visited 2,002 times, 1 visits today)