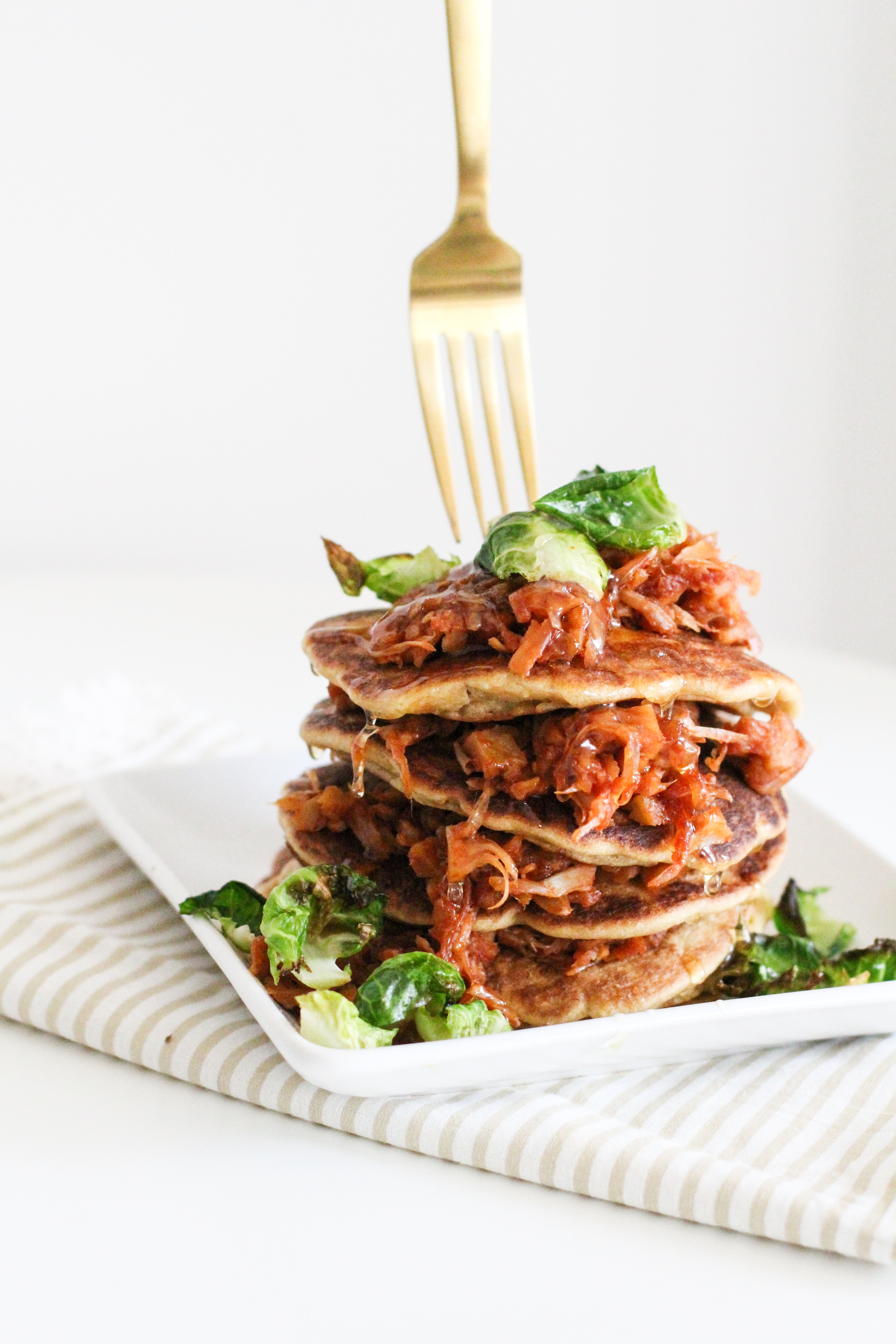 When was the last time you cooked for someone? Because if you're like me and are still scrambling around for a Father's Day gift, making Dad a home cooked meal is the perfect way to show him how much you appreciate him (and easy to pull together last minute!).
The best part is choosing the recipe and in my experience, there are two things that win over hearts of [most] men (well, at least my dad, anyway): bourbon and pancakes.
But hey now, let me make a point clear. Cooking for someone does not mean spending all day in the kitchen from dawn to dusk. There are always, ALWAYS shortcuts in the kitchen you can take to make a meal that still leaves you extra time to hang out and catch up.
Case in point: these pancakes with a honey bourbon jackfruit topping. Low key, ready in about 30 minutes or so – exactly what you need for Father's Day on Sunday.
Have you guys cooked with jackfruit before? It's incredibly versatile and easier to work with than you may think. Usually you'll find lots of bourbon and pork recipes, but I went the savory meatless route for this one by tossing it in some honey and bourbon. I know I get my savory tooth from my Dad (making you proud on this one!). We both much prefer a burger over dessert, but this vegetarian update is a nice reminder to Dad that I also went to school for nutrition and highly encourage extra vegetables (hey, you're welcome Dad – always looking out for you!) Throwing in crispy brussels sprout chips is the perfect way to boost the vegetable content and add some nice texture in.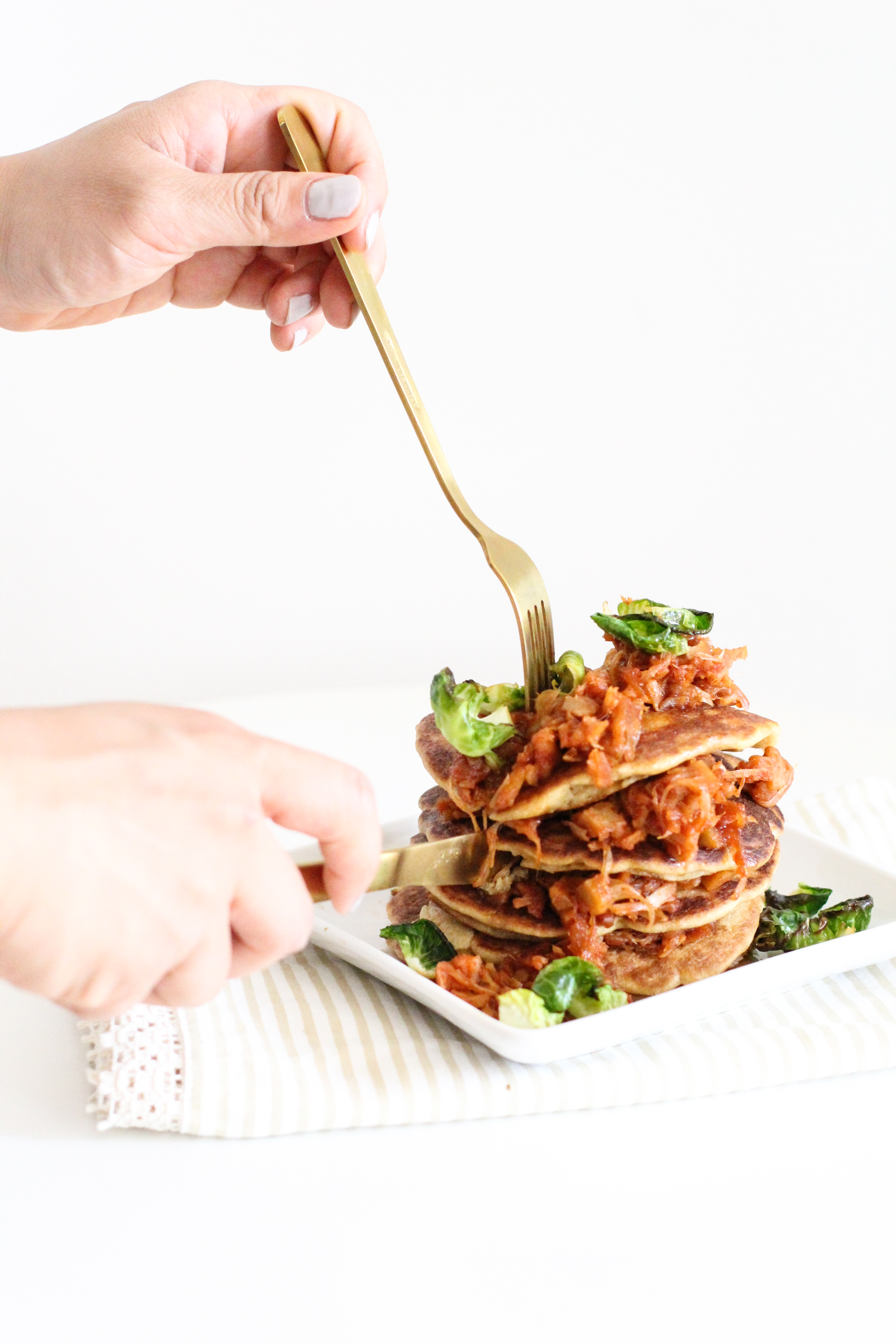 I used the Simple Mills Pancake Mix (a local company here in Chicago!) for the recipe and you guys…it's literally so easy to make. Take it from someone who loves shortcuts in the kitchen – just add eggs, water, and oil to the mix. The texture is phenomenal! I'm a huge fan of pancakes made with nut flour – the flavor is mild and again, the texture is everything. All the ingredients are wholesome and so on point. Did I mention how fast and easy they cook up again?
The bourbon in this recipe is from KOVAL Distillery, which is based here in Chicago, IL. KOVAL is a local distillery that makes organic whiskey and liqueurs. Ever since I moved to Chicago, I'm constantly discovering incredible companies in the city that are doing great things, always. You guys know how much I love to support locals!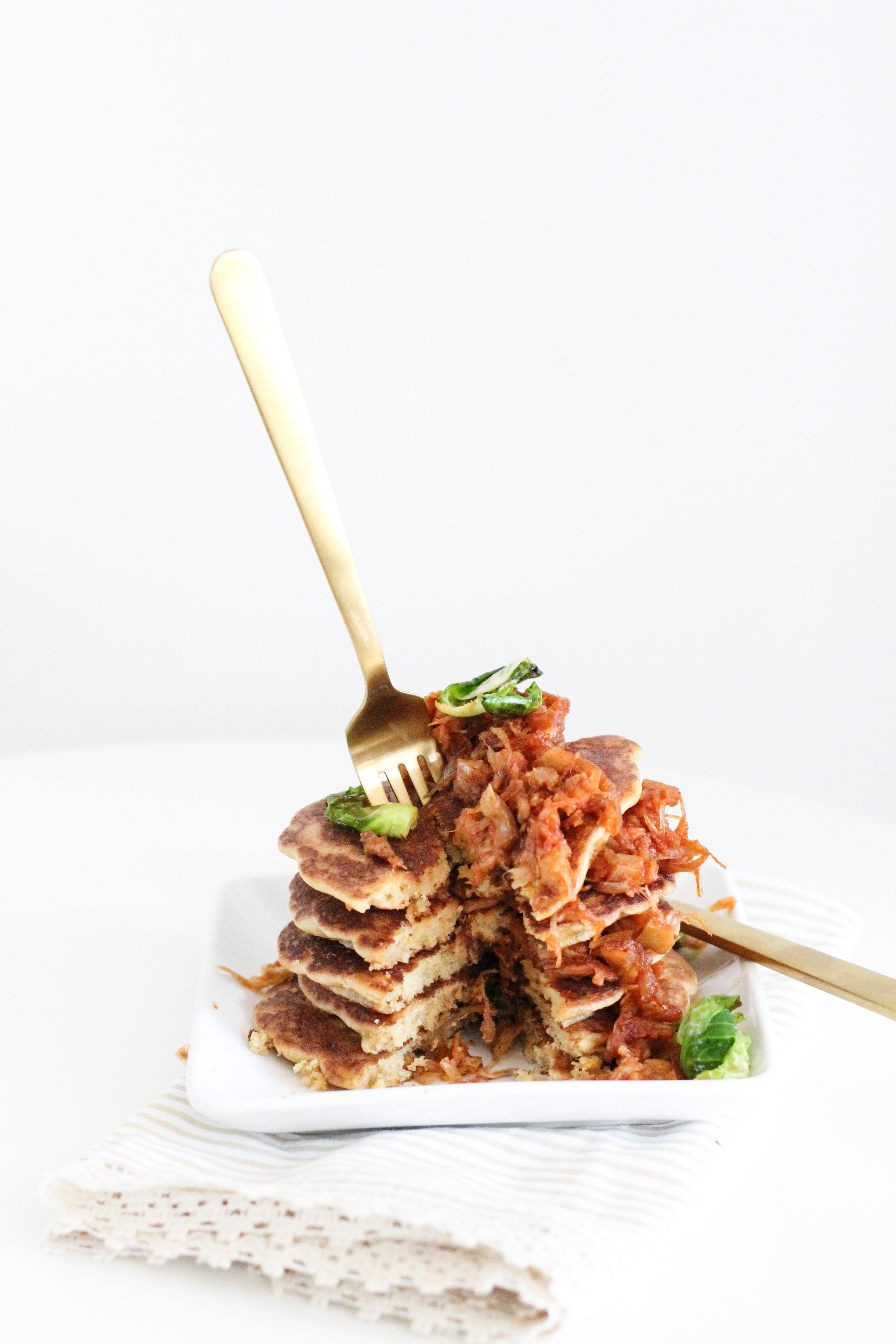 If you guys are still currently on the lookout for a Father's Day present, KOVAL Distillery and Simple Mills were kind enough to throw some FREEBIES your way!
Here are some GIVEAWAY details:
If you are a CHICAGO local: (1 winner)
-PRIVATE tour and tasting at KOVAL Distillery for your favorite dad and a guest
-Variety pack of Simple Mills Products
If you are a non-local: (5 winners)
-200ml bottle of KOVAL Bourbon for Dad
-Variety pack of Simple Mills Products
You can enter through this link HERE.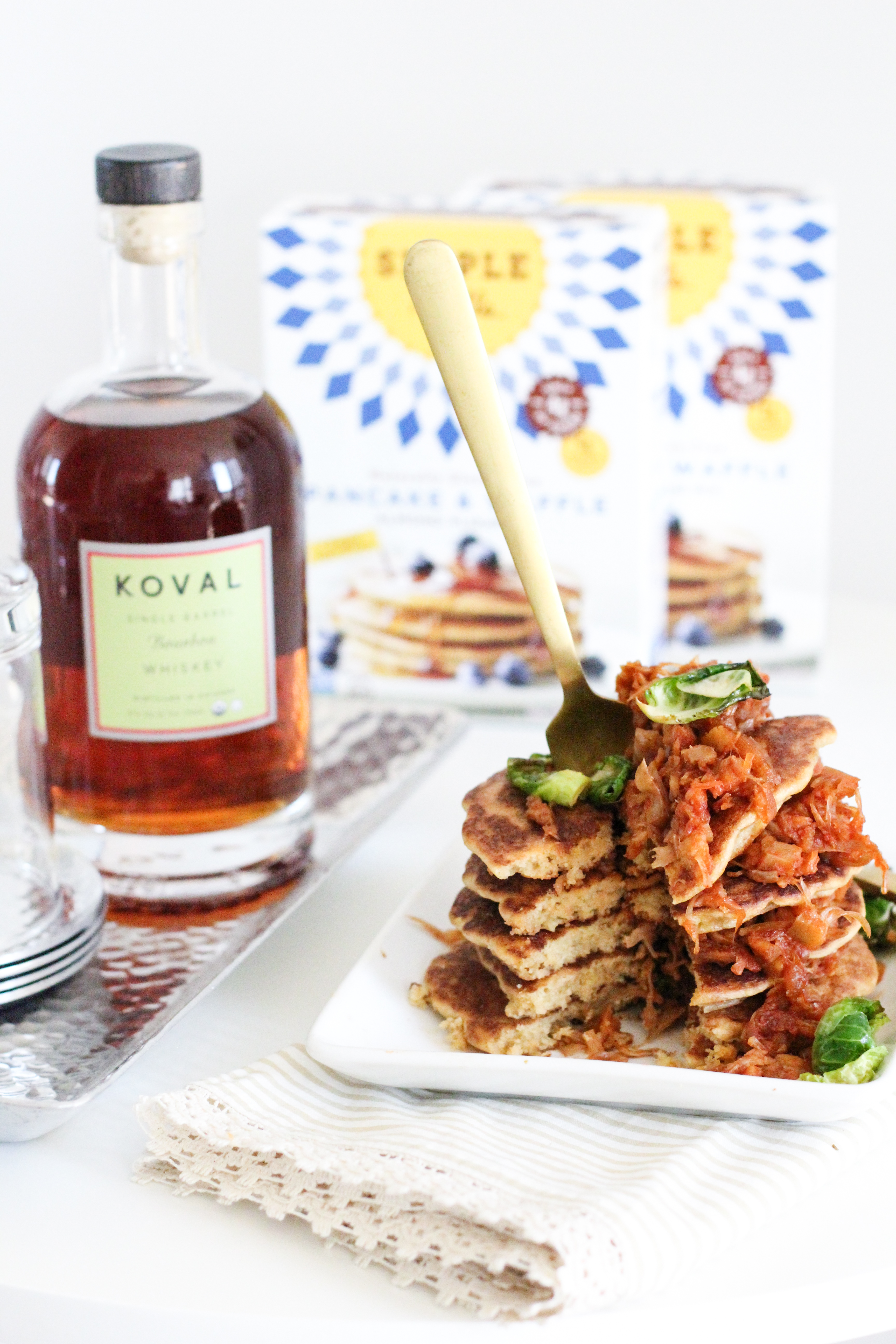 This post was written in collaboration with local Chicago-based companies Simple Mills and KOVAL Distillery. Thanks for supporting projects that make Nutrition Happen!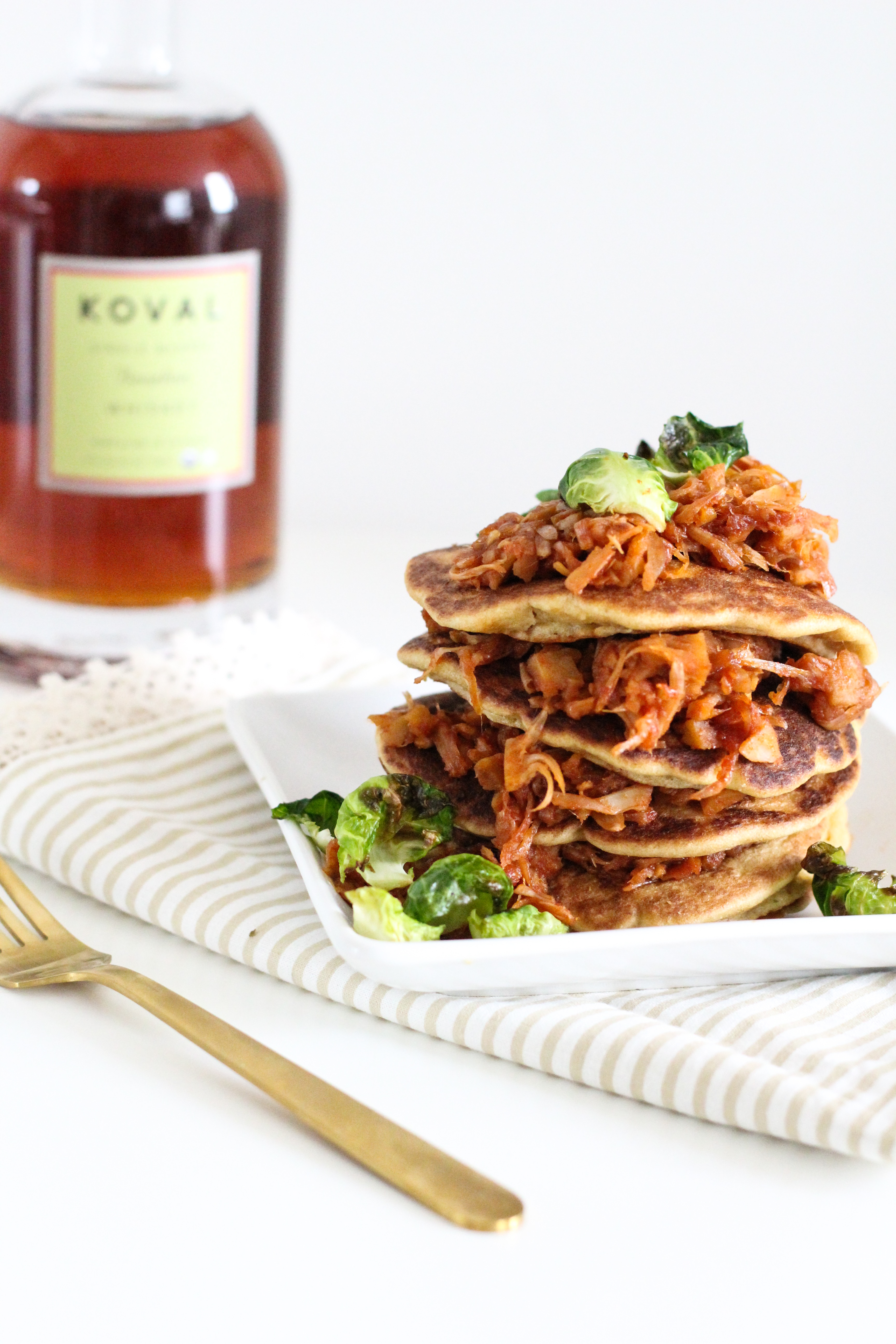 Savory Pancakes with Honey Bourbon Jackfruit and Brussel Sprouts
2017-06-12 19:30:26
Serves 4
Pancakes
1 box Simple Mills Pancake Mix
5 eggs
⅓ cup water
3 tbsp coconut oil
Topping
1 can jackfruit
⅓ cup Bourbon (I used the bourbon from KOVAL)
⅓ cup Honey
2 tbsp olive oil
2 tbsp tomato paste
1 tsp garlic powder
Brussel Sprouts
½ lb brussel sprouts
½ tbsp olive oil
Salt + pepper to taste
Pancakes
Whisk eggs, milk, and oil together.
Fold in pancake mix until batter is formed.
Over a medium stovetop, drop 3 tbsp batter for each pancake.
Cook pancakes until edges are dry; flip and cook until side is lightly brown (around 2-3 minutes).
Honey Bourbon Jackfruit
Add bourbon, honey, olive oil, and tomato paste together. Whisk until smooth. Set aside.
Drain and rinse the jackfruit.
Cut the core (the most dense portion) and pull apart the jackfruit for a shredded consistency.
Toss together jackfruit and garlic powder.
In a frying pan over medium heat, add jackfruit and saute for around 5 minutes.
Add in the honey bourbon mixture and cook for an additional 10 minutes, until jackfruit is tender.
Set aside.
Crispy Brussel Sprouts
Preheat oven to 400F.
Chop stems off from brussel sprouts and peel apart each individual layer from each sprout.
Toss together brussel sprouts, olive oil, and salt + pepper.
Transfer to baking sheet and roast for 10 minutes or until edges turn brown and crispy.
Assembly
Serve each pancake with honey bourbon jackfruit and crispy brussel sprouts - as desired.
Nutrition Happens http://www.nutritionhappens.com/
(Visited 200 times, 1 visits today)