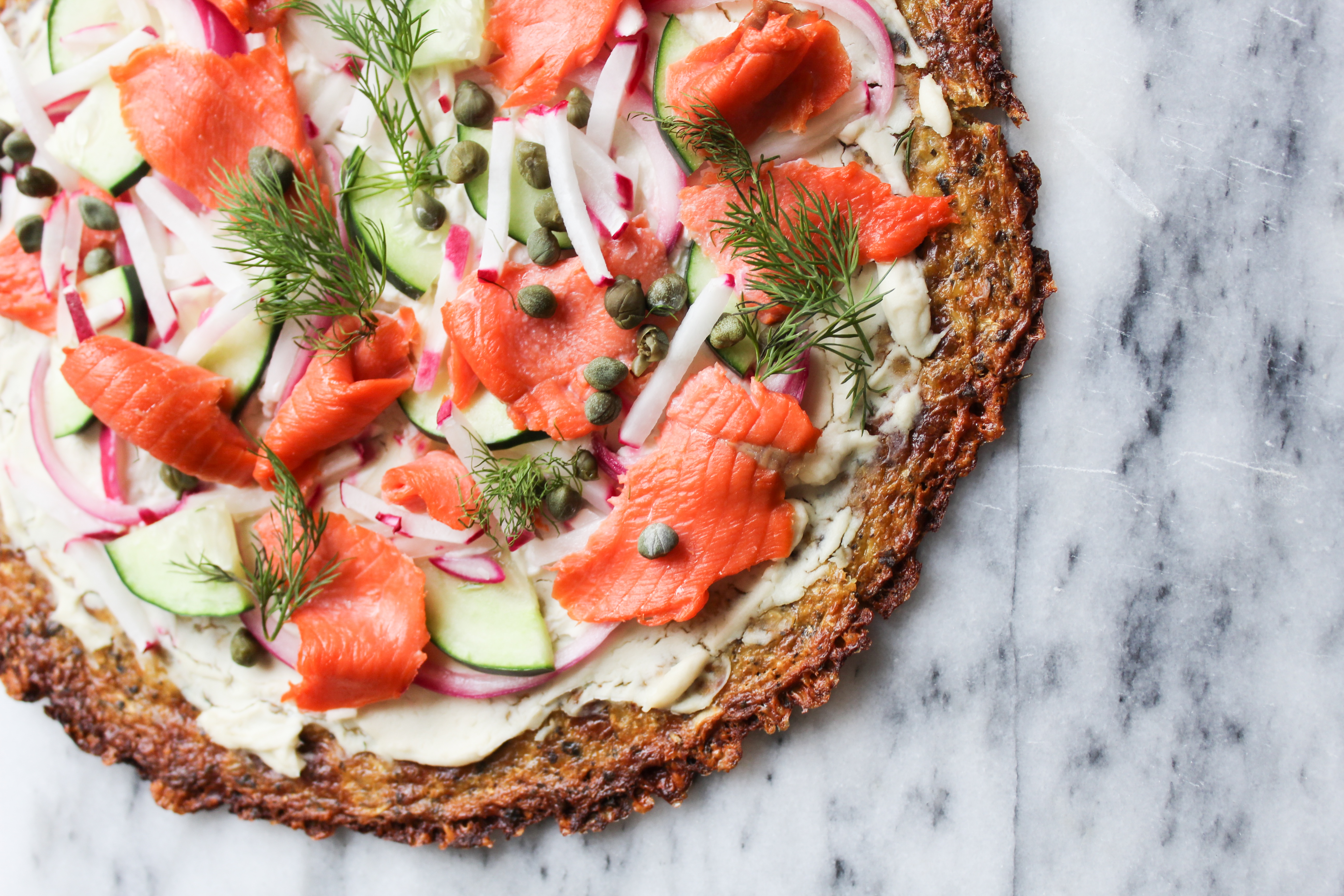 Top reasons I love a good pre-made pizza crust:
1. My meal is ready in less than 10 minutes.
2. There are fewer dishes.
3. Pizza.
4. There are FEWER DISHES!
5. Literally, prep time takes no work.
It's amazing how the food industry is expanding by the minute and healthier products like this are readily available. Have you guys tried making cauliflower crust yet? I don't know about you, but it's messy and I can't ever get the texture right.
Ever since I started grad school two years ago, I've always been on the search for the healthiest options that are also convenient – and believe me, they're out there! I get it – sometimes we're just looking for an easy way out on busy days, and that's totally okay. It's definitely a good thought to prepare meals to have ready for the week, but don't let the media trick you into thinking that if you don't have a perfectly prepared tupperware of chicken and roasted vegetables in the fridge, you're doing it wrong. It's okay to take the easy way out every now and then – breathe!
Like I said, the industry is making it easy to do so in a mindful way. Case in point: these pre-made crusts from Califlower Foods. While I obviously still cook (but let's be real, 1 pan meals are my EVERYTHING), there a few healthy grab and go places I like to frequent in the Chicago area for a healthy prepared meal like Snap Kitchen, Kitchfix, or the delivery service Eat Purely.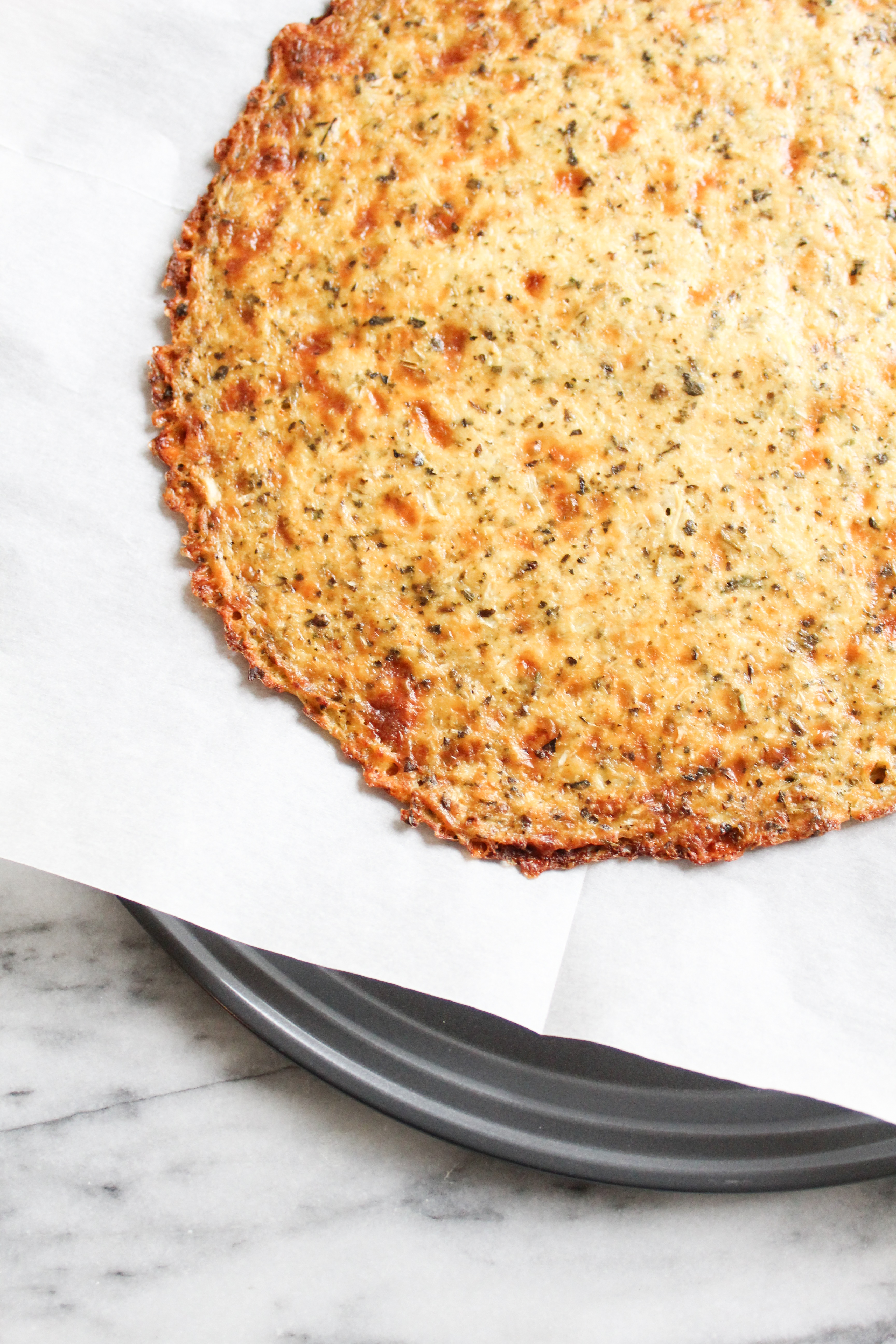 This pre-made cauliflower crust (the original italian) from Califlower Foods is made with these
5 ingredients:
cauliflower
mozzarella cheese
eggs
basil
garlic
If you're vegan or dairy-free, there's also a plant-based version made with cauliflower and almond meal and flax, which you can find here. There's also a sweet red pepper version – great for making little appetizer bites!
And while there is nothing wrong with a good slice of doughy pizza, cauliflower crust pizza might for you if you're looking to incorporate more vegetables into your life or just looking for a lighter meal.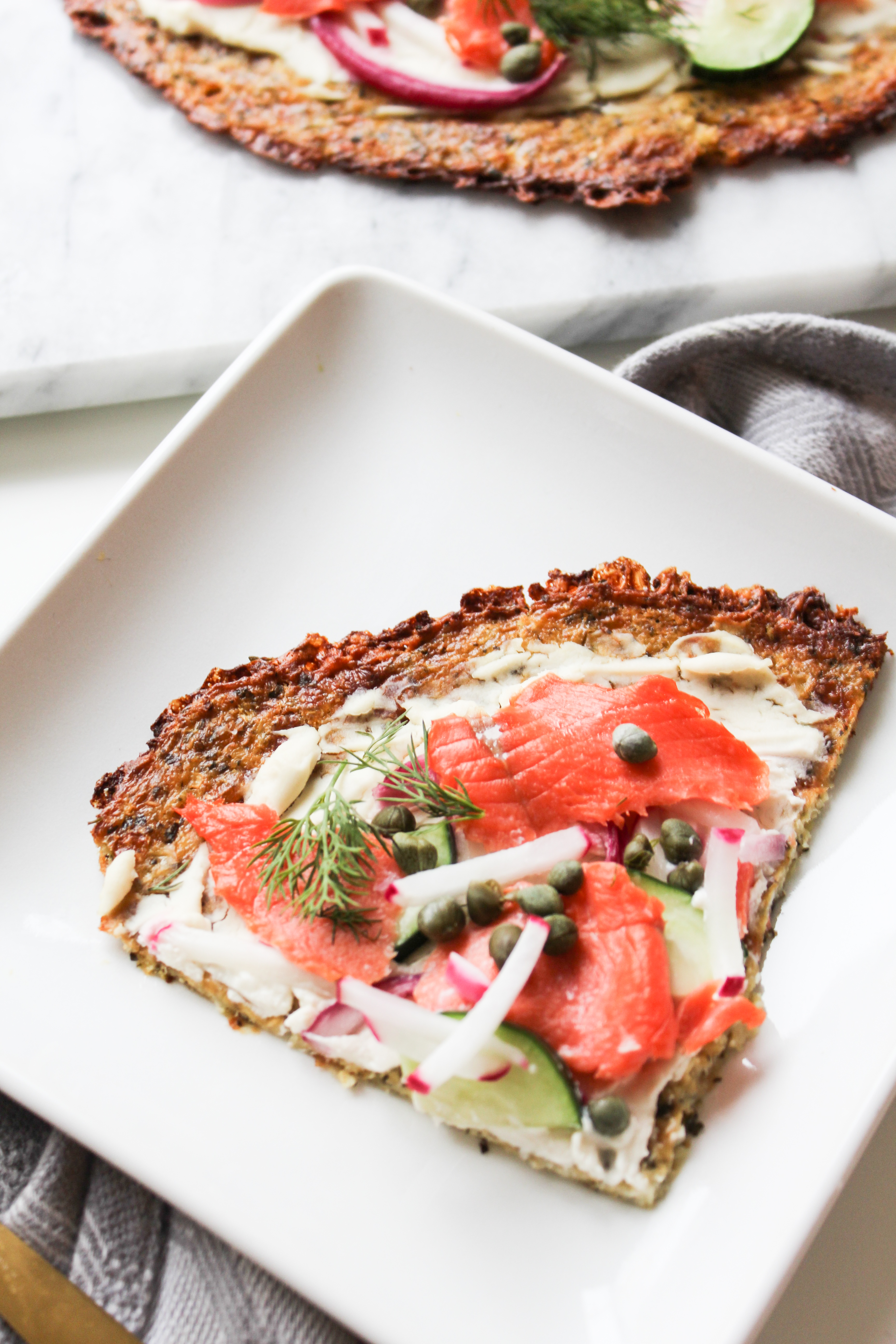 The best part about making a smoked salmon pizza is that the only thing you really "cook" is the crust. I used almond milk cream cheese for this one, but feel free to use the cream cheese of your choice. I typically get my smoked salmon (the wild versions) from Trader Joe's or Whole Foods. Any excuse to pile on vegetables, I'll do it – cucumbers, radishes, onions. Capers and dill option, but definitely recommended! This is like the pizza version of your favorite lox bagel.
My other favorite ways to do pizza is pile it high with different vegetables with either almond milk ricotta ("ricotta cheese" made from just almonds) or goat cheese.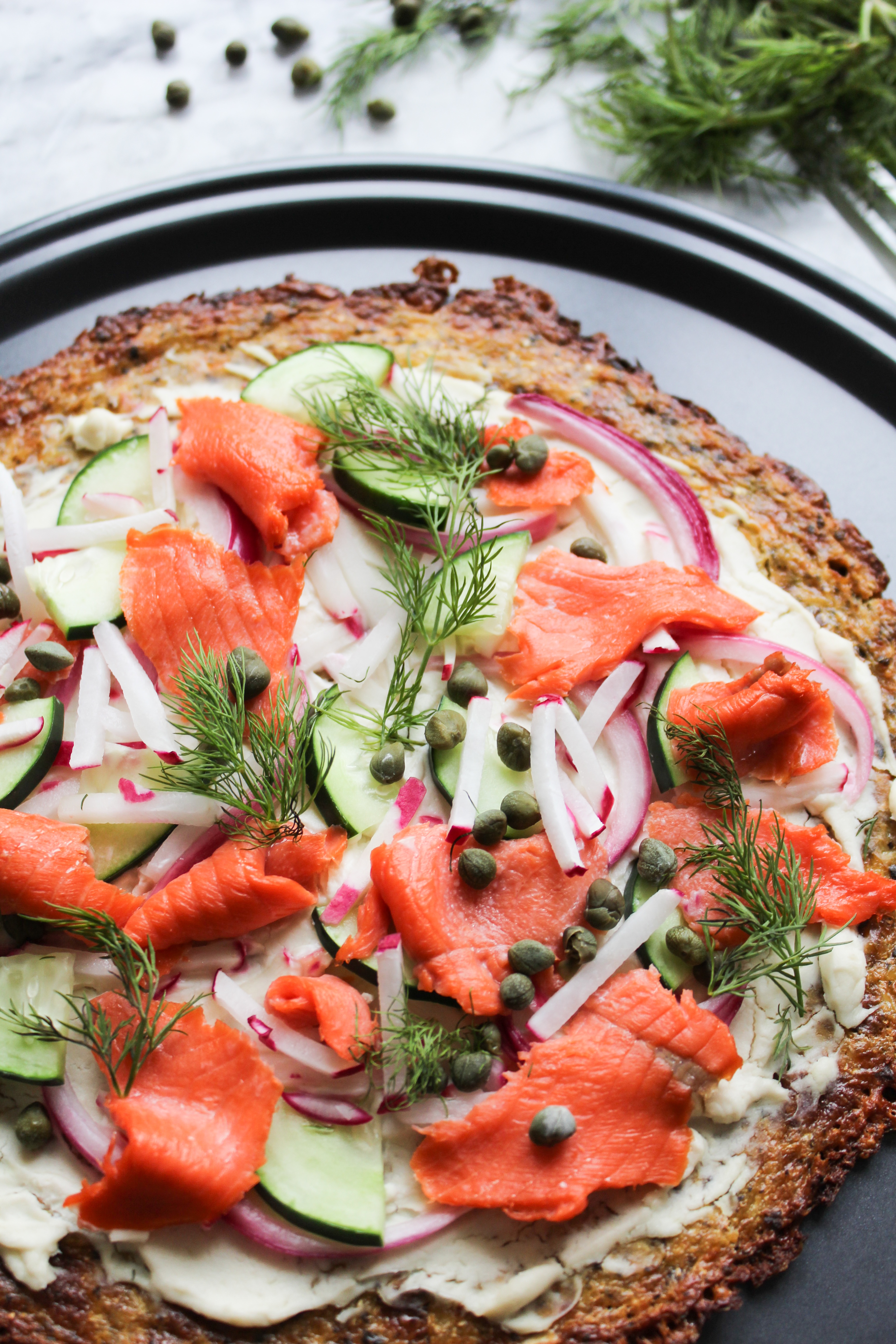 This post was made in collaboration with Califlower Foods. Thanks for supporting the projects that make Nutrition Happen!
Smoked Salmon Cauliflower Pizza
2017-04-30 20:17:39
Pizza version of the famous smoked salmon bagel.
Ingredients
1 Califlour pizza crust
6 tbsp Cream cheese (I used almond milk cream cheese - can sub in cream cheese of choice)
4 ounces smoked salmon
1/4 cup red onion, diced
1/4 cup cucumbers, sliced
1/4 cup radishes, sliced thinly
2 tbsp capers
1 tbsp dill, chopped
Instructions
Pre-heat oven to 375F.
Follow instructions to pre-bake calliflower crust - place into oven and crisp crust for 6 minutes.
Allow for crust to cool for 5 minutes.
Spread cream cheese on pizza crust in an even layer.
Distribute the smoked salmon evenly over the cream cheese layer.
Top pizza with cucumbers, onions, radishes, capers, and dill.
Serve immediately - recommend cutting pizza in 1/2, then cutting it again in 1/2 to yield 4 large portions or cutting it in 1/2 again to yield 8 regular servings.
Nutrition Happens http://www.nutritionhappens.com/
(Visited 251 times, 1 visits today)