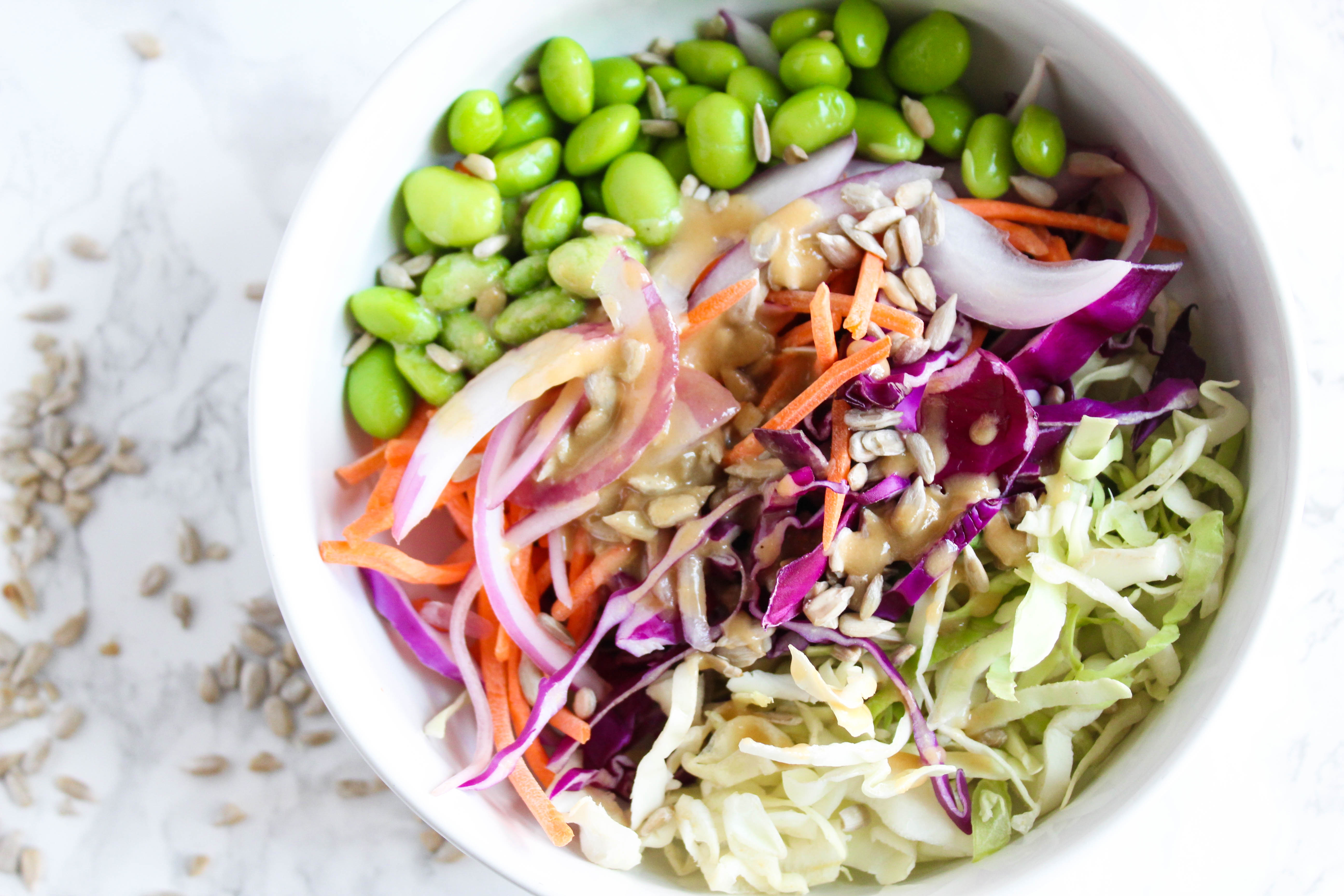 How is May already halfway over?
Memorial Day is coming up which means I've got a countdown calendar on my phone telling me how many days I get to live in white pants again. Not that I'm a fashion rule follower by any means, but officially wearing white bottoms means that summer is here and a) I'm getting ready to be on a boat for at least 13 hours that day while b) eating all the picnic foods. (Keeping my fingers crossed I don't spill anything on my white pants. Seriously, it would be miracle if I actually didn't.)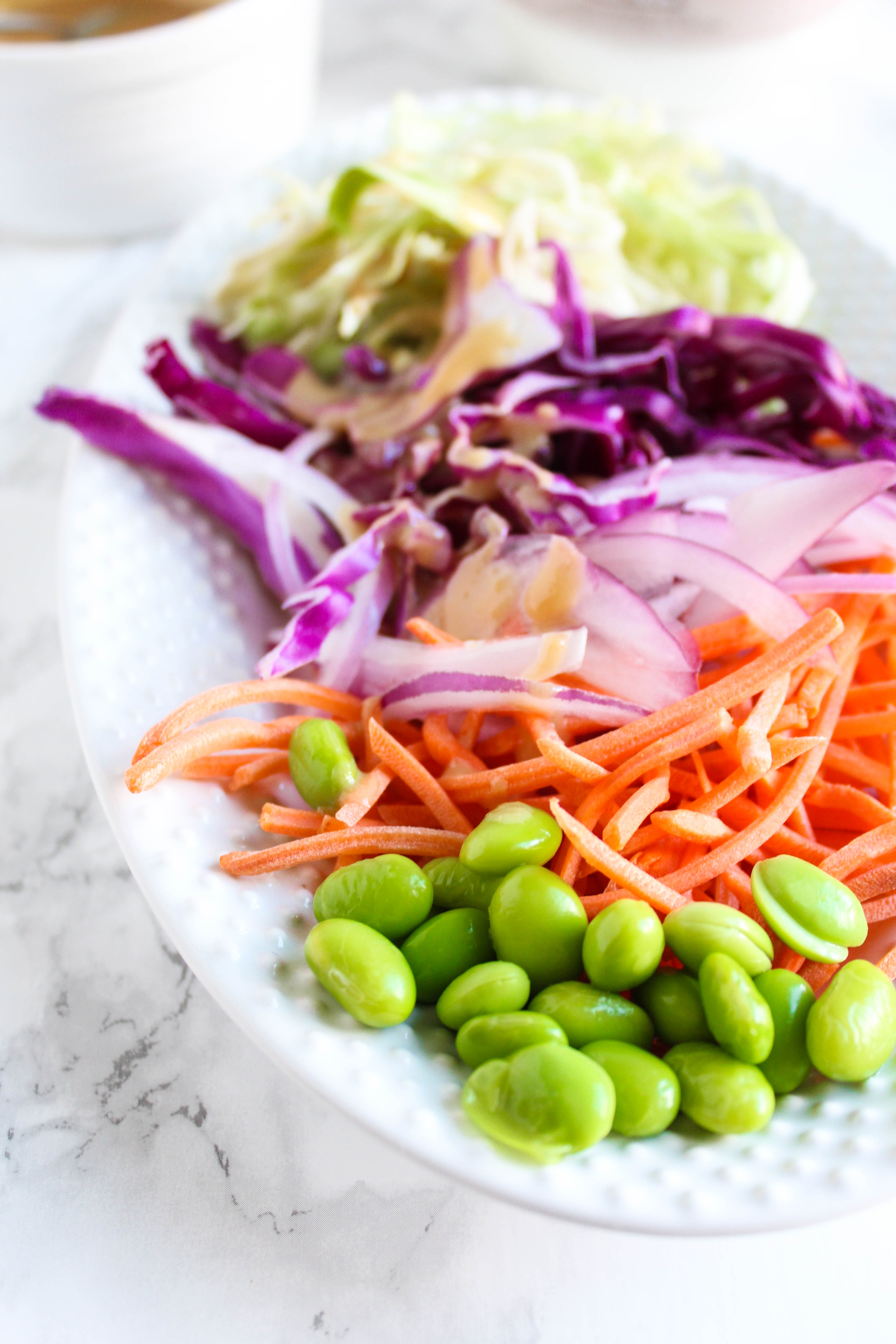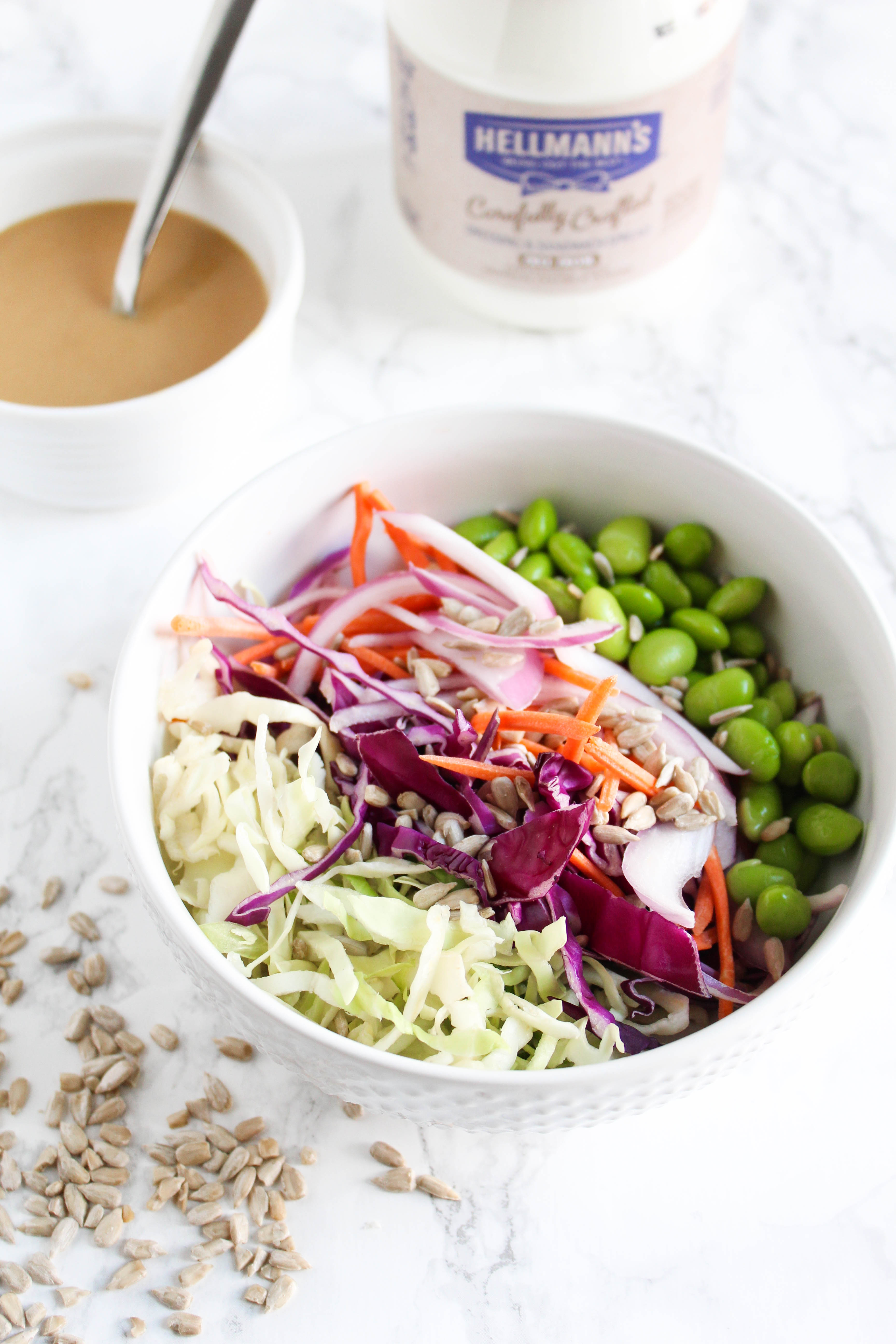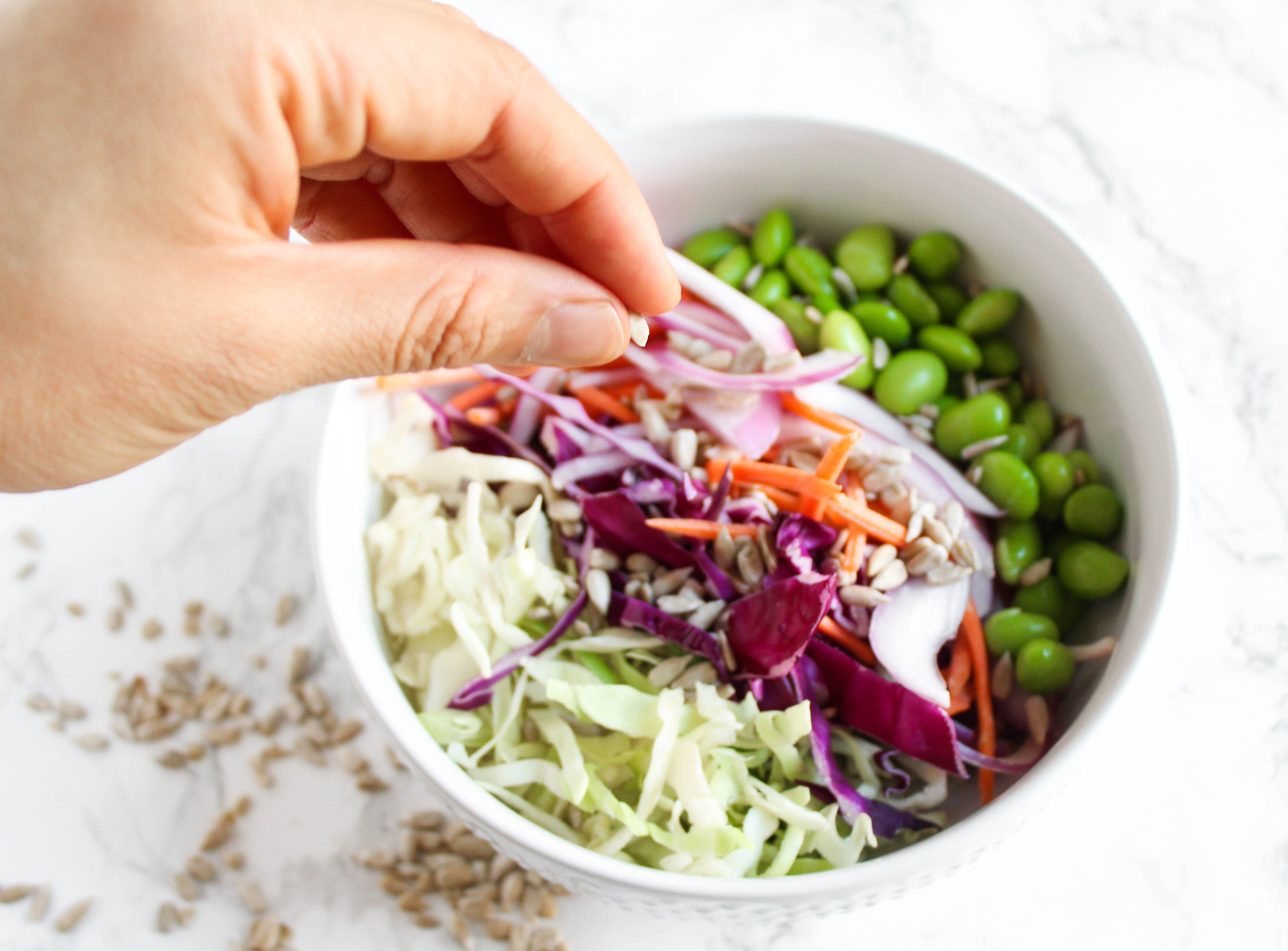 This simple slaw is one of my favorite combinations and a healthier take on the traditional heavier coleslaw. The crunchiness from the combination of carrots, cabbage, and onions makes it the perfect slaw by itself or served alongside a burger or sandwich. The creaminess is still there from the dressing combination – it's made with Hellman's new Carefully Crafted Dressing & Sandwich spread – so it's eggless, non-GMO, and cholesterol-free. (you can check out the nutrition smart label here.) I added edamame as a nice way to switch up a traditional slaw and for an extra dose of plant protein. The slaw packs well too – making it not only great for a summer party, but as a perfectly portable lunch or snack to-go!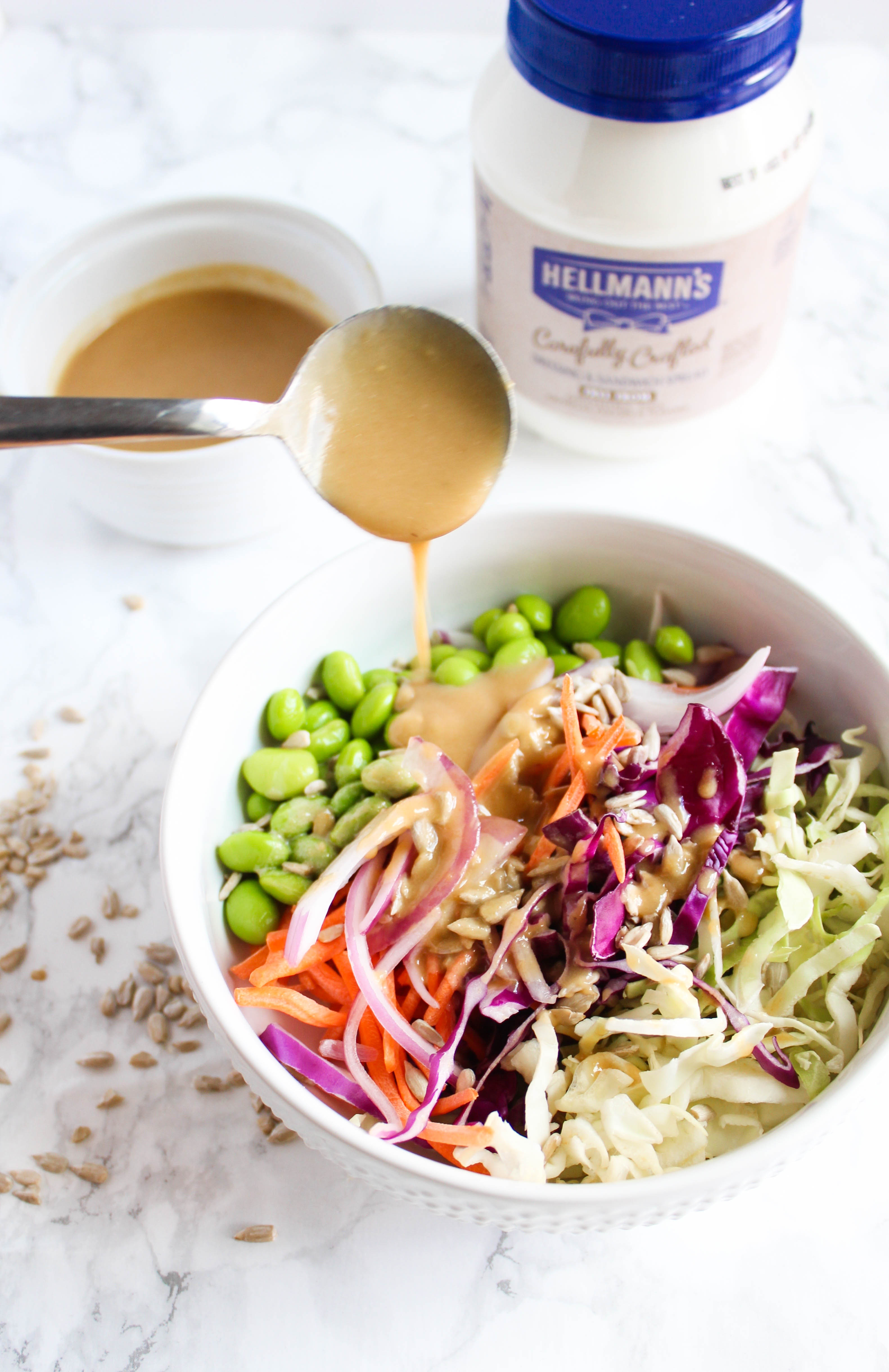 Sweet Summer Slaw
2016-05-24 09:36:23
Serves 5
A lighter spin on a summer coleslaw packed with antioxidant rich vegetables.
Ingredients
2 cups red cabbage
2 cups green cabbage
1 cup shredded carrots
1 red onion, chopped
1 cup shelled edamame
1/4 cup sunflower seeds
Dressing
1/3 cup tahini
1/3 cup lemon juice
1/4 cup honey
3 tbsp Hellmann's Carefully Crafted Dressing & Sandwich Spread
Instructions
Combine cabbage, carrots, onion, edamame, and sunflower seeds in a large bowl.
In a separate bowl, combine tahini, lemon juice, honey and Carefully Crafted and whisk until smooth.
Add dressing into the large bowl and toss until well combined.
Best served chilled.
Nutrition Happens http://www.nutritionhappens.com/
This blog post was created in partnership with Hellmann's and FeedFeed – all opinions expressed are my own.
(Visited 380 times, 1 visits today)