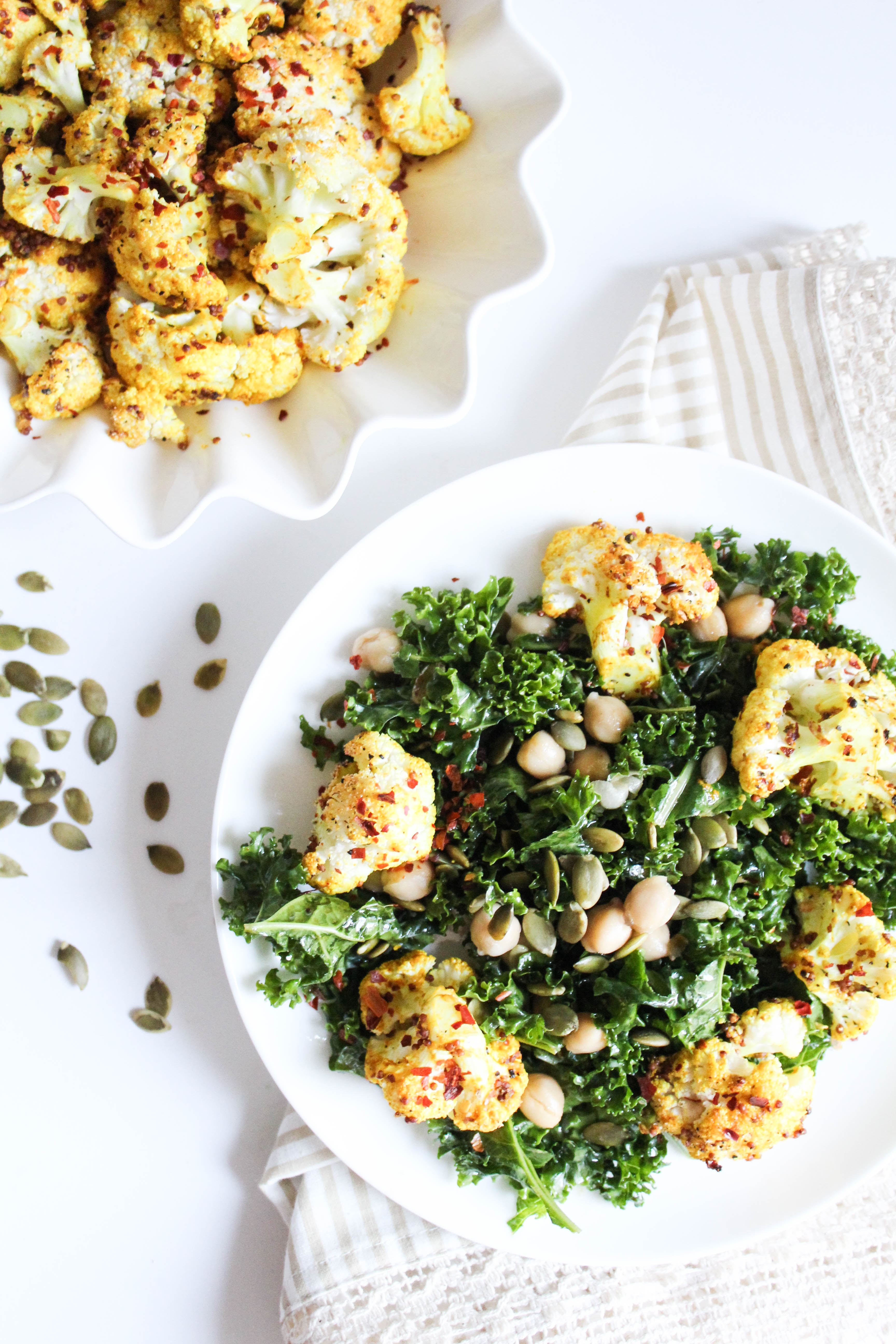 This post is inspired and dedicated to my one and only, T. Joe's.
LOL but who else, right? The other day I saw a kale and cauliflower salad at my local Trader Joe's and knew I had to make my own version. I'm a fan of minimal ingredient lunches that don't suck and pack well – this fits the bill!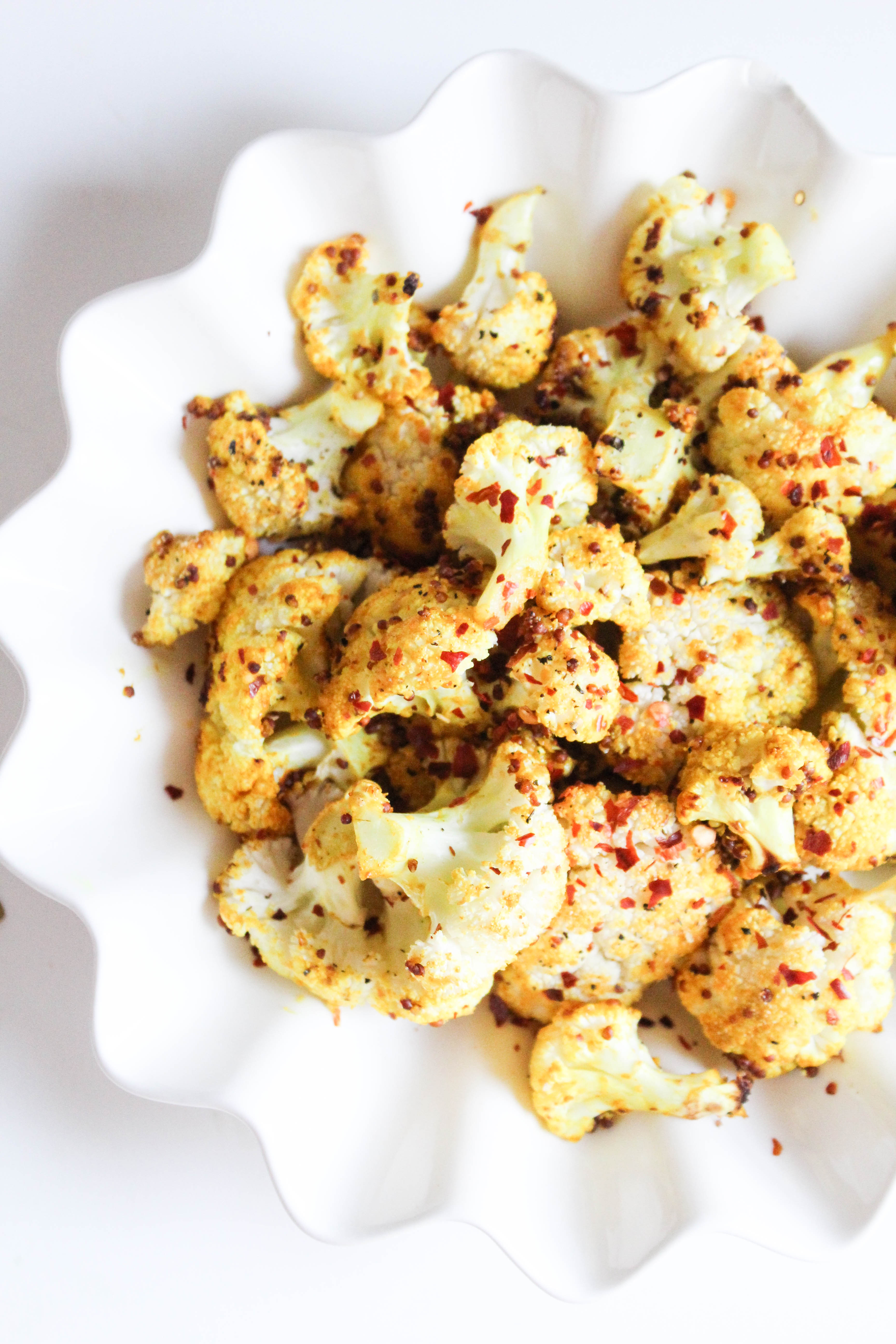 Remember that one time I shared a Dijon turmeric roasted cauliflower? It's sorta my go-to way to do cauliflower and this time I roasted a batch and tossed it with kale to make the world's easiest lunchbox meal. It's nutritious, tasty and like I said, packs well in your lunchbox. AKA it doesn't spill AND you can technically still eat it if you forgot your fork. Go primal folks, and use your hands.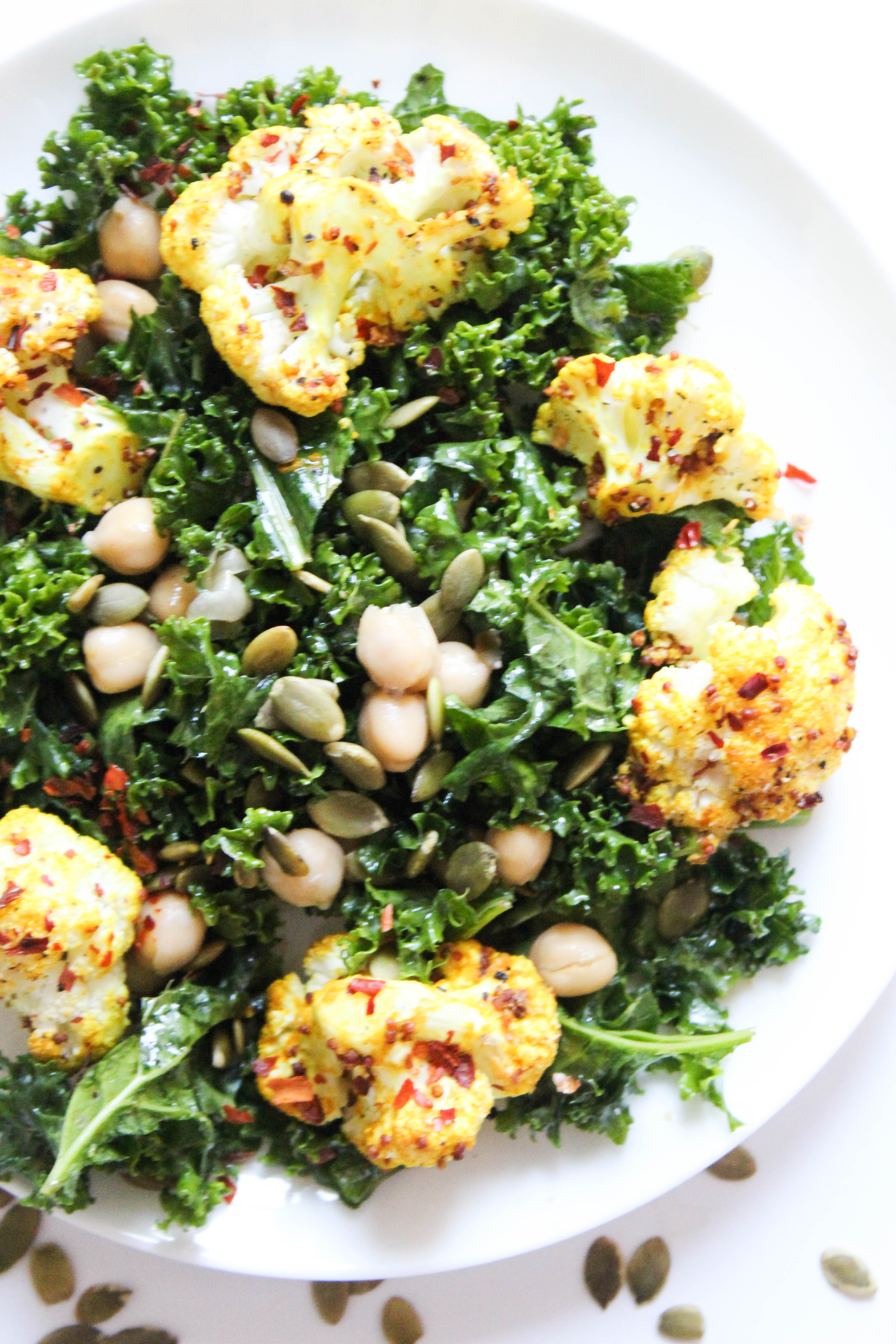 Let the chickpeas and pumpkin seeds give you a dose of plant-based protein (and all the good textures you need in a salad!) and save your coworkers from the very fragrant smell of egg salad (no matter how delicious).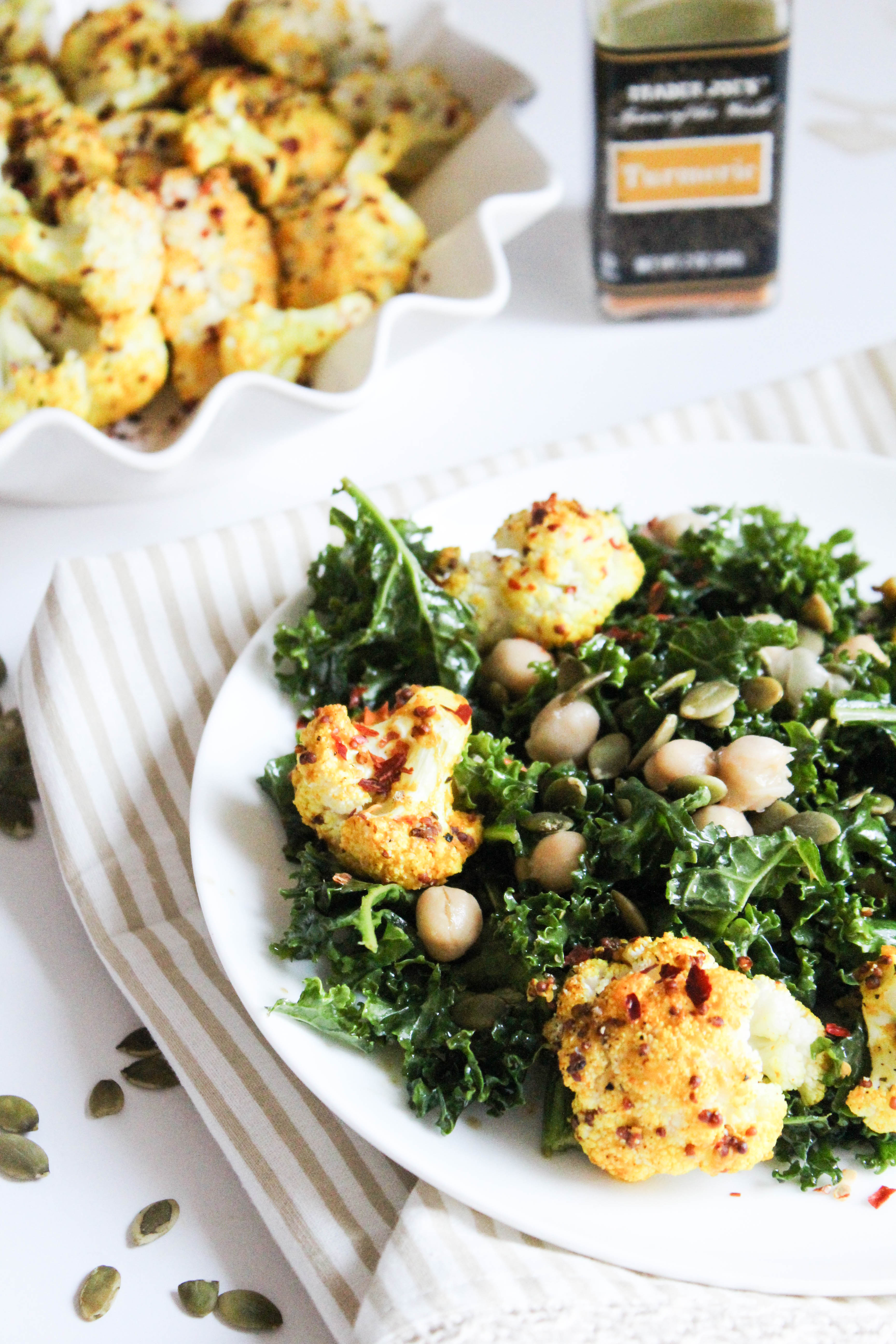 I dressed the kale in a simple way – balsamic vinegar, extra virgin olive oil, and a touch of curry + mustard to bring out all the goods in the roasted cauliflower. Forget the wilted greens and your sad desk lunches – kale always tends to hold up and get better with time. Tomorrow, your lunchbox is going to bring all your friends to the yard (office, school, cafeteria?) – and damn right, it's going to better than theirs. (does quoting "Milkshake" age me, or what?) #millennials
Roasted Turmeric Cauliflower Kale Salad
2015-09-19 21:03:39
Serves 3
A sweet and savory kale salad with roasted turmeric cauliflower and chickpeas.
Ingredients
4 cups kale, chopped
1/2 cup chickpeas
1/4 cup pumpkin seeds
3 tbsp balsamic vinegar
2 tbsp extra virgin olive oil
1 tbsp stone ground mustard
1 tsp garlic powder
1 tsp curry/turmeric
Instructions
Roasted cauliflower from recipe, here.
In a bowl, toss together balsamic, olive oil, mustard, and curry powder.
Add to kale and massage.
Toss kale with cauliflower, chickpeas, and pumpkin seeds.
Serve.
Nutrition Happens http://www.nutritionhappens.com/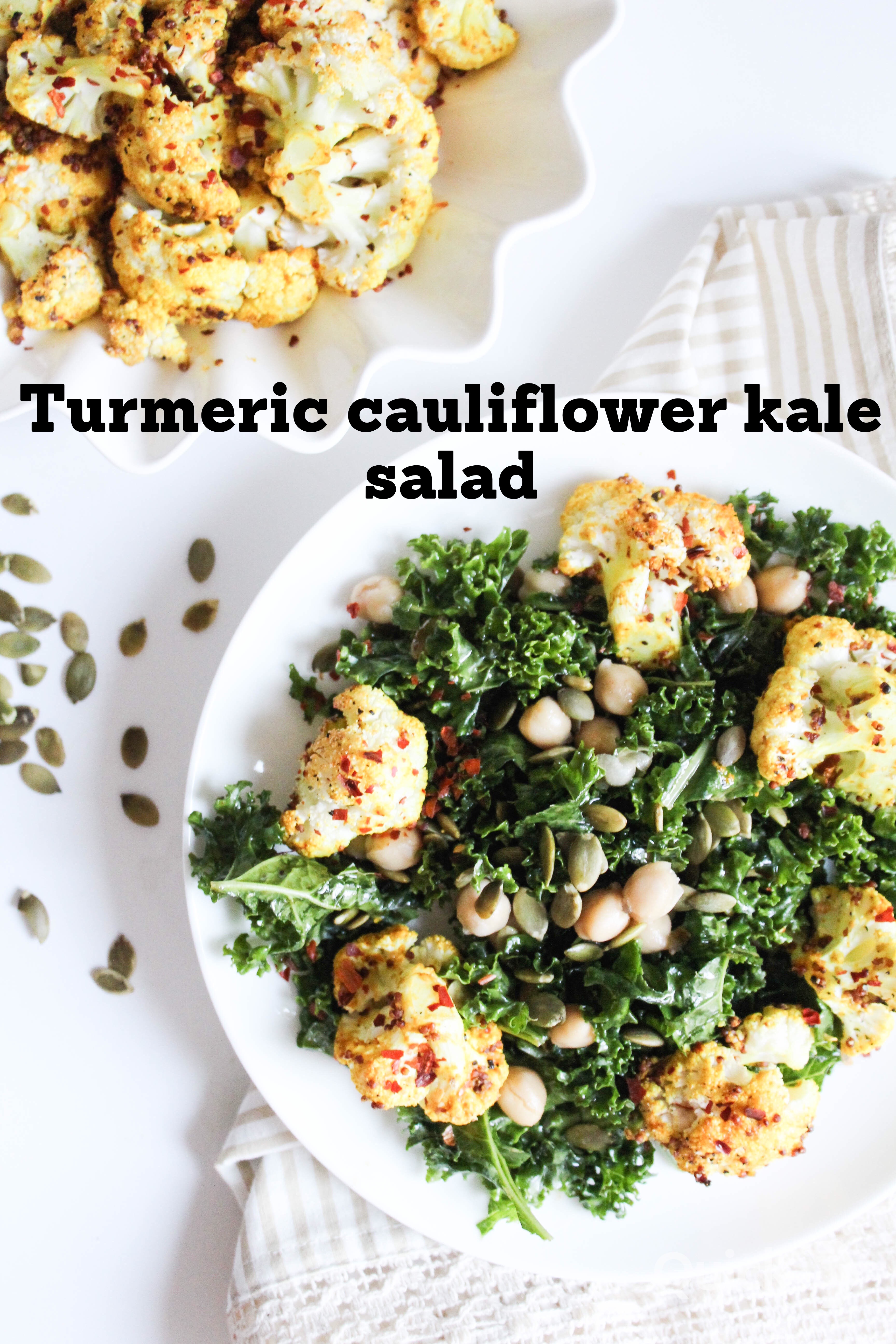 (Visited 676 times, 1 visits today)