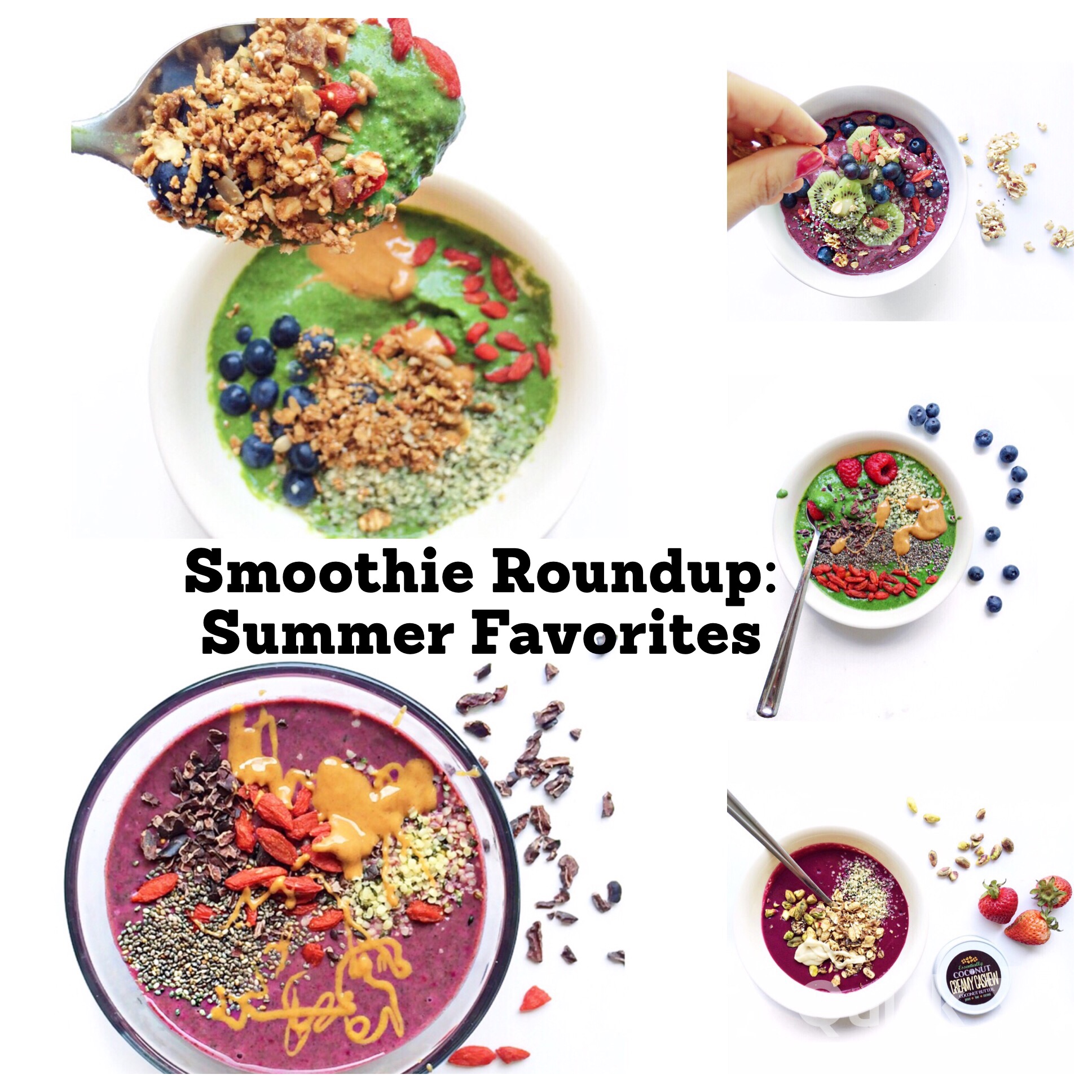 The other day on Pinterest I started pinning crockpot recipes for fall….too soon?
I guess with Nordstrom's Anniversary Sale (and all the fall goods that drained my savings account) and the marathon training runs in 100 degree weather, I'm looking for a little cooler situation on the horizon.
One way to beat the heat? Summer smoothies, obviously. Served icy cold with all the summer berries!
I rounded up 5 summer smoothie recipes I've shared on Instagram and have been loving lately:
1. Avocado Green Smoothie.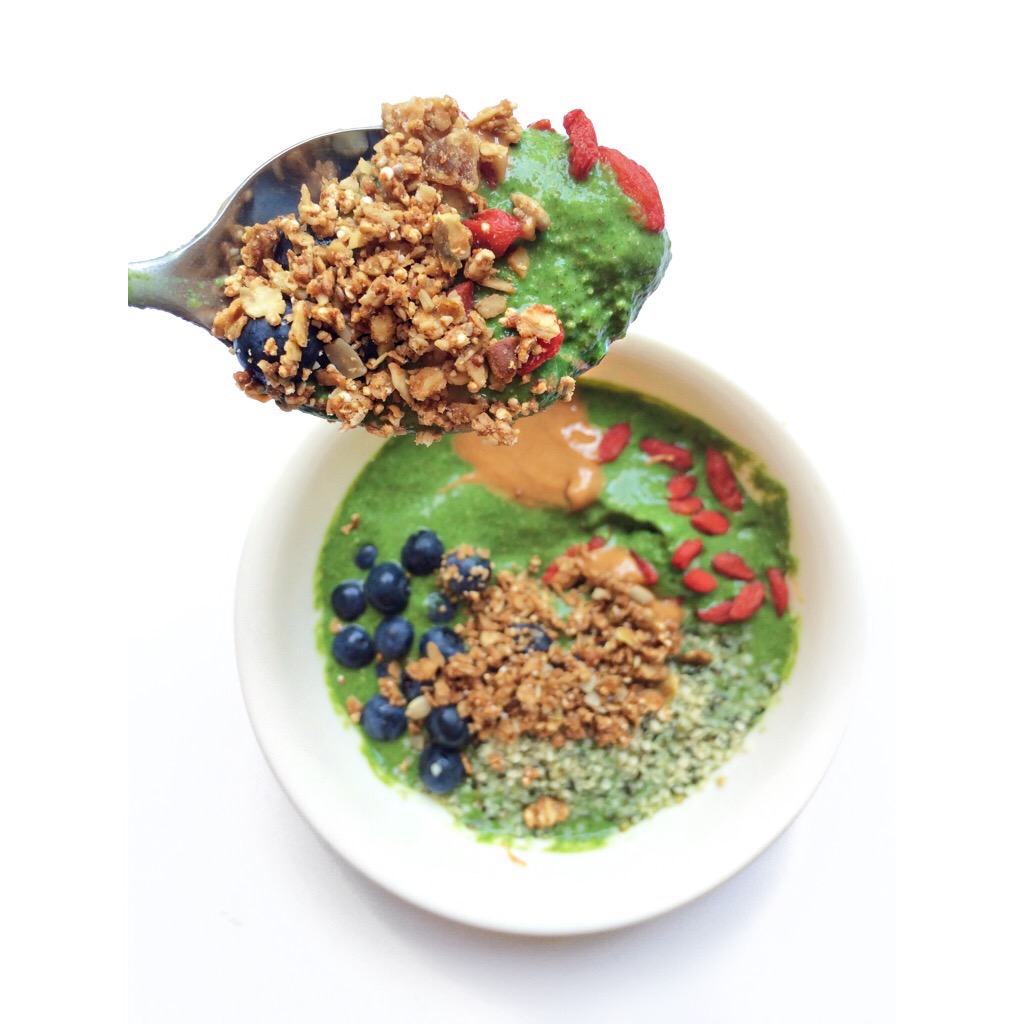 Ingredients: 1/2 small ripe avocado + 1 pack Vega Vanilla Chai protein + 1 tsp maca powder + 1 cup unsweetened cashew milk + your choice amount of frozen spinach (or kale) – I typically pack in 1-2 cups // Toppings: blueberries + goji berries + Purely Elizabeth Pumpkin Fig granola + hemp hearts + Whole Foods fresh ground creamy almond butter
The key to a spoonable green smoothie with great texture is frozen greens – It adds bulk without watering it down. While adding fresh greens is wonderful too, frozen greens tend to be pack in a little more, giving you the gorgeous green color in the smoothies.
Avocados are also another superfood to bump up not only the nutrition situation, but the texture and flavor profile too. But I mean c'mon, have you met a single person to not like avocado?
I love Vega's protein line – the protein and greens nutritional shake blend provides about 50% of your daily vitamins and minerals in a single pack. The single serve packs are awesome for traveling because I know I'm getting my vitamins and minerals in no matter where I am. My other favorite plant based protein powder is from Sunwarrior – another go to of mine.
2. Avocado Beet Lemon Smoothie.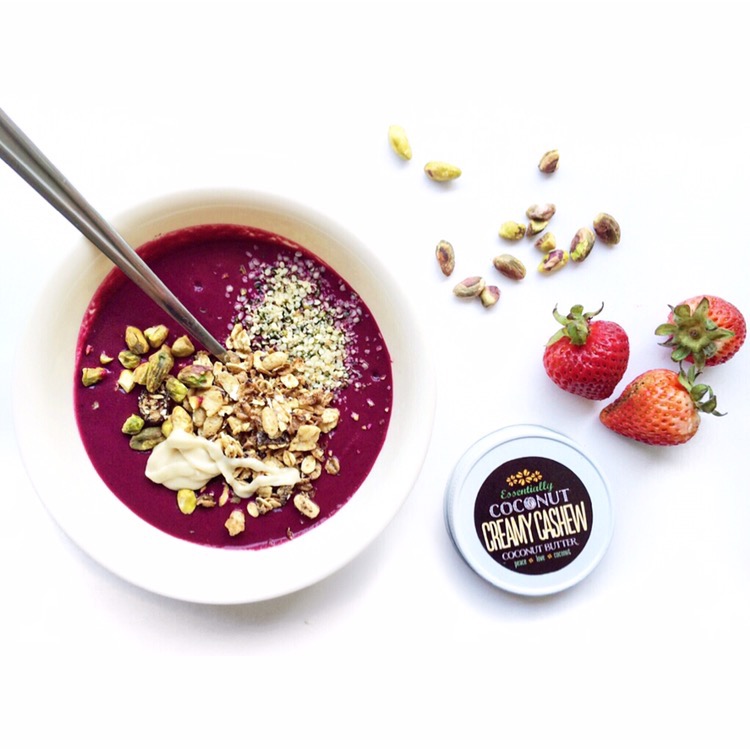 Ingredients: 1 cup frozen beets + 1/2 cup unsweetened coconut milk + 1/2 small ripe avocado + 1 tbsp lemon juice + 4 drops liquid stevia + 1 serving plain Vega protein // Toppings: pistachios + Purely Elizabeth original granola + hemp hearts + Essentially Coconut cashew coconut butter
Going along with the frozen vegetable theme, frozen beets are a great way to switch up your smoothies. Beets are rich in vitamins and fiber – and just look at that color! The pigmented color gives away all the wonderful nutrients found in this cute little root vegetable. The texture is great but be warned – you may want to blend it with a sweeter fruit (i.e. bananas, mangos, pineapple) if you are not a regular beet eater – some people are put off by its "earthy" taste. I would add a few drops of liquid stevia if you're not familiar with beets to ease into it.
I blended this with avocado for again, the texture and nutrition, but this time added lemon, because I'm a sucker for a good beet/lemon combination (you HAVE to try it if you haven't before!)
The cashew coconut butter (I love a good healthy fat) I used is to top off my smoothie is from Essentially Coconut – and 100% dreamy. Coconut butter is often rotating throughout my meals because it's chock full of amino acids, calcium, magnesium, and good fats that satiate you! I typically eat a spoonful after dinner – as a dessert!
3. Mixed Berry and Beet Smoothie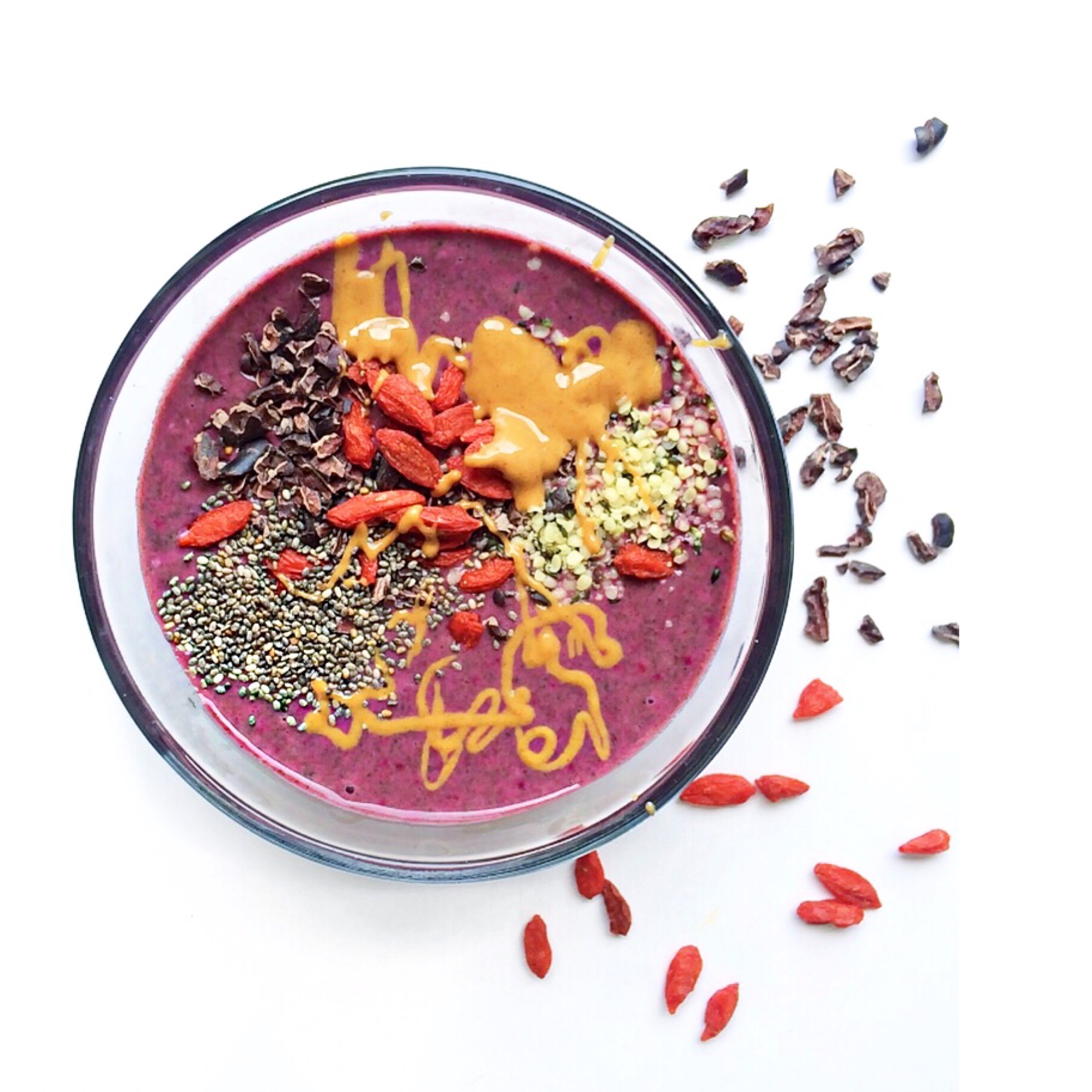 Ingredients: 1 cup frozen beets + 1 cup frozen spinach + 1/2 large frozen banana + 1/2 cup unsweetened cashew milk + 4 drops liquid stevia + Siggi's 4% Mixed Berries yogurt + 1 tsp maca powder // Toppings: chia seeds + hemp hearts + cacao nibs + goji berries
Another beet smoothie, blended this time with Siggi's Icelandic skyr for a creamier consistency. I love a nice combination of crunchy superfoods with my smoothies – chia seeds, hemp hearts, goji berries – nature's sprinkles!
So, let's talk maca powder for a second. (I love the one from Sunfood.) It's a powder made from the Peruvian maca root. I use this often in my smoothie, oatmeal, and baked goods because I love the nutritional benefits – rich in vitamins (B, C, E) and minerals (calcium and iron!). The earthy (slight malty) taste can take a little to get used to, but blended well into a smoothie and you won't even know it's there.
It's definitely more geared towards those who want to look into incorporating a few more "super foods" into their diet. Nutrition often seems black and white – mainly a whole lot of calorie vs fat vs carb vs protein talk, and while those are important fundamentals to learn about health, I prefer a focus more towards overall quality of ingredients – and what foods can do for your overall health.
4. Simple Green Smoothie.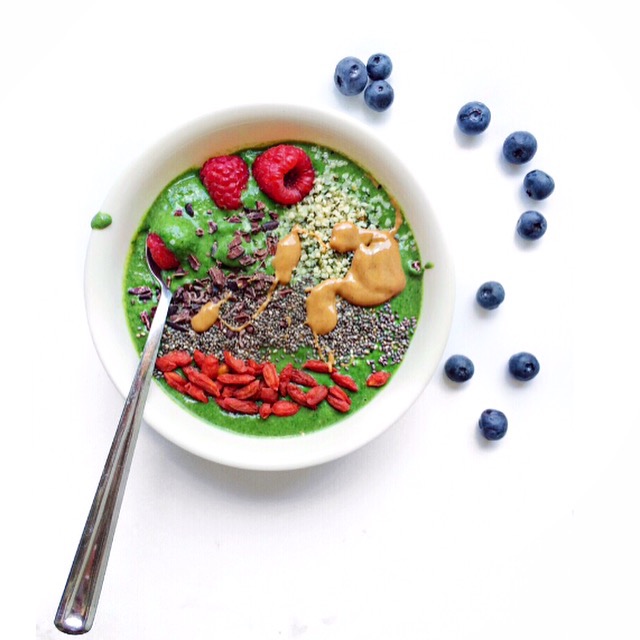 Ingredients: 1 pack Vega vanilla protein + frozen spinach (amount as desired, I typically use 1 cup, packed) + 1 small frozen banana + 1/2 cup Califia Farm's toasted coconut almond milk + 1 tsp maca powder + 1 tbsp cashew butter // Toppings: goji berries + blueberries + raspberries + chia seeds + hemp hearts + cacoa nibs + Whole Foods creamy fresh ground peanut butter
I've reach for this specific smoothie combination numerous times this past summer because it's easy, delicious and perfect for after my marathon training runs. I bought an entire pound of fresh ground cashew butter from Whole Foods the other week and it took me a record of less than 1.5 weeks to finish it…truly a new personal best! I actually go through nut butters pretty slow, but there's something about a fresh ground cashew butter that makes me go crazy. Cashews are rich in copper – which is a mineral essential for skin and hair health. Grounded into paste and my nut butter preference goes like this: 1) cashew butter 2) almond butter 3) peanut butter. Cannot get enough!
5. Acai Bowl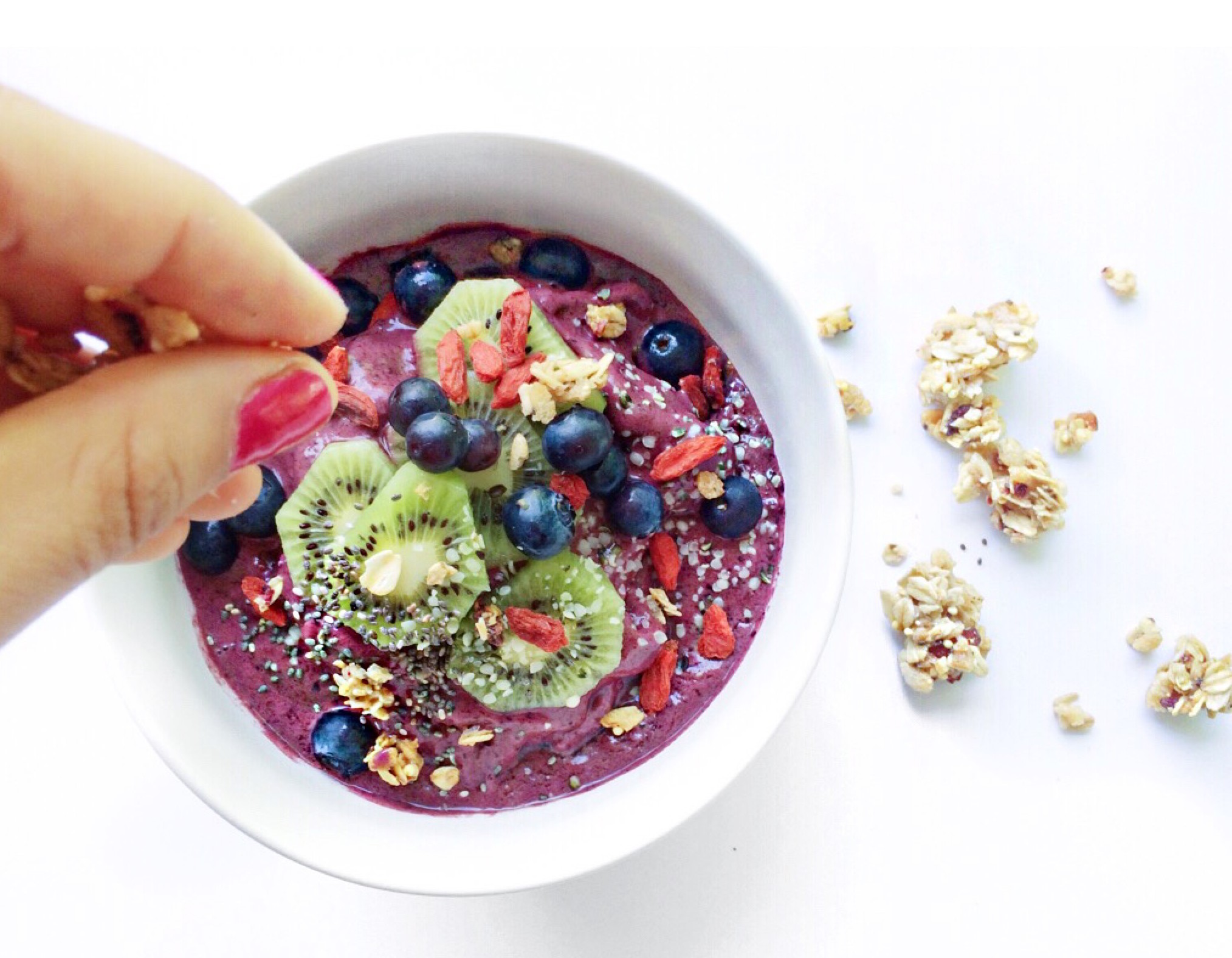 Ingredients: 1 pack Sambazon frozen acai pack + 1 cup frozen blueberries + 1 serving Vega vanilla protein + 1/2 cup unsweetened cashew milk + 1/2 small ripe banana + 1 tsp maca powder // Toppings: Kind Snacks raspberry granola clusters + chai seeds + blueberries + kiwi + goji berries
It's not quite summer without the trendy acai bowl – popping up everywhere I look! I've used the Sambazon freeze dried acai powder in the past (found here) but I like using the frozen packs more – again, for the texture! There's nothing I love more than a good acai bowl with that icy, spoonable texture – I found mine at Whole Foods. Blend it with some frozen berries and banana and top it off with some crunchy crunch – can you really go wrong?
What's your favorite summer smoothie recipe?
Instagram: @nutritionhappens
Snapchat: @nutritionhappen
Twitter: @nutritionhapps
Pinterest: @nutritionhappens
(Visited 153 times, 1 visits today)