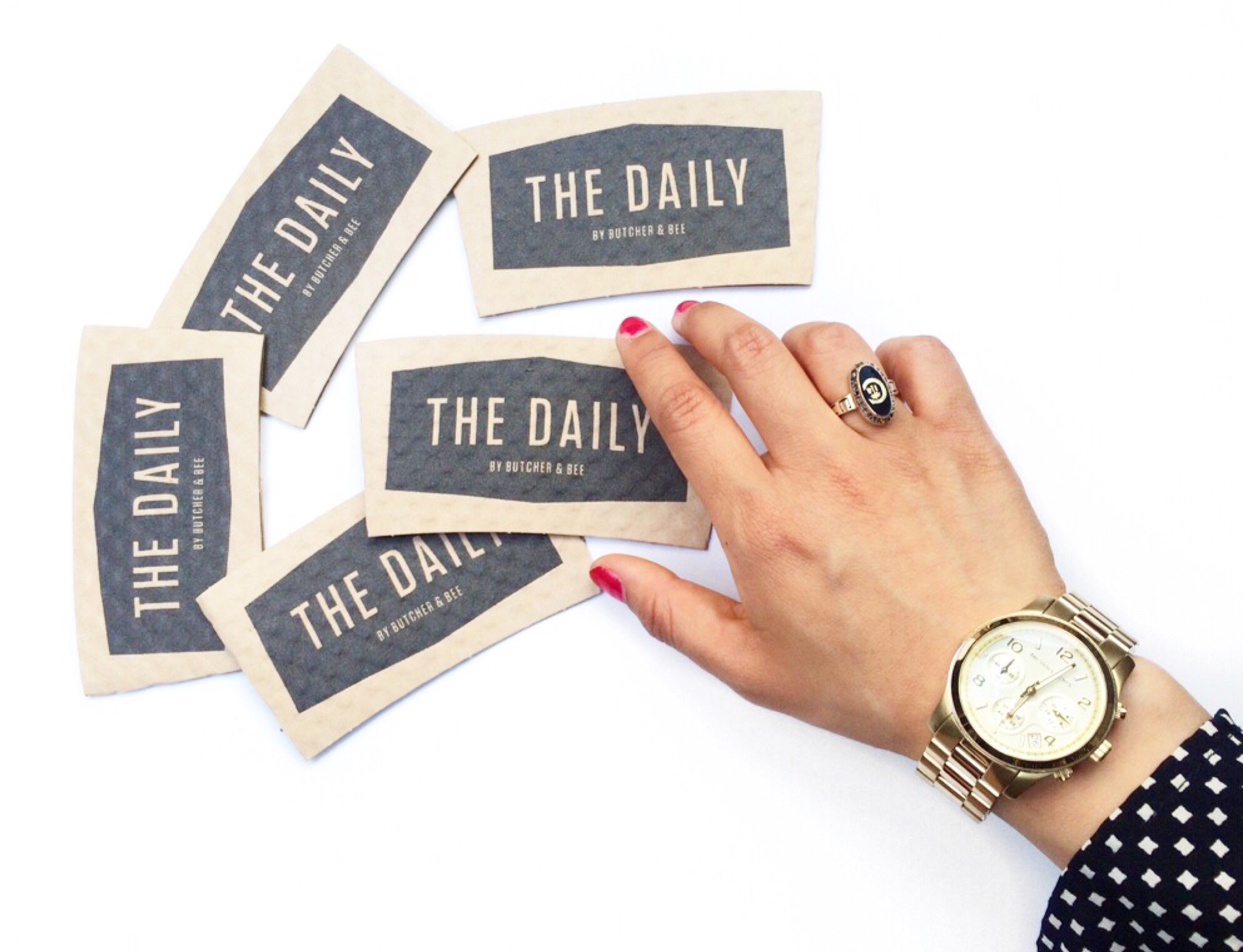 The other week I took on a fun project at one of my go-to spots here in Charleston, appropriately called the Daily. (all the coffee sleeves pictured above…all found in my car. True story!)
The Daily is the sister store of the famous local hot spot that serves some of the sandwiches in town, Butcher & Bee. It's a specialty grocery store/ juice & coffee bar, so you'll find on the shelves many of the items served at Butcher & Bee. I love the grab and go concept because B&B is only open for lunch on the weekdays and when the craving is real for a B&B kale slaw, I know I'm covered!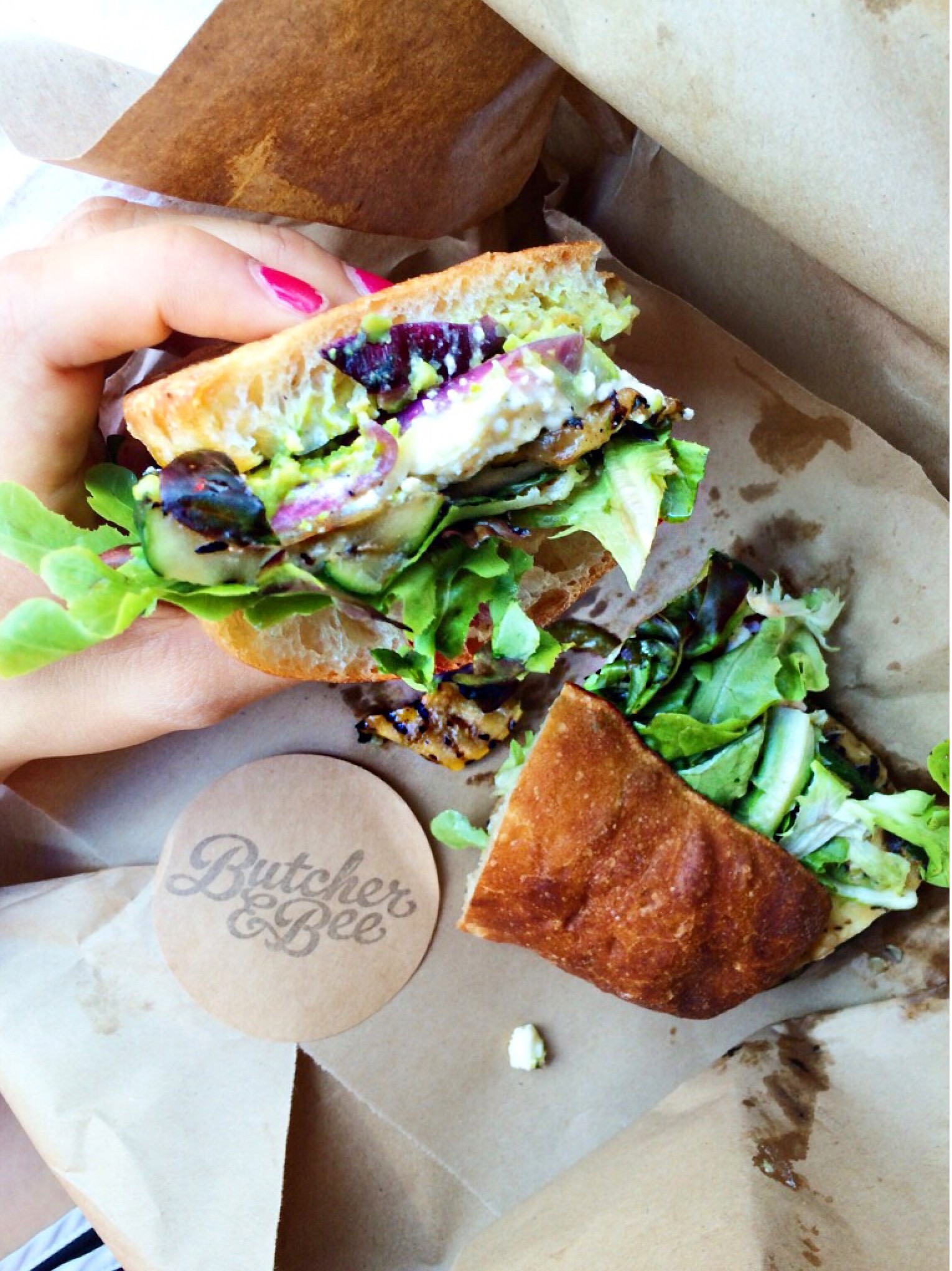 (Grilled squash sandwich with smashed peas + feta + greens + spring onion.)

I honestly thought in my past 22 years of life that I'm just not that into sandwiches, but after moving to Charleston, I found out I've just been having the wrong sandwiches. This town does sandwiches right! The Butcher & Bee always surprises me with the best combinations, with a different menu everyday that sources local and seasonal ingredients. All sandwiches are served on homemade bread – pulled fresh out of the oven every morning.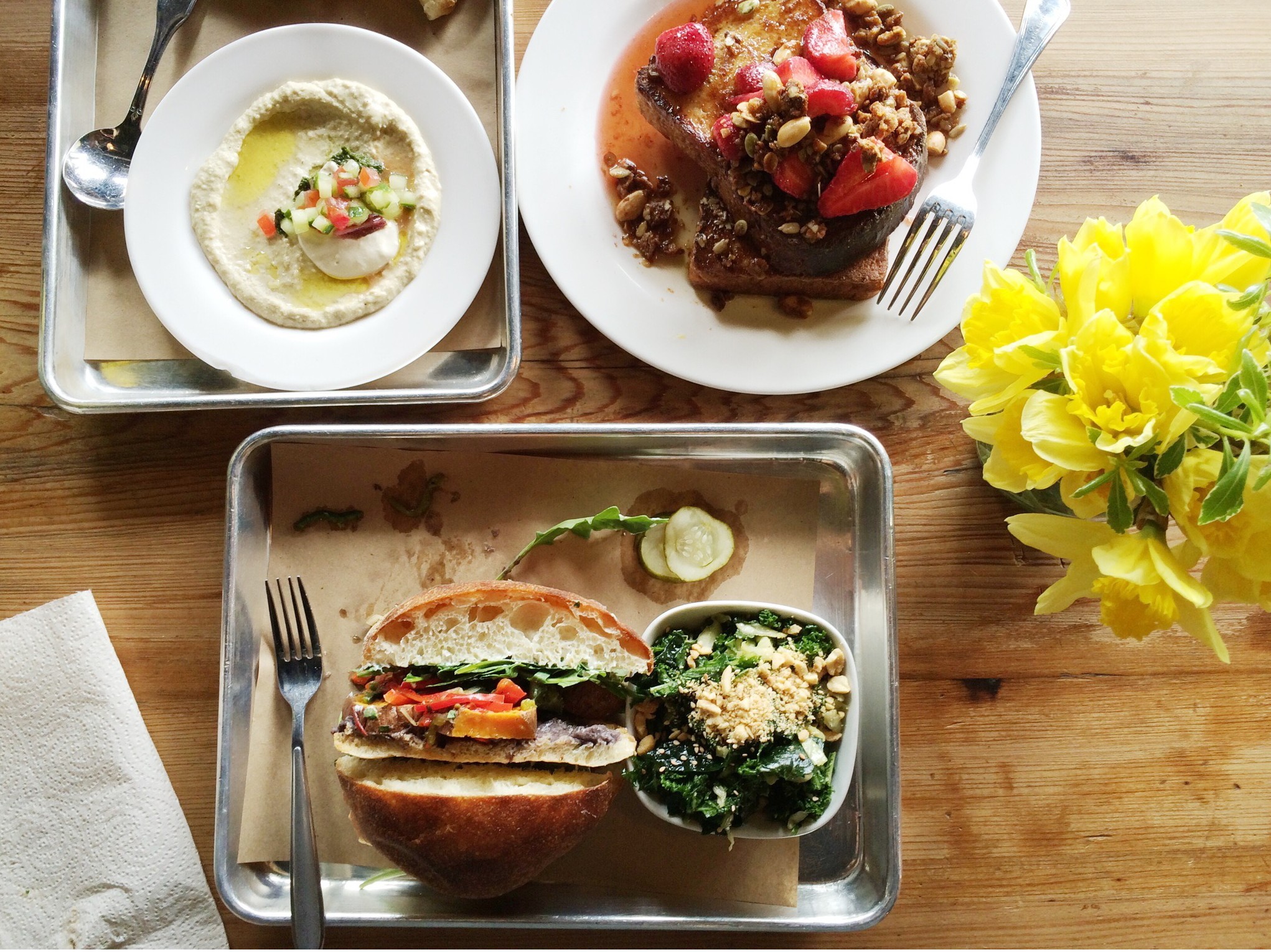 (Sweet potato sandwich with lime crema + arugula + salsa + black bean and the best ever kale slaw)
The geniuses behind both projects, owners Michael & Melody Shemtov (confession…I was only a little starstruck) asked if I thought it was possible to spend one whole day, only eating items from the Daily.
Seeing how I frequent the Daily on the daily minimum 5 five times a week and am pretty familiar with everything the menu, I took on the challenge. And I'm doing a little recap today of my picks!
Breakfast.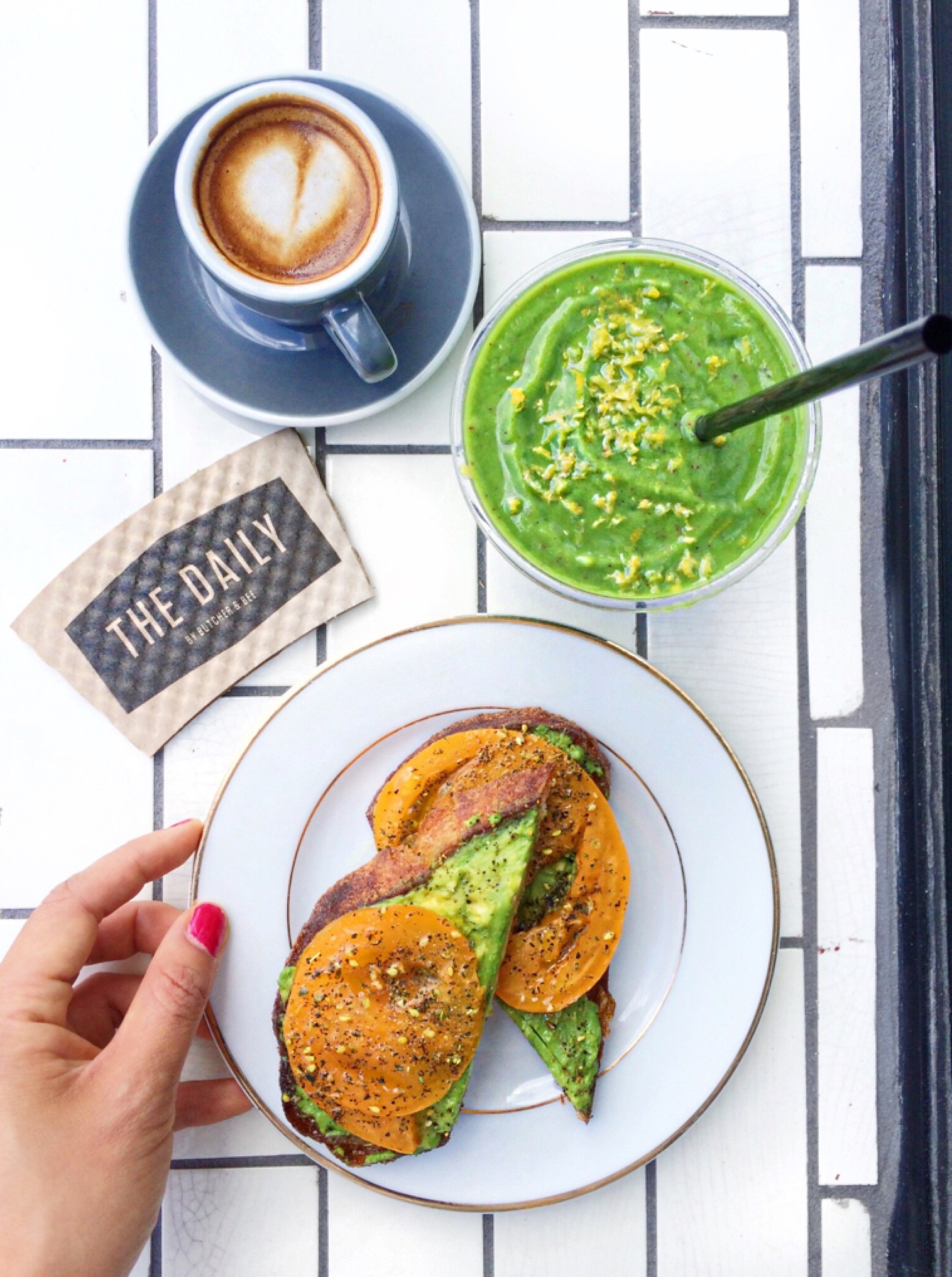 Avocado toast. Such a classic, right? Except at the Daily, it's seasoned to perfection with black pepper, extra virgin olive oil, and the freshest tomato you'll ever taste. The bread is baked fresh everyday from Butcher & Bee.
Super Green Smoothie (kale + spinach + pineapple + apple + avocado + coconut water). This smoothie is such a good blend. It's creamy and full of good for you ingredients that doubles as a meal in a glass.
Macchiato. The Daily uses Stumptown coffee…enough said! I love their entire espresso bar – and they have some of the friendliest baristas!
Lunch.

Kale Slaw (with sesame and peanuts). Found at the Butcher & Bee and bought by me in tubs from the Daily when I crave it and the B&B is closed. I dream of it!
Veggie sandwich (roasted portobello mushrooms + seasonal veggies + red peppers + tahini). This veggie sandwich is not your average sandwich – it's super filling because of the hearty texture from the mushrooms and the healthy fats from the tahini. I love anything with tahini and this sandwich is not only delicious but it doesn't leave you feeling super full. I usually pair half a sandwich with the kale slaw for lunch.
El Jefe Juice (jicama + blood orange + lime + agave + habenero + cilantro + cumin). These 4oz baby juices are the perfect size for me. The "El Jefe" is a nice after meal palette cleanser – it's really got a kick, from the habenero! I love it – it's probably my favorite juice there, next to the beet juice. All juices here are cold pressed every morning – sometimes I'll catch them juicing and ask for a fresh shot right away.
Afternoon.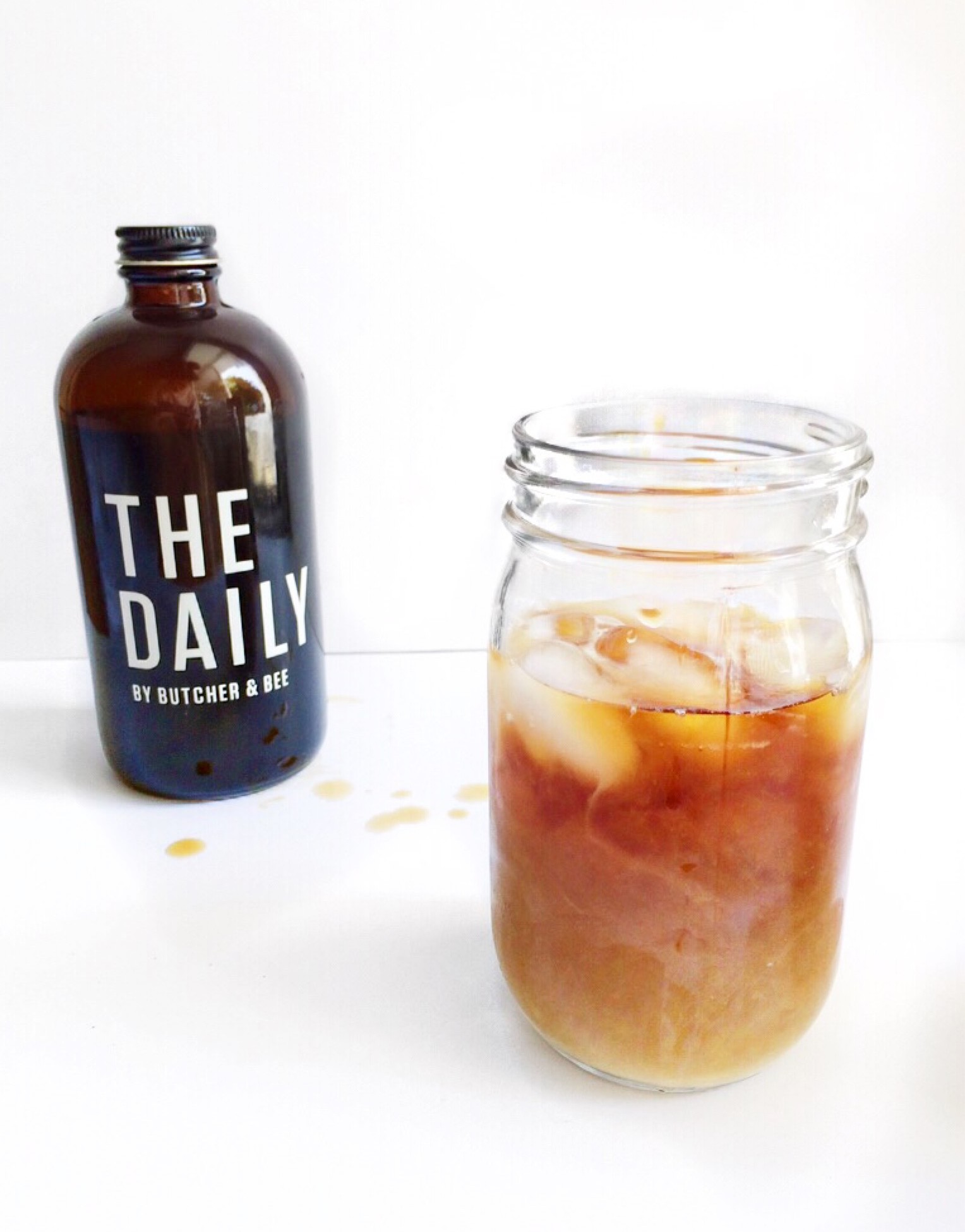 Cold brew growler…hello! Cold brew coffee is actually my favorite way to caffeinate. It's a little lower in acidity so it's easier on your stomach. The subscription service (I mean, really, a coffee subscription service) is a great deal for those of us who are constantly fueled by cold brew – just a few bucks will fill up the growler! Beer is also available on tap and wines as well (not on tap) – which makes after work shenanigans a one stop shop. A little bit for everyone!
(Creamer: Califia Hazelnut almond milk creamer)
Dinner.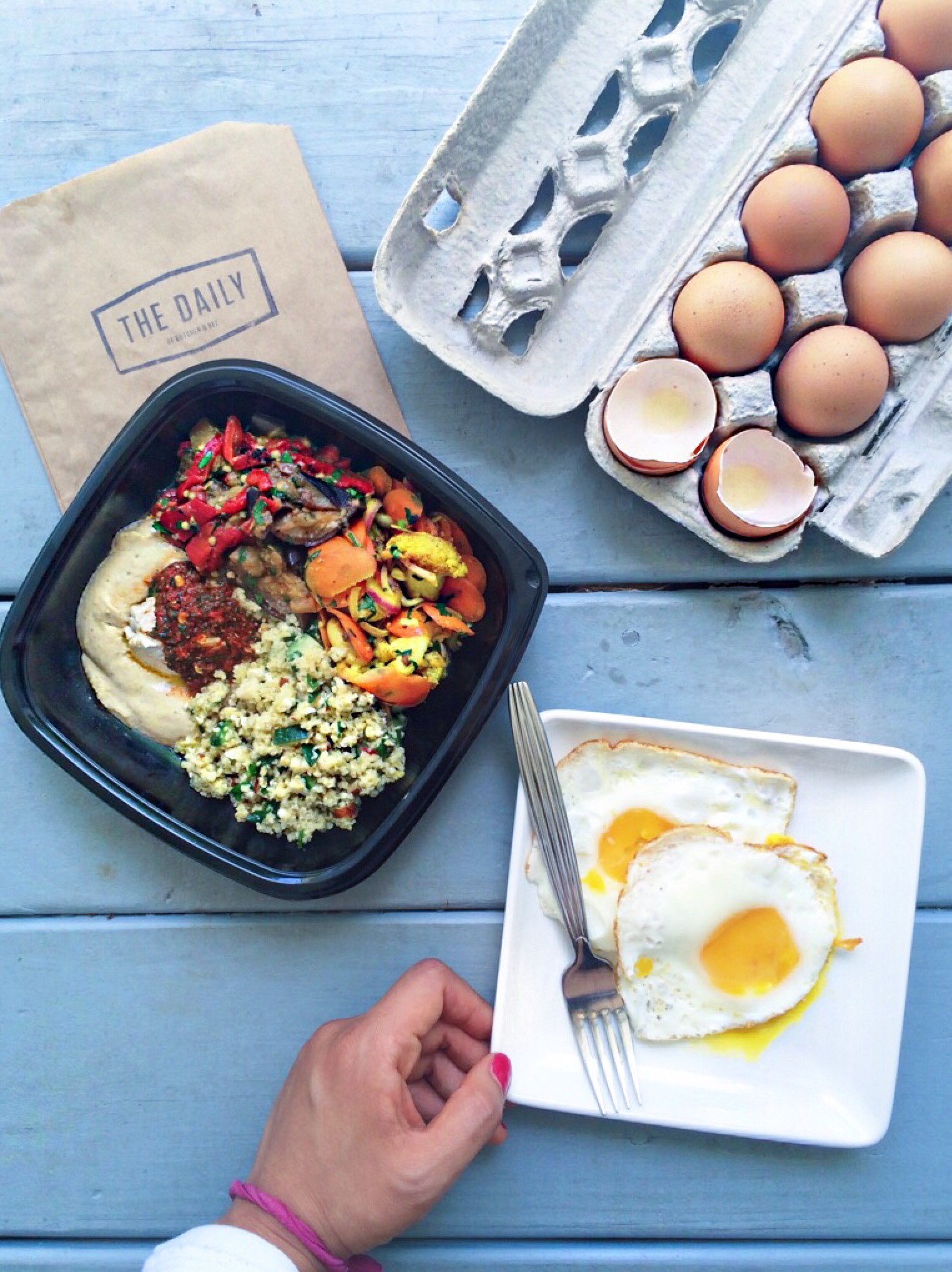 Local eggs. You can buy local groceries here as well which makes things easy for me when I stop by after work. I like to pick up a dozen of local eggs, which when compared to conventional store bought eggs, are so much different. The yolks are so much brighter and whites are clearer. I eat a lot of eggs and can taste the difference in fresh eggs. I took a food science class during undergrad that explained all the differences between egg labeling – which I found to be one of the most interesting topics in that class! This article from NPR may be of resource to you if you are curious more about egg labeling.
Mezze Plate (the hummus is made with tahini & harrissa). For me, this is a perfect easy dinner. It's a little combination of all the salads in house and always different, depending on the seasonal vegetables. If you don't see a plate set out, ask them and they'll always make you a fresh one. The hummus (which they sell by the tub) is fantastic – and a day without hummus is pretty much a day wasted, amiright?
Sweet Note.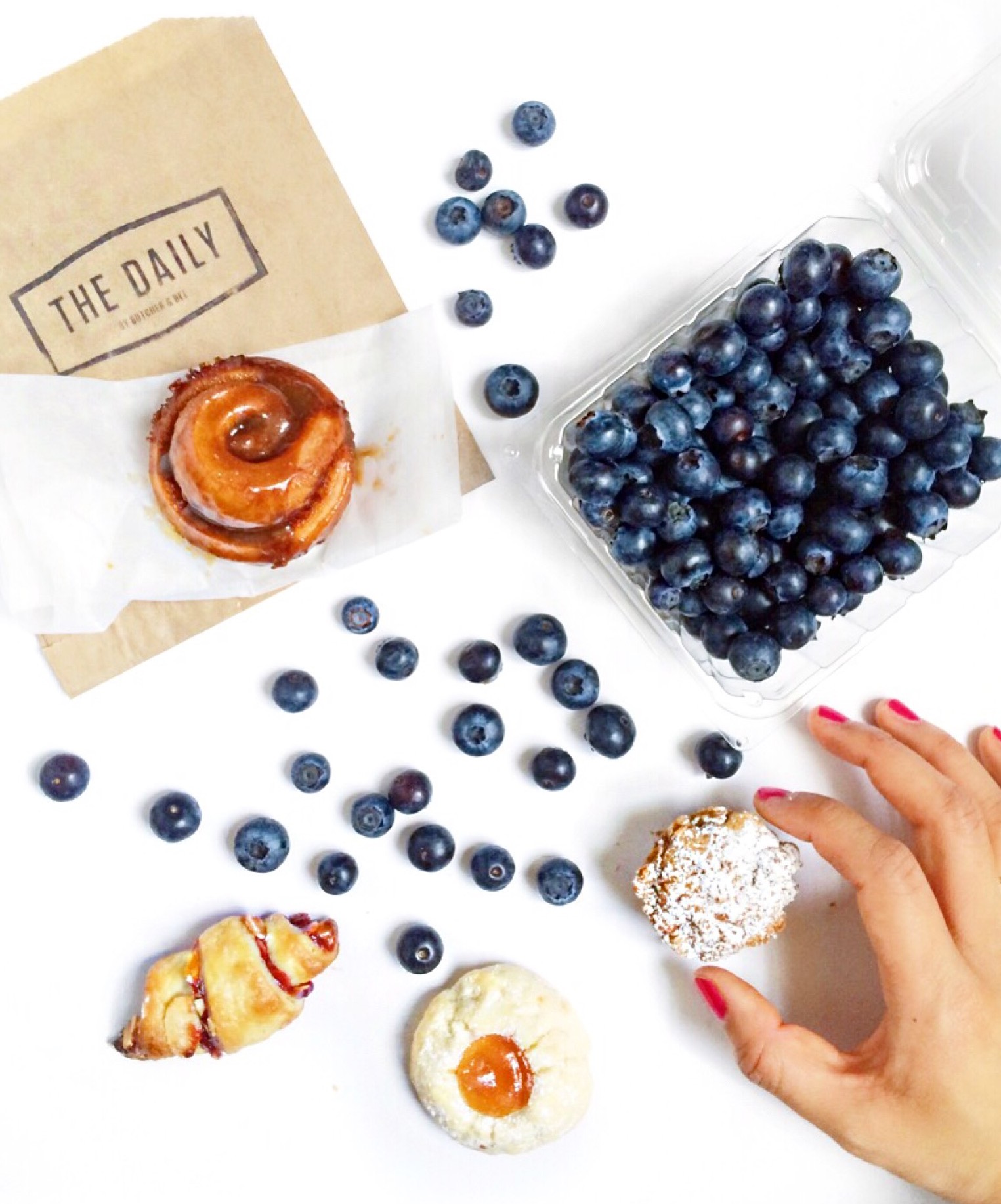 Mini Pastries! Cute, right? I love finding local berries on shelf – currently, it's these blueberries from a farm here in the Lowcountry and certified organic by Clemson (Go Tigers!). I saw peaches there the other day too. I love the concept of mini pastries – for when you really need just one bite. I like to pick up a few and sharing with friends after work. All pastries are also made in house every morning, and oh my gosh if the miniature size doesn't get you alone, then the incredible smell definitely will. I think one of the reasons I stop by the Daily so often is that they offer a little bit of everything for everyone – you can have your green juice and mini coffee cake too.
(Right to left: coffee cake + thumbprint cookie + rugelach + cinnamon roll)
Other Daily favorite picks: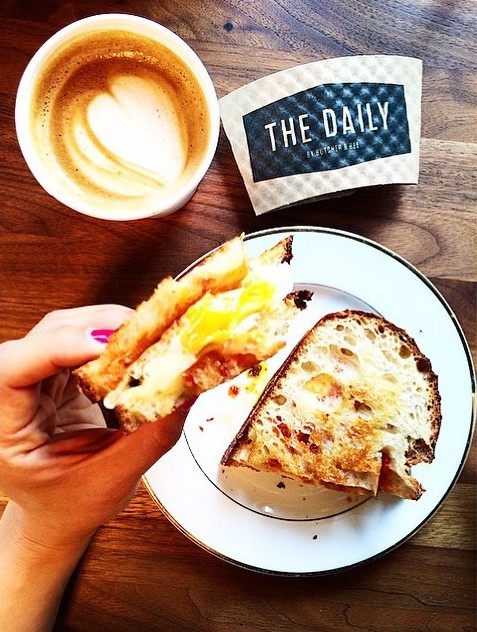 Fried Egg Sandwich. (with harissa + relish + fontina, on sourdough) The simple combination actually packs the most flavor – thanks to the harissa and relish!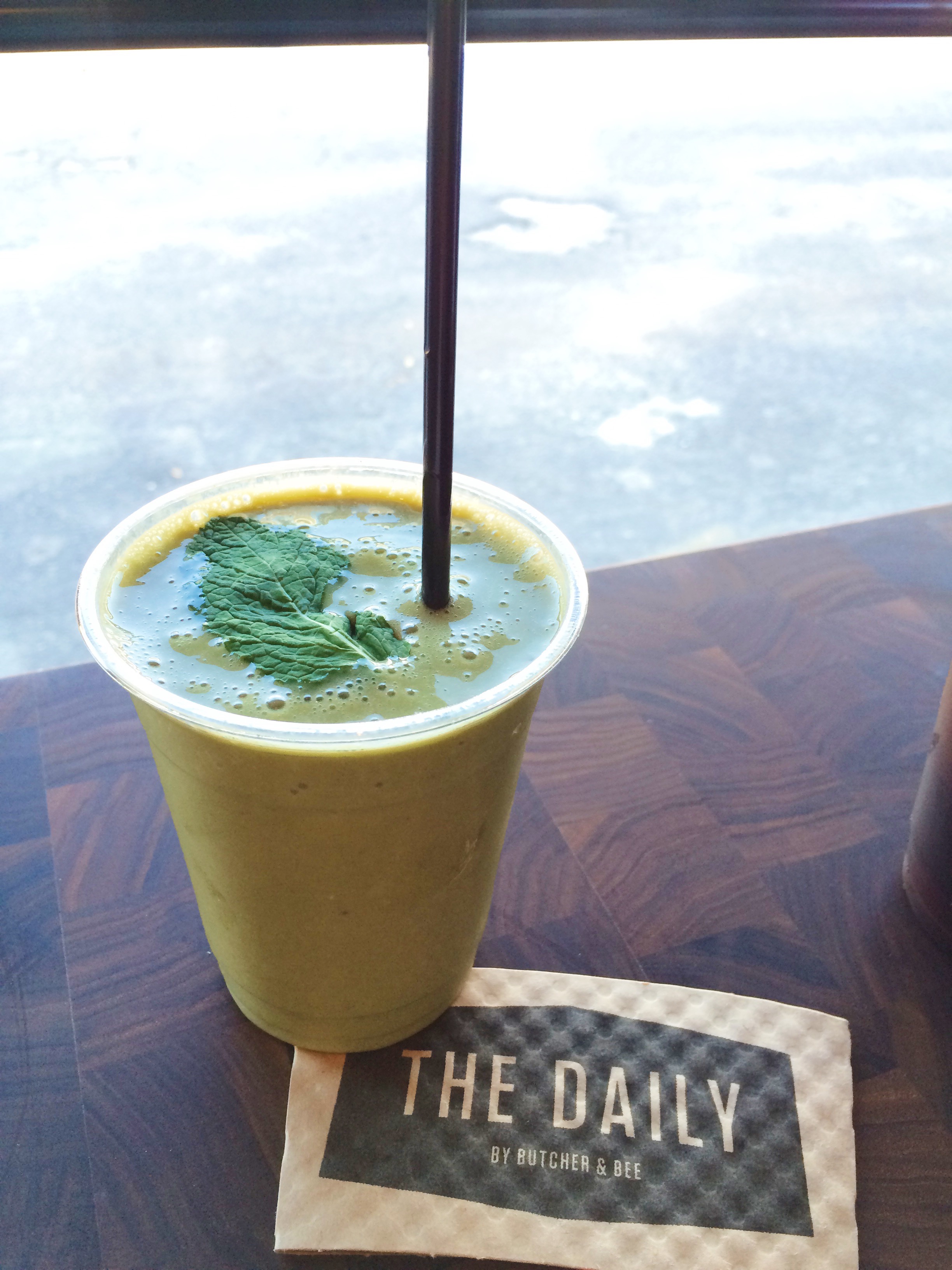 Matcha mint smoothie. (matcha green tea + almond milk + banana + vanilla + mint). If I were a smoothie, I'd want to be the matcha mint smoothie. That mint leaf, though.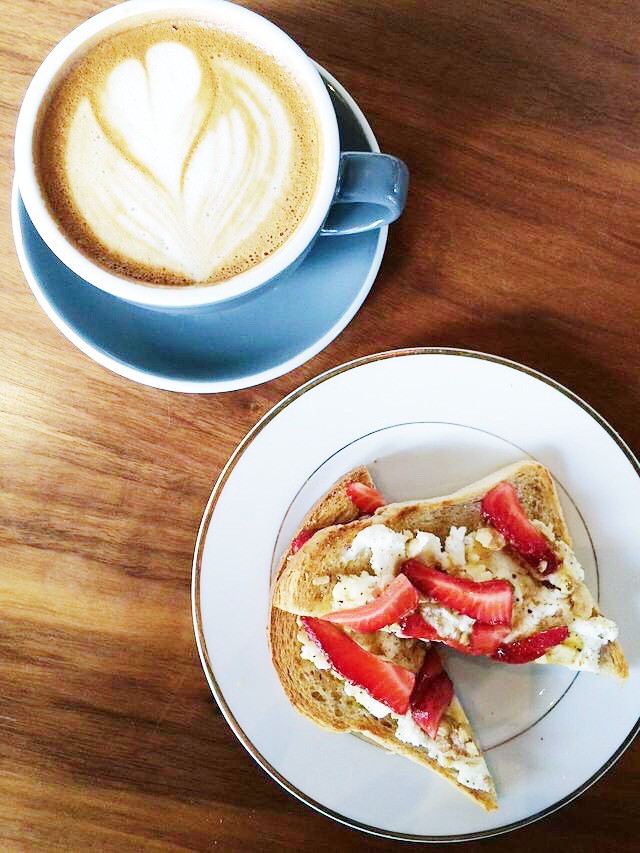 Ricotta toast with honey + almond milk latte. The Daily house makes their ricotta & bread and always adds seasonal fruit!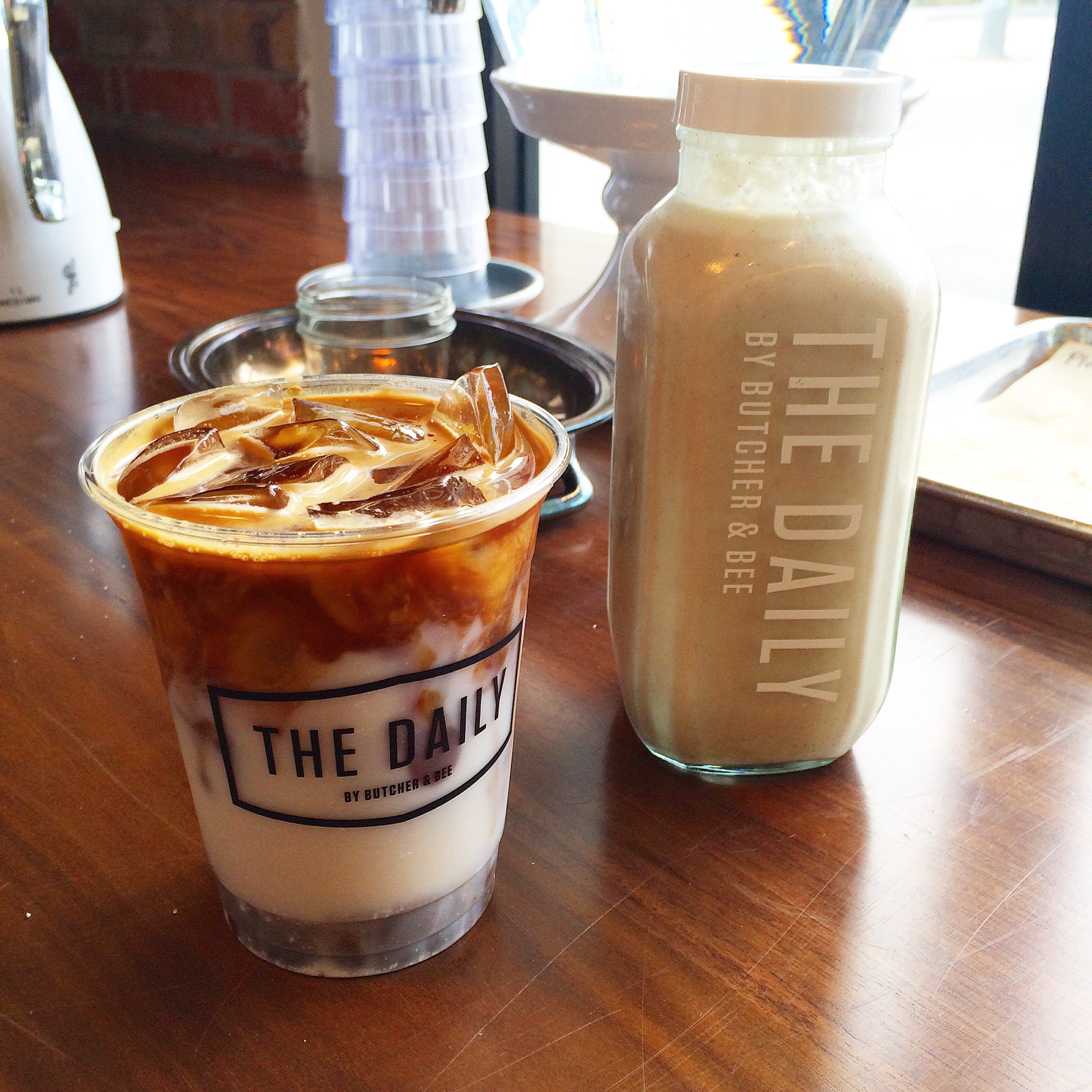 Almond milk latte, iced. This is a classic go to of mine – the house made almond milk makes all the difference. It's a blend of almonds + dates + vanilla bean.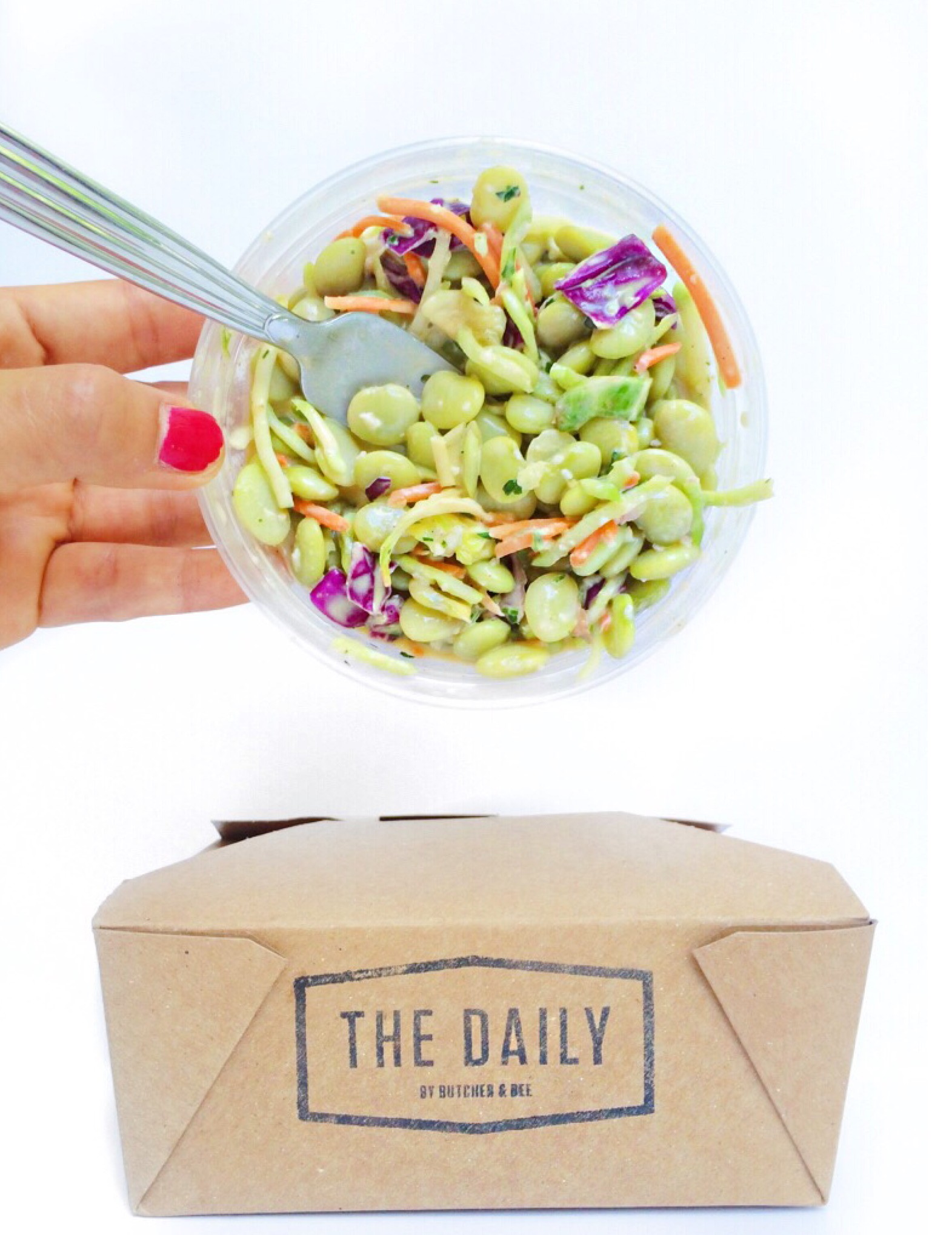 Butterbean salad with turmeric and dill dressing. You can buy the dressing by the bottles because it's that delicious. Plus, anyplace that understands the power of turmeric gets an A+ in my book.

These are definitely just a few of the highlights – the entire menu is fantastic. I know I sound like a broken record, but I'm thankful I have access to places here that shares the same food philosophy I do – sourcing local produce and making dishes out of them in the most flavorful (but always simple) way. Sometimes I just don't feel like cooking after a crazy week (everyone has been there, even an OCD meal planner like me!) and that's why the Daily has became such a common spot for me to go – it feels like a kitchen away from my kitchen.
If you ever visit the Charleston area, make sure to stop by. Luckily, the Daily and Butcher & Bee are right next to each other with a parking lot – aka more time for good food and less time sweating about a parking spot. As for you lucky Nashville locals, good news – the new B&B is scheduled to open later this year in Tennessee. Actually considering road tripping down a weekend to Nashville from Chicago later this year to scope it out – I'd do it for the mezze plate!
(Big thanks to the Daily for providing everything posted. All opinions are 100% mine!)
(Visited 300 times, 1 visits today)