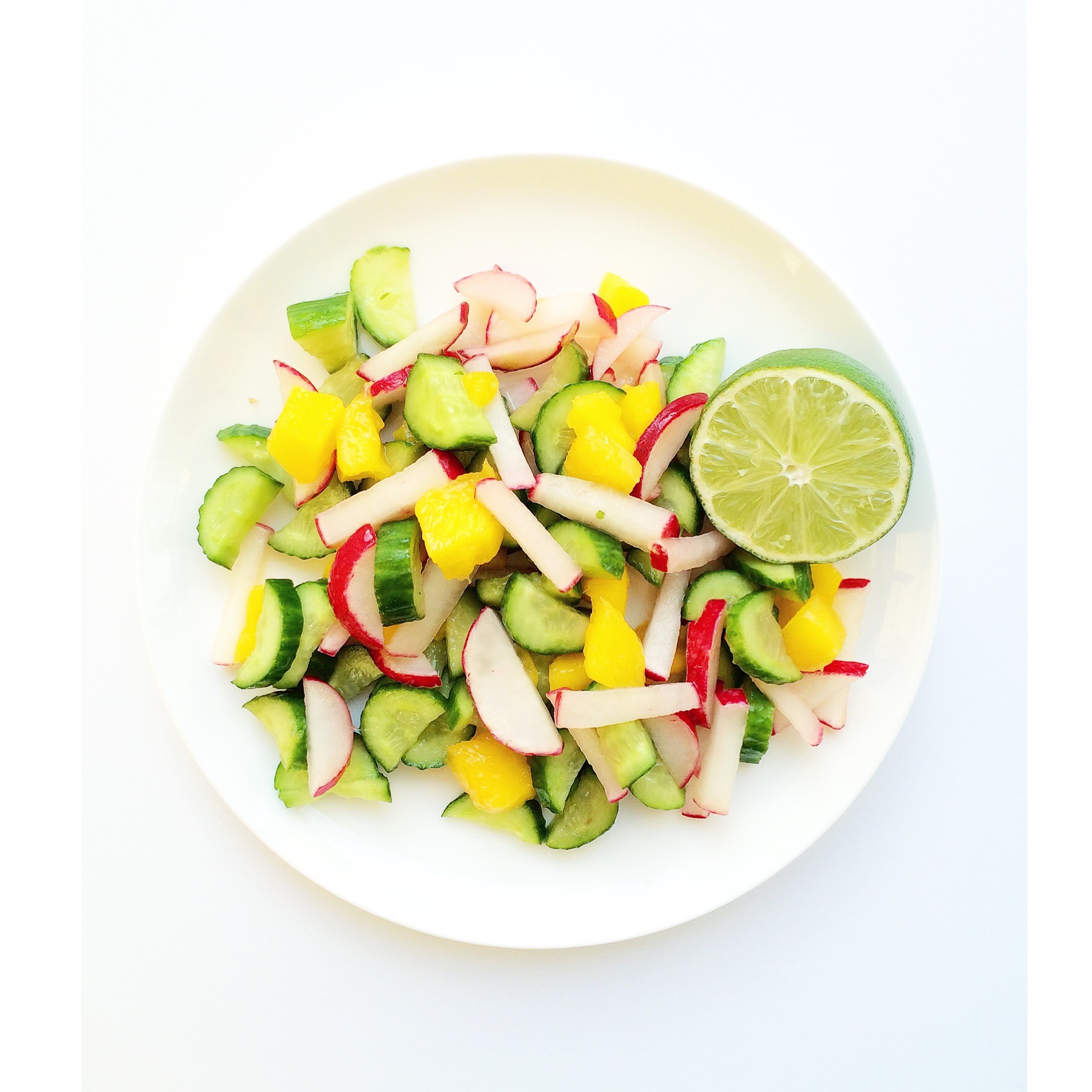 Today I'm sharing 6 lunch ideas of mine from the past few weeks – sad desk lunch no more! I like to bring my lunch to work because a) it saves money b) it gives me the flexibility of having healthy options that I actually want to eat. Also, it's fun for me – there's something about an incredibly organized lunchbox that gives my OCD mindset all the feels.
Fun fact: I brought my lunch to school every single day all through elementary, middle, and high school. Needless to say, I've got some experience under my belt. However, gone are the days of Lunchables and Capri Suns – the current brown bag situation is SO much better (healthier, tastier, and overall more kick-ass.)
Each of these lunches are as easy as the title says – prep them the night before and grab and go in the morning!
1. Cucumber, Mango, and Radish Salad with Honey and Lime
Ingredients:
1 mango, diced + 3 mini cucumbers, sliced & halved + 6 small radishes, diced
Dressing:
Juice of 1 lime + 3 tbsp raw local honey
I love to pair this fresh salad over a bed of greens – with some eggs or tempeh to make it more filling.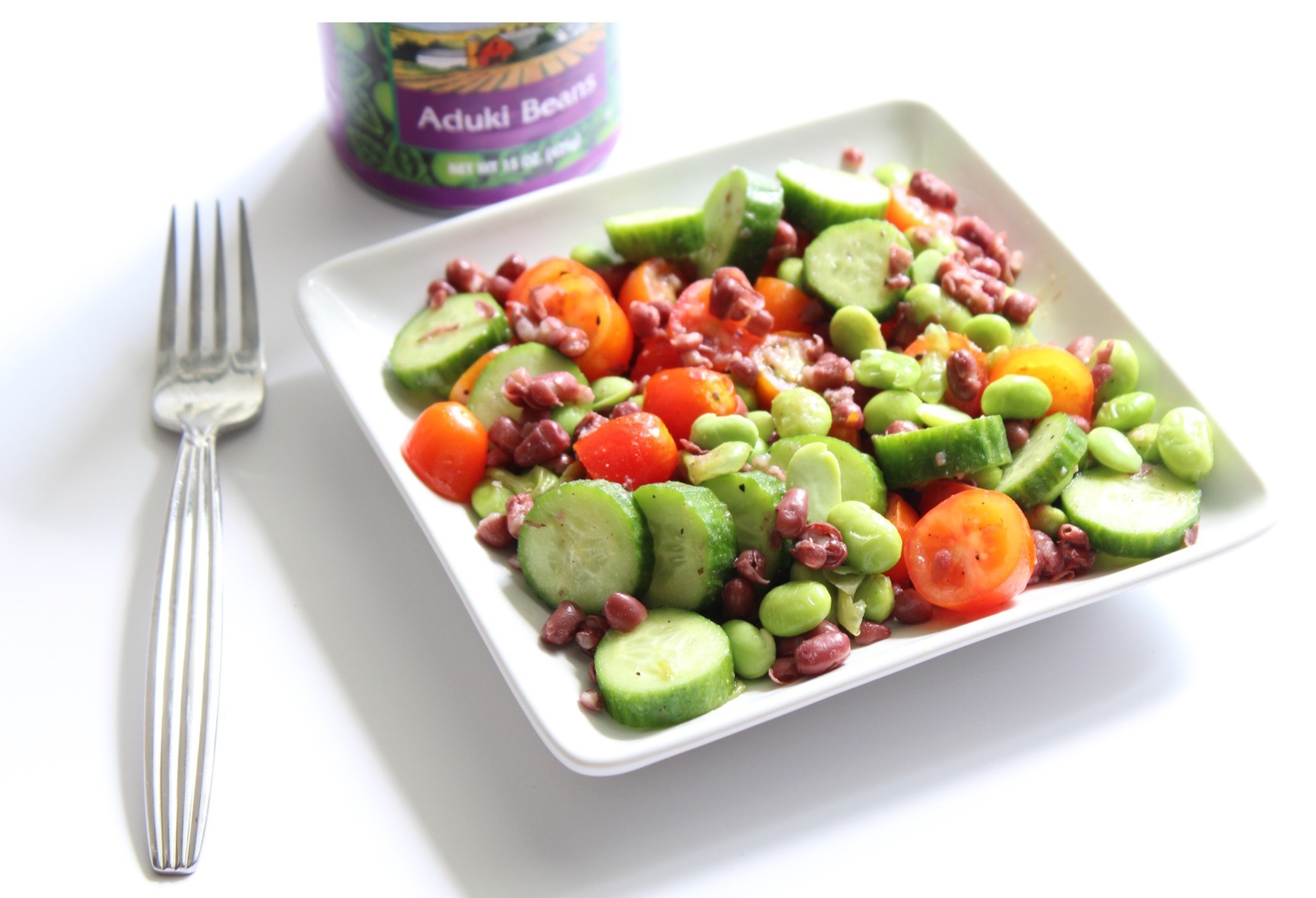 2. Adzuki Bean, Edamame, Cucumber and Grape Tomato Salad
Ingredients:
1 can of unsalted adzuki beans + 1/2 cup shelled edamame + 1/2 cup sliced grape tomatoes + 3 sliced mini persian cucumbers
Dressing:
3 tbsp extra virgin olive oil + 2 tbsp apple cider vinegar + black pepper to taste
Have you ever had adzuki beans before? It's another legume that packs in a wonderful source of plant-based protein ( 8 grams per 1/2 cup) along with a variety of B vitamins, iron, and fiber. Combined with the edamame, this is a great high protein meatless option to toss into your lunchbox.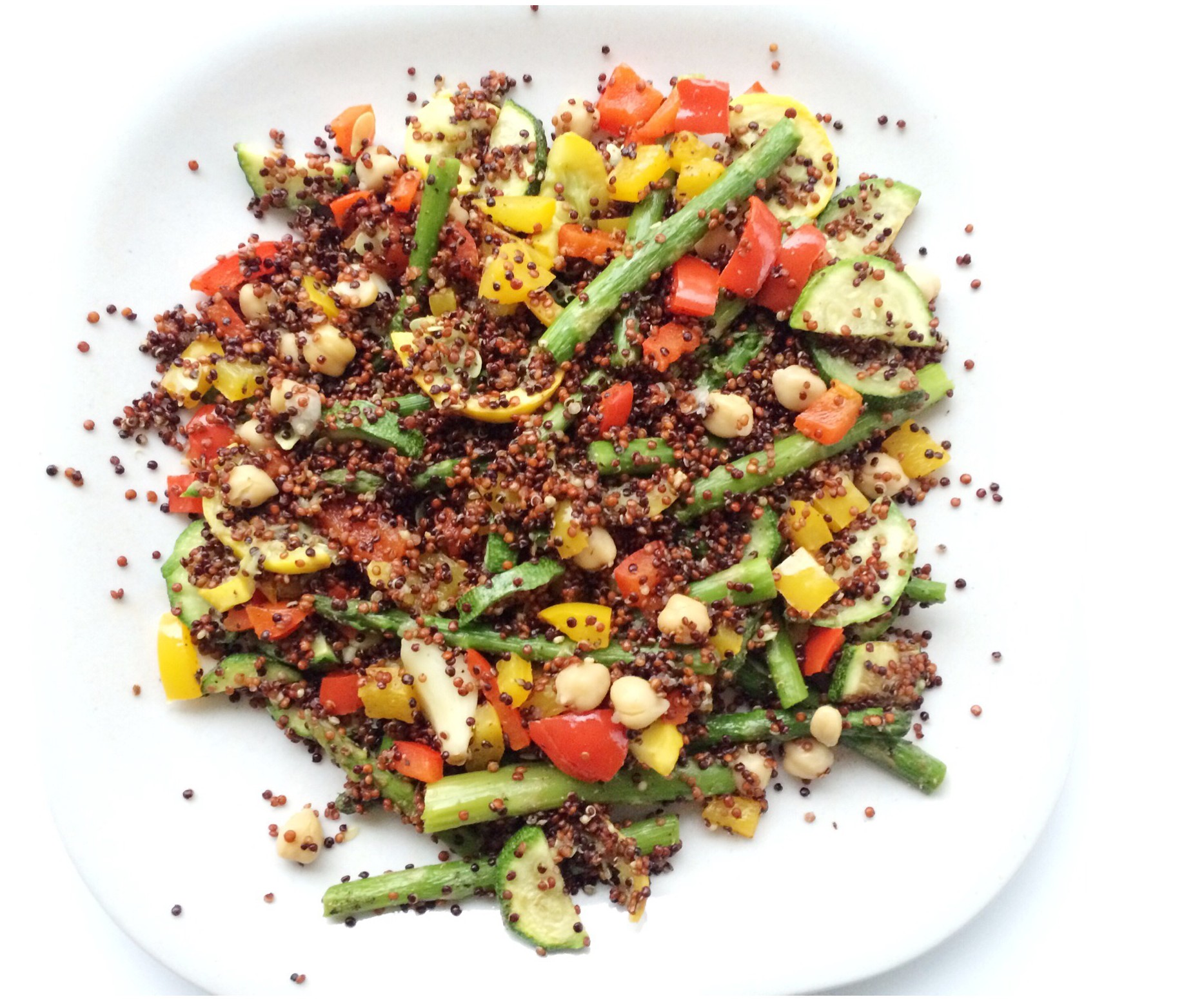 3. Roasted Vegetable Quinoa Salad
Ingredients:
1 cup cooked quinoa + 1 can unsalted chickpeas + roasted asparagus, yellow squash, red bell peppers, zucchini (roasted with coconut oil at 400F for 20-23 minutes, with the exception of asparagus, which only takes 10 minutes)
Dressing:
None. I prefer to let the flavors of the roasted vegetables to come through – but feel free to dress it up with some extra virgin olive oil and balsamic!
One thing about bringing a lunch to work for me is whether it will travel well. This roasted vegetable quinoa salad is an all in one meal – no fussy sauces or funky smells to deal with.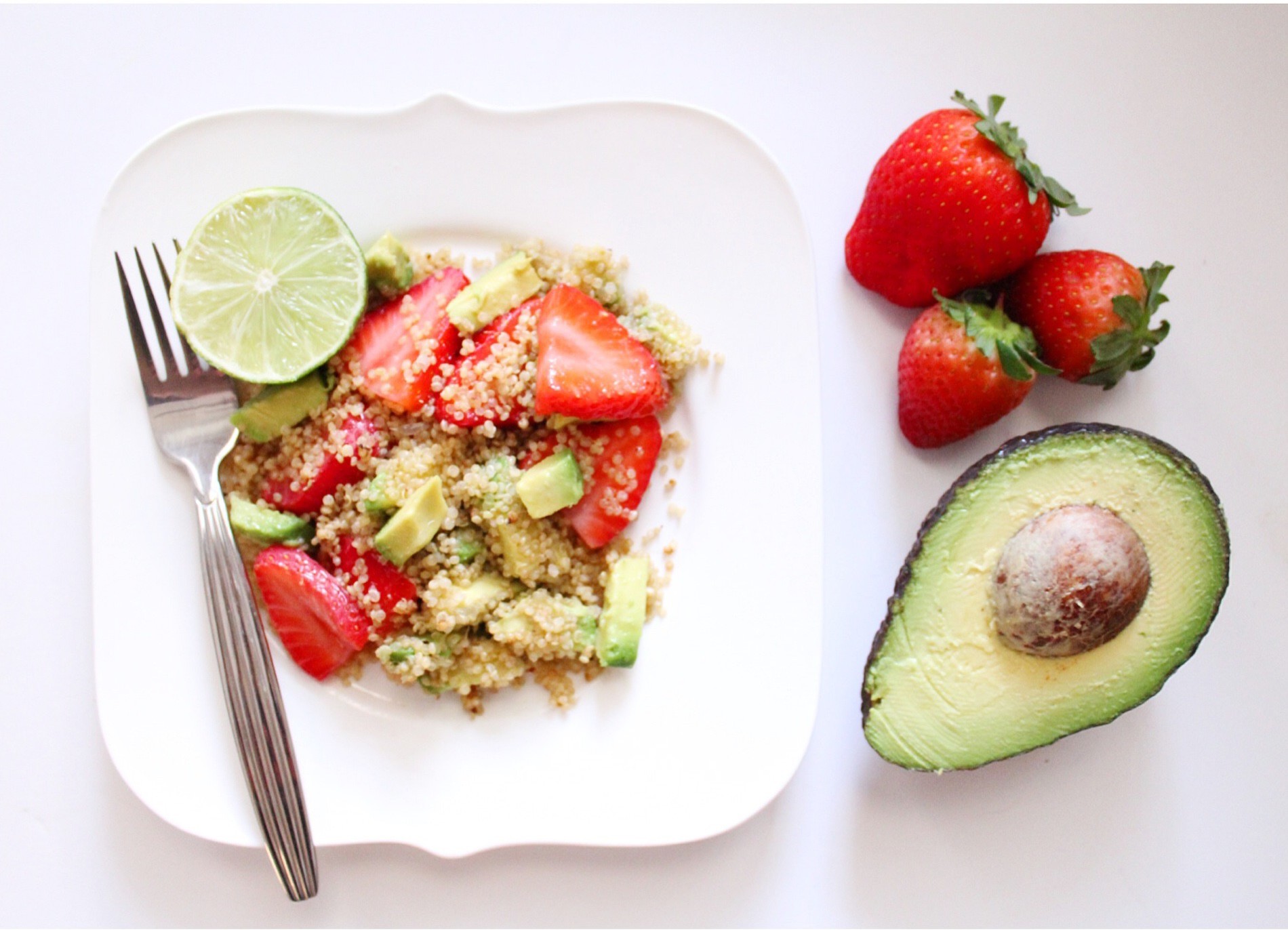 4. Avocado and Strawberry Quinoa with Lime
Ingredients:
1 cup cooked quinoa + 1/2 cup sliced strawberries + 1/2 avocado, cubed
Dressing:
Juice of 1 lime + 1 tbsp honey
This option is great for breakfast as well – quinoa makes a great alternative to oatmeal in the morning. It's light but filling – and the strawberries and honey satisfies any sweet cravings. I love adding avocado for a creamy texture and healthy fats!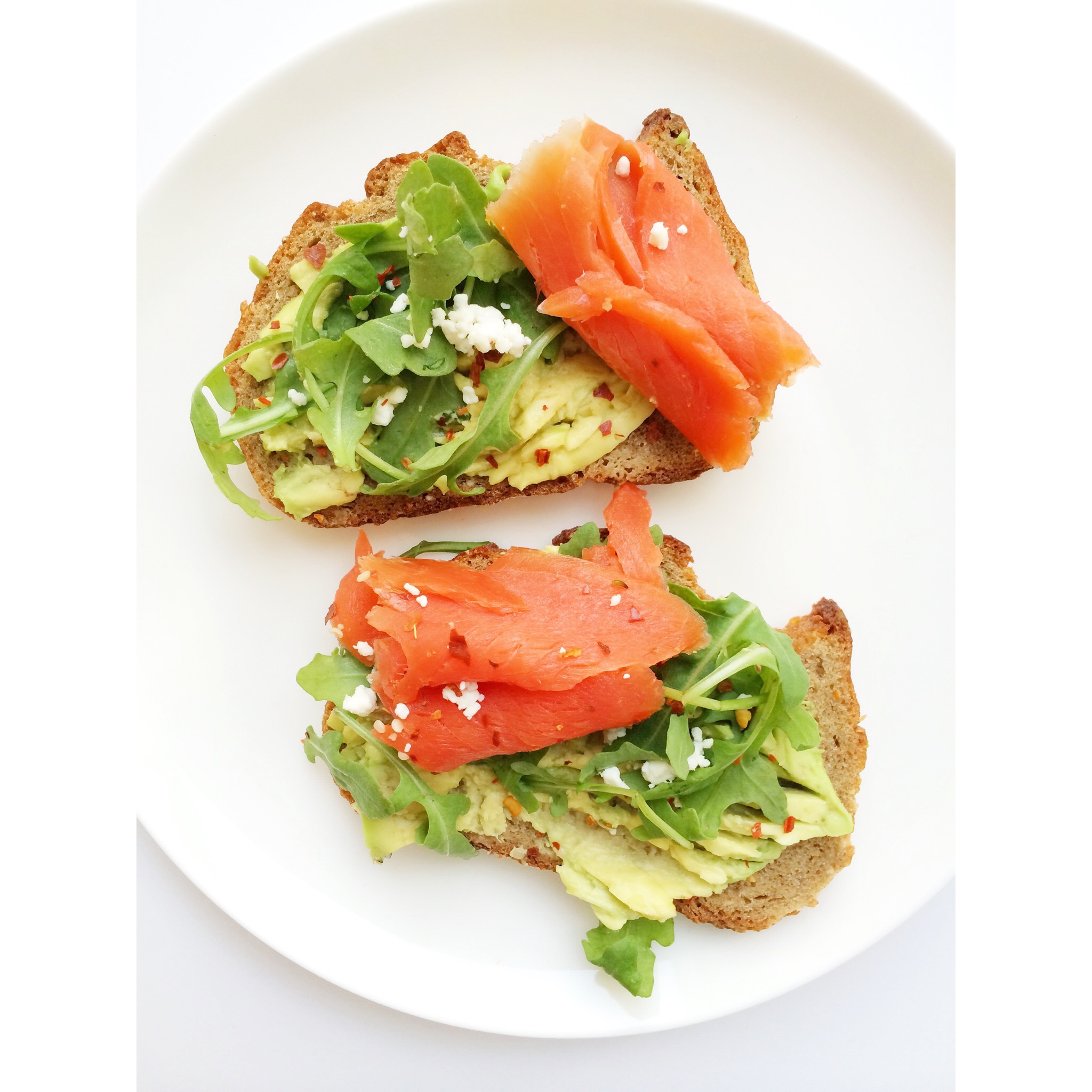 5. Avocado Toast with Smoked Salmon
Ingredients:
Organic sprouted bread (via Whole Foods, but any bread of choice will do) + 1/4 avocado + 2 ounces smoked wild caught salmon + arugula + goat cheese + red pepper chili flakes
Optional but recommended:
sprouts
Amped up avocado toast – it's perfect for any meal of the day. I like to buy my bread local so I know there's no extra preservatives (that, and fresh bread toasts up nicer!) or use my favorite spelt english muffins from Rudi's Bakery.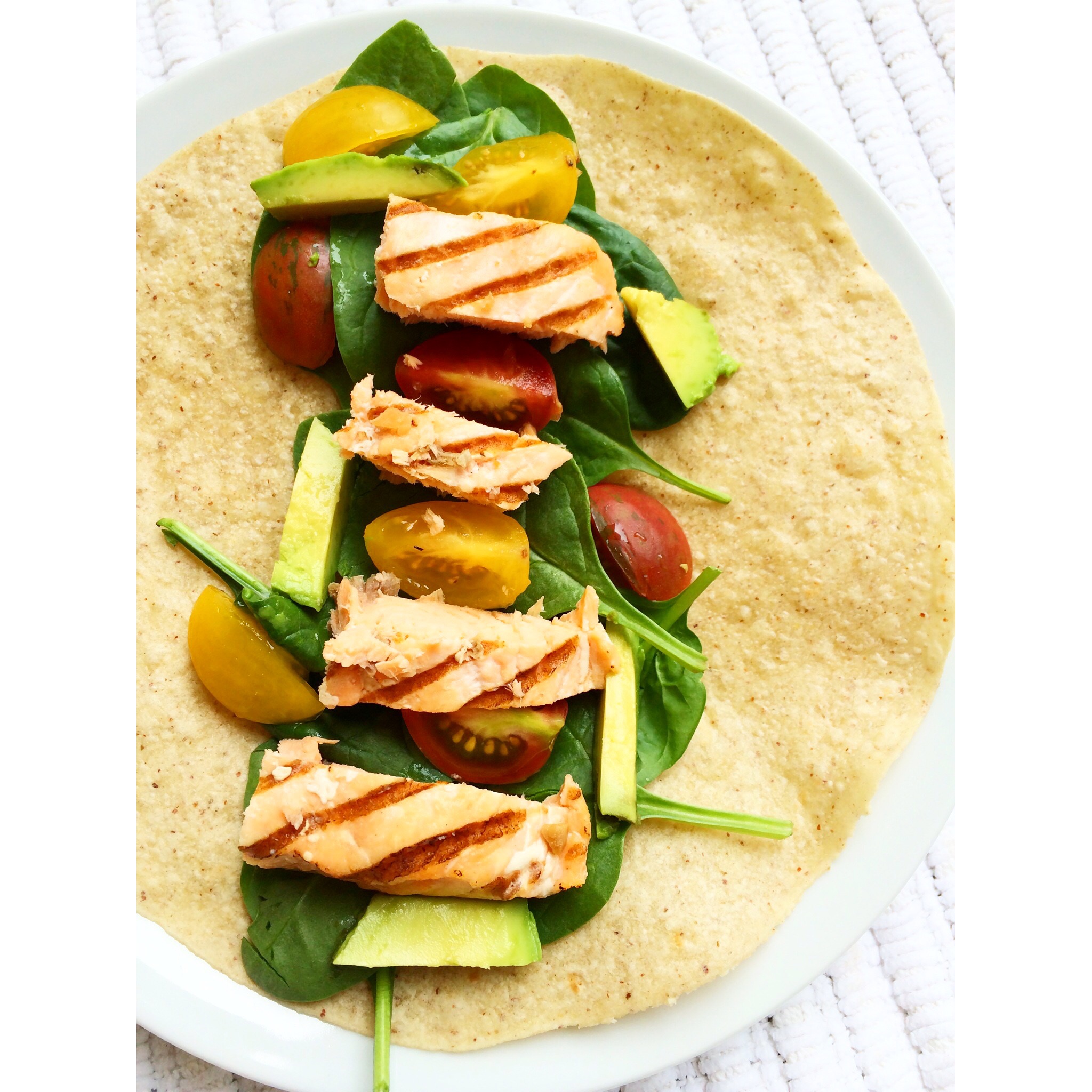 6. Salmon & Avocado Brown Rice Tortilla Wrap
Ingredients:
1 brown rice tortilla wrap (the ones I used are by Food for Life) + 3 oz grilled salmon + spinach + avocado + grape tomatoes
Optional but recommended:
hummus
Self explanatory and simple – the brown rice tortillas are my go to when it comes to making wraps. I also love the coconut flour paleo wraps from Julian's Bakery.
Do you find yourself bringing lunches to school/work?
What's your packed snack go-to?
(Visited 178 times, 1 visits today)