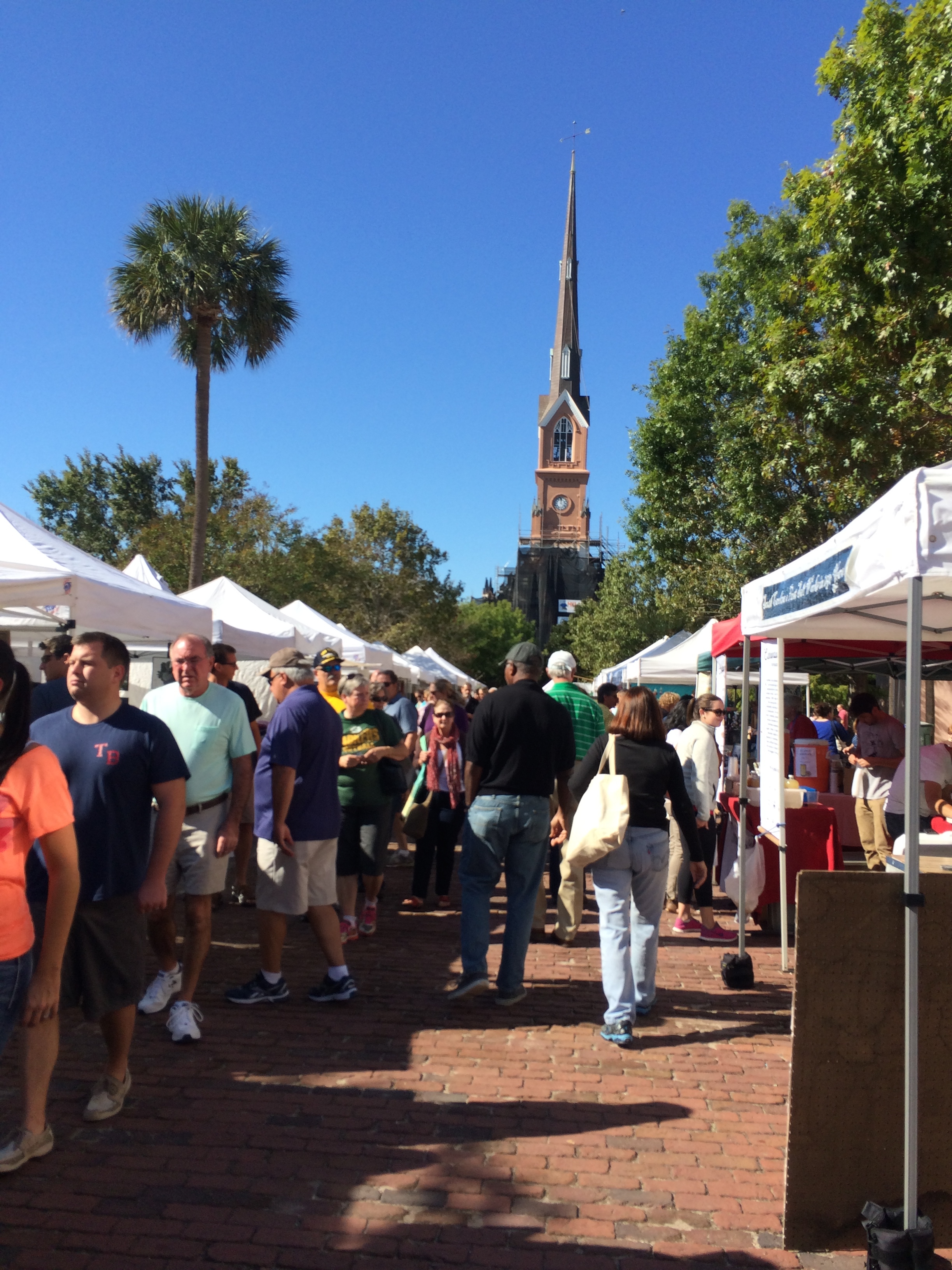 This past Saturday was the opening day of this year's Charleston's Farmer Market, aka one of the best times of the year!
And just in time for the Low Country Local First's Eat Local Challenge. I'm excited to be blogging about my experience with local buys/eats during the month of April.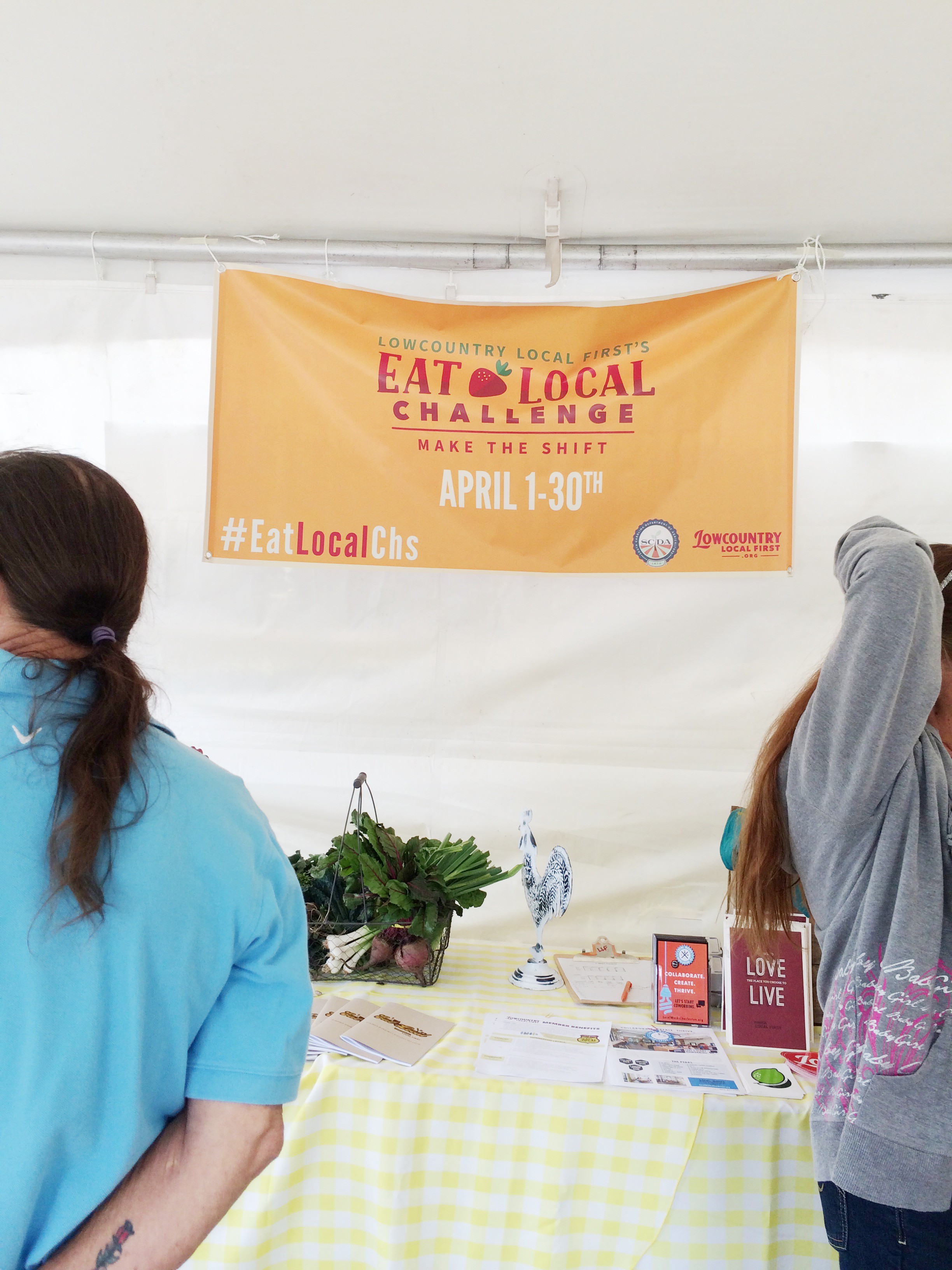 As you may know, I'm a dedicated supporter of purchasing and eating local goods. Choosing to buy local products not only helps us to choose healthier options and lower the environmental impact, but it also supports our local business economy too. Even though Agribusiness is South Carolina's largest industry, over 90% of the food is still imported. This challenge is a great way to show consumers all the local options available and how to personally increase their consumption of local food.
Low Country Local First is a non-profit organization here in Charleston that supports local businesses in the lowcountry and provides community members with resources on learning more about sourcing locally.
The Eat Local Challenge encourages participants to shift $10 of their weekly grocery budget towards locally sourced products during the month of April, whether it's through CSA's, farmer's markets, or even local products found in the grocery stores.
Heading to the local farmer's market is a great way to scout for fresh produce – which here in Charleston, we have an abundance of! Of course, in addition to produce, the market also has local spices, bread, cheeses, meats, fresh pasta, all the coffee in the world, and some kick ass food trucks!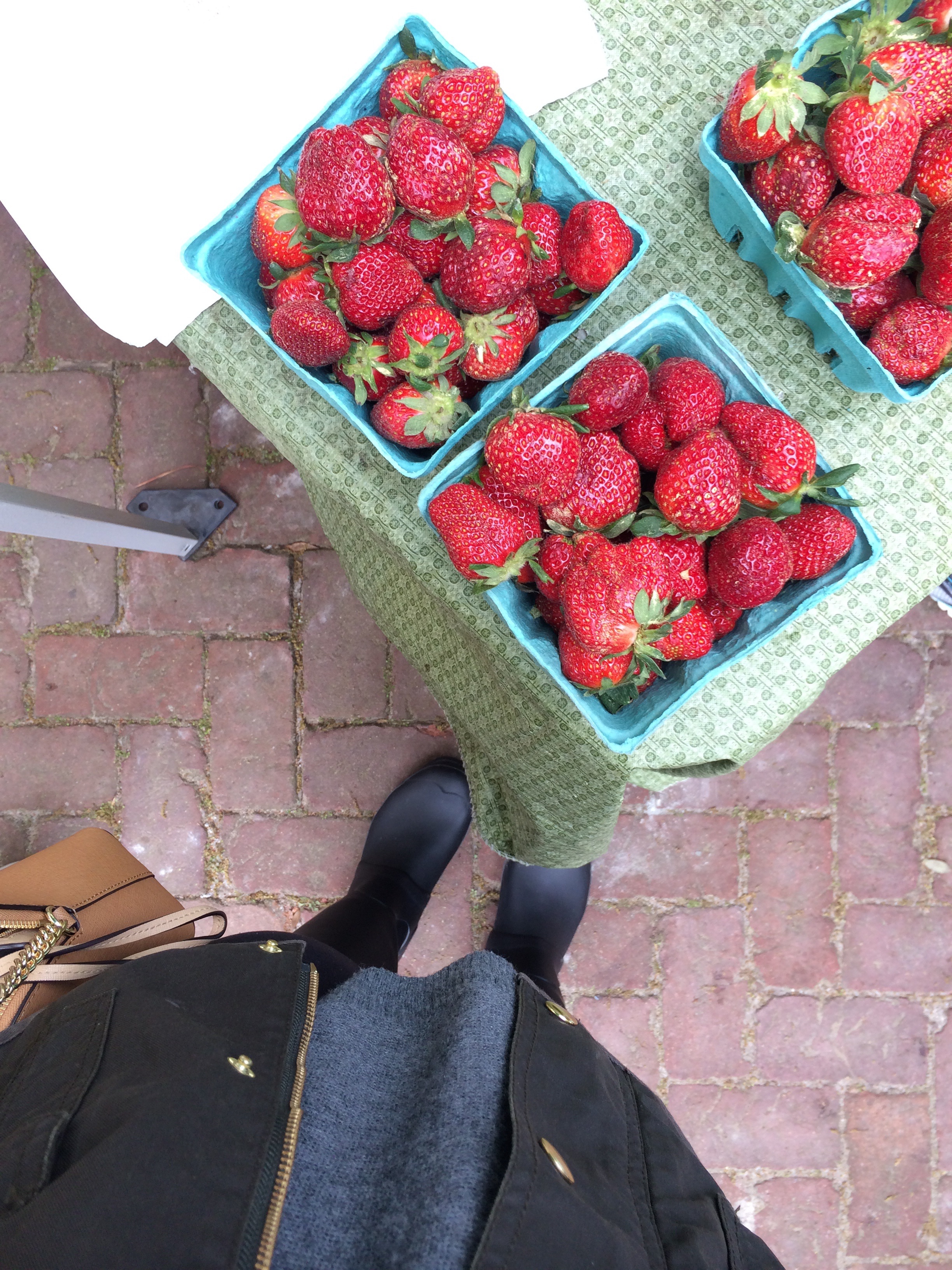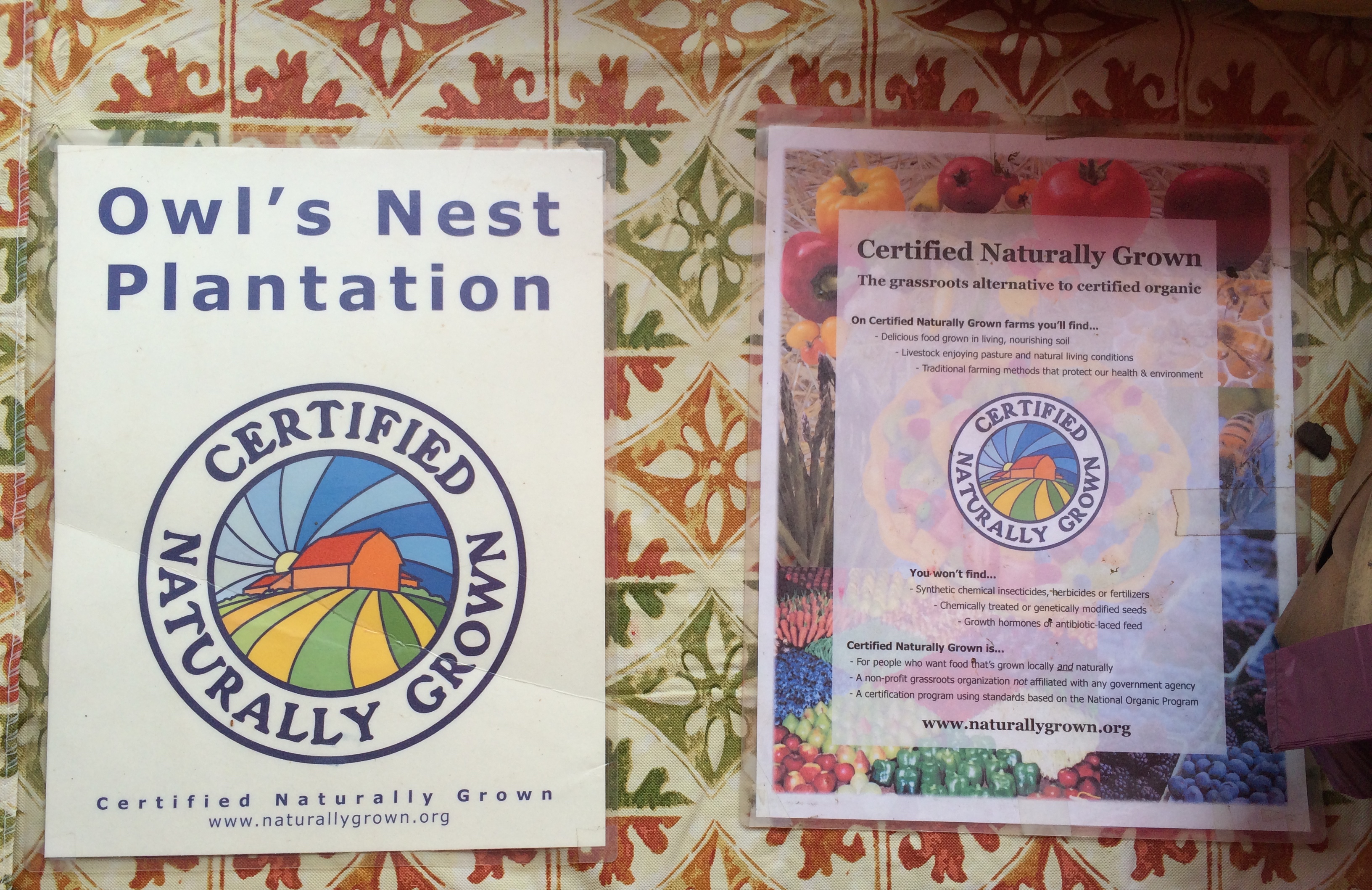 One of my go-to vendors is Owl's Nest Plantation.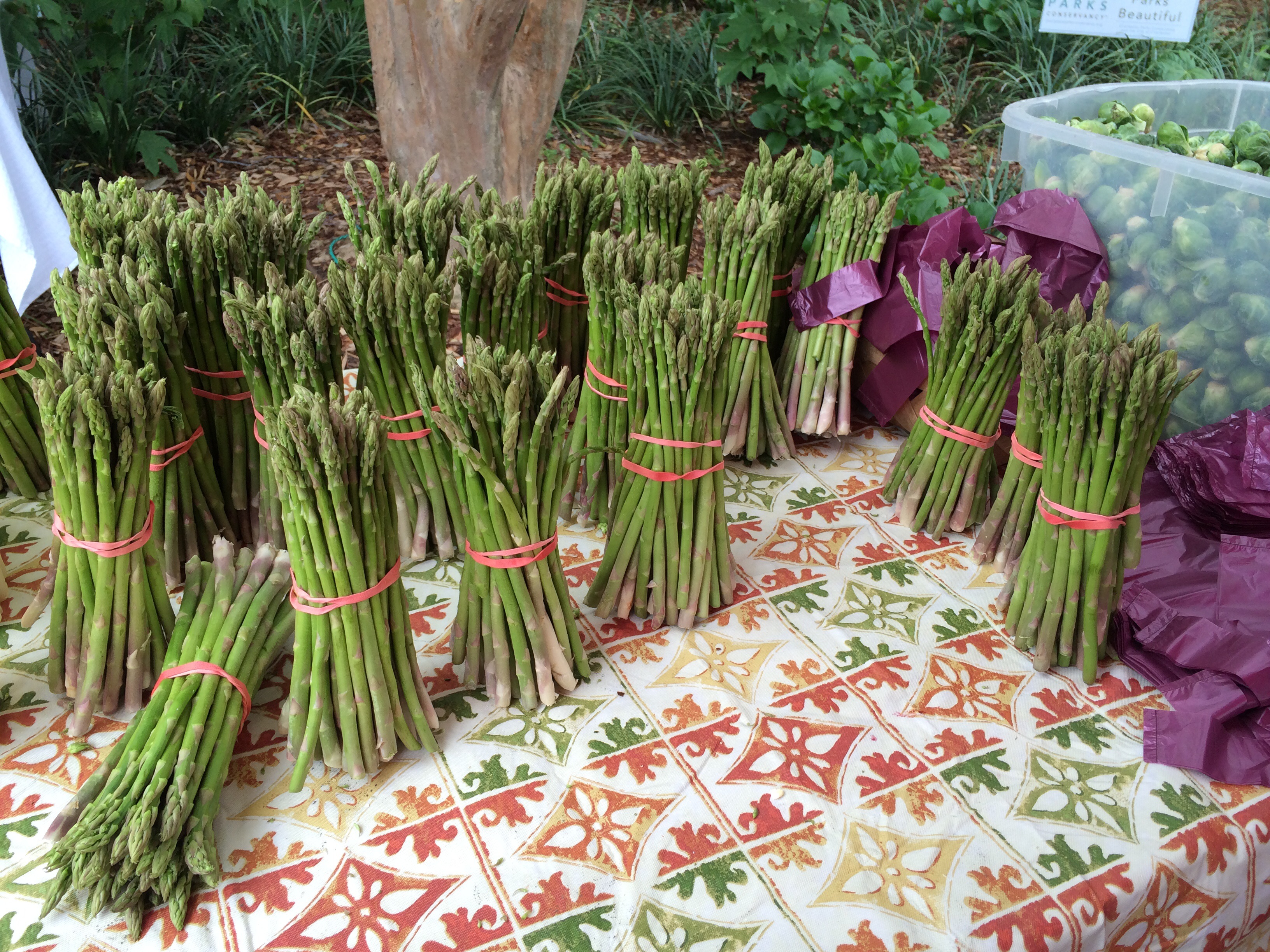 They always have a large selection of produce, but today the asparagus was calling my name! Fresh produce is the way to my heart. The nutrition nerd in me obviously couldn't pass it up – that color is vibrant!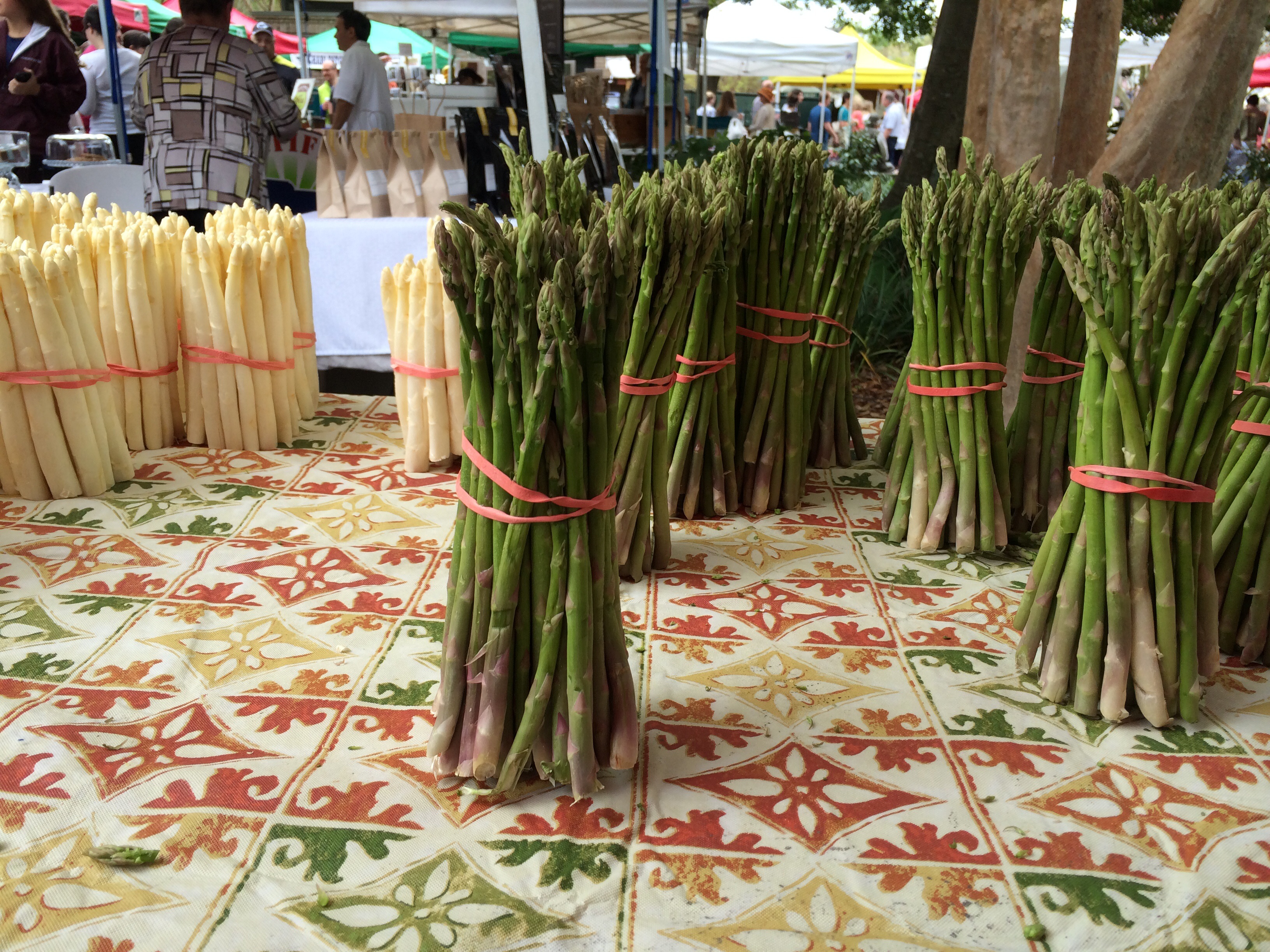 They also had white asparagus, which is rare and only appears around this time of year – so grab them while you can! The flavor is a little milder than your usual green asparagus. I picked up a bundle of each, along with a golden beet.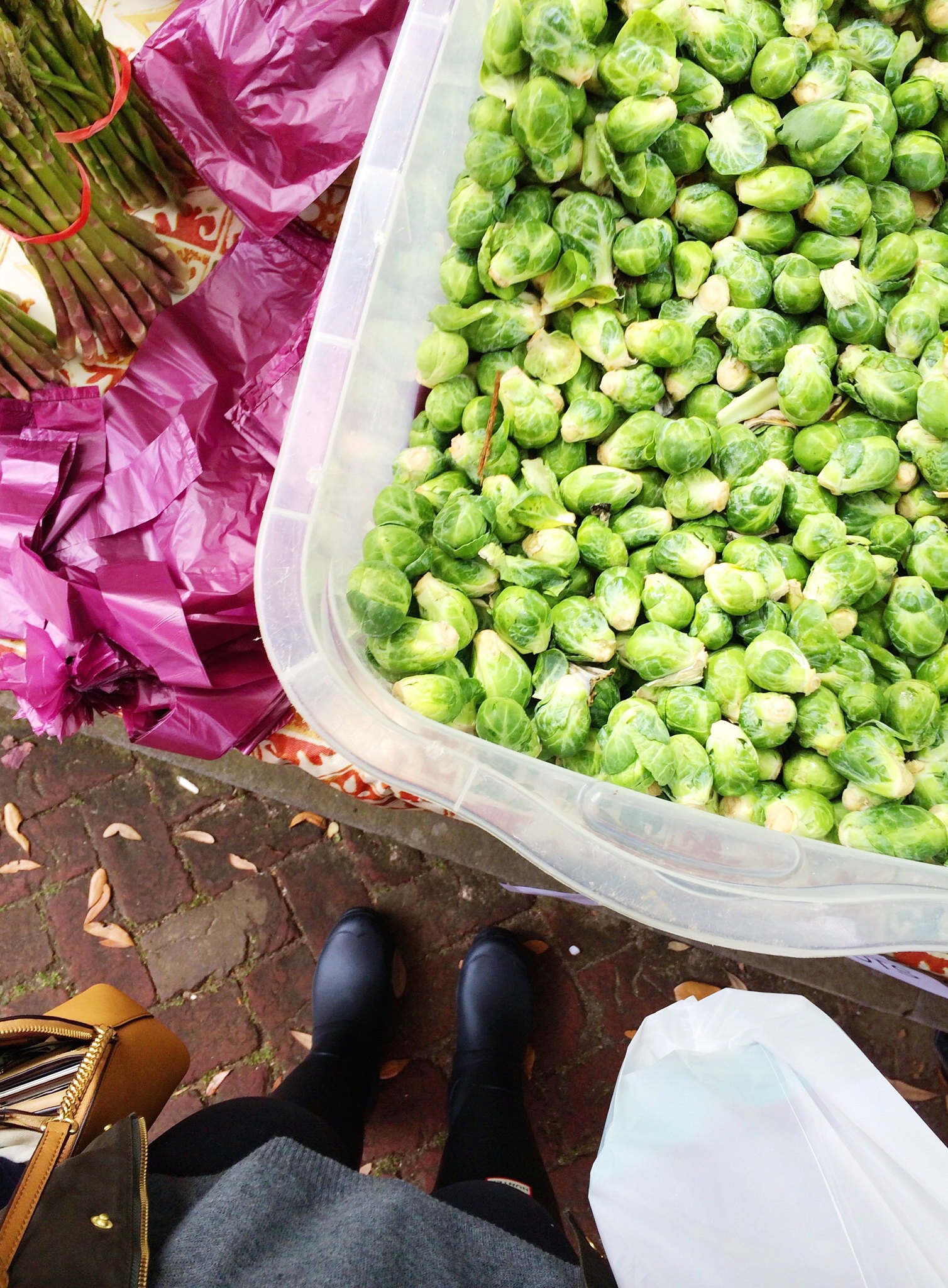 The brussel sprouts were also looking great – I passed over in favor to the asparagus, but next week I would probably pick up a pound.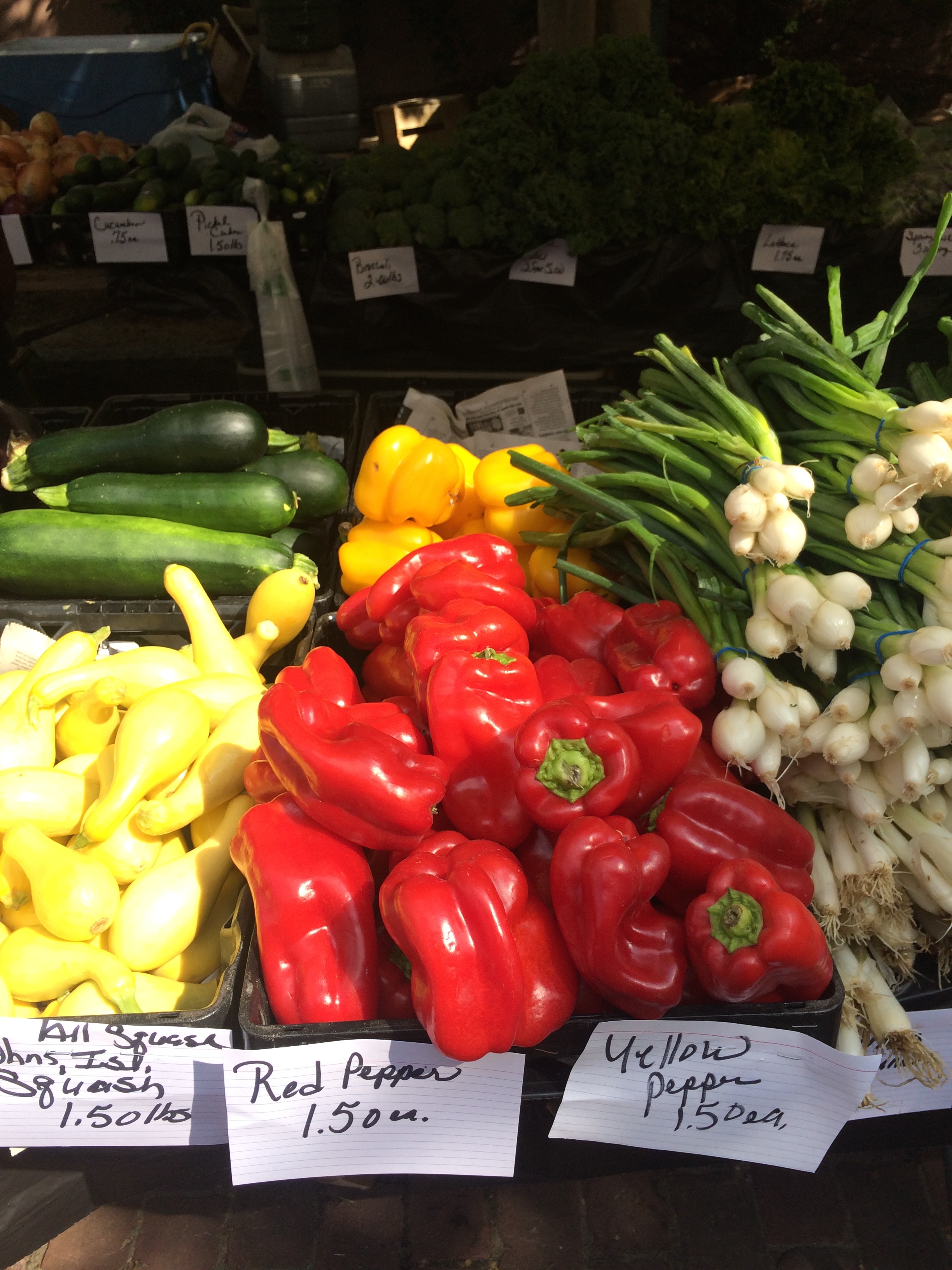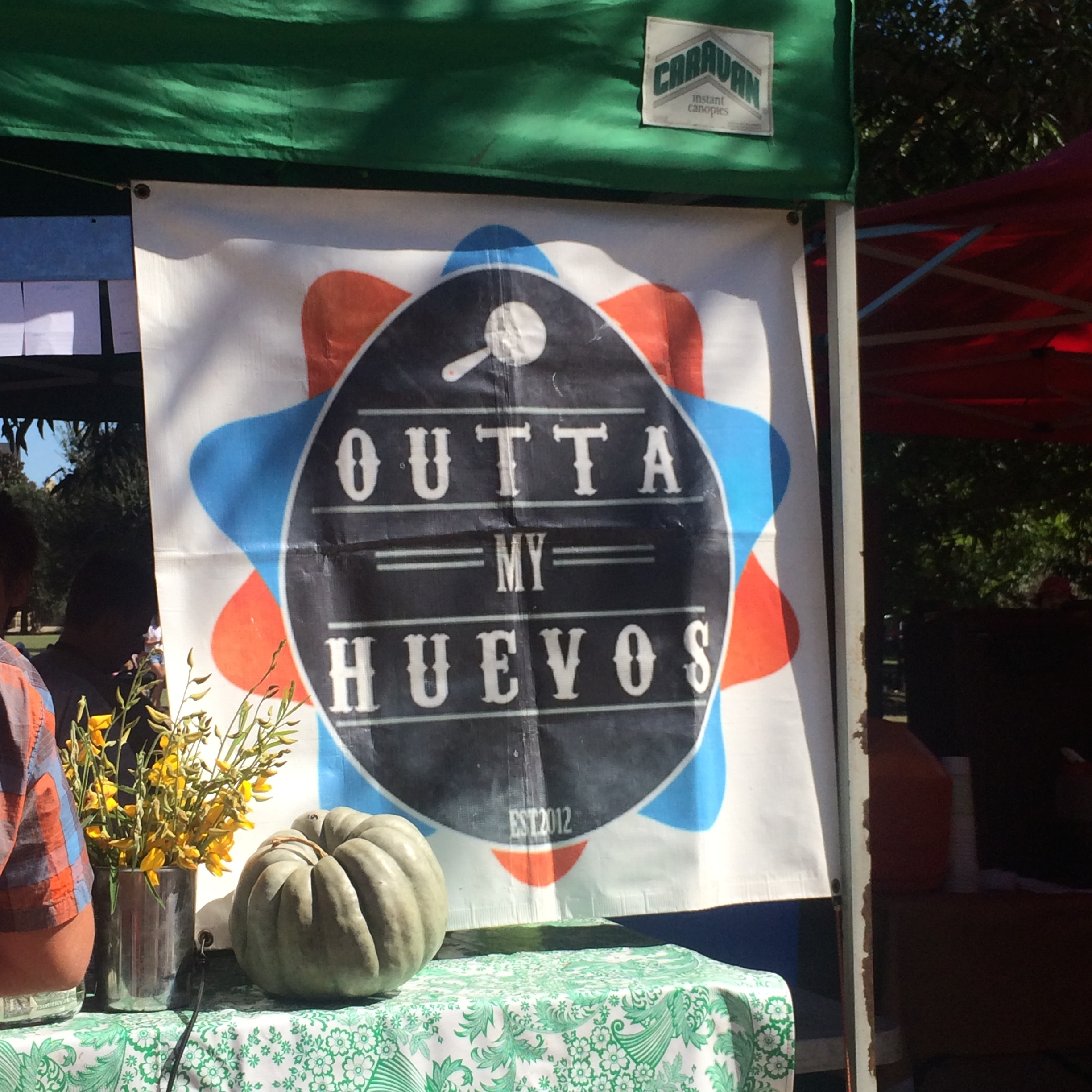 One of my go-to food trucks here is Outta my Huevos. Obviously, their huevos are popular as are their homemade english muffins and stratch made chicken biscuits, but my pick? Their warm local vegetable salad!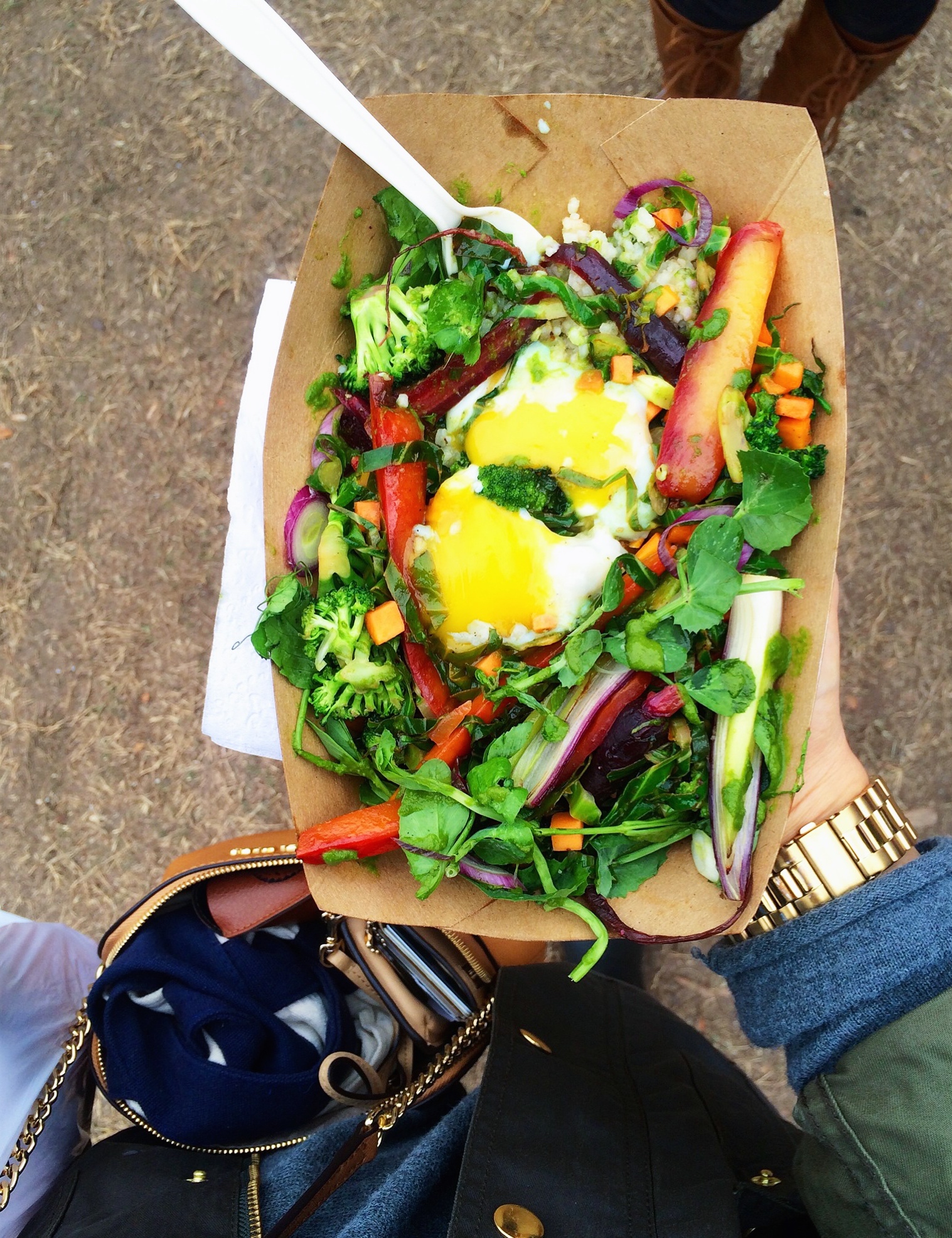 It's combination of whatever local vegetables is in season + Charleston gold rice + chimichurri + 2 soft eggs. The vegetable blend currently is a mix of collard greens + sweet potatoes + rainbow carrots + pea shoots.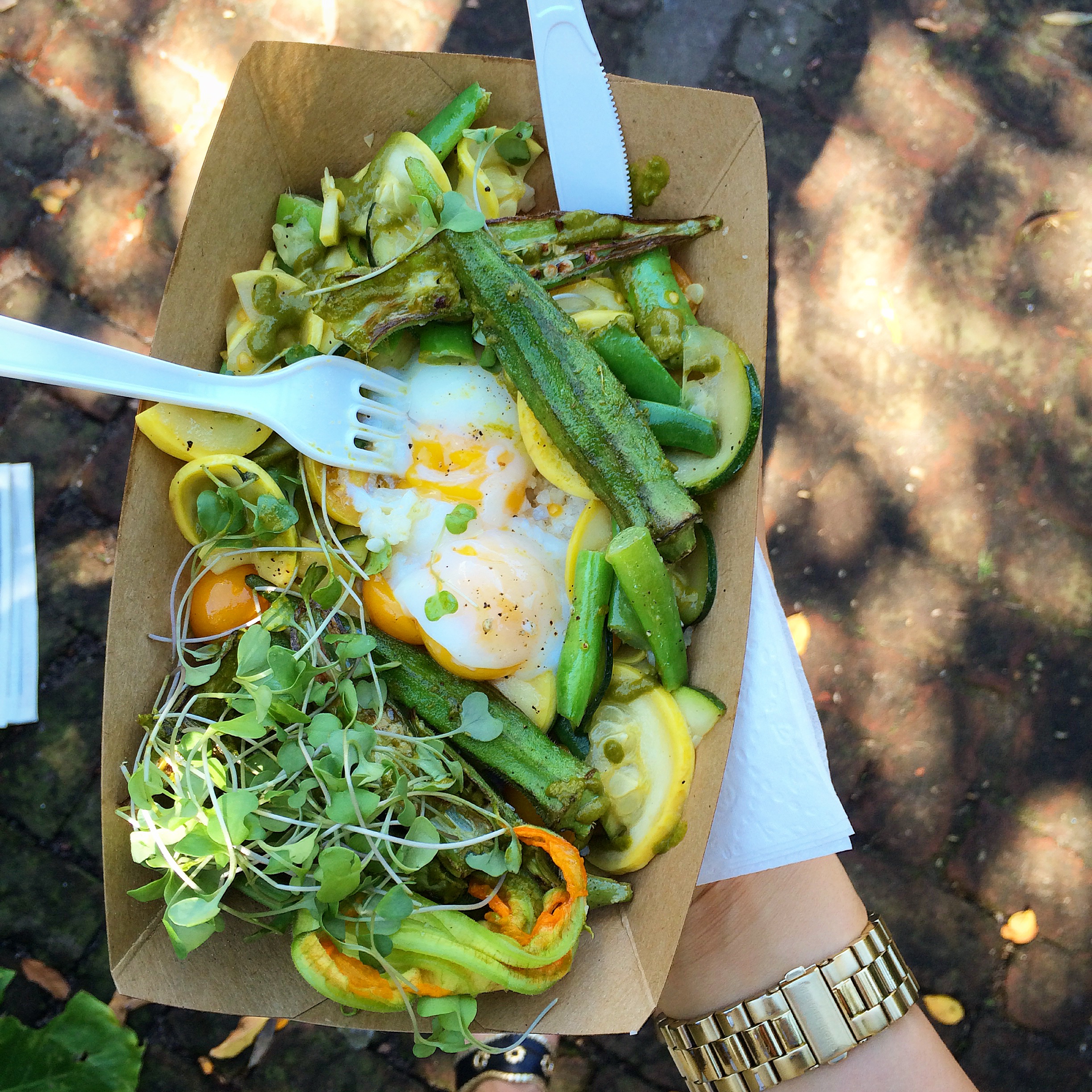 This is the fall version of the warm local vegetable salad, with yellow squash + zucchini + okra + cherry sun gold tomatoes + Kentucky wonder beans + microgreens.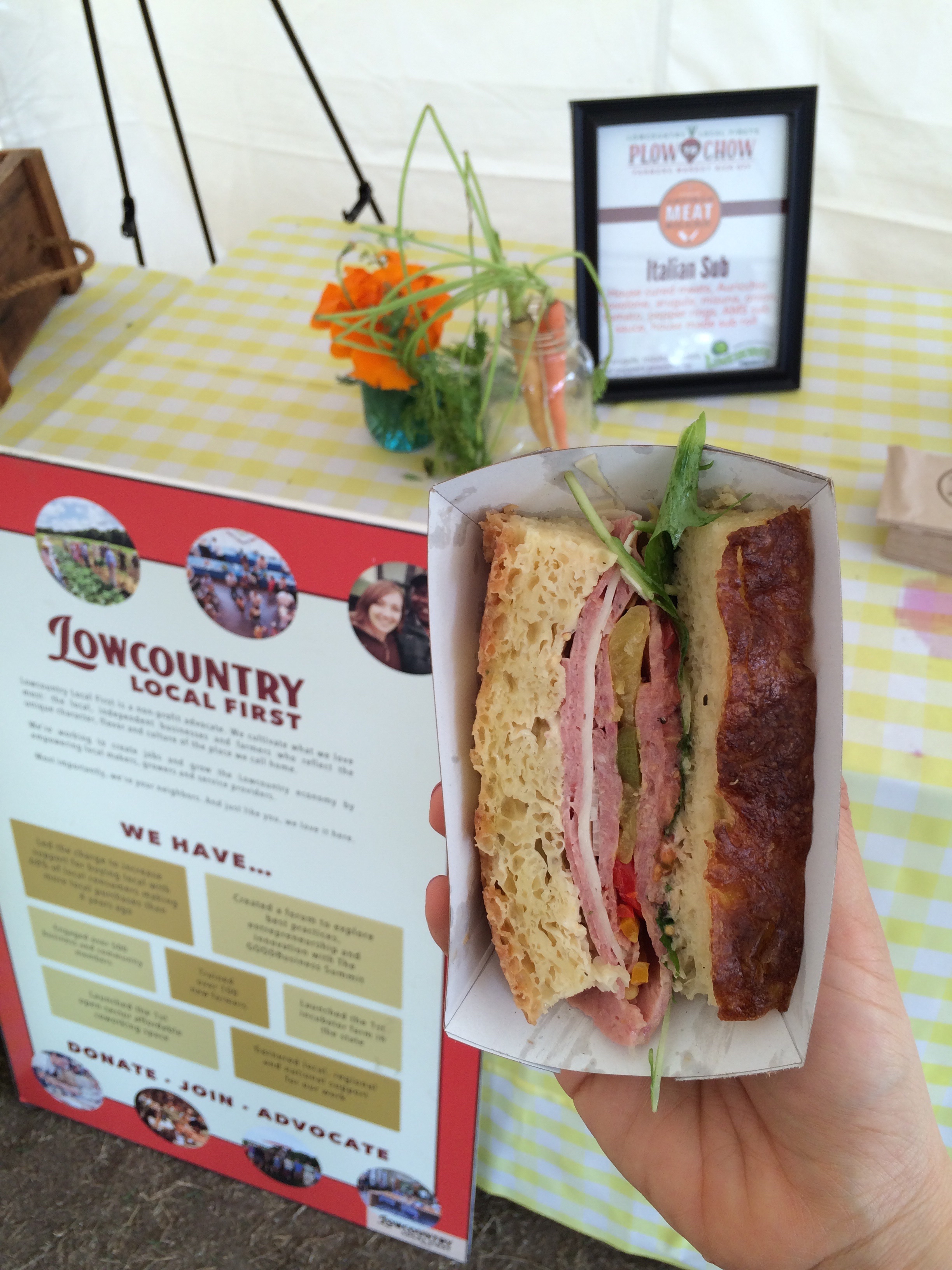 I also stopped by the Low Country Local First's tent to check out some samples from Artisan Meat Share, which has been on my list for a long time now. I'm not a meat eater typically, but this italian sub sample was really good – and I knew my foodie self couldn't pass when I heard Chef Craig Deihl (of both Cypress & Artisan Meat Share) was preparing the tastings. They used produce from Limehouse (based in North Charleston) that day. The ciabatta bread was out of this world!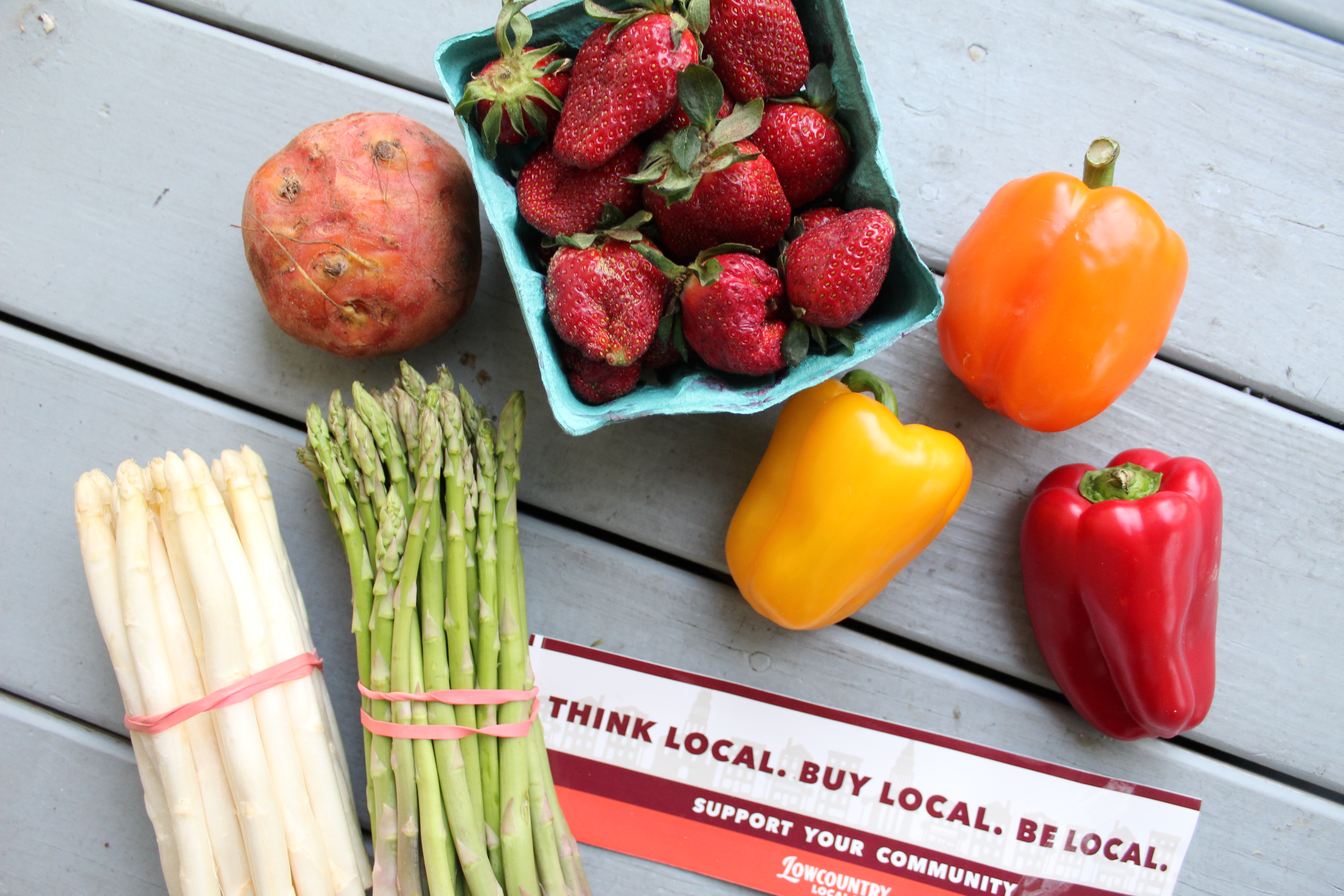 I left the market with some strawberries, bell peppers, a golden beet, and 2 bundles of asparagus – both green and white. I spent about $18.50 for my picks, which definitely counts towards my minimum weekly $10 towards the Eat Local Challenge. Can't wait to share how I use some these beautiful finds this week! Are you following me on Instagram or Twitter yet?

For you Charleston locals, it's definitely not too late to sign up – you can find the link here! It's free to sign up and all you have to do is dedicate $10 each week towards purchasing local foods (as close to you as possible, within the state of South Carolina).

(Visited 22 times, 1 visits today)