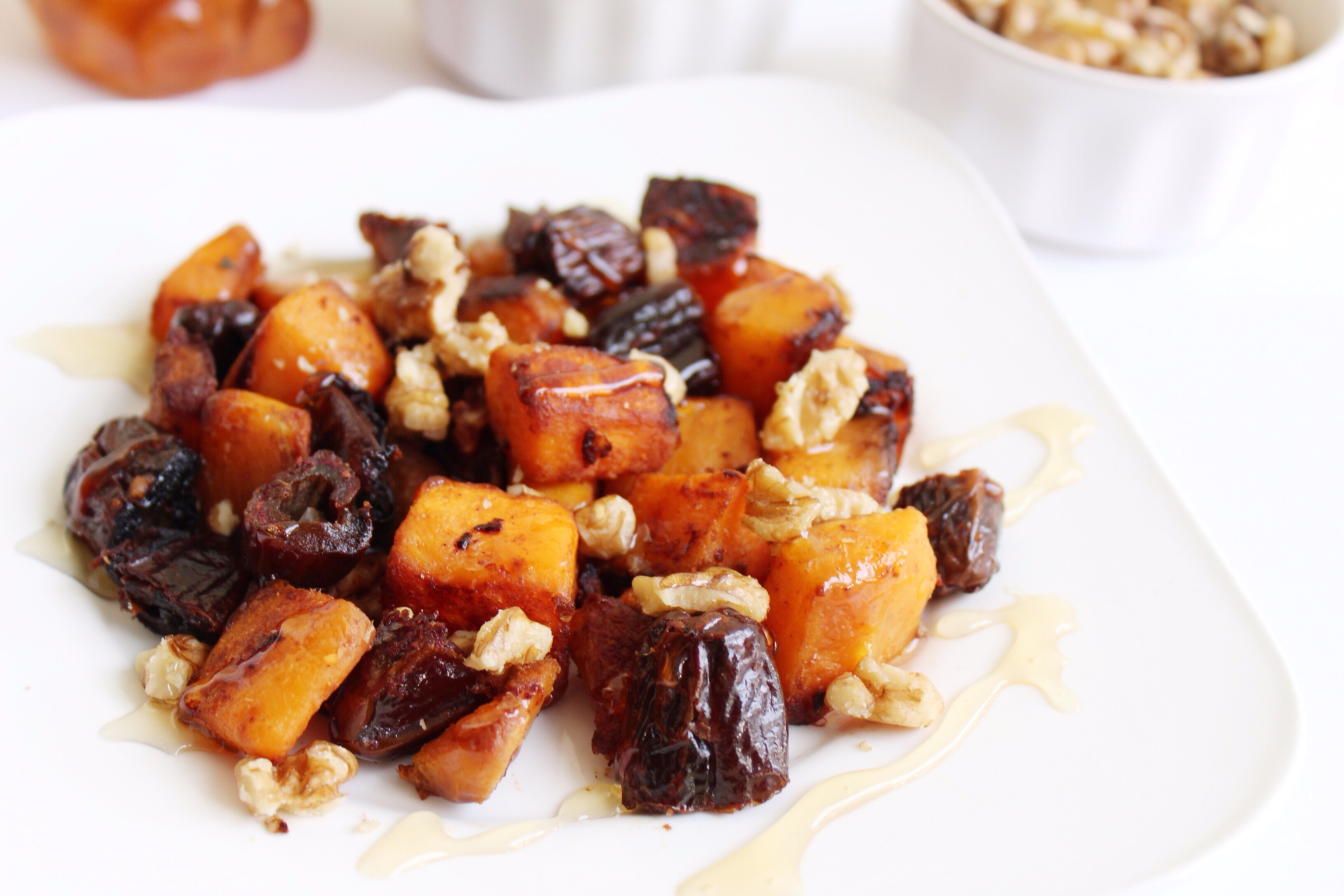 So, butternut squash for dessert. AKA vegetables for dessert. I get you. Always have vegetables and dessert on the mind. You know, the finer things in life – we're all about that here at the Nutrition Happens kitchen.
I had pack of pre-cut butternut squash from Trader Joe's leftover in my fridge from last week so I was trying to find a way to use it up. I'm not saying that butternut squash is soooo winter (because I love squash), but my body really enjoys eating seasonally and currently, I'm really enjoying spring vibes and its abundance of fresh produce. (Did you catch this Minted Strawberry and Fava Bean Salad with Asparagus last week? My tastebuds are still humming!)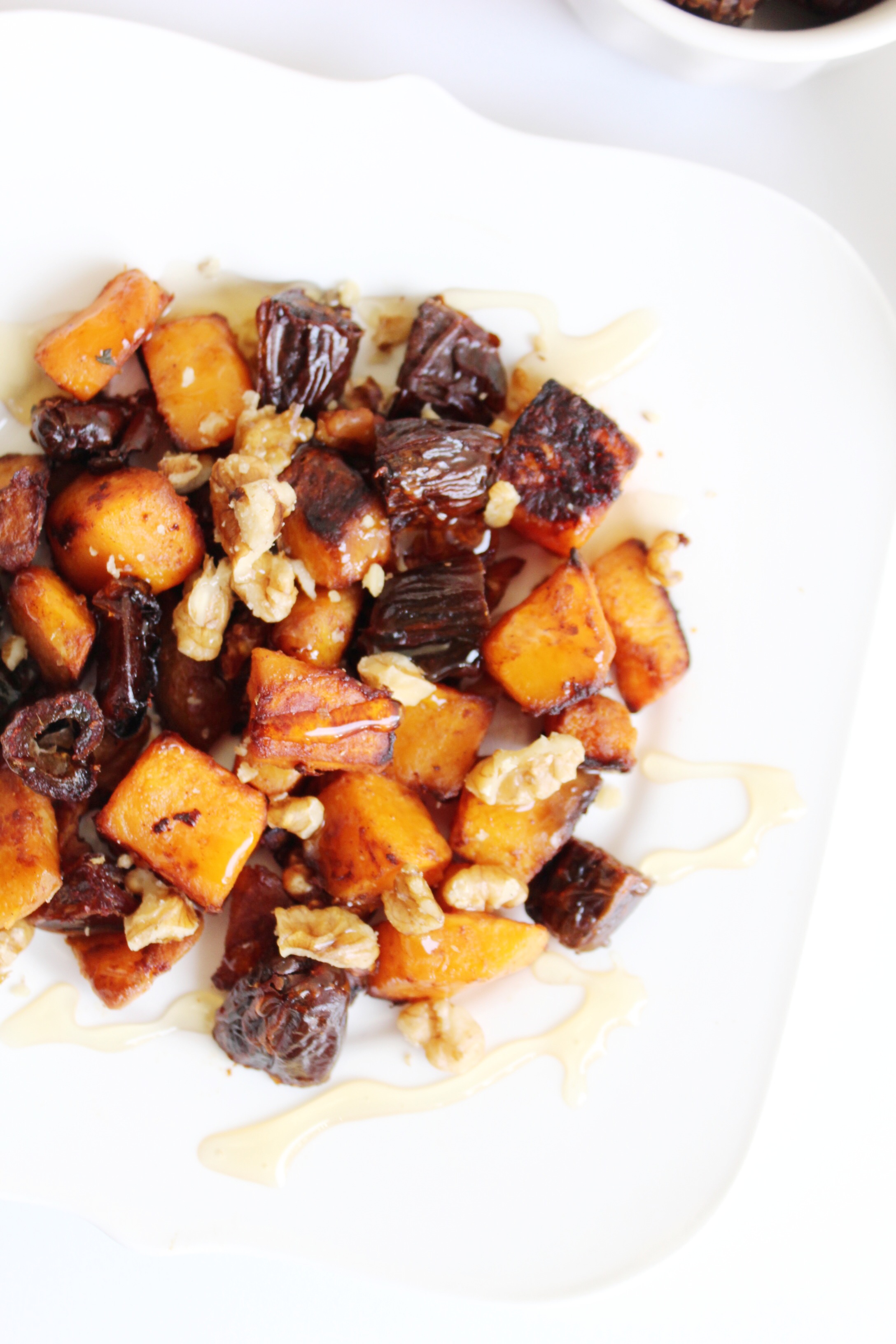 So to end winter squash season with a bang, I turned it into dessert!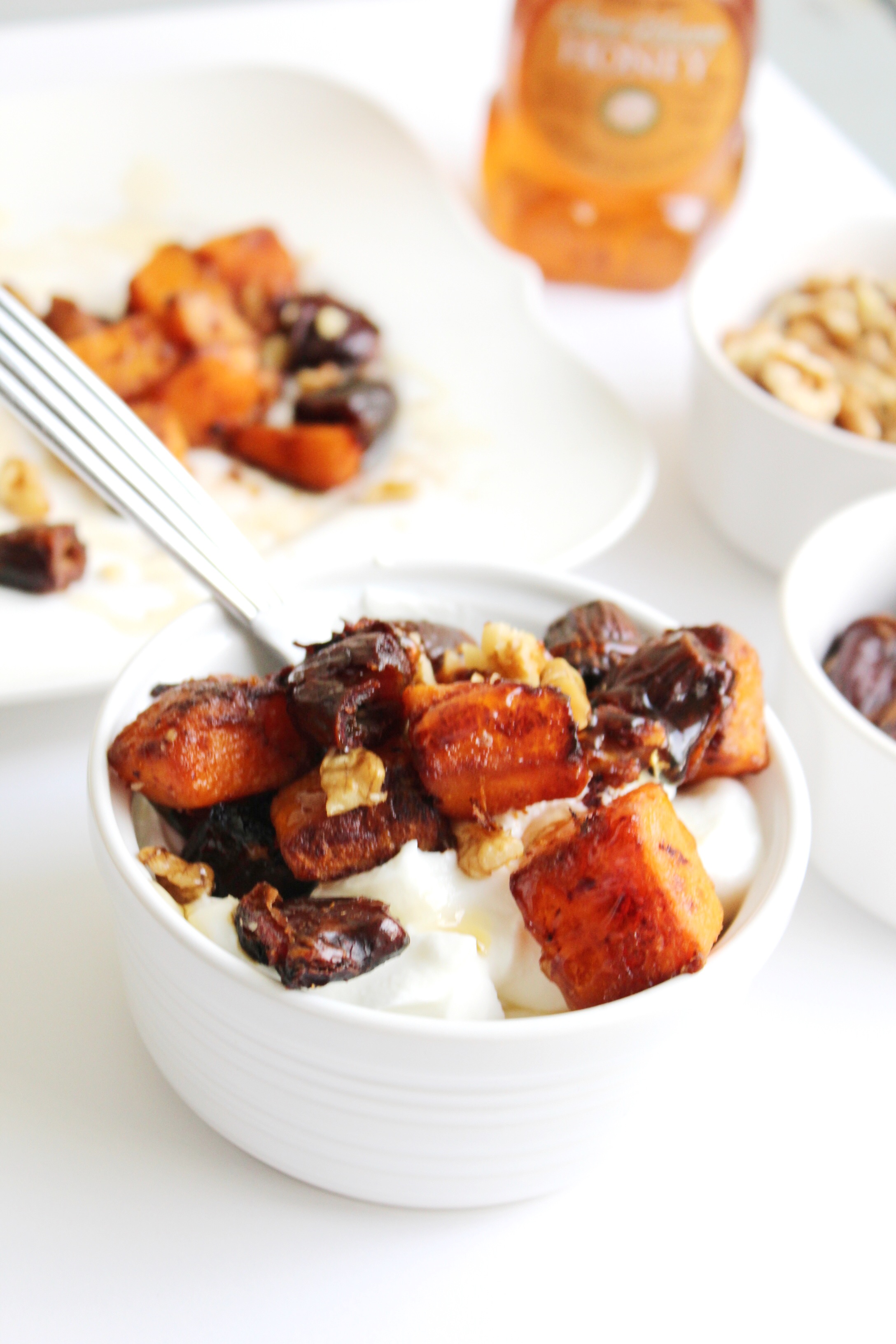 Or breakfast actually, because it's great on top of yogurt. So it's like, dessert for breakfast?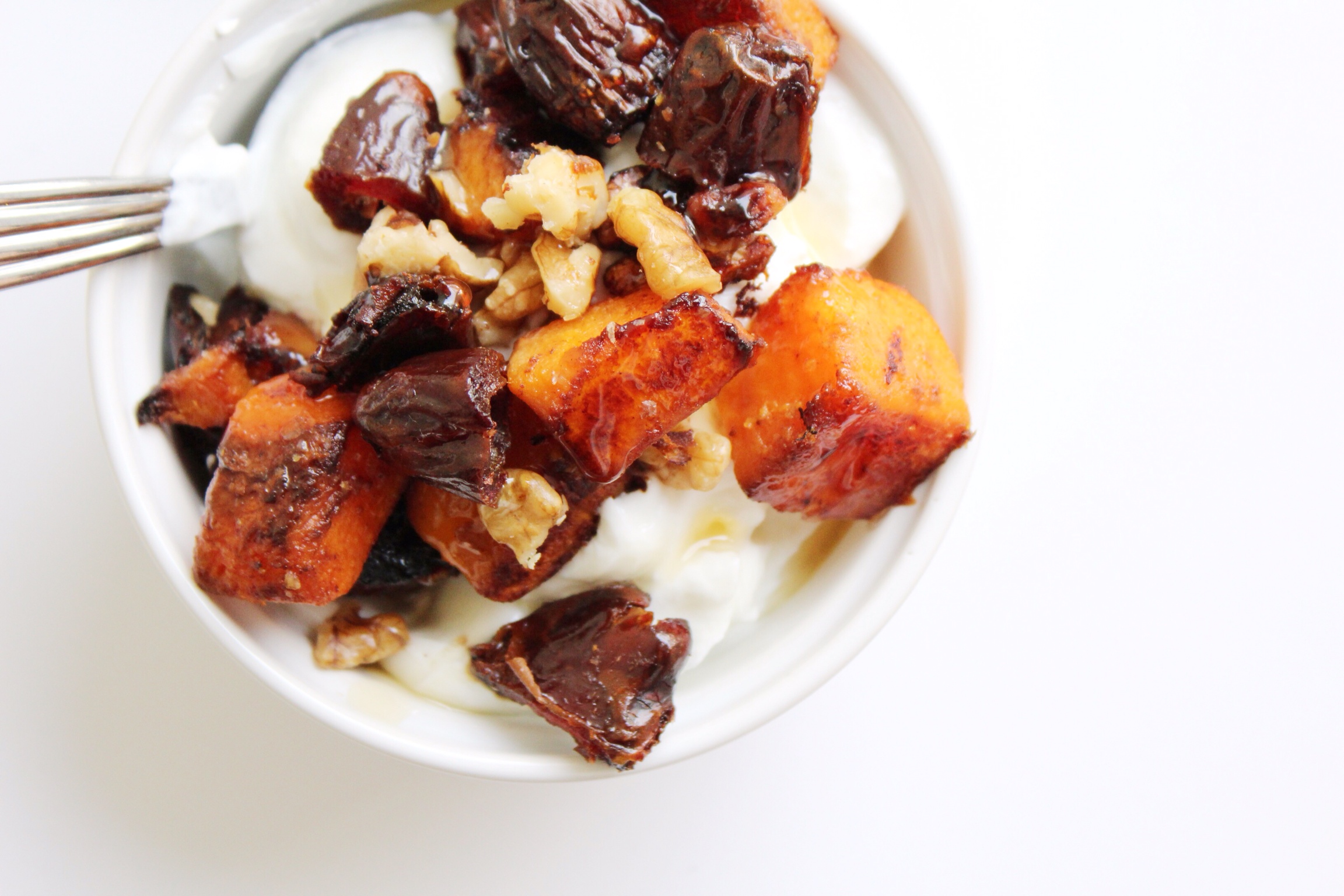 Have you roasted dates before? It's crazy good. Like, the dates get all caramelized and crunchy if you do it right – and it literally tastes like (nature's) candy.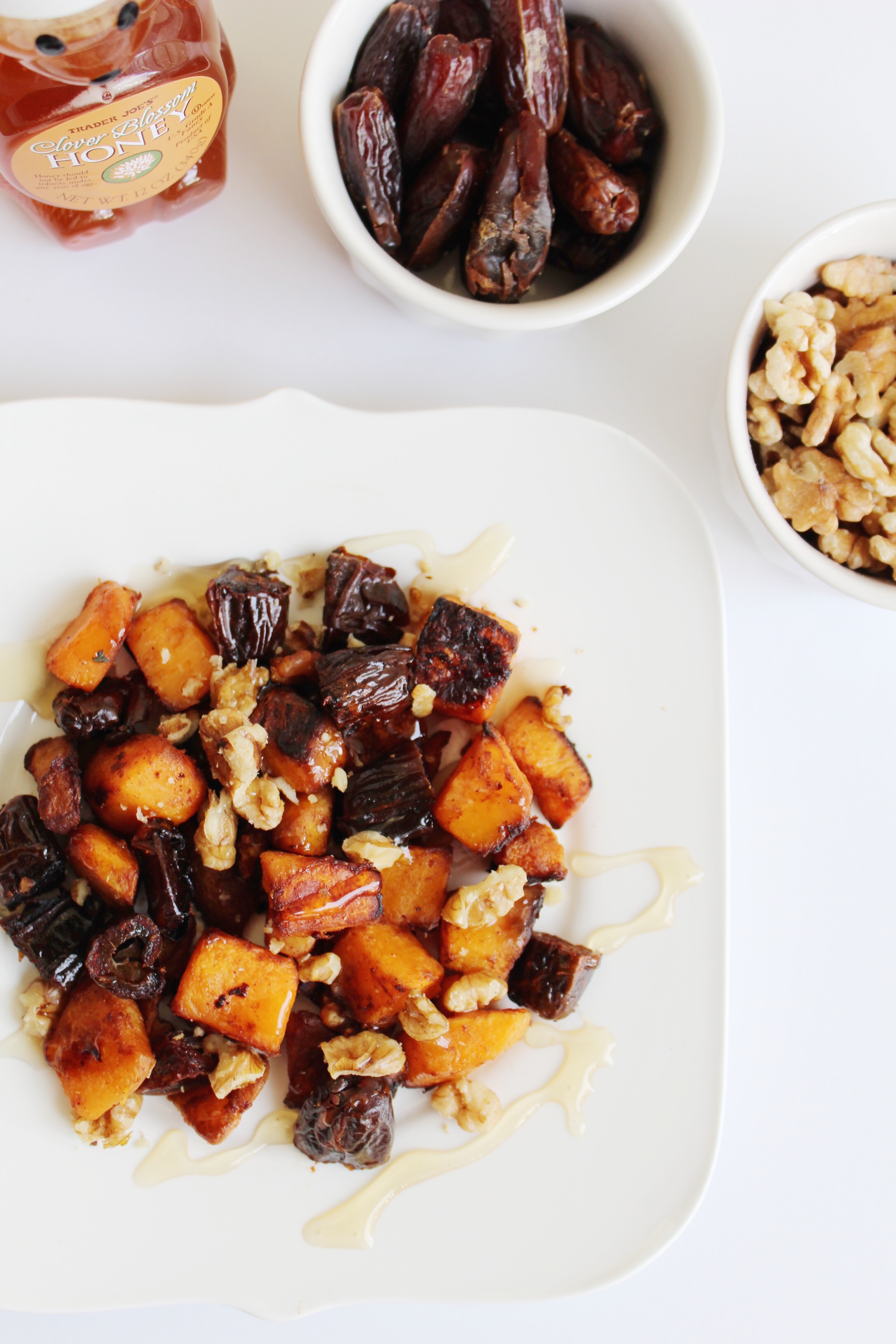 Paired with walnuts, this recipe is a great blend of healthy carbohydrates, omega 3 fats, and an all around natural way to satisfy that sweet tooth. It's filling and hits the spot perfectly. Like I said, it's great paired with greek yogurt – the tartness compliments the sweetness while the creaminess balances out the crunchiness. Protein to round it all out. Ever try to justify dessert for breakfast? It happens – and friend, I got you!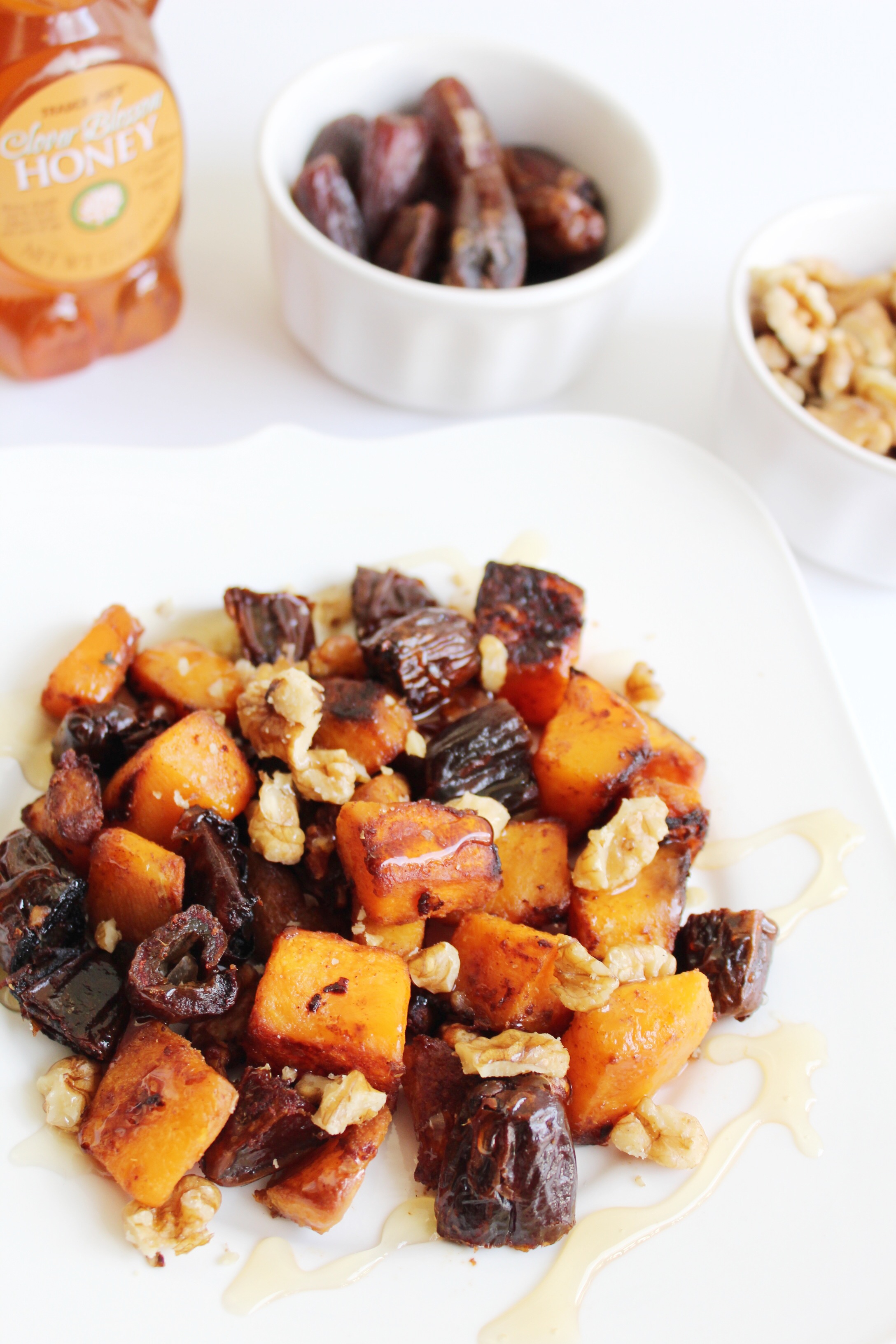 Honey Roasted Butternut Squash with Dates and Walnuts
2015-03-22 14:28:59
Serves 4
Roasted butternut squash with dates, walnuts, and honey.
Ingredients
1 lb butternut squash, cut and cubed
1/2 cup dates, chopped
1/4 cup raw walnuts, crushed
3 tbsp honey
1 tbsp coconut oil, melted
1/2 tsp cinnamon
Instructions
Preheat oven to 400F.
Combine coconut oil and honey.
In a separate bowl, toss together butternut squash, dates, and walnuts and combine with the honey and coconut oil.
Add cinnamon and lightly toss to coat.
Roast for 20-25 minutes, until dates are caramelized.
Add an extra drizzle of honey prior to serving, as desired.
Notes
Serving suggestion: By itself as a dessert or on top of plain greek yogurt as breakfast, a snack or dessert.
Nutrition Happens http://www.nutritionhappens.com/
(Visited 521 times, 1 visits today)