Things already in my pantry: lots of leftover produce from last week!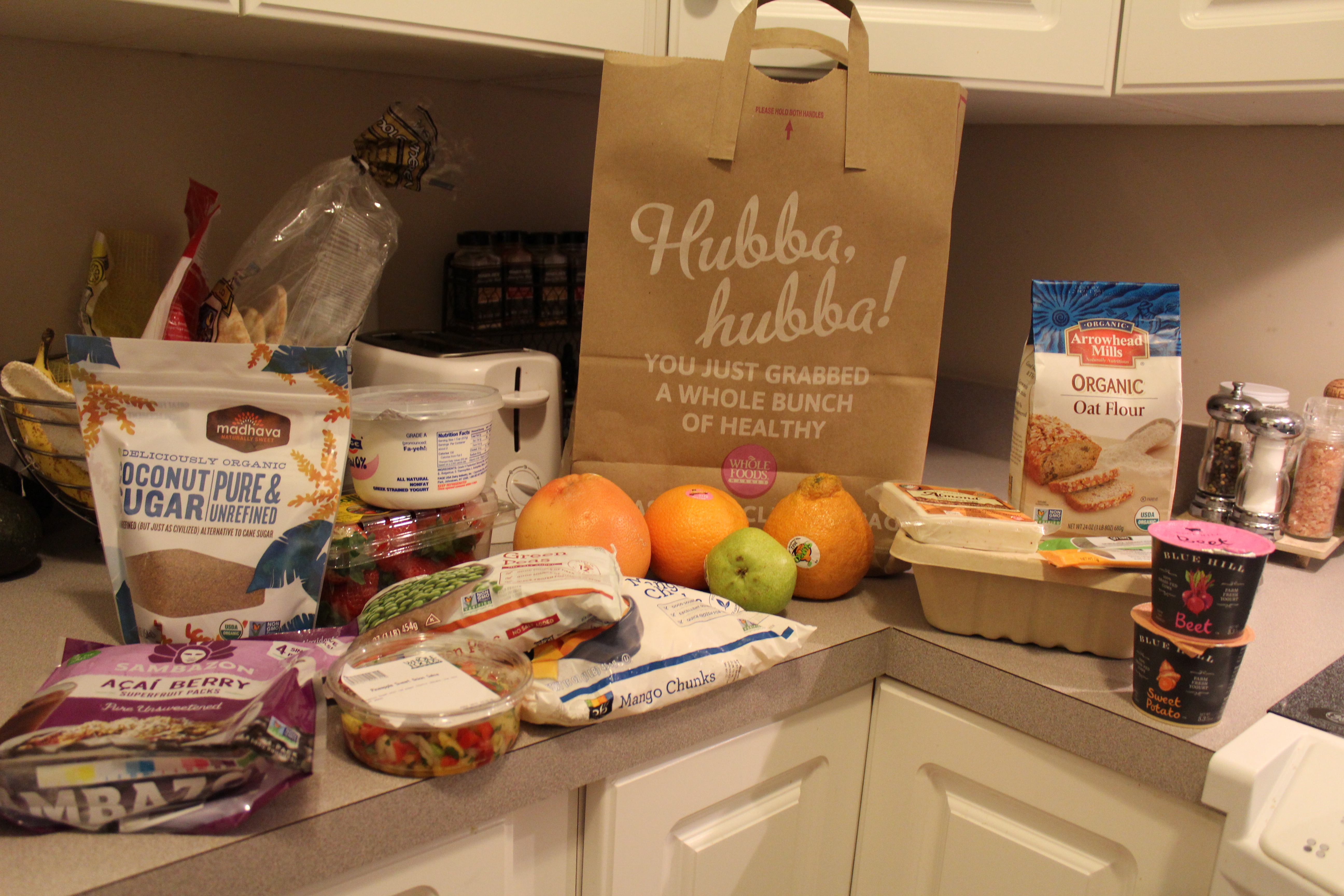 From Whole Foods: Sambazon Acai pack (on sale for $5.69!), Mahava coconut sugar, pineapple salsa, frozen peas, frozen mangoes, Fage greek yogurt, strawberries, a ruby red grapefruit + sumo mandarin + cara cara orange, a bartlett pear, almond cheese, oat flour, a two savory yogurts from Blue Hill and a brown box to go filled with too many hot bar items.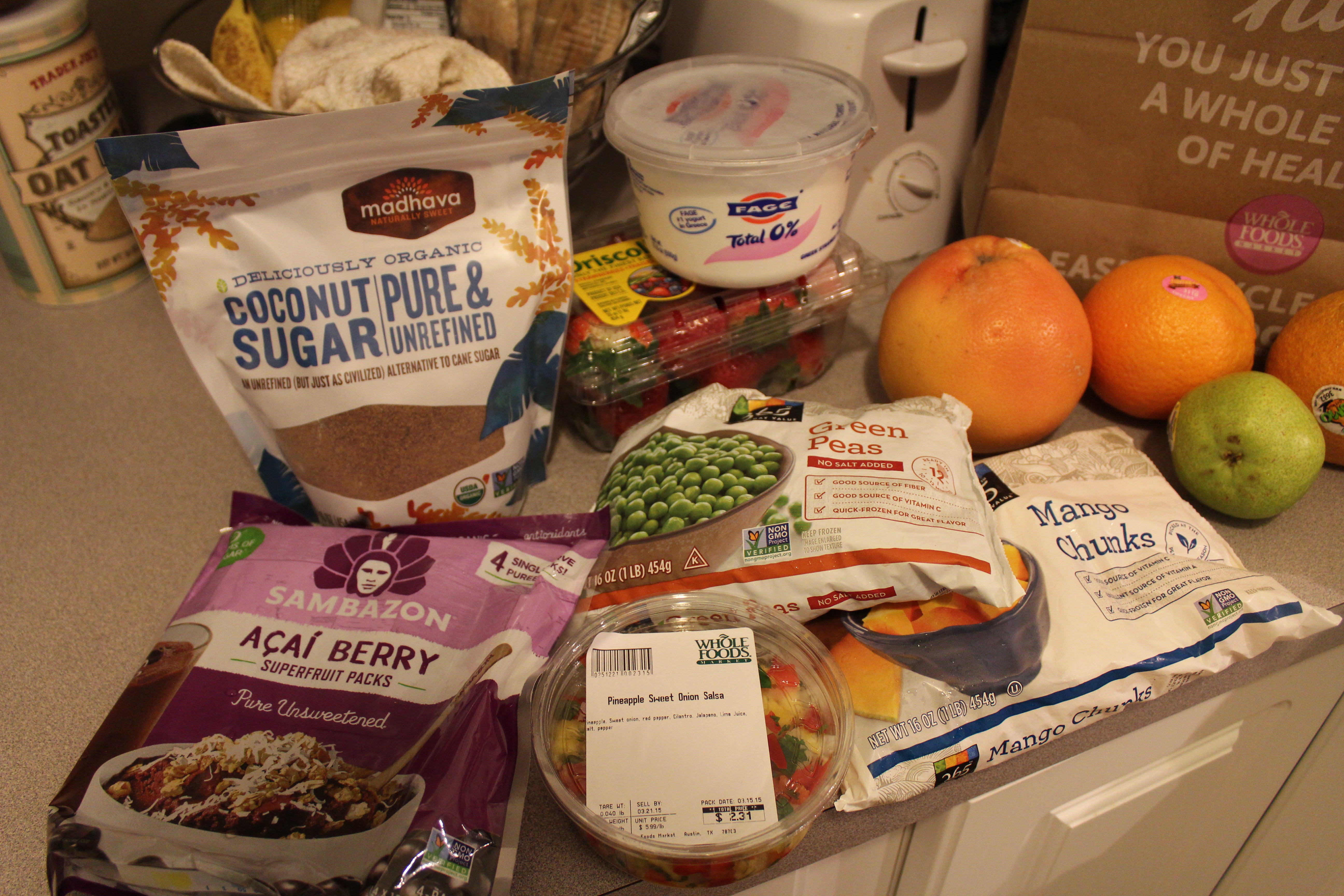 I love using coconut sugar as a baking replacement. Sometimes stevia just doesn't cut it – and when you're baking for someone who is not used to the stevia aftertaste, coconut sugar is a great alternative to refined sugar. Derived via the sap of the liquid of coconut plants, coconut sugar is said to have a lower glycemic index compared to other sugars. Even though coconut sugar container a higher amount of nutrients and inulin (a fiber undigested in our digestive system) compared to refined sugar, it doesn't mean you can go absurdly crazy and eat it by the spoonful. (source.) Moderation is key! It's a better alternative on days we want to bake up a nice treat.
There a many options and brands avaliable readily these days – I really like using this one from Madhava. They also have a great whipped honey!
Sambazon Acai packs are staples in my freezer – I'll pick up some when I catch them on sale. I love blending a pack with frozen mangoes! I also love snacking on frozen mangoes, especially during the warmer seasons.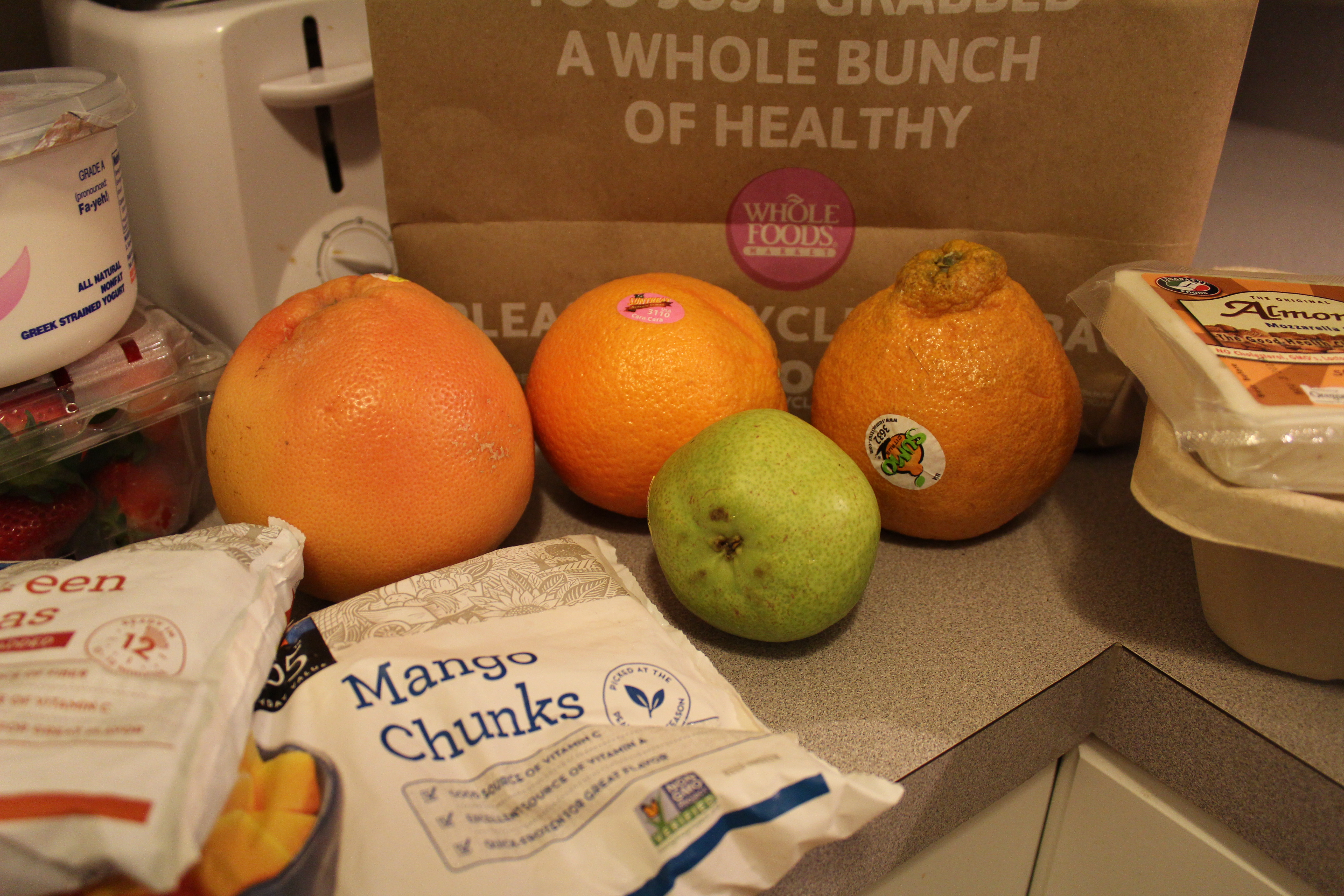 Still feeling the citrus love – they are still incredibly sweet! I ate the sumo mandarin on the way home – the bonus is that they are super easy to peel…aka making them a perfect car snack.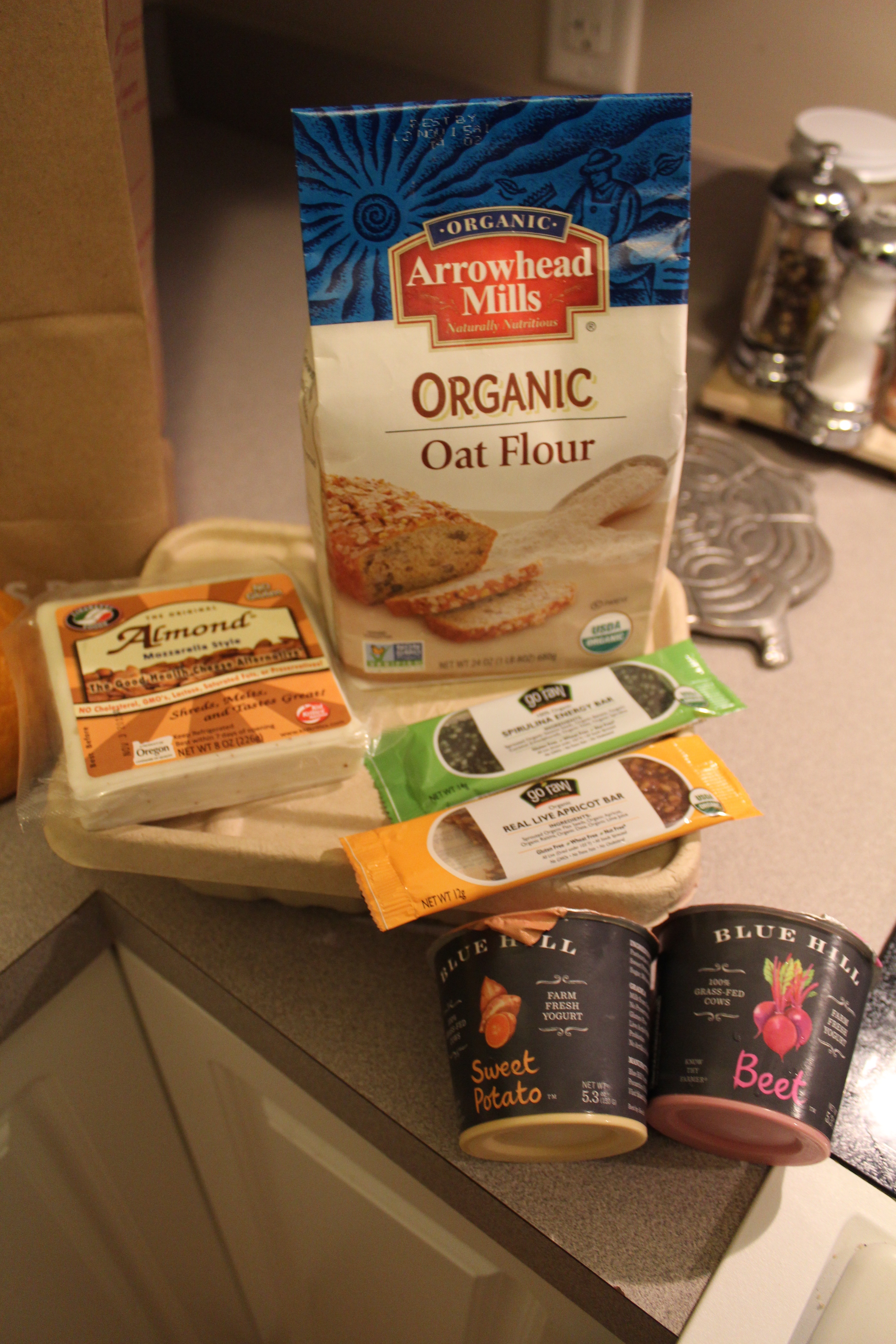 You can just as easily make oat flour yourself by grinding oats in a food processor, but I keep a bag on hand in the pantry for those days when inspiration strikes and need it just like that. Or when I'm making recipes that only require a few tablespoons.
I've bought the almond cheese from Lisanatti before but it's been a while and since it was also on sale this week, I decided to give it another go. From what I remember, it takes on more of a nuttier almond taste – but melts just like regular cheese. I plan on crumbling in on a few salads I have planned for the week. Have you tried almond cheese before?
And the Blue Hill yogurts – I've seen these floating around Instagram for the longest time. I'm surprised I didn't try them out sooner – I tend to have a sixth sense when it comes to new products! I picked up the one with beets (duh) and sweet potatoes (what's new?).
Same goes for the mini Go Raw bars – although I tried one the other day and was not impressed. My favorite dried fruit/nut bars are from a local company here in Charleston called Nicole's Nutty Goodness – the espresso flavor is my favorite!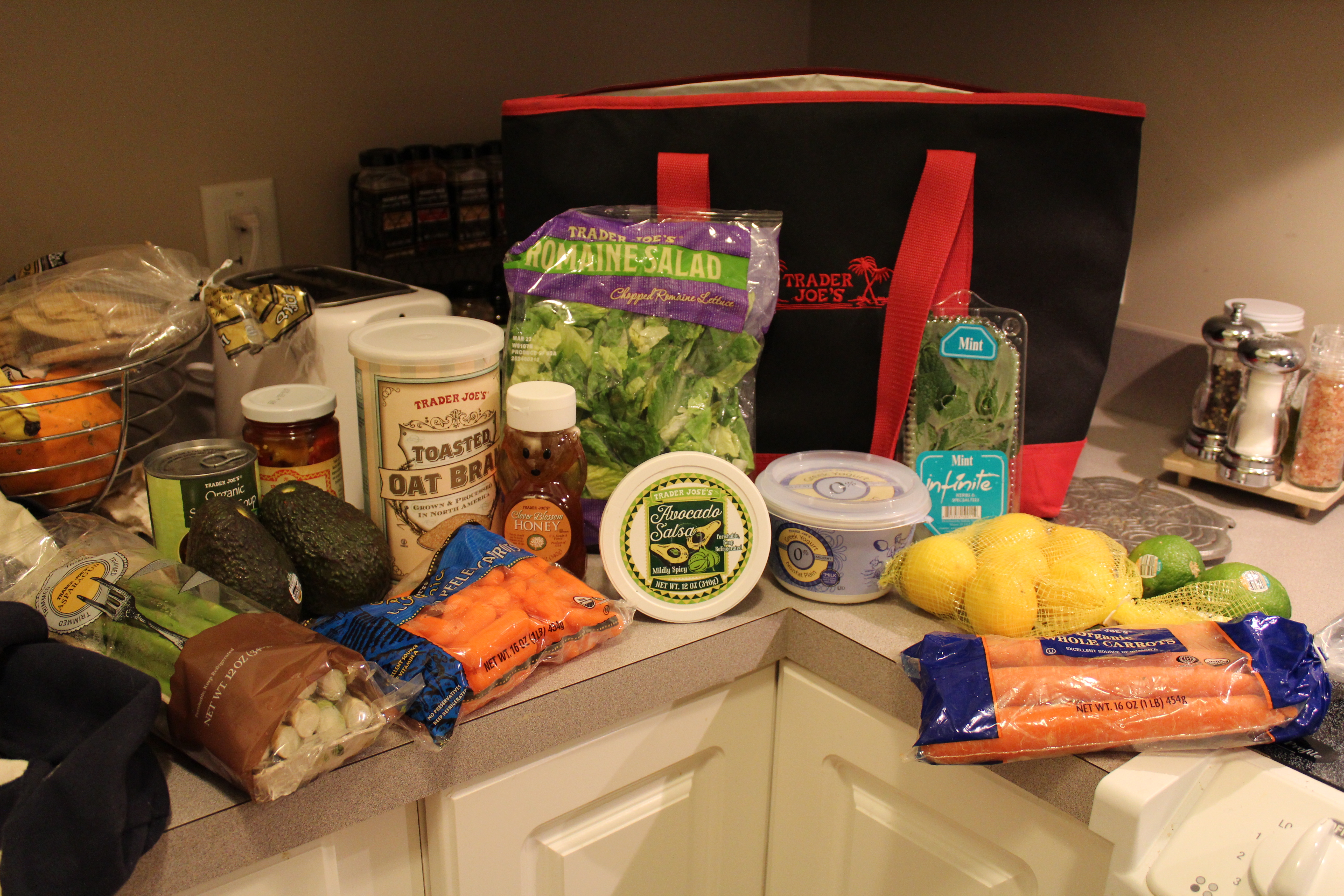 From Trader Joe's: Asparagus, avocados, baby carrots, roasted red peppers, organic split pea soup, toasted oat bran, honey, avocado salsa, greek yogurt, romaine, mint, lemons, limes, whole carrots.
Side note: Does anyone love reading Trader Joe's Fearless Flyers? Seriously, I look forward to it every month. They make it so fun!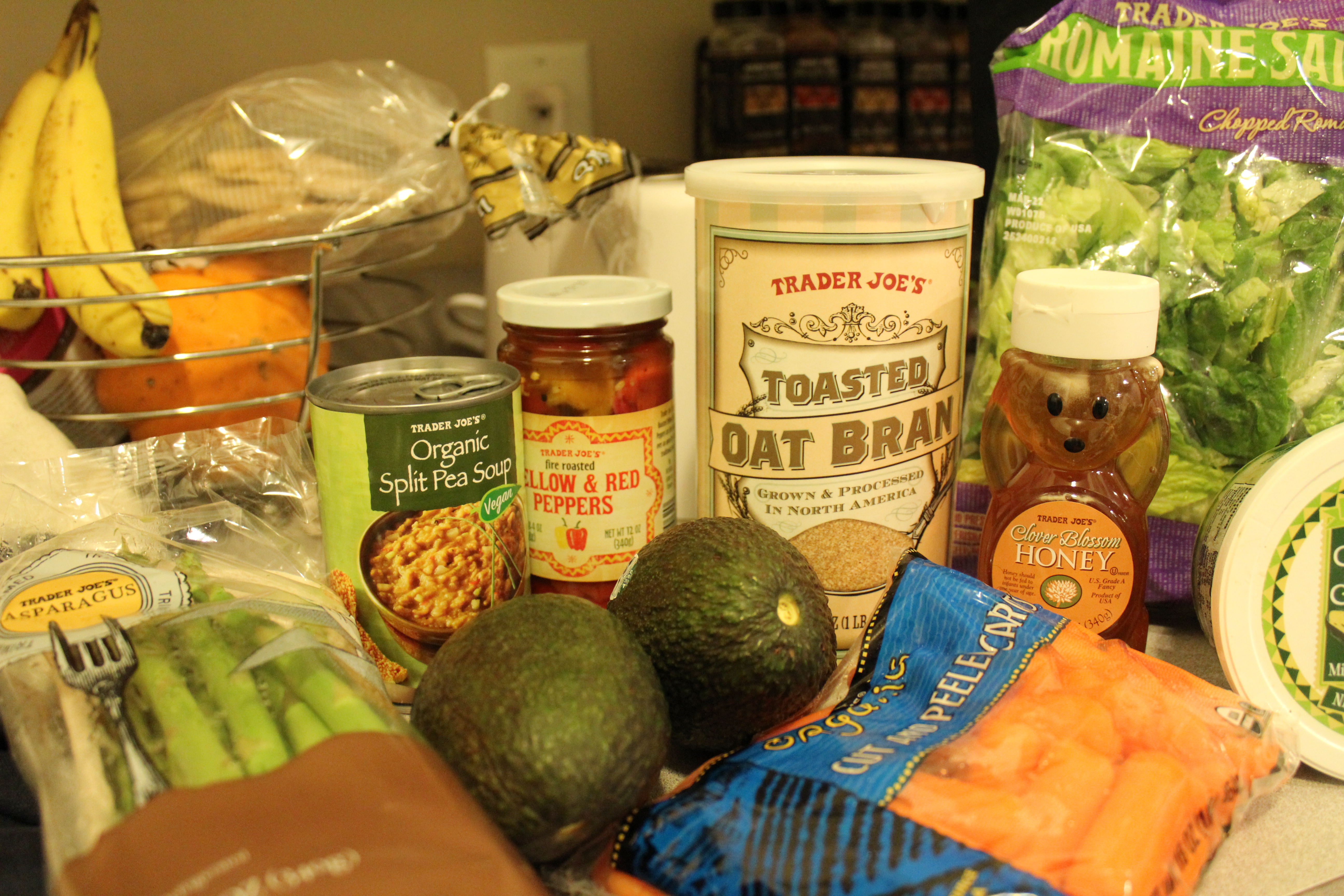 I'm so happy to see the toasted oat bran back in stock at Trader Joe's! It used to come bags but it's nice to see it in some new packaging. Nothing too interesting here, just some essentials. I was craving soup the other day and didn't feel like getting comfortable in the kitchen to make my own – so I stocked up some split pea soup for when days like that strikes again.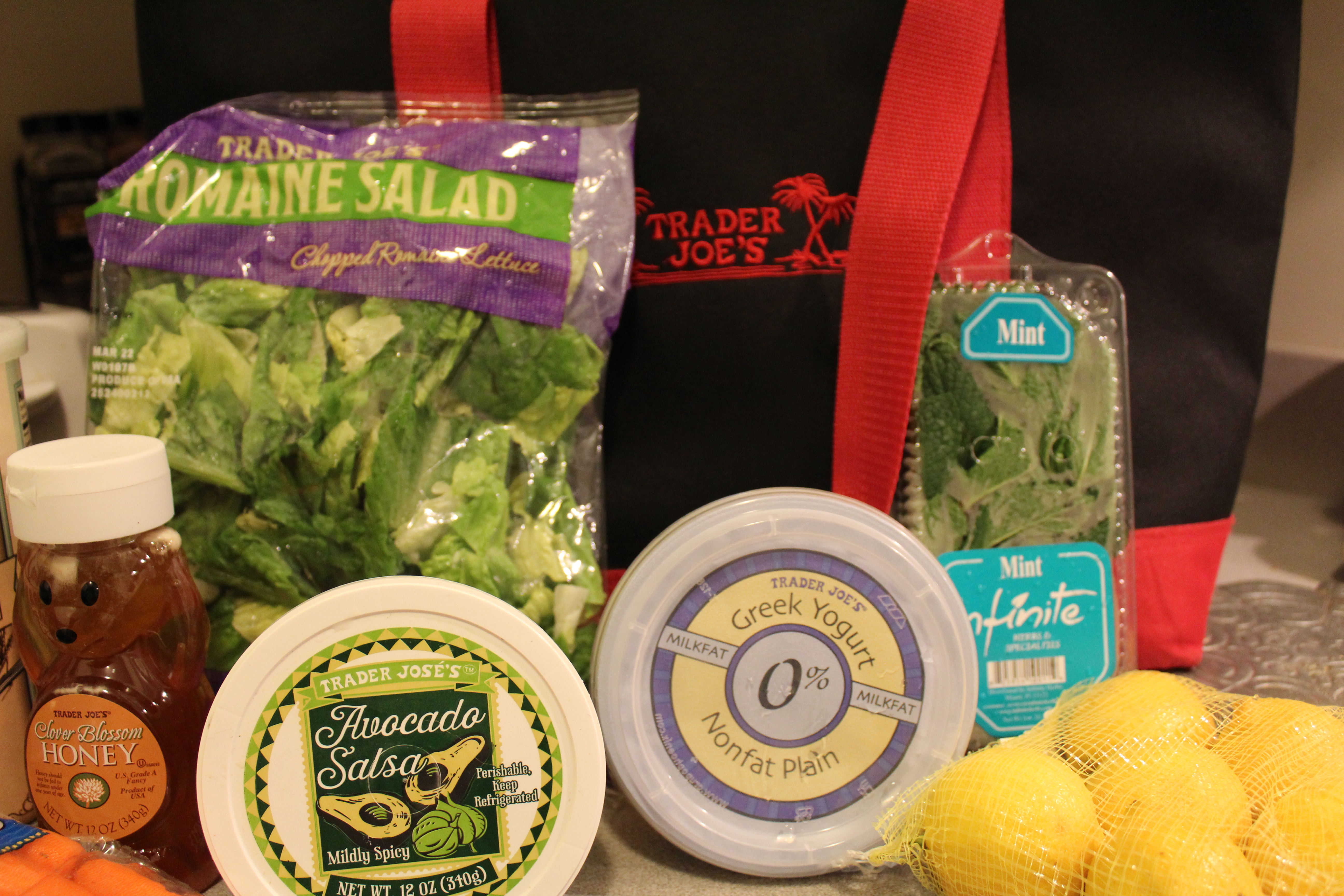 The avocado salsa….not my favorite item from TJ! Not enough avocado, too much salsa.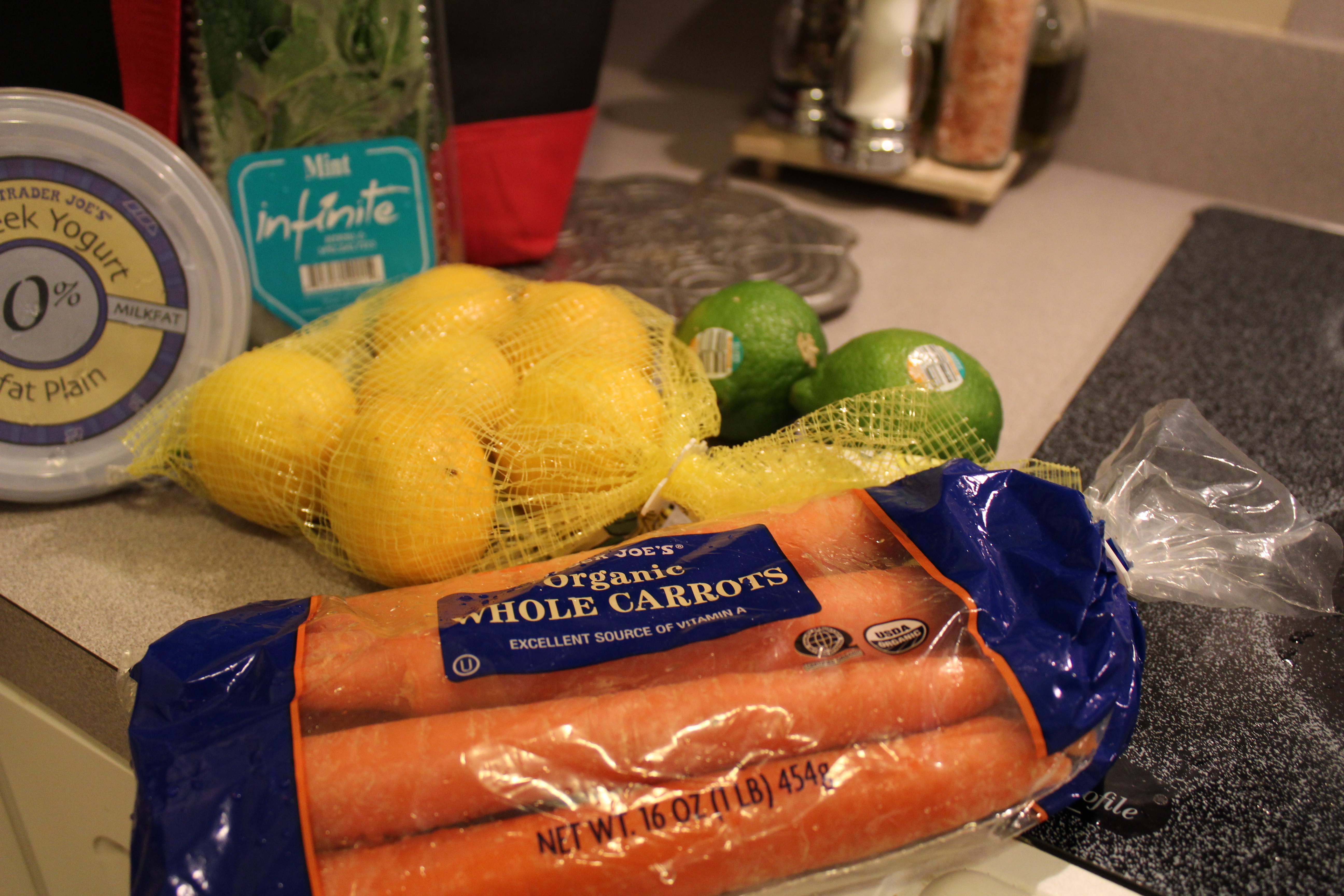 Just some more essentials – lemons + limes, carrots, bananas, Tuscan kale. And the three layer hummus is just another fabulous hummus from Trader Joe's – great for those who are indecisive and can't decide on one flavor.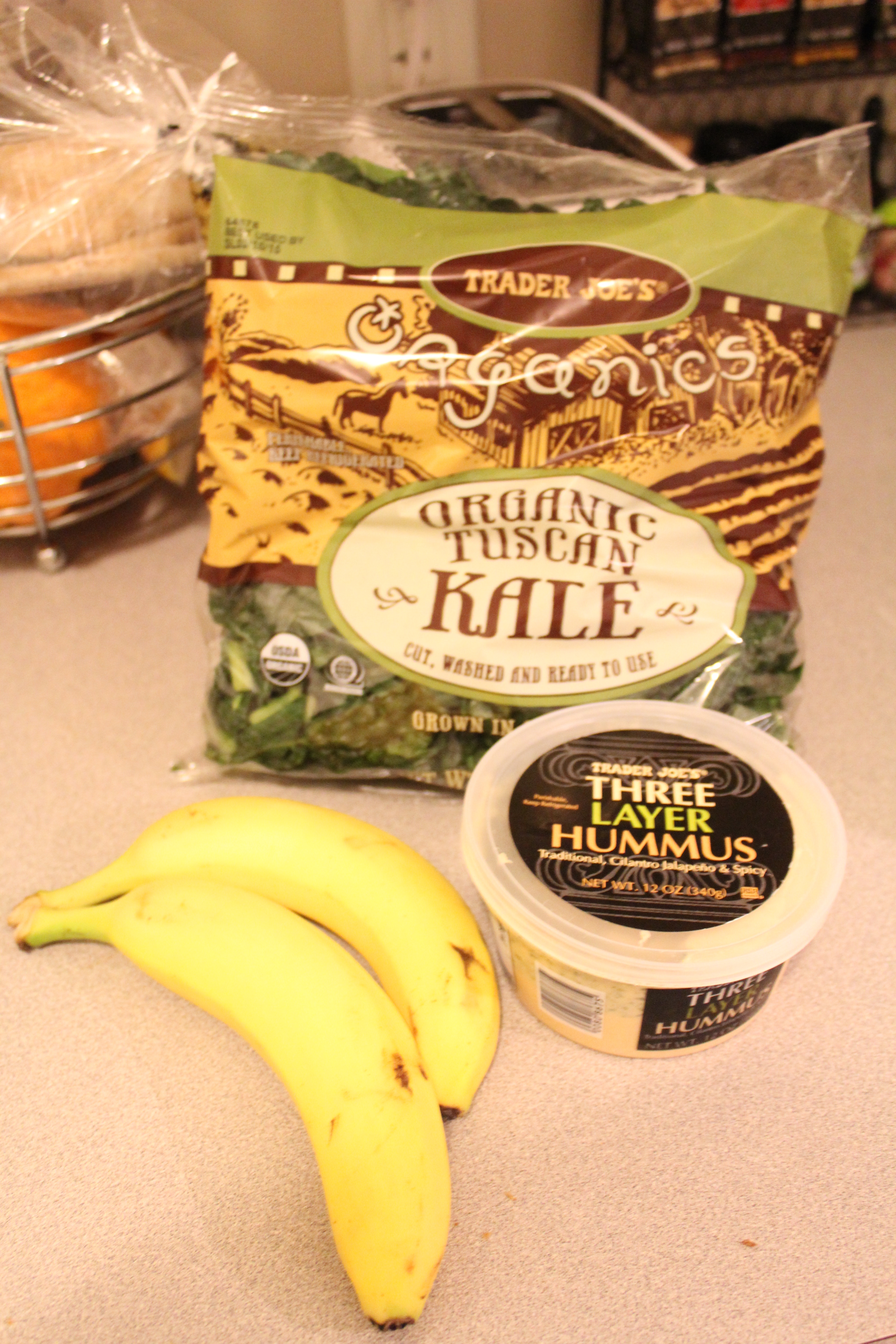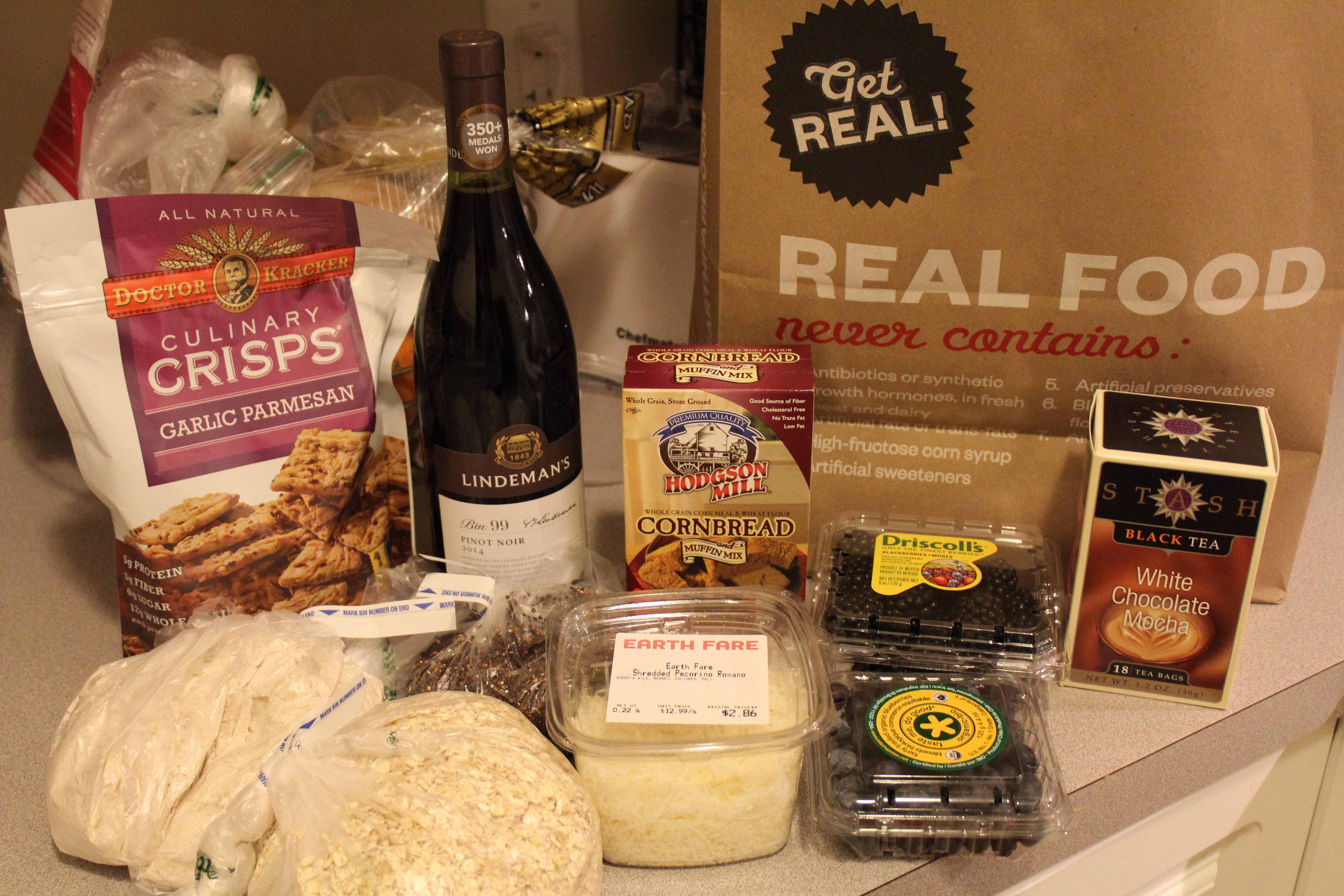 I stopped by Earthfare one day last week after work to pick up a few things – instant oats, whole spelt flour, black quinoa, pecorino cheese, blackberries, blueberries, this cornbread mix from Hodgson Mills (5 ingredients and only takes 20 minutes to bake!), these garlic parmesean crackers from Doctor Kracker (I like to add them for texture in salads!), and a bottle of Pinot Noir. #wino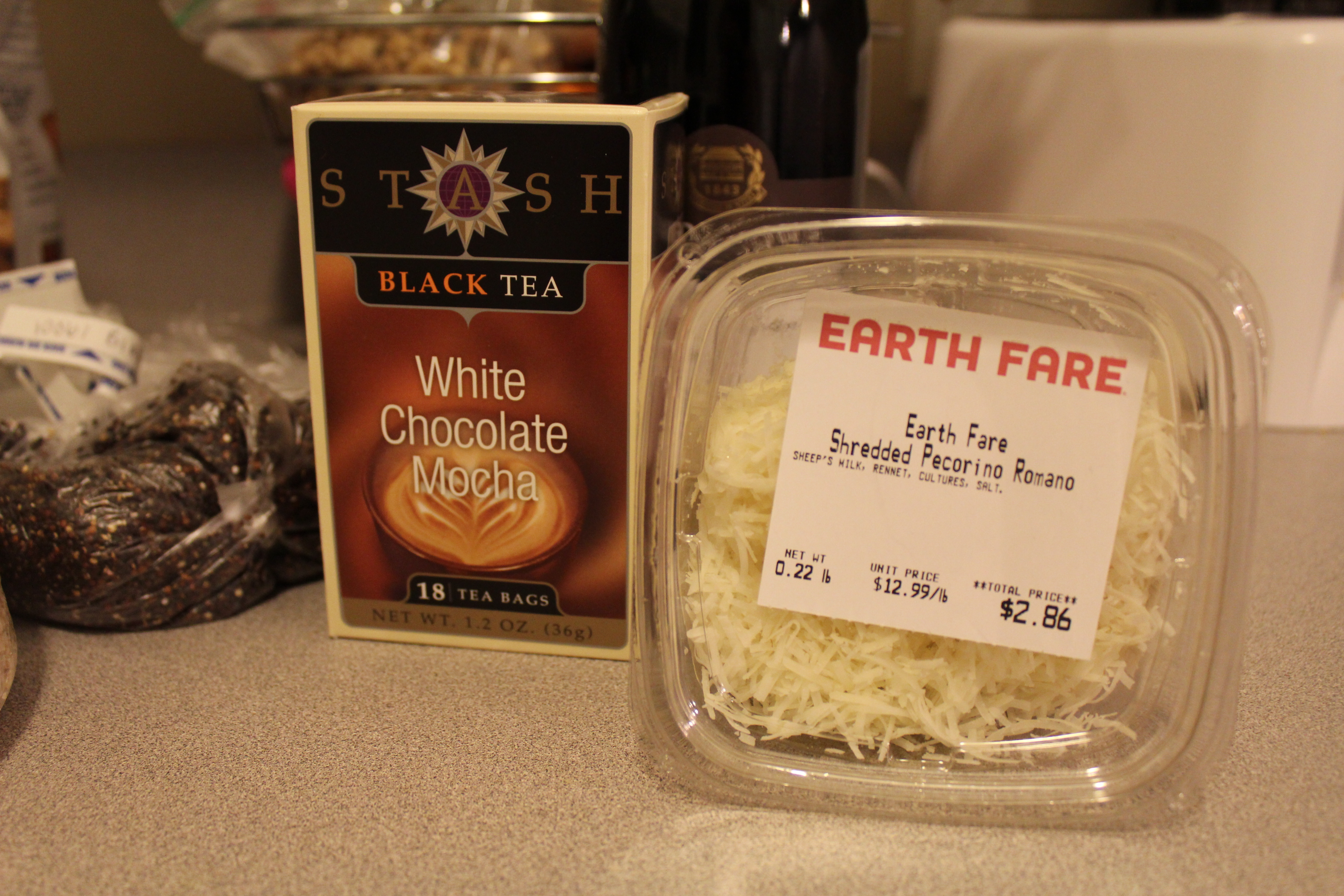 I'm a sucker for trying new teas so this had to make it into my basket. White chocolate mocha?
Oh, okay. And a little pecorino action for the week. Cheese..wine. Life's all about that balance!
What's in your shopping cart this week?
(Visited 47 times, 1 visits today)