Spring is truly in the air – and I'm ready for it. And it's about time for some spring produce – which hallelujah thank goodness that asparagus (one of my favorite vegetables) is finally not 43095 dollars in the grocery store anymore!
P.S. I'm totally counting down the days to this Strawberry Festival here in Charleston, SC. I mean, really, a festival made for me and my favorite berry? They shouldn't have.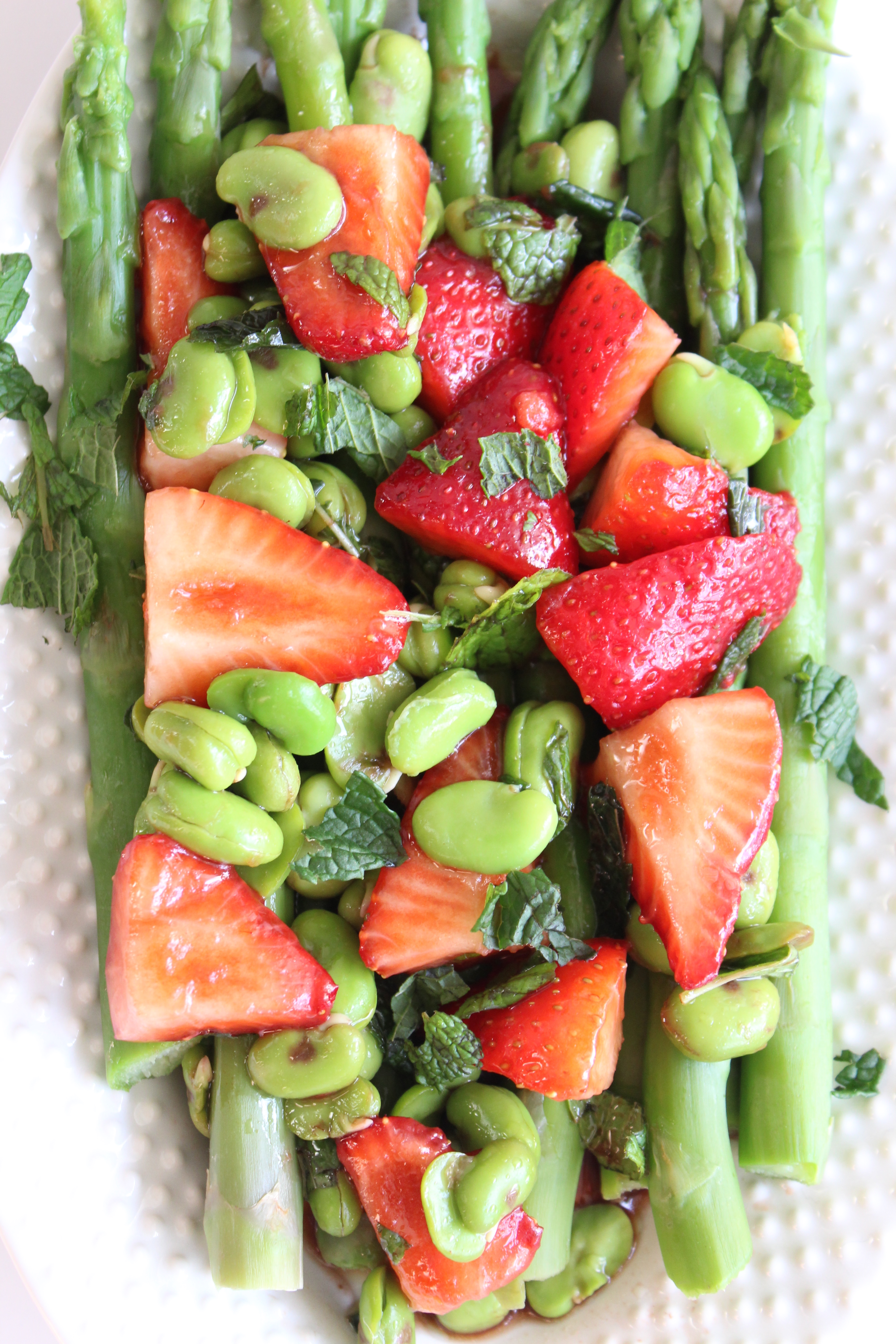 Although I roast vegetables all year round, I definitely associate it more with winter because come spring & summer, I like it bright, light, and colorful. With warmer weather on the horizon and the first day of Spring right around the corner, I'm hopping back on the fresh salad train! Citrus, bright greens, fresh berries…the works. Oh kale yeahhhh!
Around the same time last year, I was really into eating a combination of edamame and spring peas…like everyday. It just made for the perfect texture, between the heartiness of edamame and the sweetness of the peas – I tossed it in some lemon juice for a light citrus punch! I even made this edamame and pea basil hummus dip which is still a go-to of mine to bring to weekend get togethers.
Some things never change, but I'm thinking fava beans are the new edamame. Like, fava beans are the new black. Or pink. Or whatever your favorite color is. I make terrible analogies..guess you'll just have to get used it.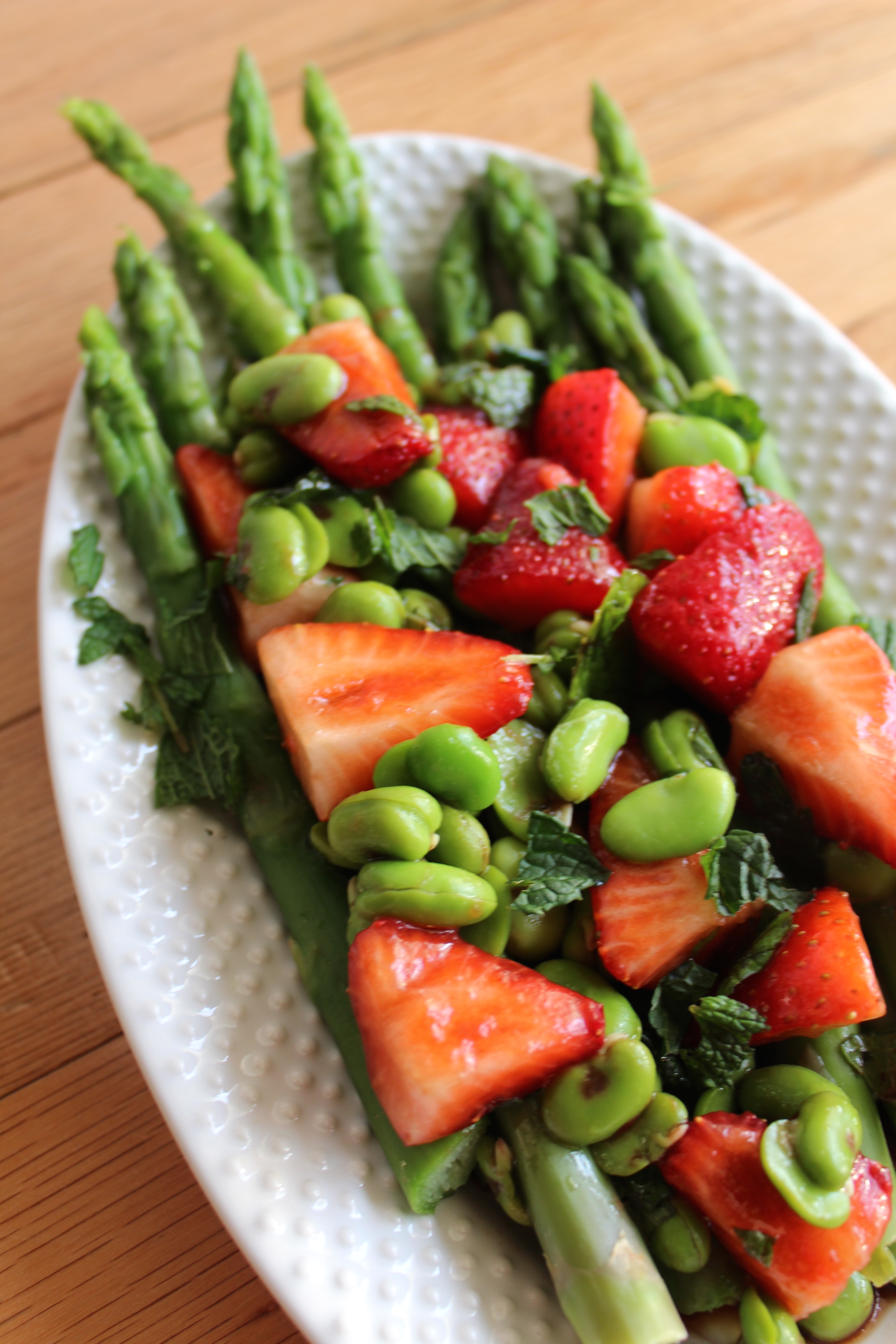 From a nutrition perspective, per one cup, fava beans contain around 13 grams of protein, 9 grams of fiber, and 3 grams of sugar (based off Trader Joe's shelled frozen fava beans, unsalted) – making it a pretty nice source of plant-based protein.
This salad is like spring on a plate. A combination of my favorite spring produce – asparagus, fava beans, and strawberries tossed in a light citrus mint dressing. It makes a great addition to your dinner entrees, but works perfectly as a lunch option to pack to work as well. And with the upcoming Easter celebrations coming up, this is a nice nutritious side dish to bring to those potlucks. There's 100% chance that you'll be the talk of the party if you bring this (and not just how you gave up Netflix for lent)…..but really, you can thank me later. 😉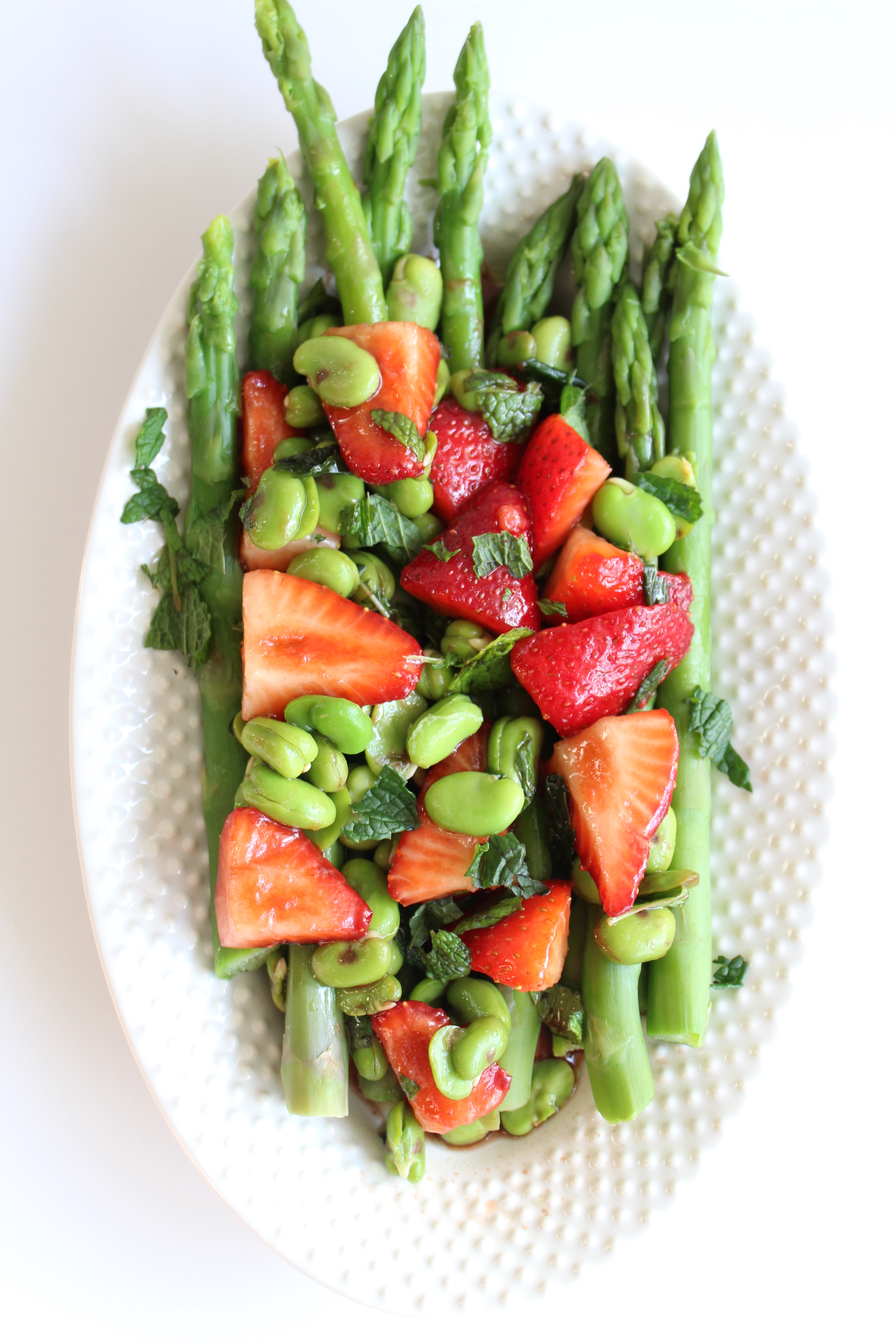 Minted Strawberry and Fava Bean Salad with Asparagus
2015-03-15 17:55:11
A spring salad with asparagus, fava beans, and strawberries in a light mint and citrus dressing.
Ingredients
1 lb asparagus
1 cup strawberries, diced,
1 cup fava beans, steamed and shelled
1/2 cup fresh mint, chopped
3 tbsp extra virgin olive oil
2 tbsp balsamic vinegar
1 tbsp lemon juice
1 tbsp honey
Optional: salt and pepper, to taste
Instructions
In a large sauce pot, fill halfway with water and bring to a boil.
Add in asparagus. Cook for about 3-4 minutes, until tender.
Remove asparagus and rinse under cold water. Place asparagus in a bowl of ice water.
Repeat the above steps with the fava beans if preparing with uncooked beans.* I used the frozen shelled fava beans from Trader Joe's, which are pre-cooked - just need to be heated. Frozen fava beans should be found in the frozen vegetable aisle of your local grocery store.
Combine olive oil, balsamic vinegar, lemon juice, and mint together. Whisk until smooth. Add black pepper or salt as desired to taste.
Carefully fold in strawberries, asparagus and fava beans - combine thoroughly.
Garnish with extra mint, as desired.
Best served chilled.
Nutrition Happens http://www.nutritionhappens.com/
(Visited 134 times, 1 visits today)