First things first…happy Registered Dietitian Day! Thanks to all the RD's out there that inspires me everyday. Sending so much love and support out there.
Breakfasts:
I eat very intuitively these days. I use to be really paranoid about having the perfect balance of protein + fats + carbs + vitamins + minerals and everything nutritious under the sun, but sometimes, your body knows exactly what it needs – and we need to listen to it. Sometimes I crave fruit for breakfast but other times my body probably thinks it's had enough sugar for a while and crave savory things and veggies. Sometimes I'm just all like, let me eat all the carbs, while other times my body feels 100% satisfied with healthy fats and protein. And sometimes I just want to eat the entire kitchen and while other times I just want to eat a grapefruit and call it a day (soooo rare, though, ha! #foreverhungry).
My point is that having balanced meals are great and definitely a key element to an overall healthy lifestyle, but as health fanatics, we sometimes get too caught up in comparing our meals with those around us and think that if we didn't have enough protein like everyone else during breakfast or too many carbs at lunch, we're doing something wrong. While looking at meal ideas are a great way to inspire you to try new foods, recipes, and meal variations, don't forget that you do YOU first. There's no such thing as a "perfect" diet – it's different for each unique individual. It's important to understand your body and goals first, and to take a step back from all the social media to re-evaluate what exactly it is that makes you feel best.
And because today is national Registered Dietitian day, I'd like to share this post by Robin, over at the Real Life RD – she's a RD after my own heart. Everything is says in this post (well, everything she says in general) are words of gold and completely resonates with me.
Anyways, now onto a much lighter tone…a compilation of eats! I've decided to just compile meals together for now as part of my WIAW. Everyday is similar but different for me – I feel like sometimes just showing you a day isn't very reflective of the variety of foods I like to eat. I use to eat pretty much the same thing everyday in college…and while there is nothing wrong with a little routine and sticking to what you know, there is an abundance of nutritious foods out there just waiting to be explored! With that being said, I'll definitely throw in posts where it's just a complete one day of eats for me – just so you get a feel of what it's like in my day.
Breakfast is on rotations between a few things –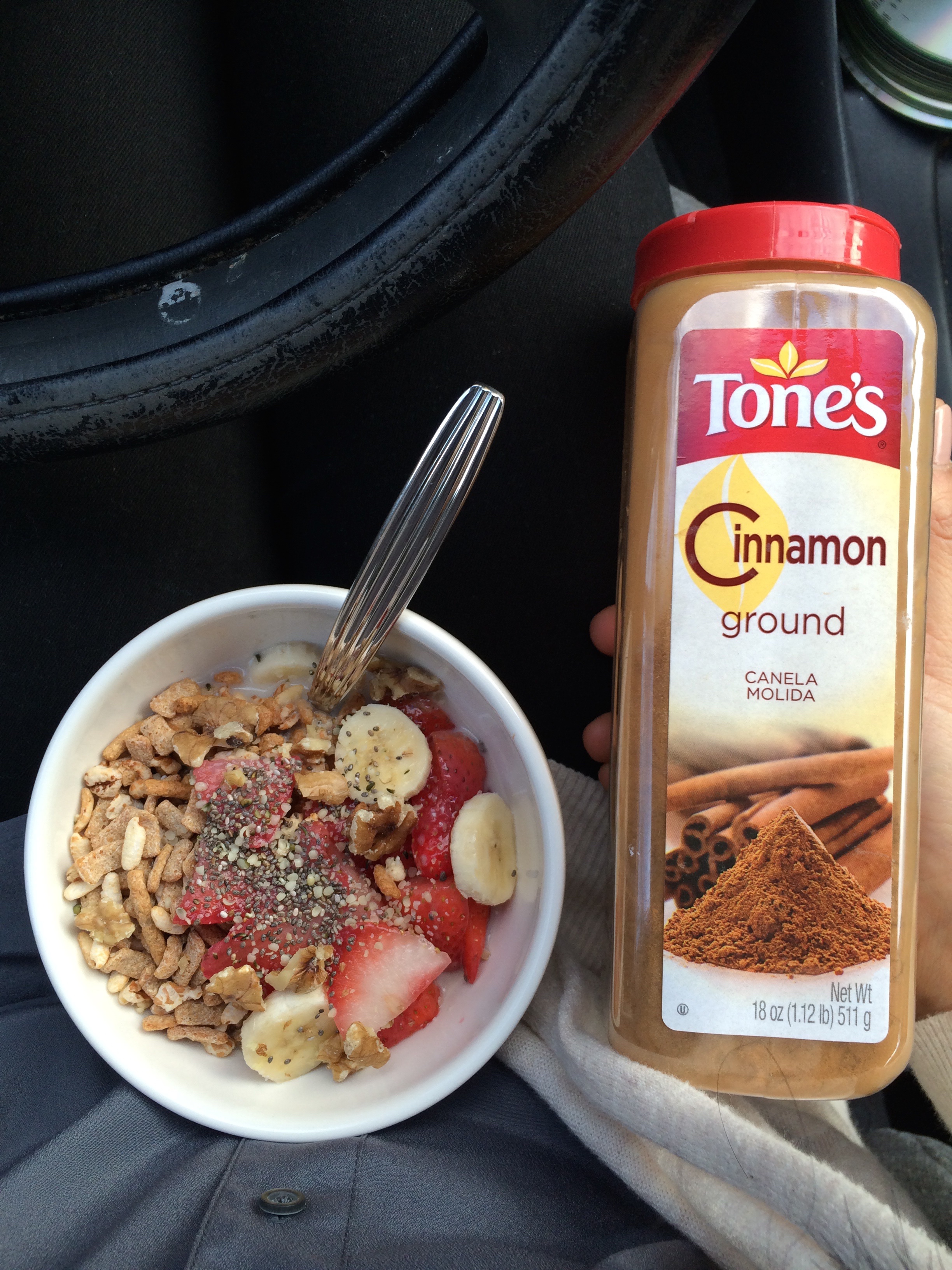 This cereal + cashew milk + strawberries + walnuts + bananas + hemp hearts/chia seeds + every ounce of cinnamon I could find.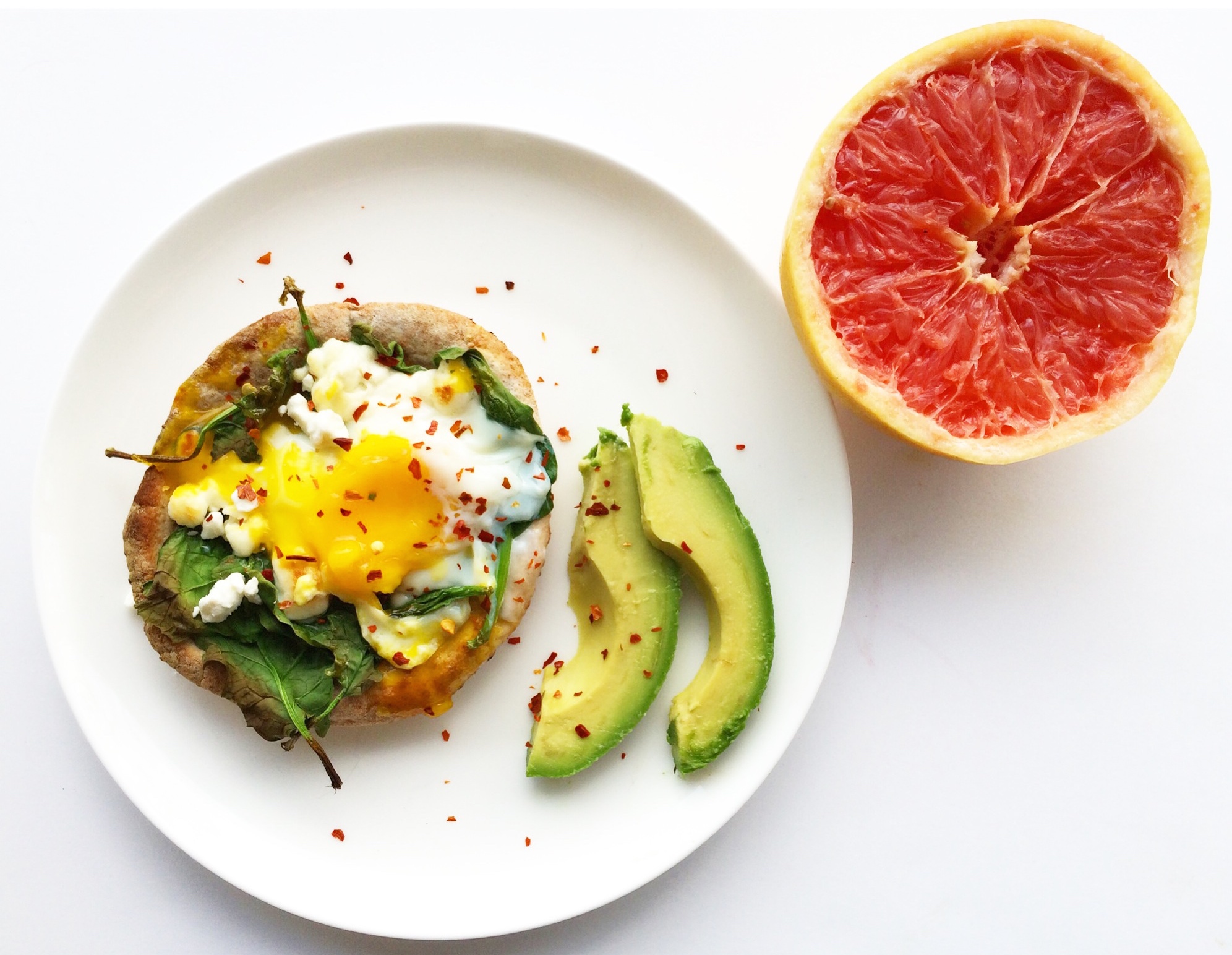 Or mini breakfast pitas with an egg + spinach + goat cheese + red pepper chili flakes + avocado + grapefruit.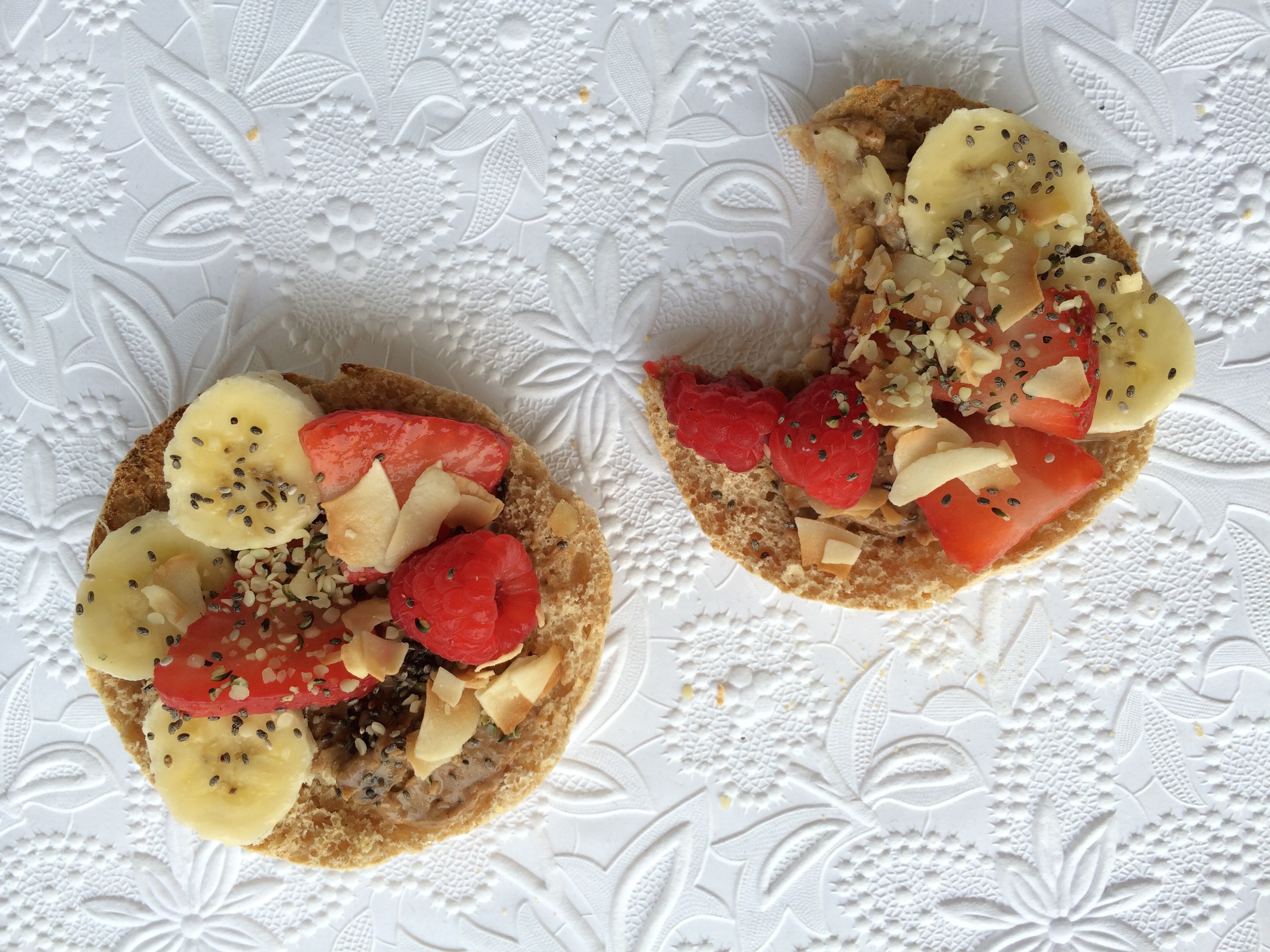 Rudi's organic spelt muffins with almond butter + fruit + coconut chips + chia seeds & hemp hearts.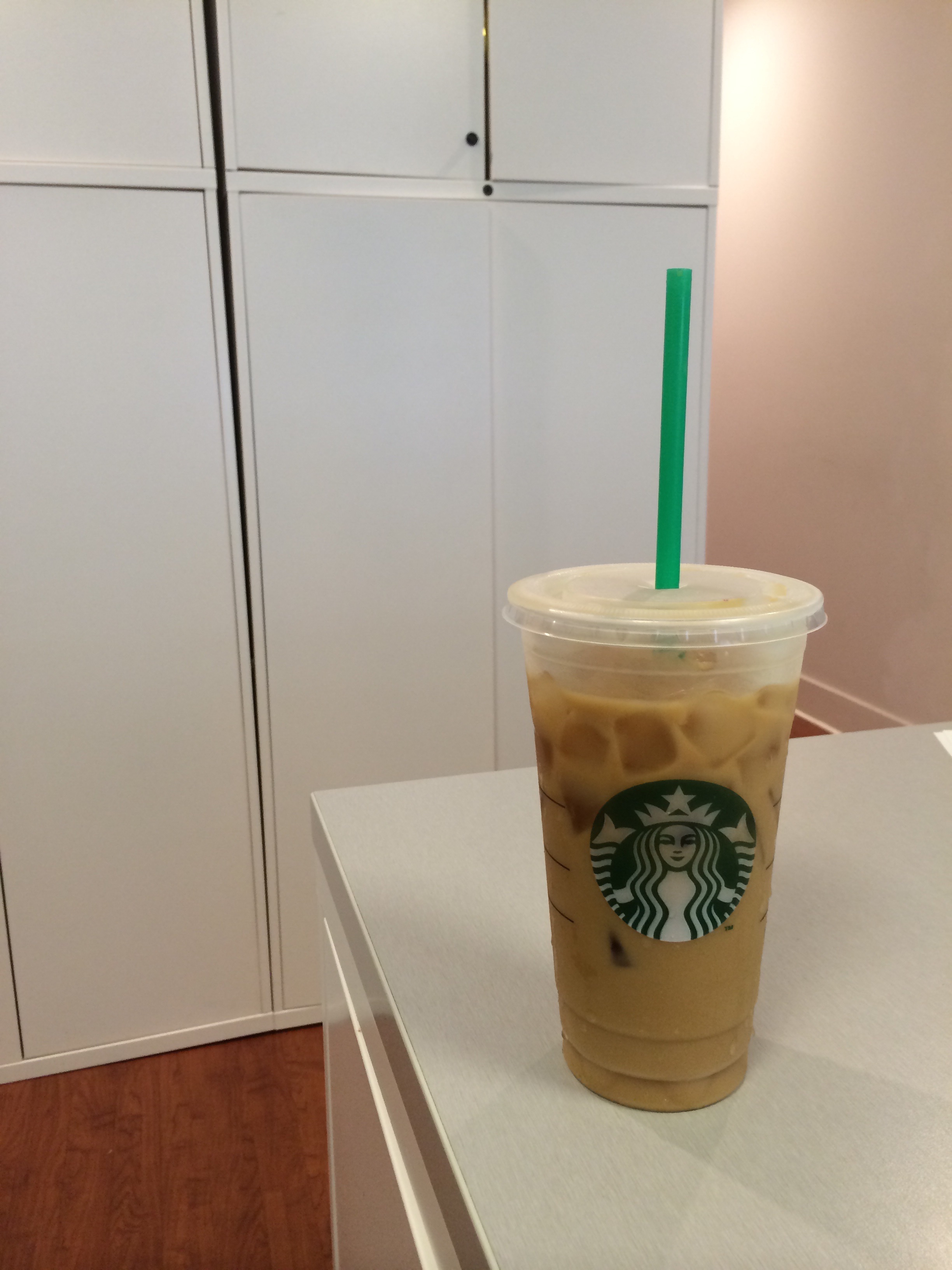 Sometimes, a venti is exactly what you I need.
Lunches: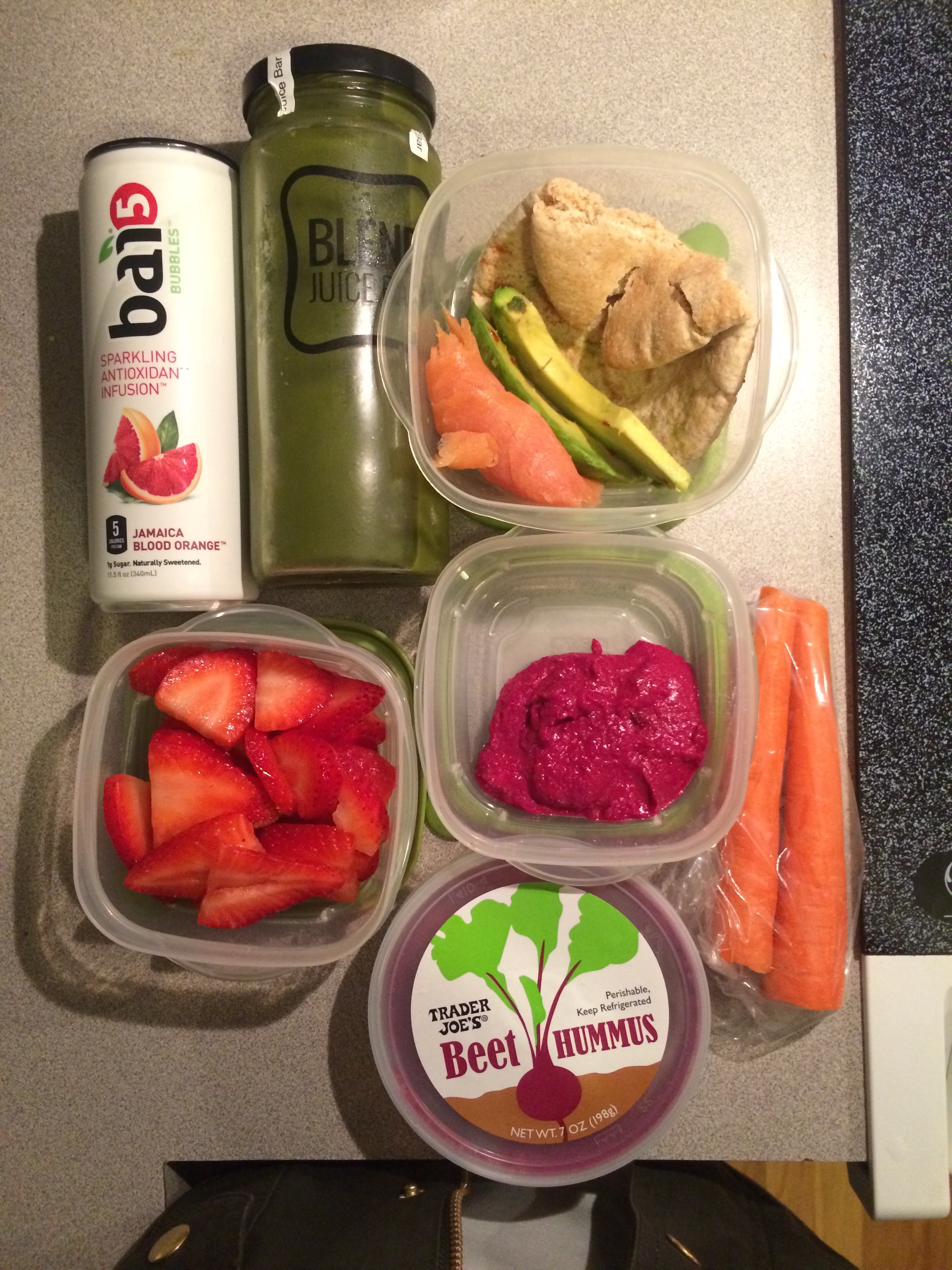 One of my packed lunches/snacks: mini pita + avocado + smoked salmon, carrots + beet hummus, strawberries, green juice via Blend, blood orange Bai5 bubbles.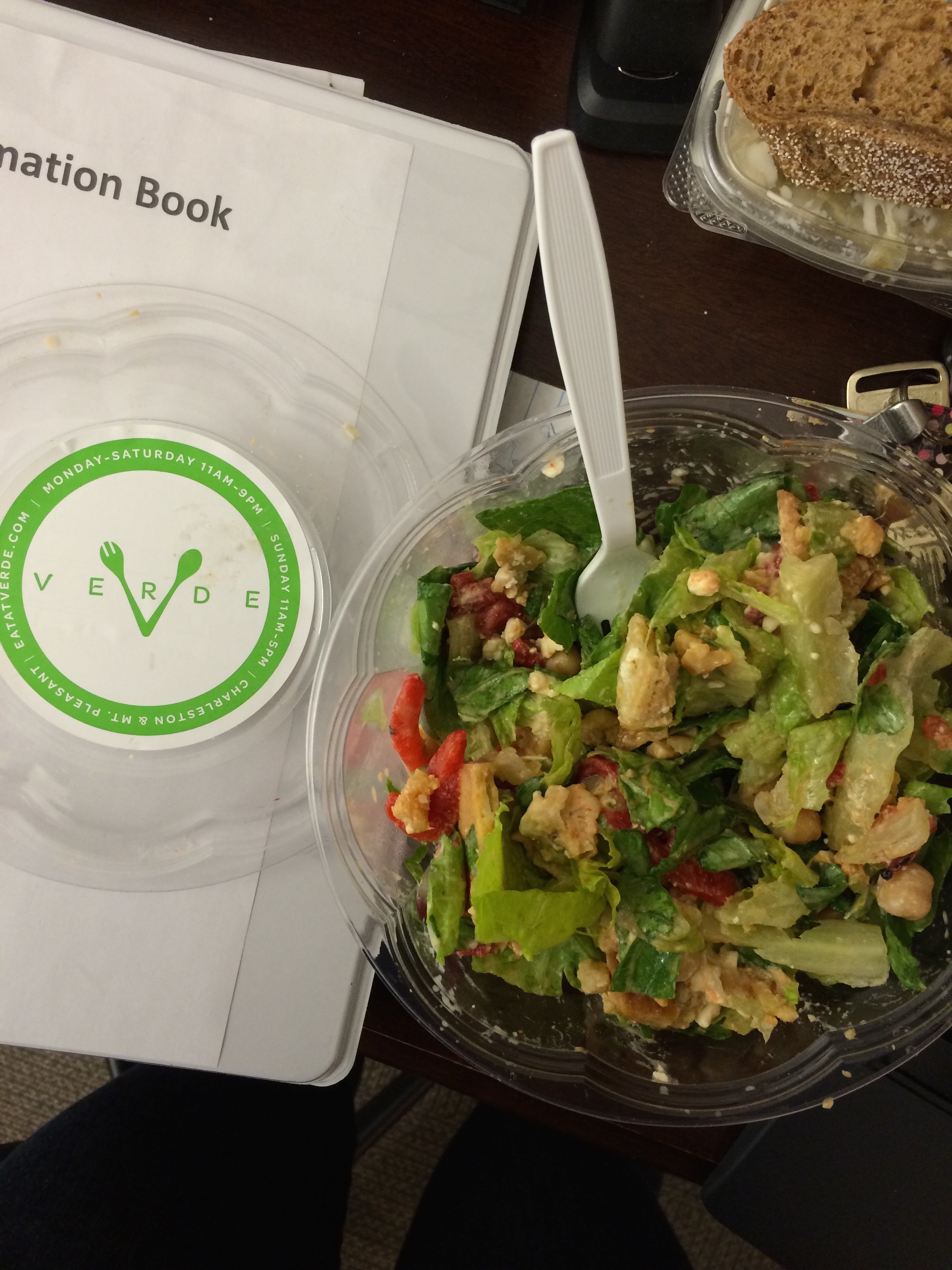 Oh what's that? The chickpea from Verde. Not so sad desk lunch. (romaine + chickpeas + feta + roasted red peppers + pita chips + lemon tahini dressing)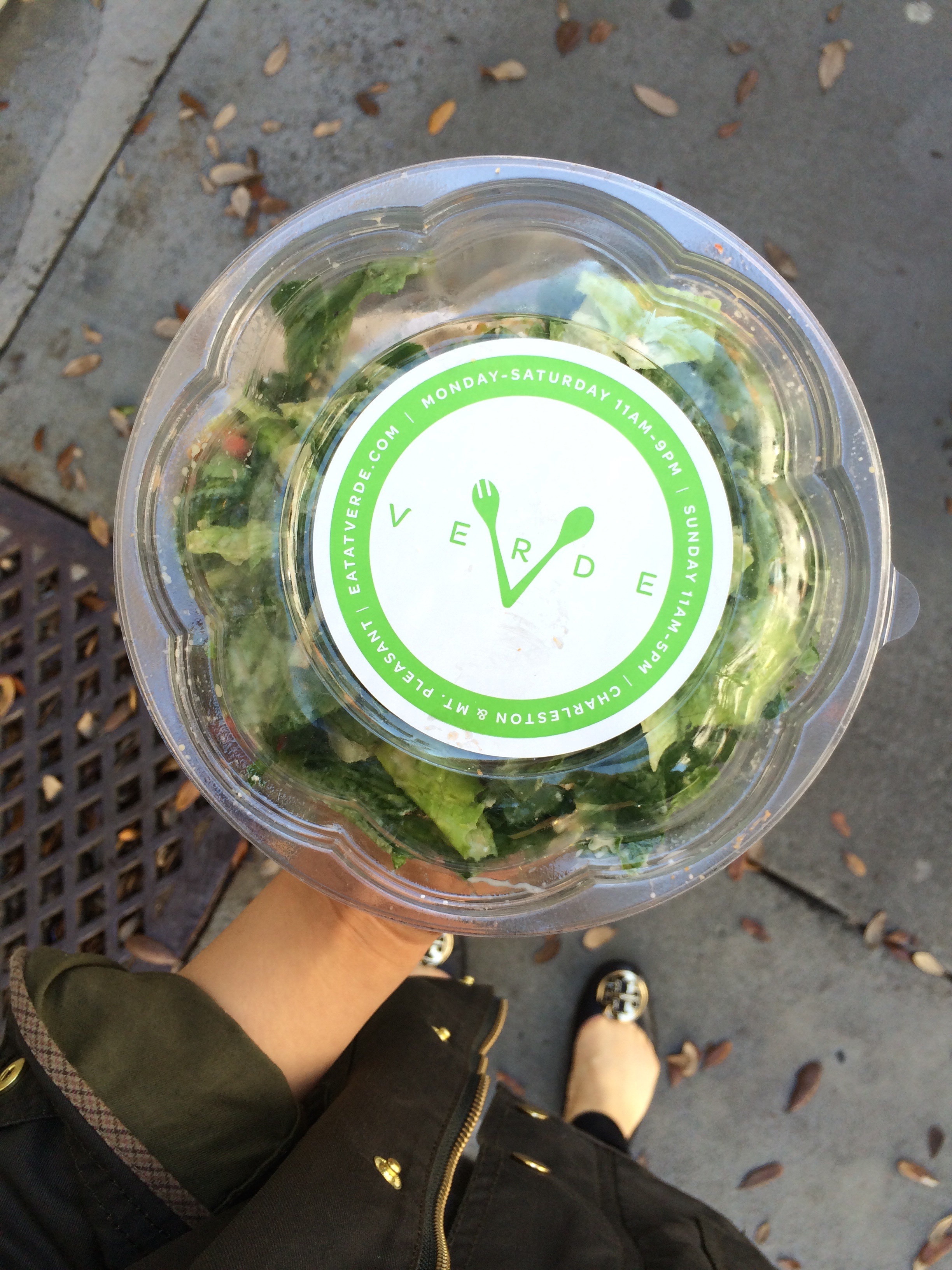 Another Verde chickpea salad, different day. Pretty sure if you're in the downtown Charleston area on a weekday during lunchtime, there's a 85% chance I will be there!
Dinners: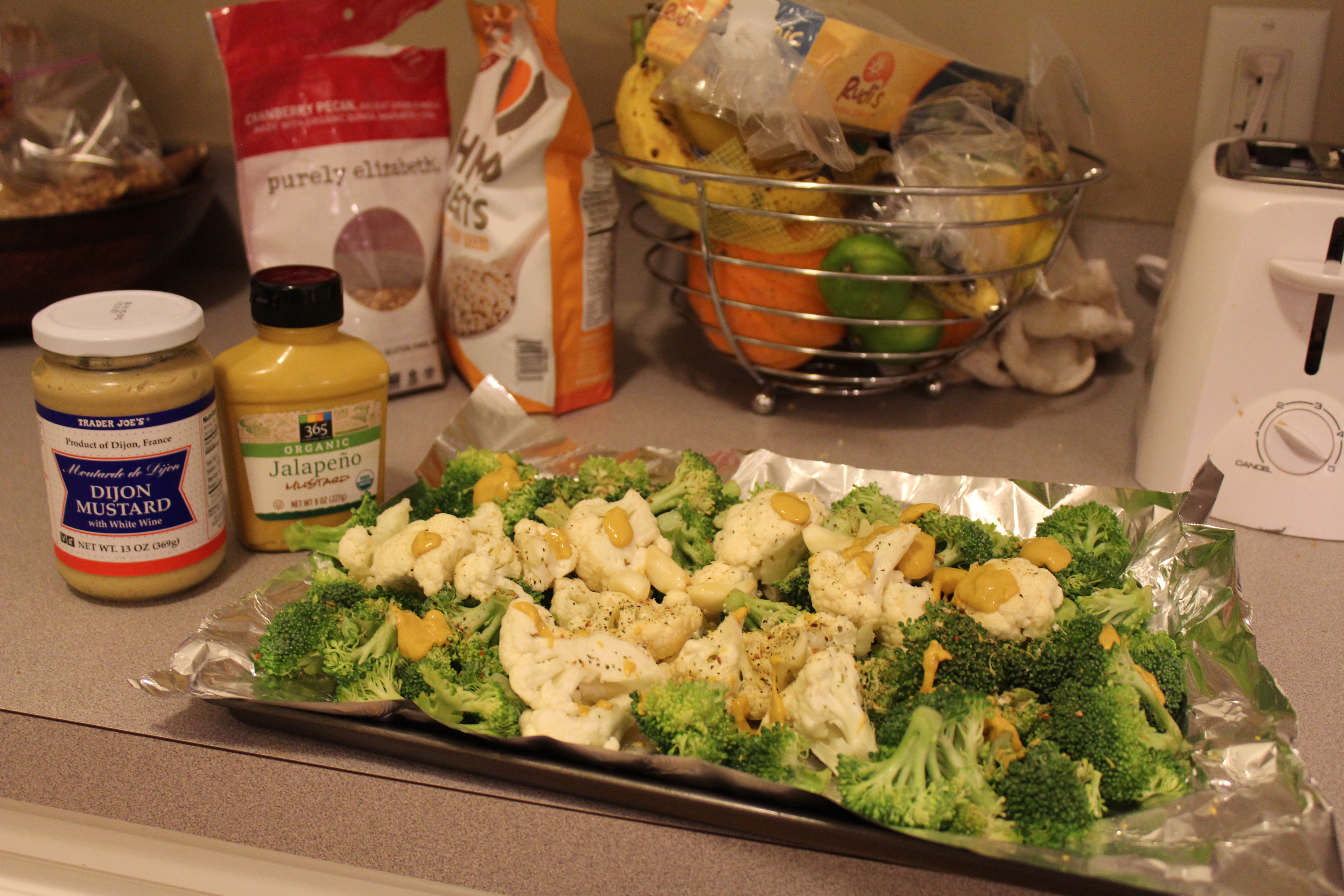 Roasted up a batch of dijion cauliflower and broccoli for the week!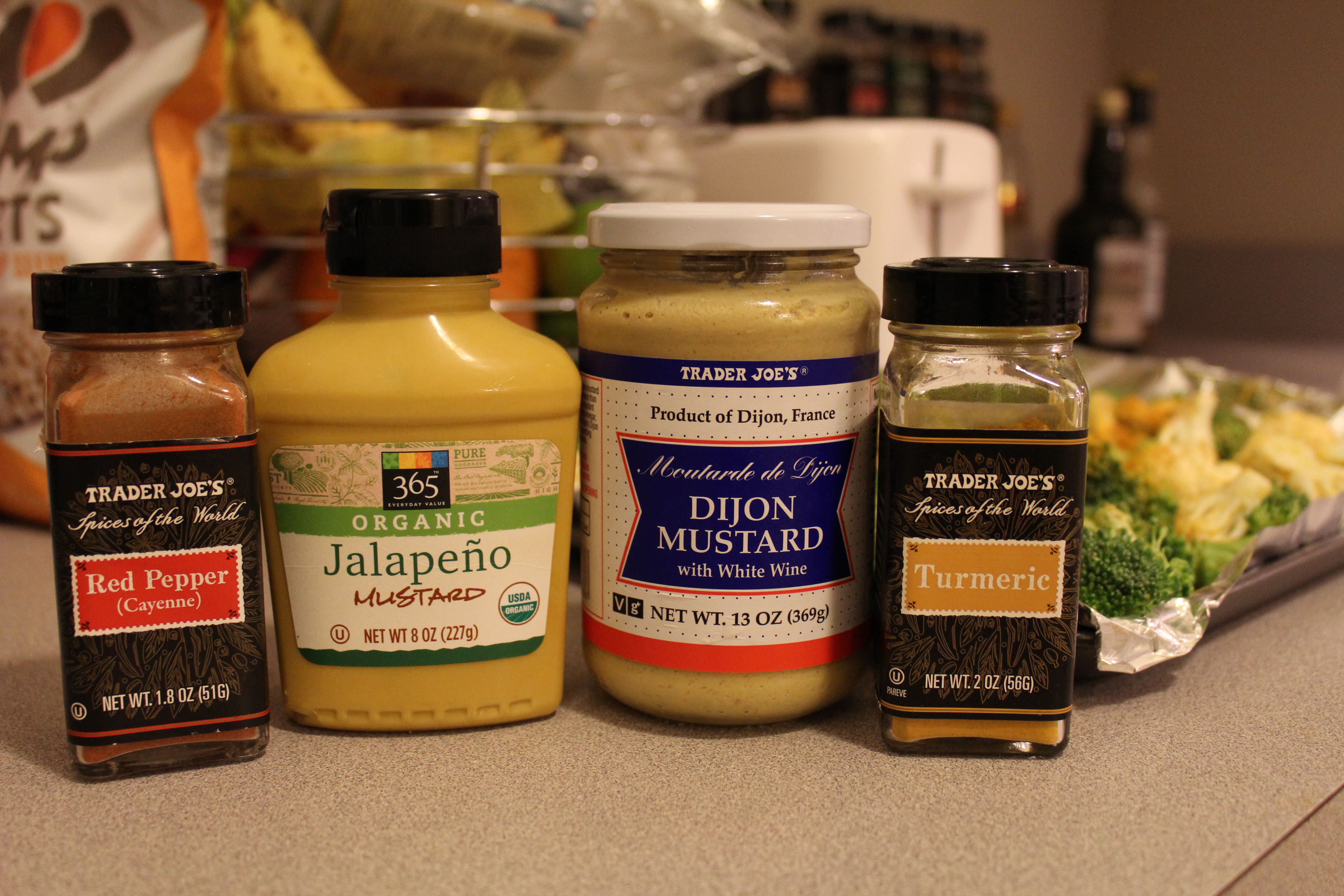 With these ingredients: a spray of coconut oil (unpictured), red pepper, jalapeño mustard, dijion mustard, and turmeric. Roasted at 400F for about 25 minutes.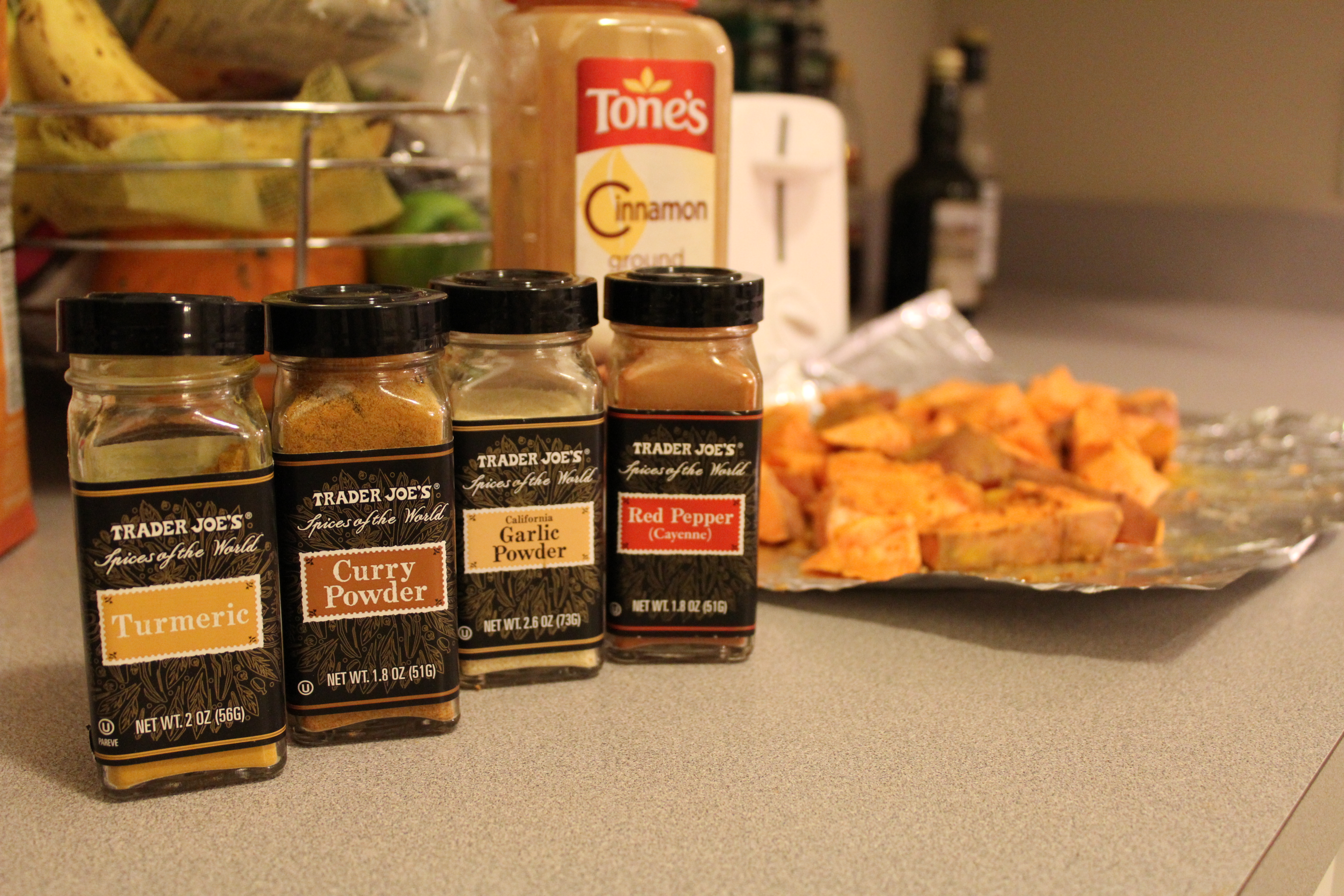 And a batch of roasted sweet potatoes with these ingredients: turmeric, curry powder, garlic powder, and red pepper. Un-pictured coconut oil spray.
Roasted at 400F for about 45 minutes. My hack for crispier sweet potatoes is to coat it all in your spices and finish up with a spray of coconut oil right on top – leaves them crispy on the outside and dense on the inside – exactly the way I like them!I love using turmeric in my meals – it's a such an wonderful healing spice and great for overall digestion.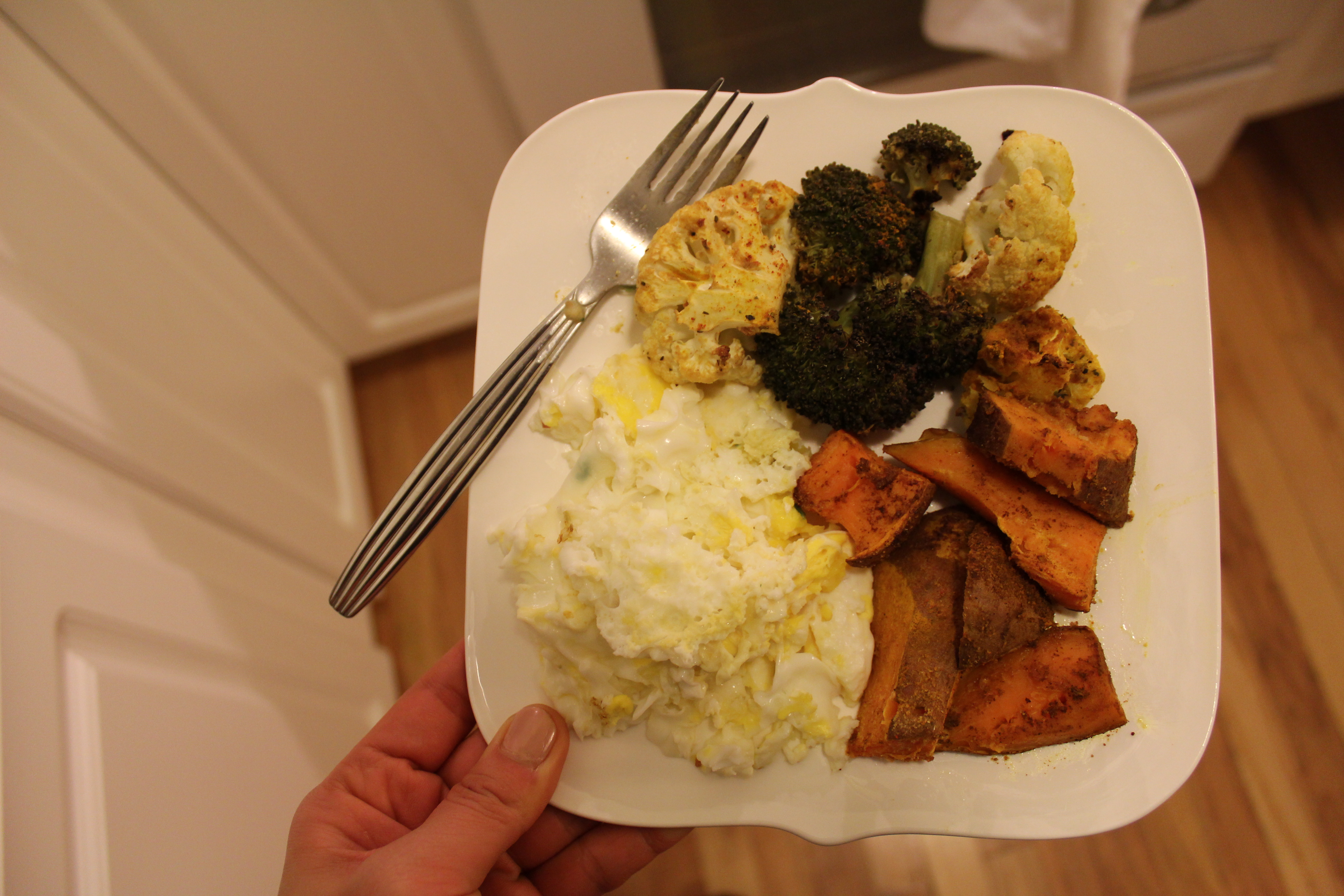 After I get a few things roasted, I'll pair them throughout the week with a few protein options – like a side of scrambled eggs.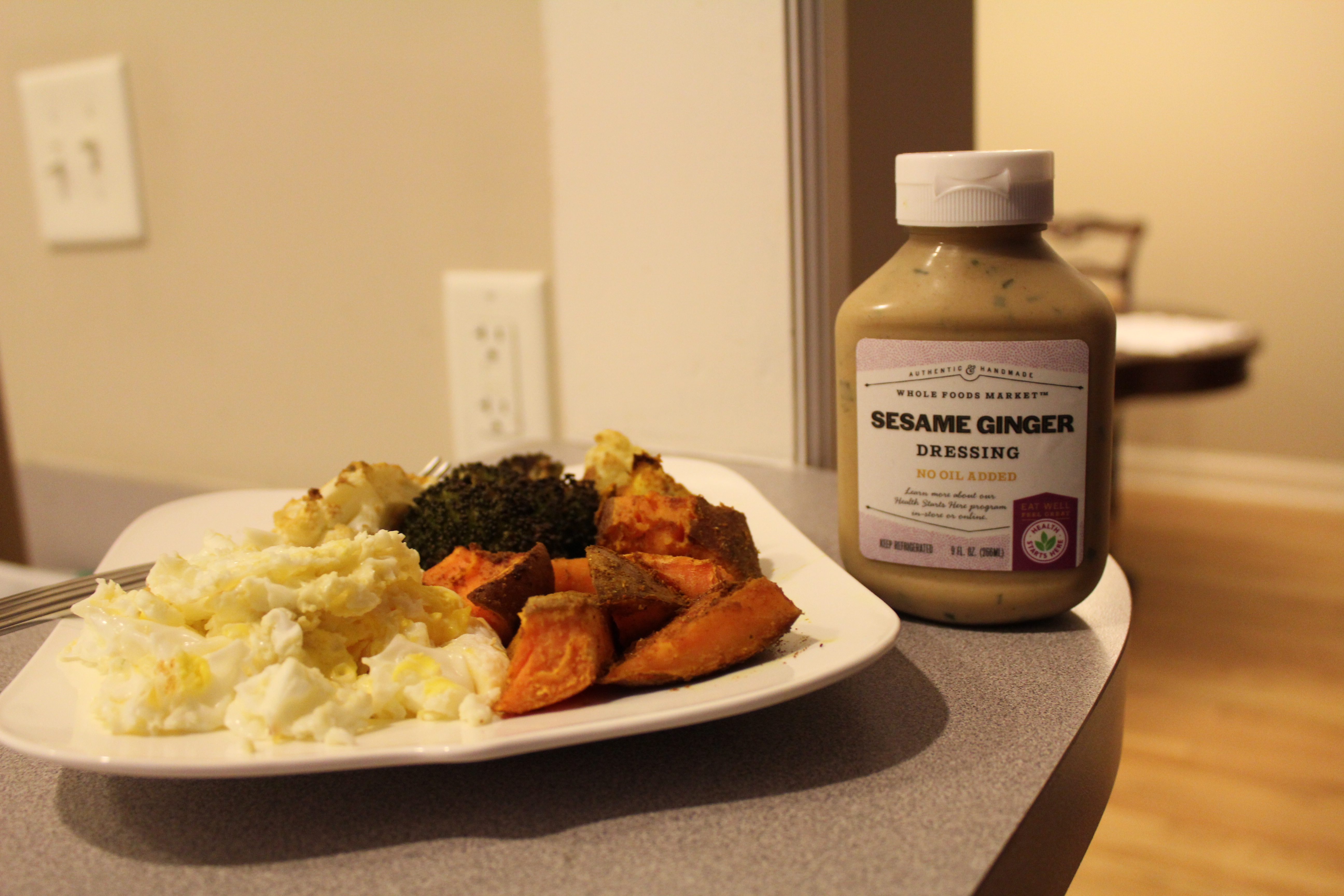 And this sesame ginger dressing…that I like to dip the sweet potatoes in. Don't knock it till you try it!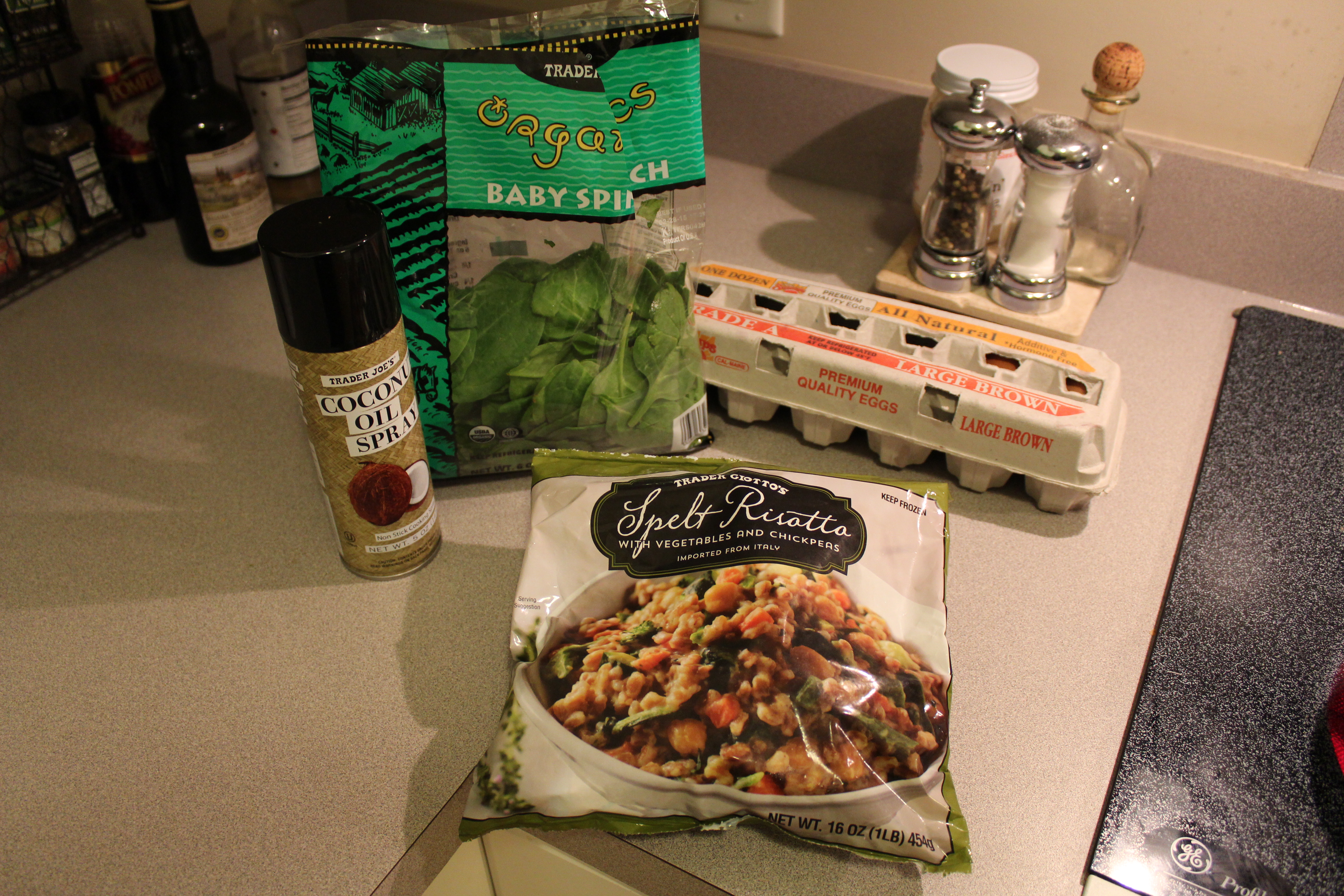 Also had some spelt risotto from Trader Joe's this week. I added spinach to it and paired it with a runny egg.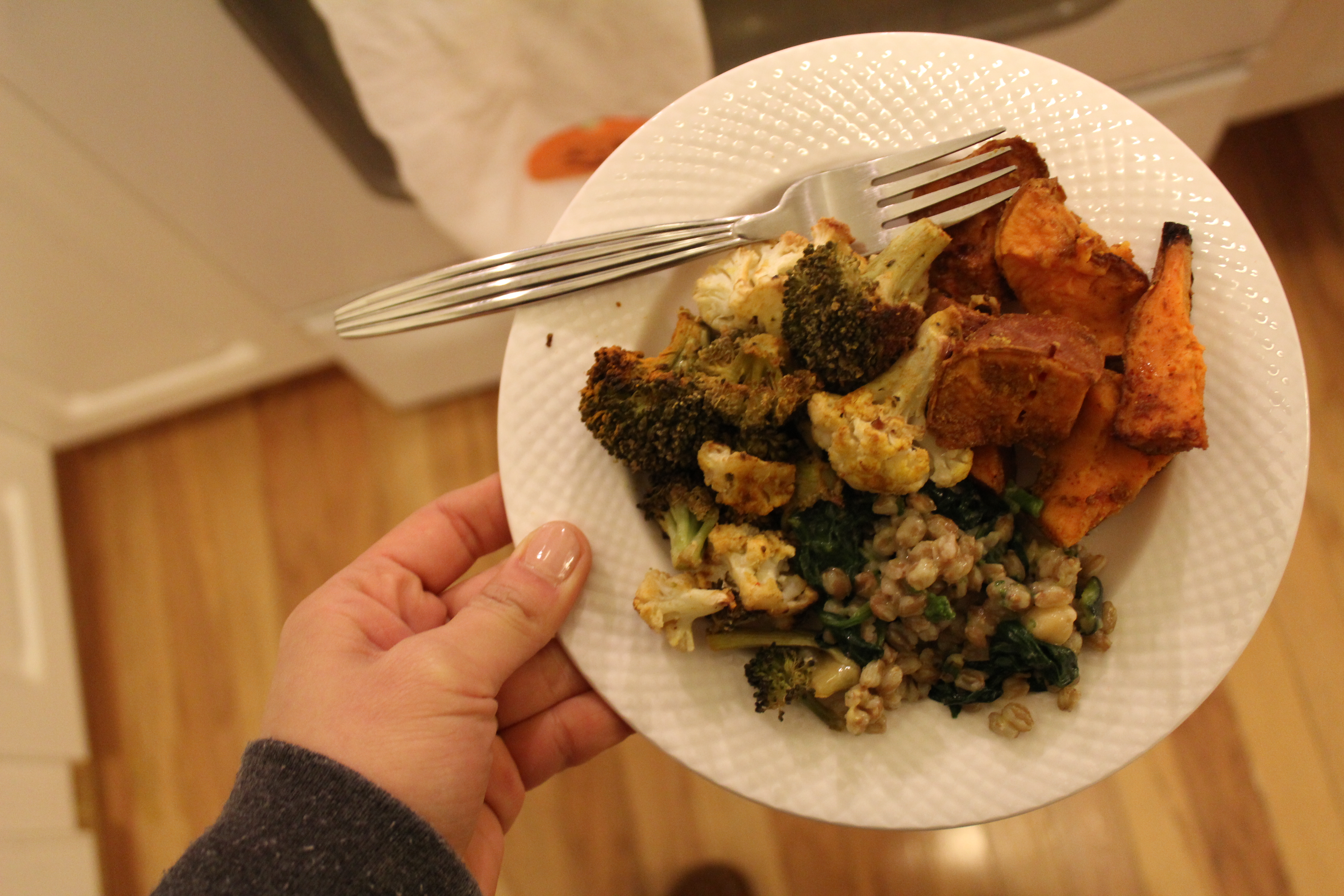 Spelt risotto with the roasted veggies from above.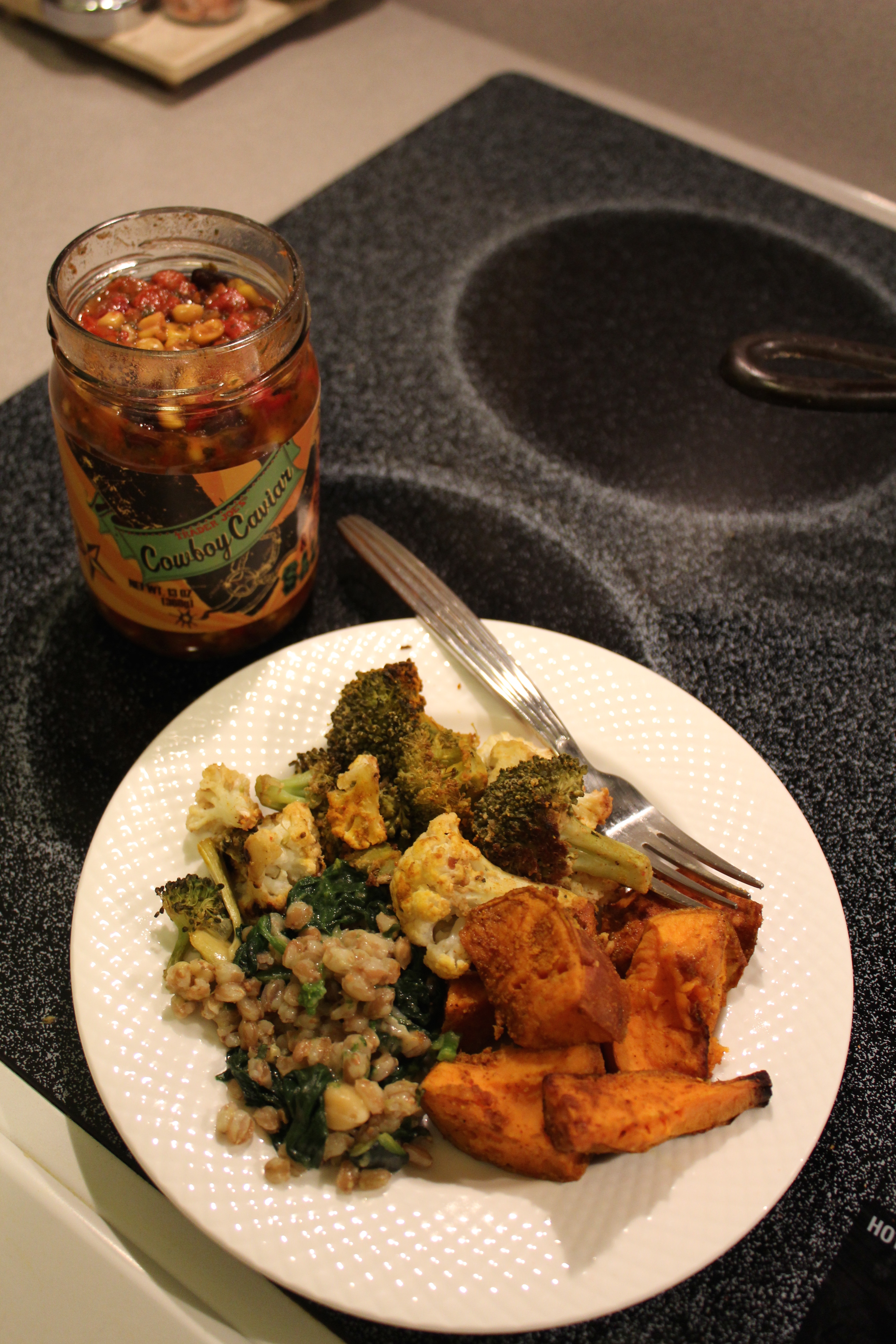 And cowboy caviar added after the picture.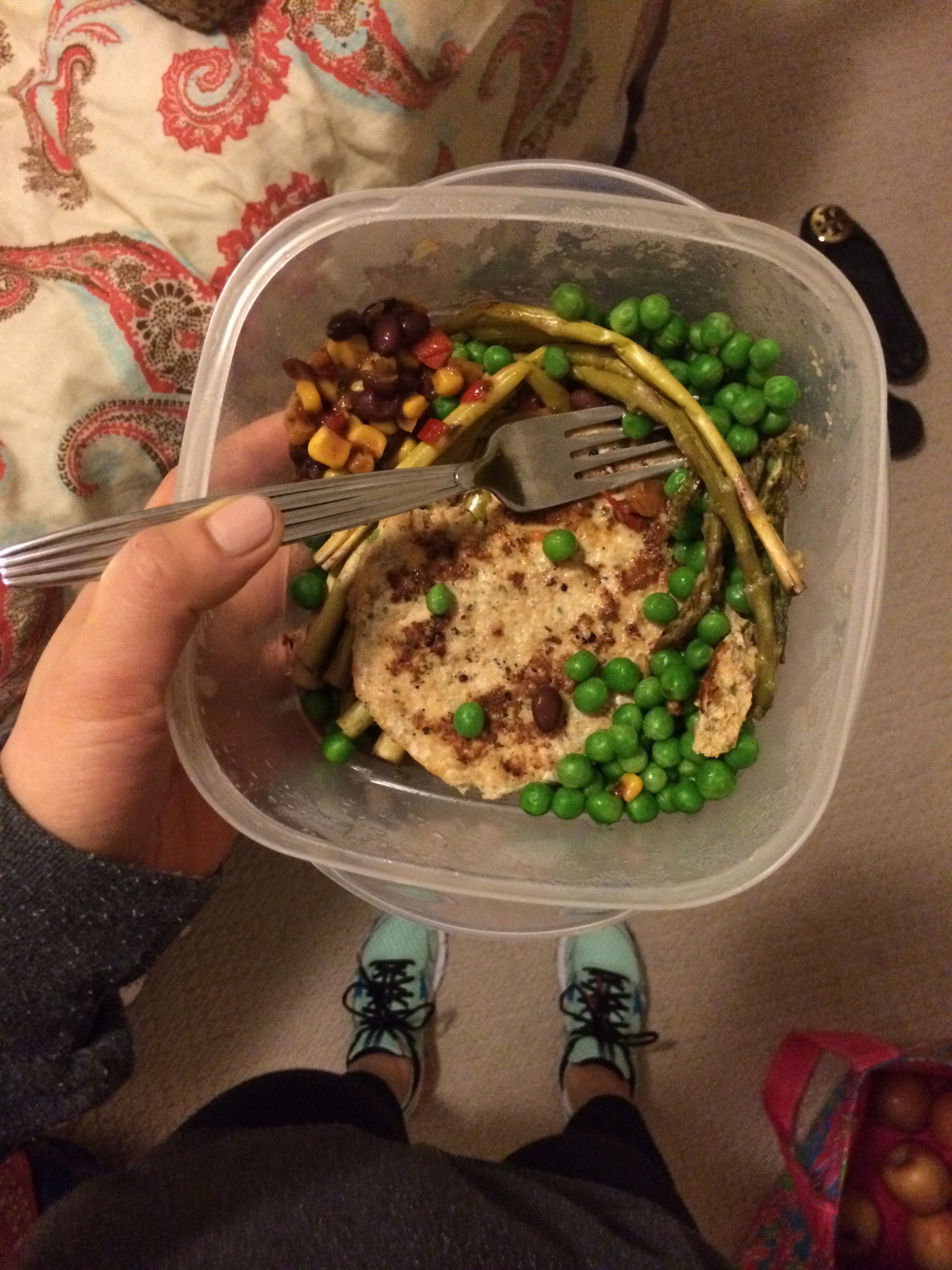 Leftovers are my go-to after post-work workouts. This was a mix of peas, asparagus, Trader Joe's chili chicken lime burgers, and a dollop of cowboy caviar.
Snacks: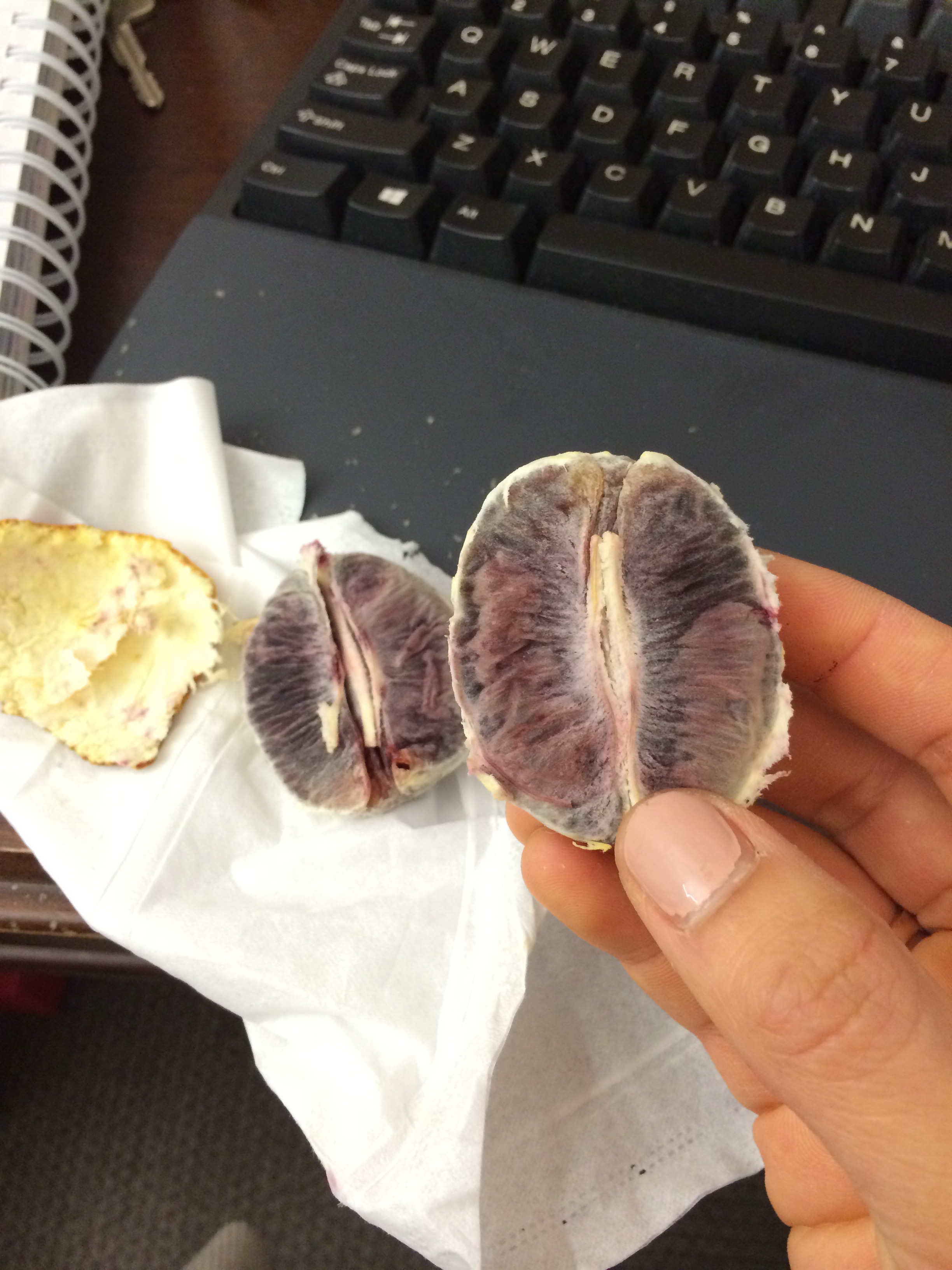 A blood orange. Got it all over my keyboard while peeling it….story of my life. I still eat like I'm 5 years old sometimes.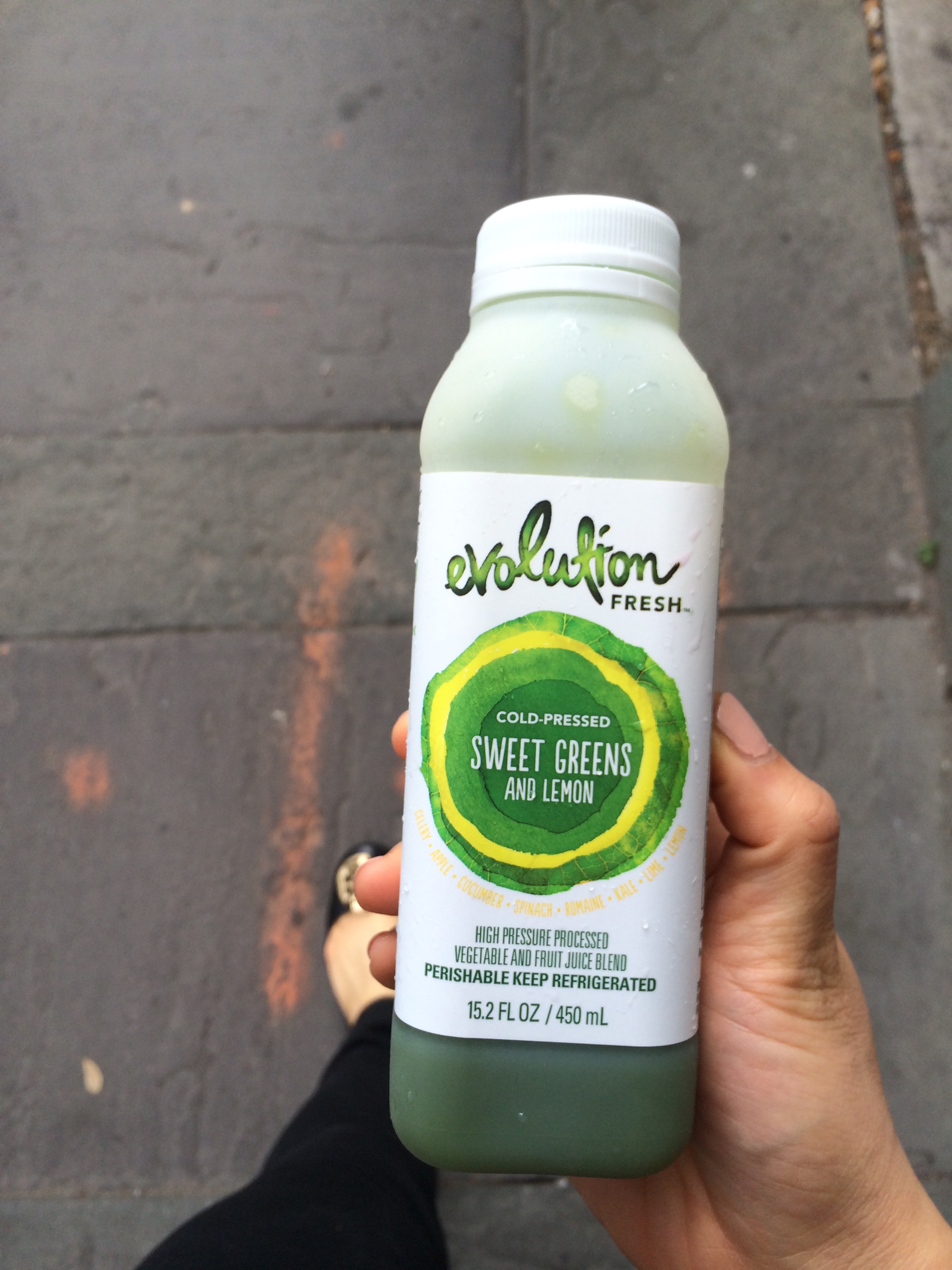 An Evolution Fresh juice for an afternoon pick-me-up. (the Sweet Greens and Lemon juice!)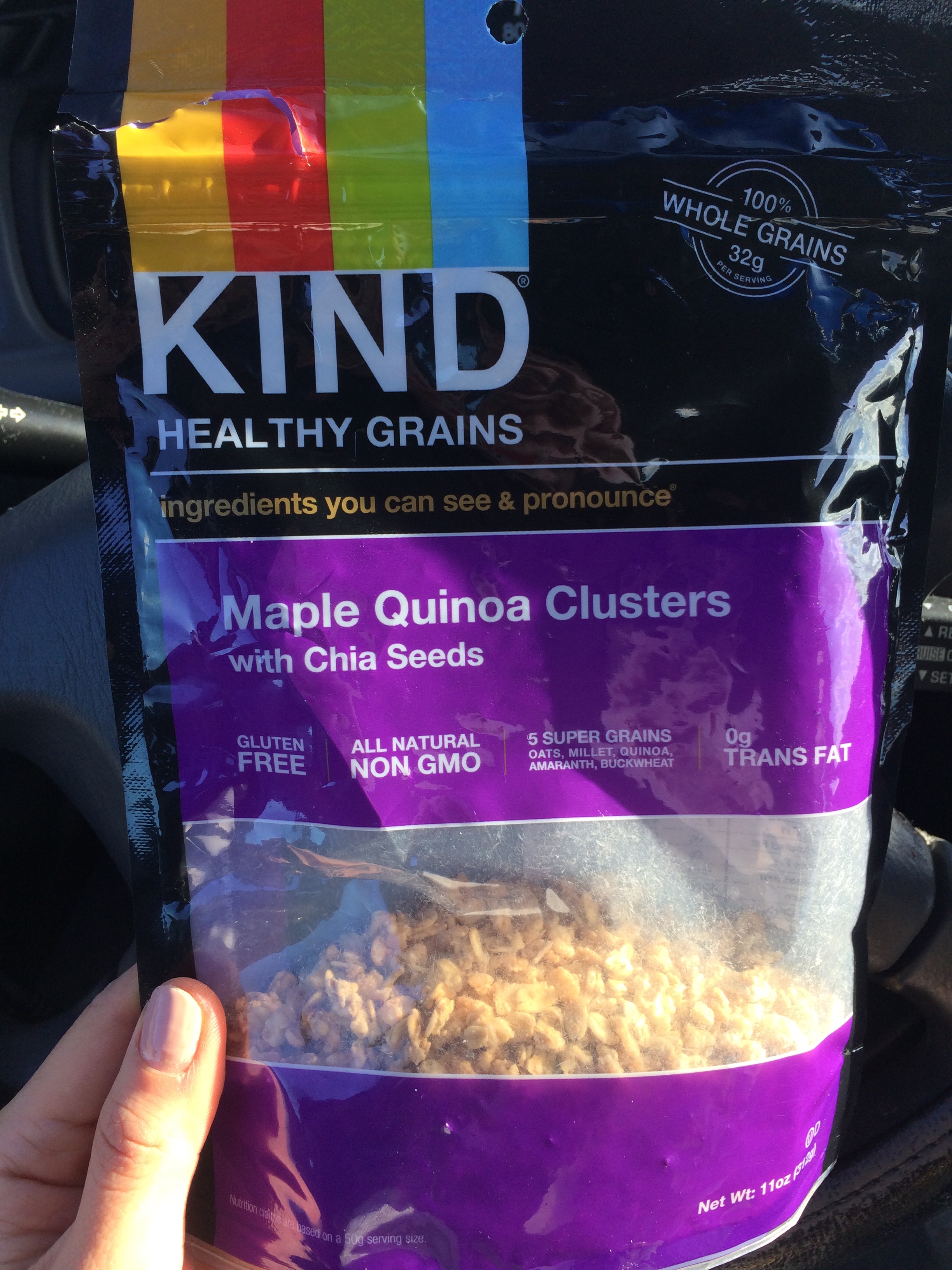 Got stuck in some major traffic the other day – so glad I have car snacks packed! Like this maple quinoa cluster with chia seeds from KIND snacks.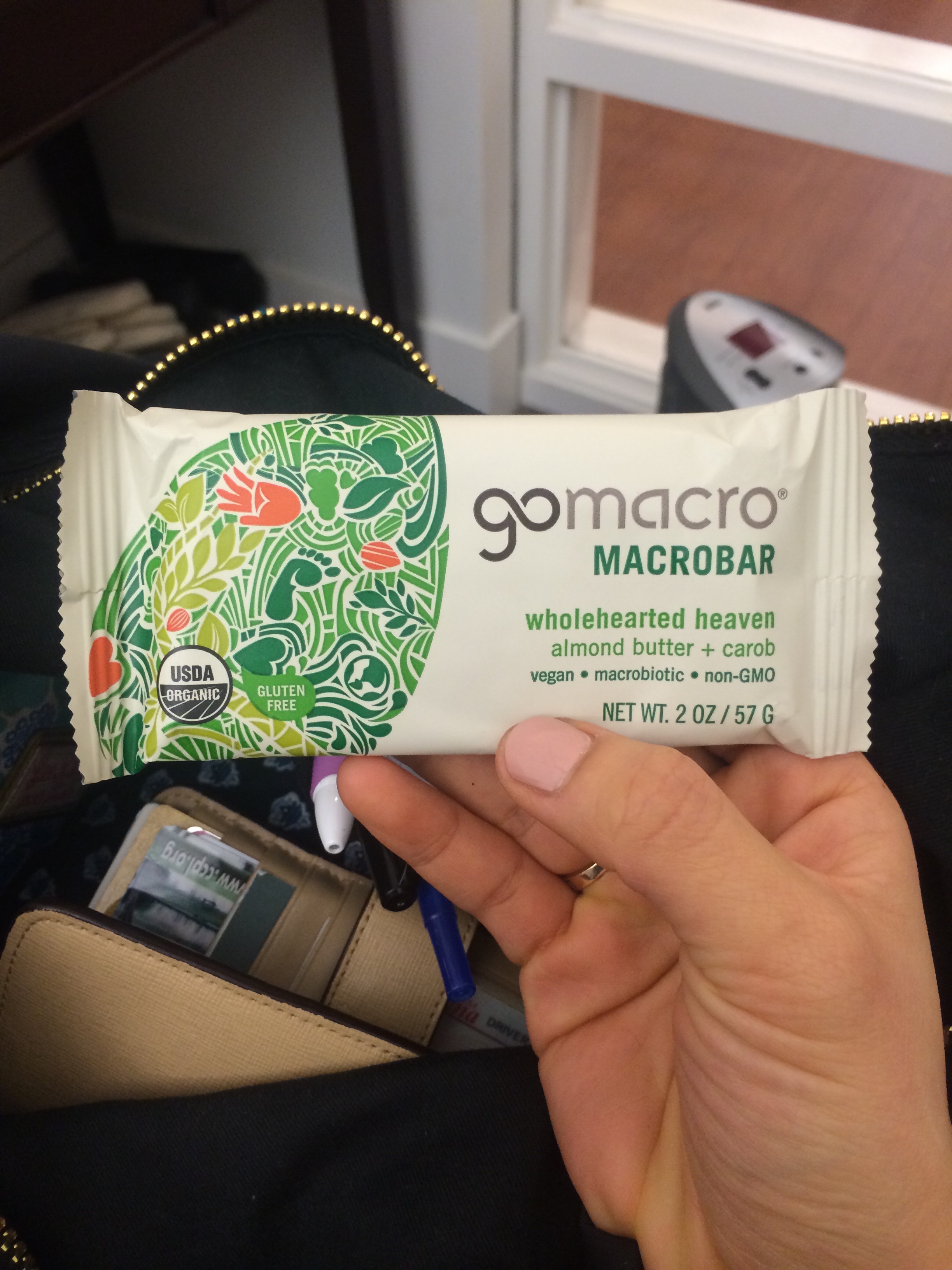 An almond butter and carob Go Macro bar for some pre-workout fuel.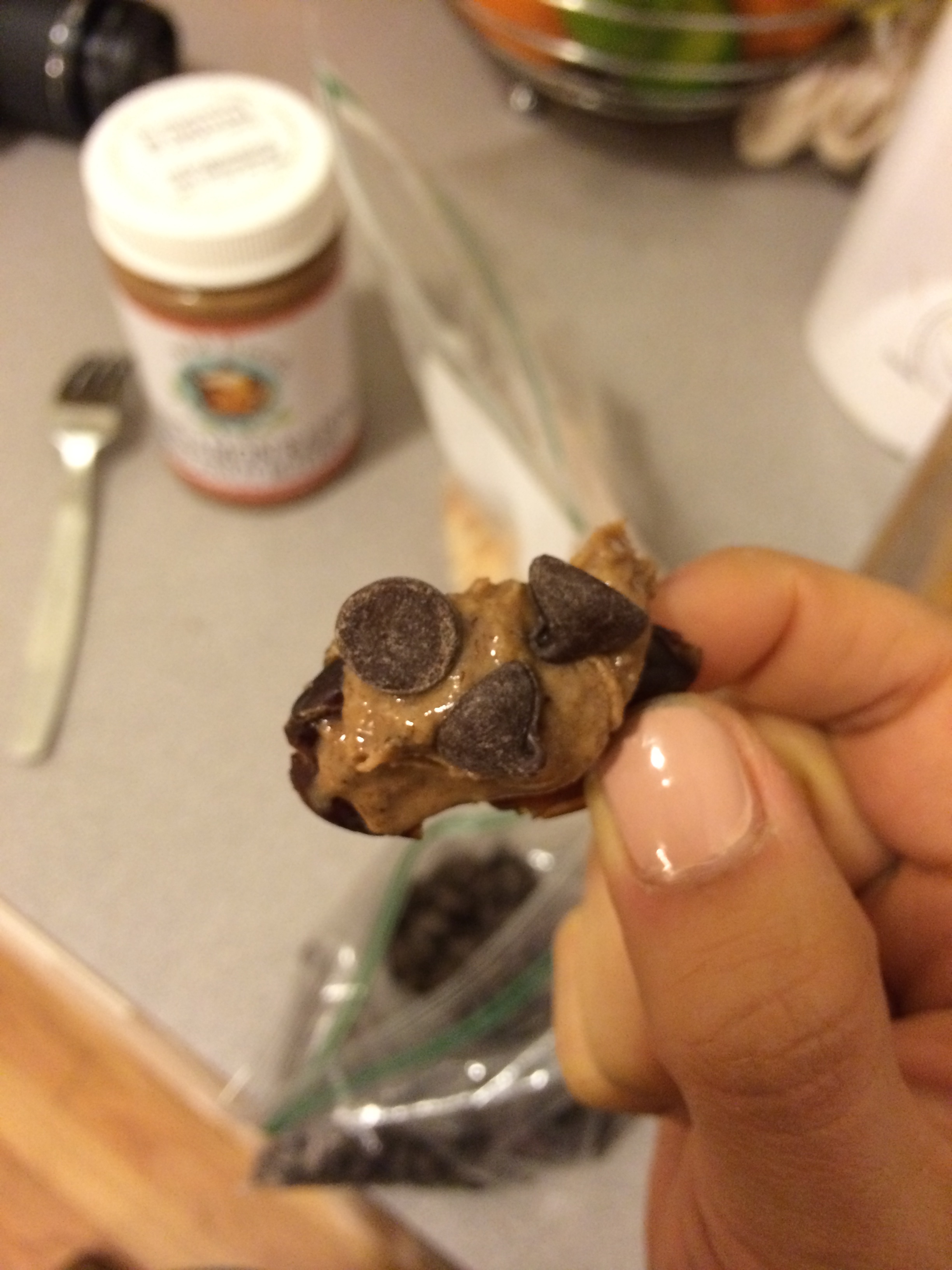 And I've been munching on these dates with cinnamon raisin peanut butter and dark chocolate chips for a post-dinner (sweet) bite.
(Visited 96 times, 1 visits today)