Showing you a grocery haul over multiple trips on this Tuesday – aka sharing with you one of my favorite hobbies! I love browsing grocery stores. Just ask any one of my friends and they'll tell you it's slightly a problem. I like to think of it as partially staying on top of my field – so it's sort of like a part time job (or at least how I like to justify it!)
I usually pick up groceries on Sundays to prepare for the week but most of the time it's just to fill in, since I most likely have items leftover from previous trips. I get pretty indecisive and love to include a variety of fresh produce in my meals so I tend to pick up extra vegetables and batch cook so meals are ready for me when I get home late. Plus, I love to experiment with new recipes in the kitchen so being well stocked is something that's a norm for me.
From Trader Joe's: Organic carrots, asparagus, crumbled goat cheese, beet hummus, cowboy caviar – that pairs really well with the quinoa and black bean tortilla chips, rainbow peppercorn, tomato paste in a tube, brussels sprouts, cut butternut squash, chili chicken lime burgers, greek yogurt, baking powder, chocolate & peanut butter chips.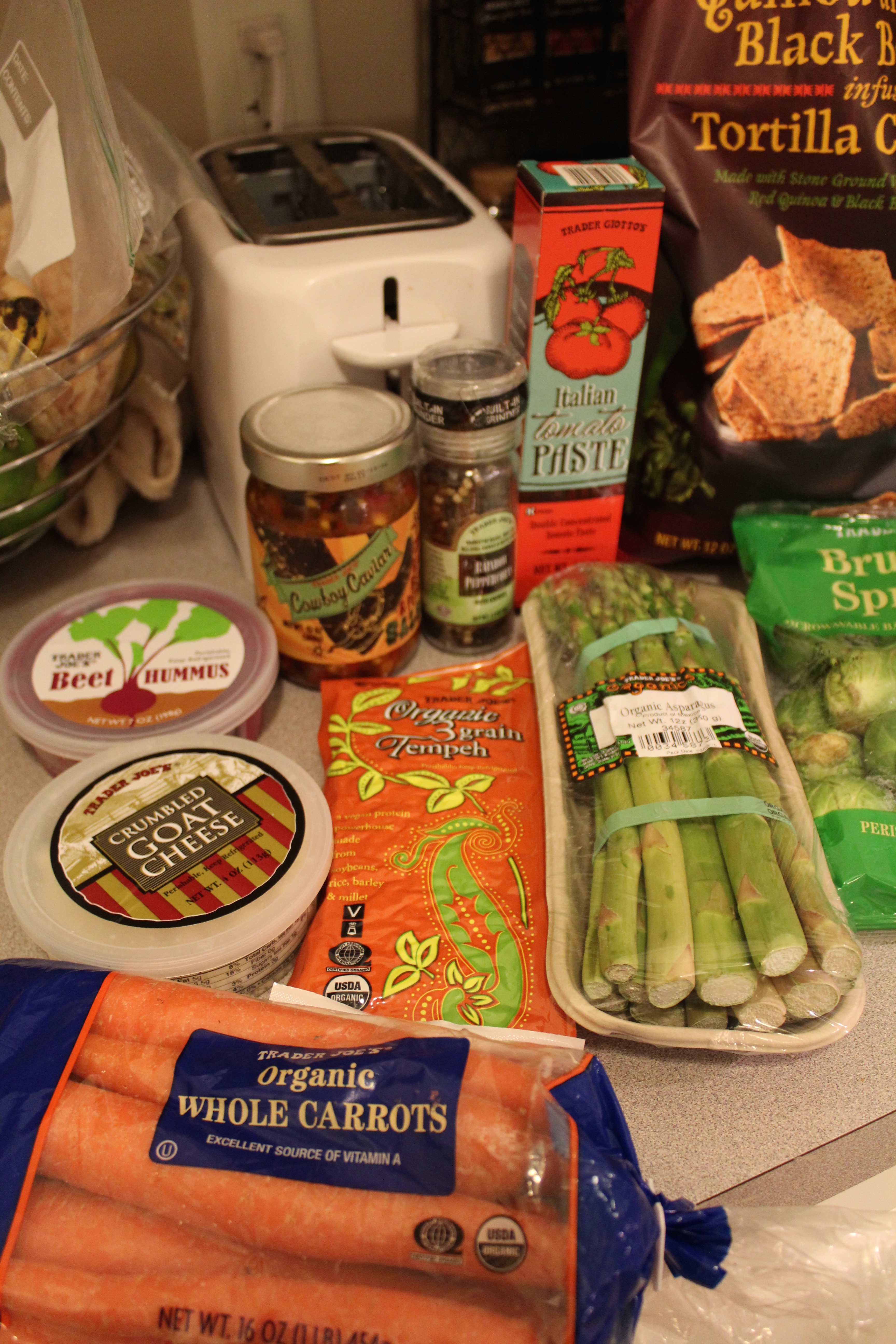 Can you believe you can pick up organic carrots from Trader Joe's for 89 cents? I mean, really. You can totally make this recipe while you're at it. I love snacking on whole carrots – I usually cut them up and eat them with hummus. Currently loving the beet hummus pictured above, but I can't really pick a favorite hummus from TJ! If I don't finish them before they're on the verge of going bad, I'll roast them or toss them into salads and stir-frys.
Tempeh and asparagus are on my weekly essentials list. I also re-stocked on some black pepper, cowboy caviar salsa, and crumbled goat cheese. Goat cheese is my favorite out of all the cheeses. Other cheeses never seem to appeal to me – but I love the creaminess and flavor of goat cheese, so I like to keep that on hand for salads and toast. And it totally reminds me of my rockstar future veterinarian bestie (hi, Alexis!) We use to go visit the goat farms in our glory days back in Clemson…..you're going to be a hell of a vet, friend!
I also picked up a tube of tomato paste, which to be perfectly honest, I added to my basket for the packaging…just being real. That and I want to experiment a little with tomato paste in the kitchen – something I don't usually reach for!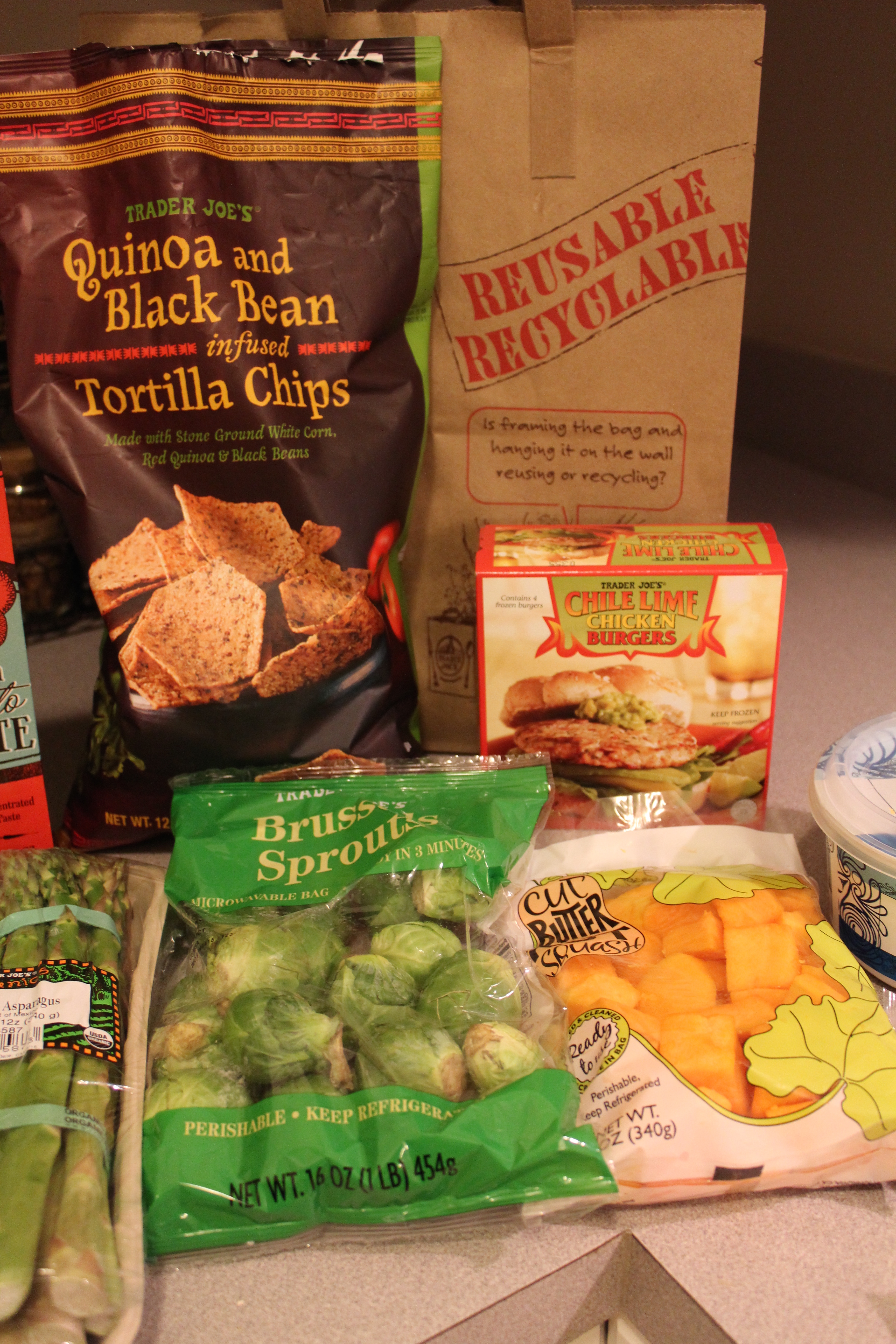 The pre-cut butternut squash is truly a time saver in the kitchen – I'm sure you're familiar with it if you're a Trader Joe's junkie! I can roast a batch early in the week and eat it as is with some cinnamon as a snack or a side dish part of my meals. It's also awesome to puree into soups, since it's pre-cut!
I added a box of chili chicken lime burgers into my cart again this week. My body has been craving it – I tend to be pretty intuitive about cravings and listening to them. Protein wise, I tend to choose fish, seafood, eggs or plant-based proteins, but these chili chicken lime burgers are delicious and definitely hits the spot this week. I love them with a squeeze of fresh lime juice on top!
PS the cowboy caviar pairs perfectly with this quinoa and black bean tortilla chips. Just saying!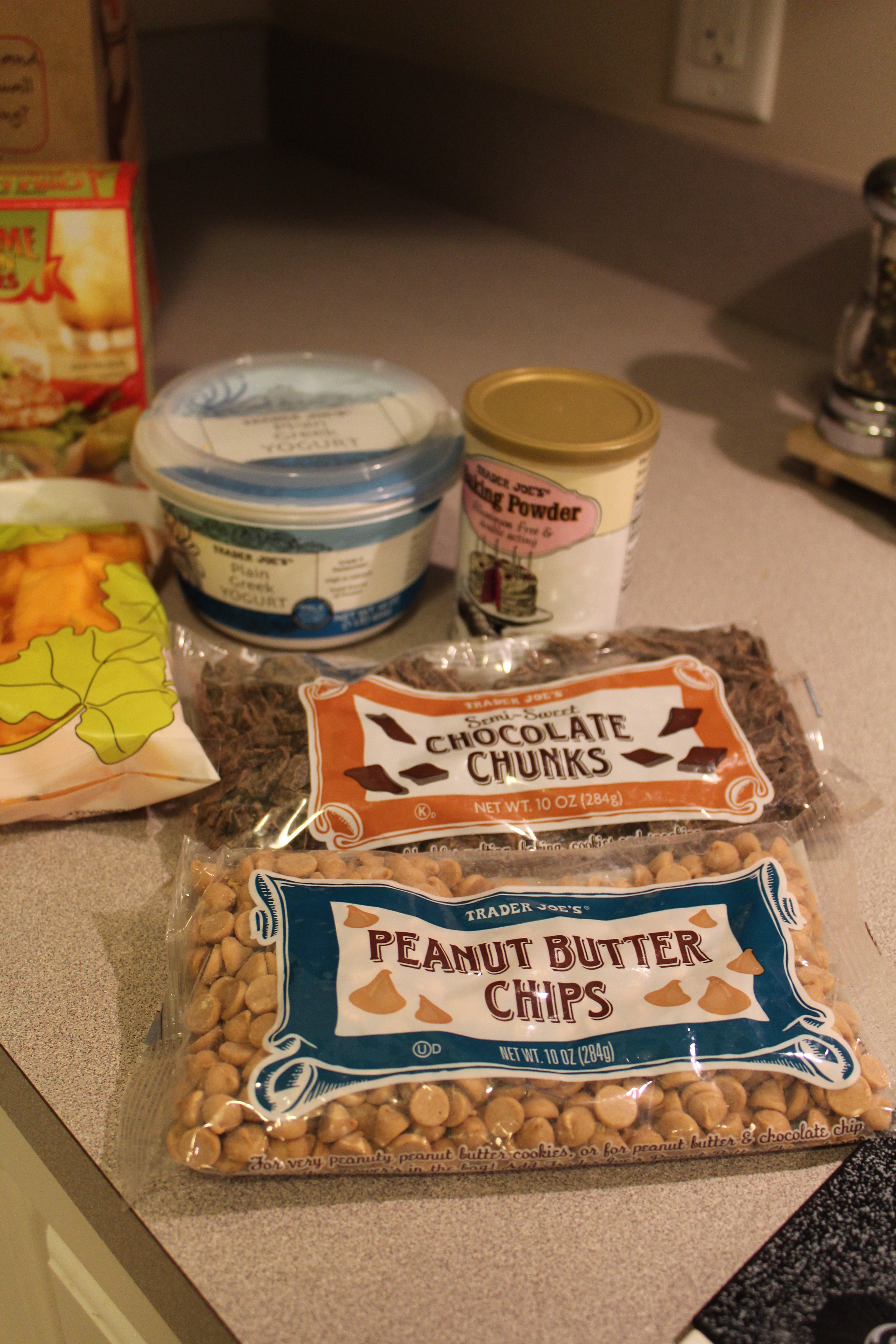 Stocked up on some chocolate & peanut butter chips for a special something upcoming project for you…and (surprise!) it contains both!
So I completely goofed and picked up full-fat greek yogurt this week when I really meant to pick up a non-fat one for a recipe I was making this week. Turned out to be more of a blessing really because full fat greek yogurt has more of a creamy texture and flavor. I'm testing a few recipes that uses greek yogurt lately which is why I picked up a container – and it's looking to be a good one!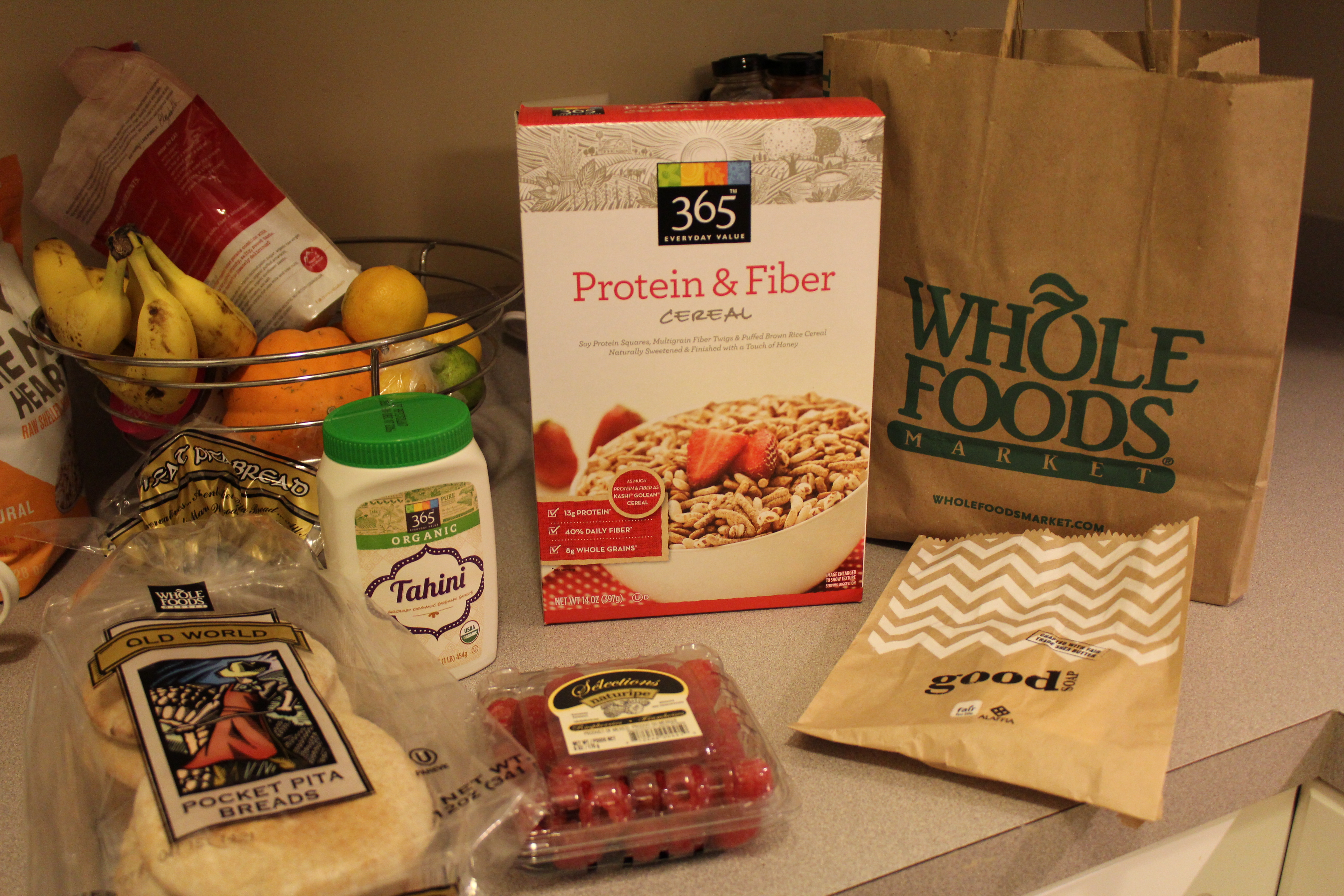 From Whole Foods: Mini Pocket Pita Bread, tahini, raspberries, The 365 Protein and Fiber cereal, and soap…ha!
Whole Foods has the best price on organic tahini I've seen so far – I LOVE tahini based dishes and dressings, so I always have it in stock in my pantry.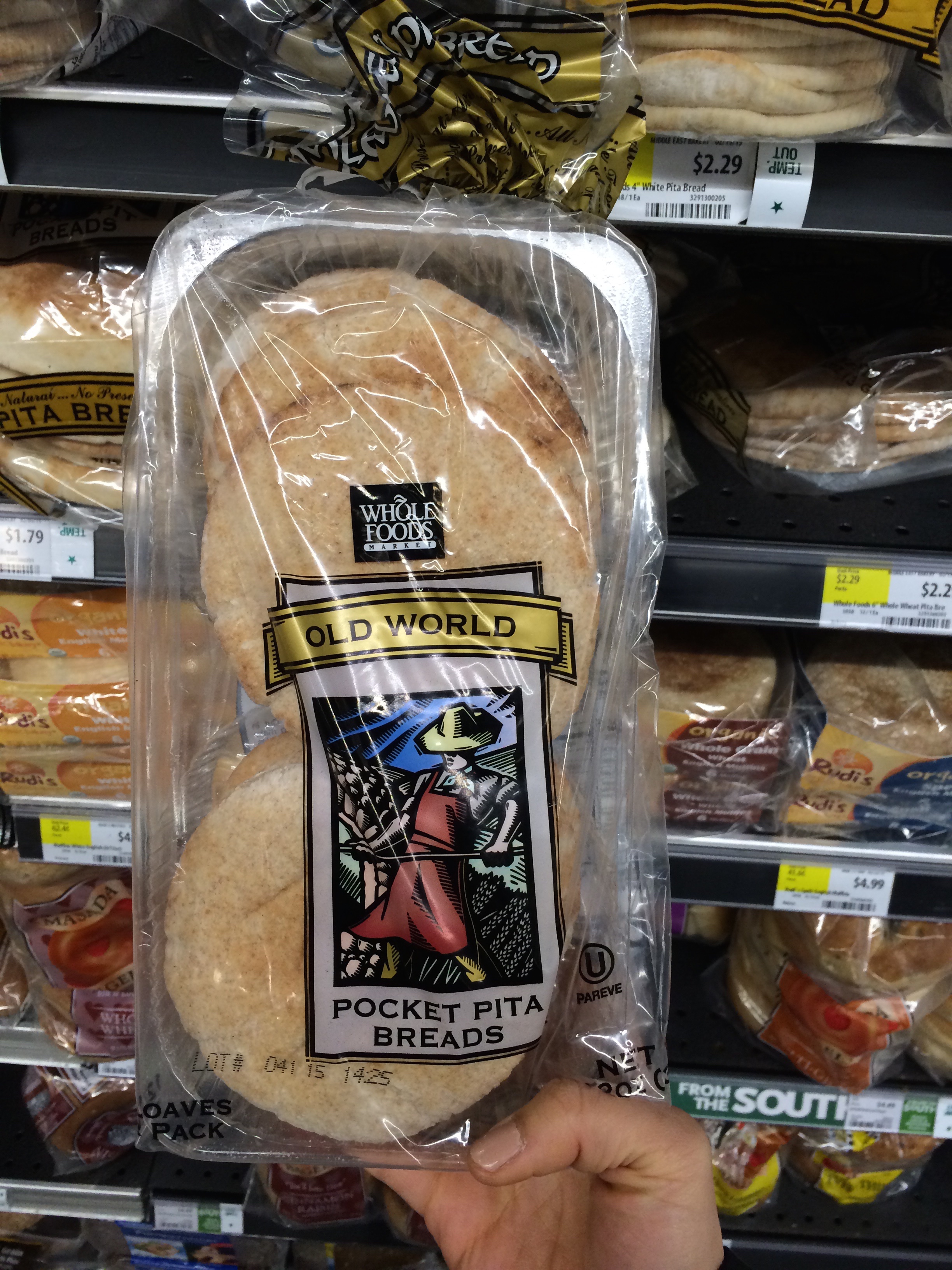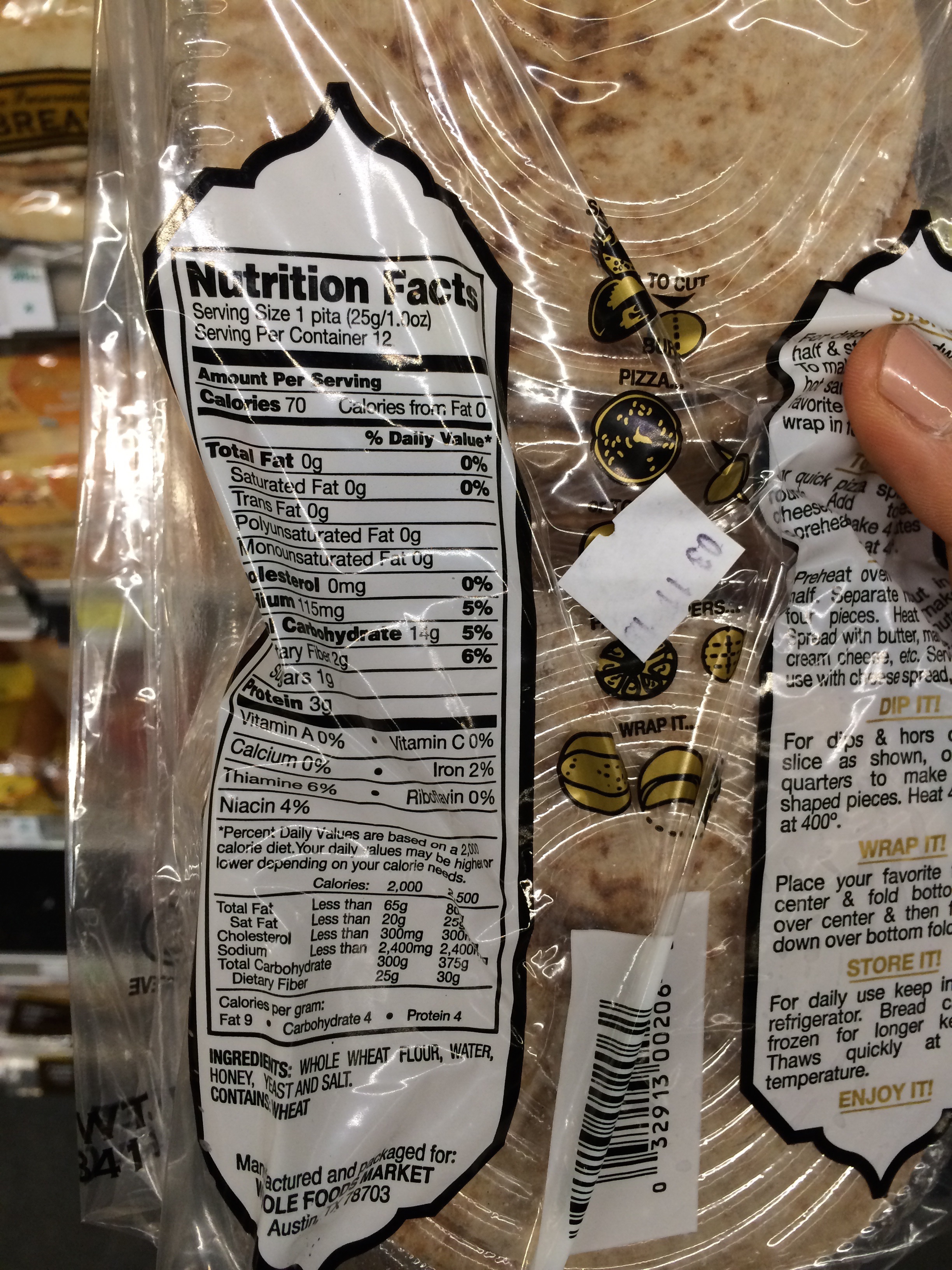 These mini pita pockets have replaced my spelt english muffins for the week – best part besides the fact that they are the perfect mini size? Only 4 ingredients – whole wheat flour, water, honey, yeast and salt. And they are mighty tasty. I have approximately 34093043902 meal ideas using these bad boys. Can someone hire me a personal assistant to organize my thoughts? K, thanks.
Whole Foods bakes their own bread so quality wise, it's the next best thing to local bakeries. The fresh-ness is real!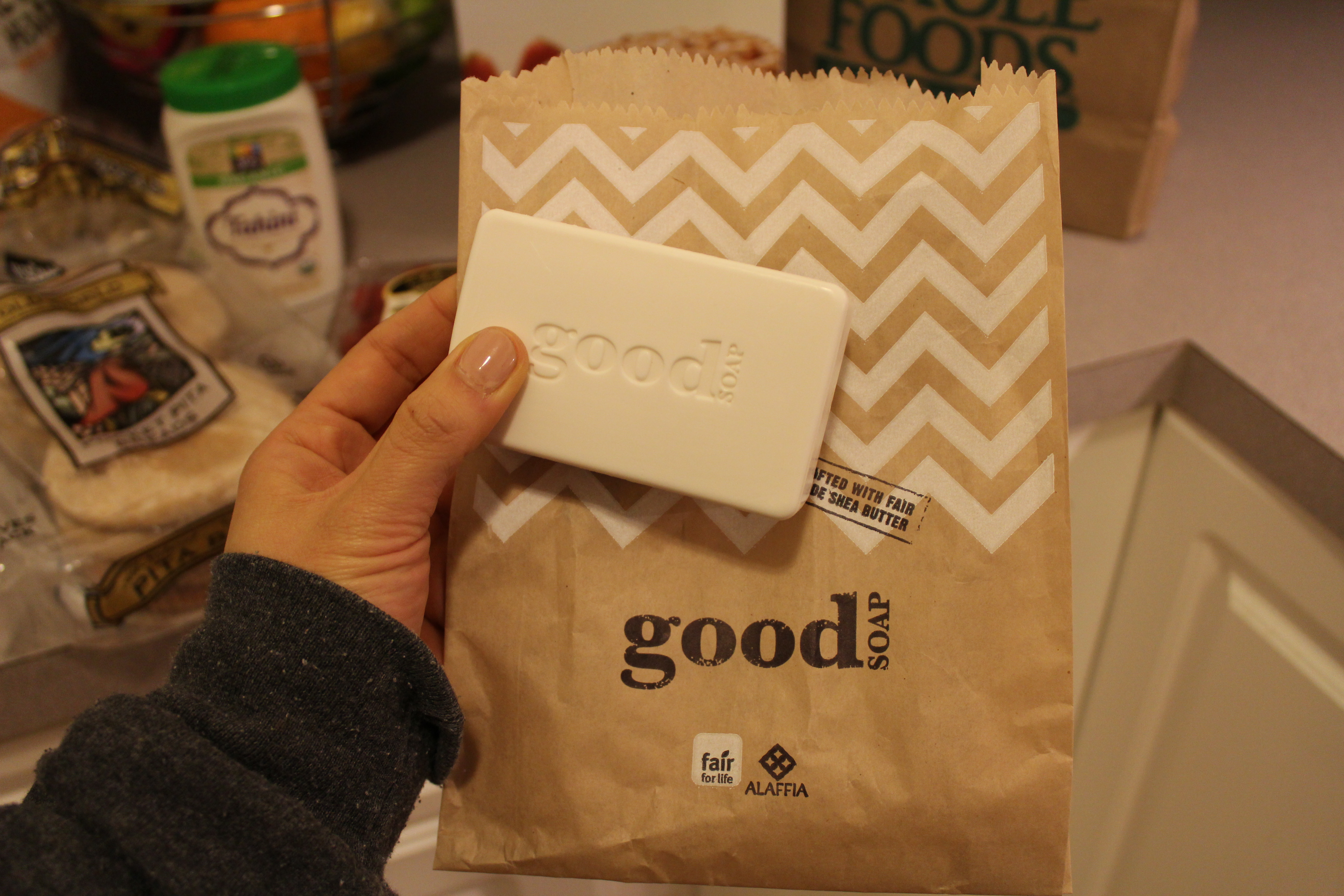 I almost always get distracted by the cosmetic section at Whole Foods. And I always pick up soap. The pineapple coconut Alaffia soap though? Smells heavenly. I like to reach for more natural products as far as soaps and shampoos goes – these soaps have become a favorite of mine!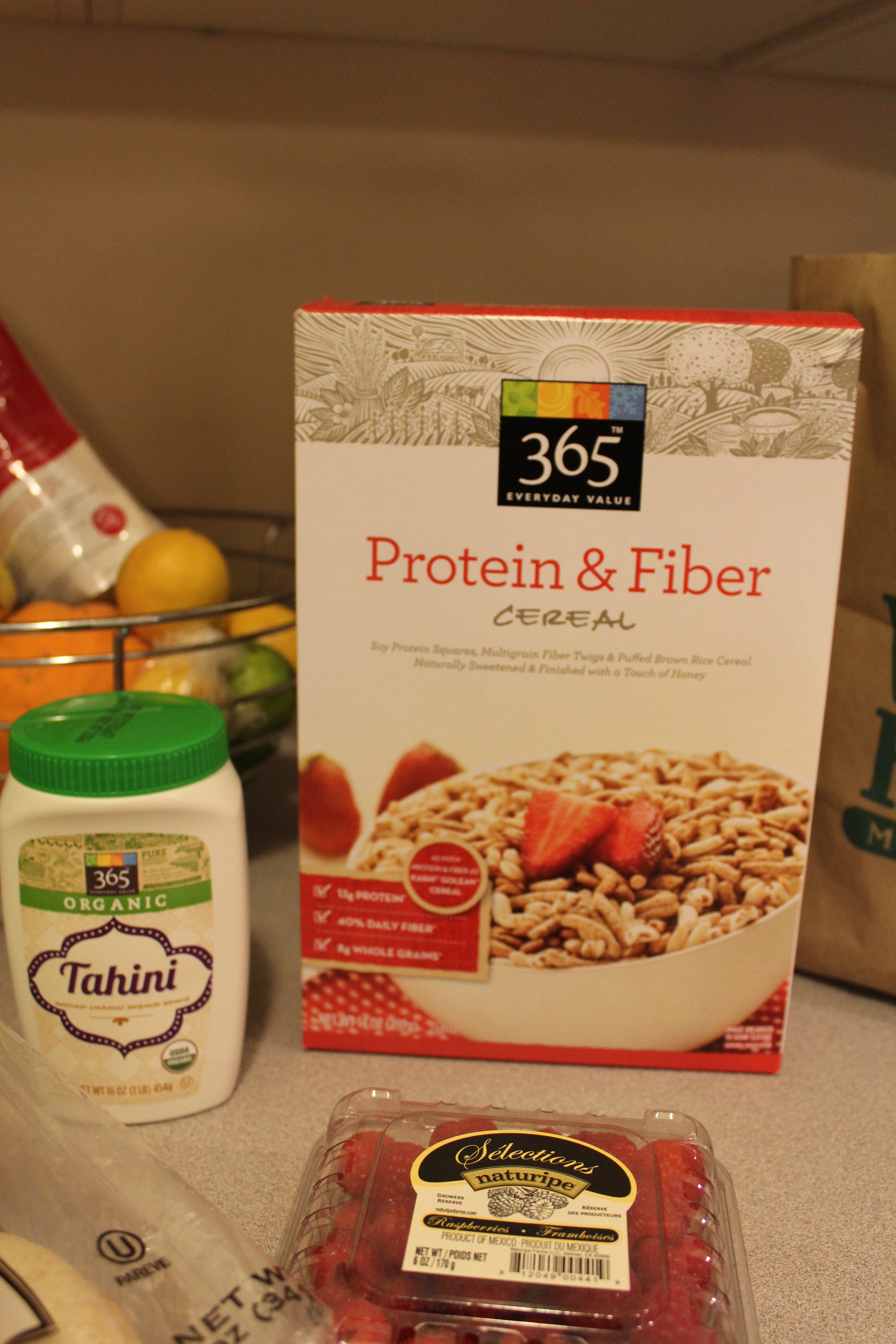 Remember how I was telling you last week that I was trying to branch out a little for breakfast? The Engine 2 Tripe Berry Walnut was good, but this week I tried the Whole Foods 365 Brand Protein and Fiber cereal. Per serving, it has 10 grams of fiber and 13 grams of protein at 6 grams of sugar. It's a mix of spelt, oats, rye, barley and other grains. It's definitely a nice alternative for days you feel like changing up your breakfast.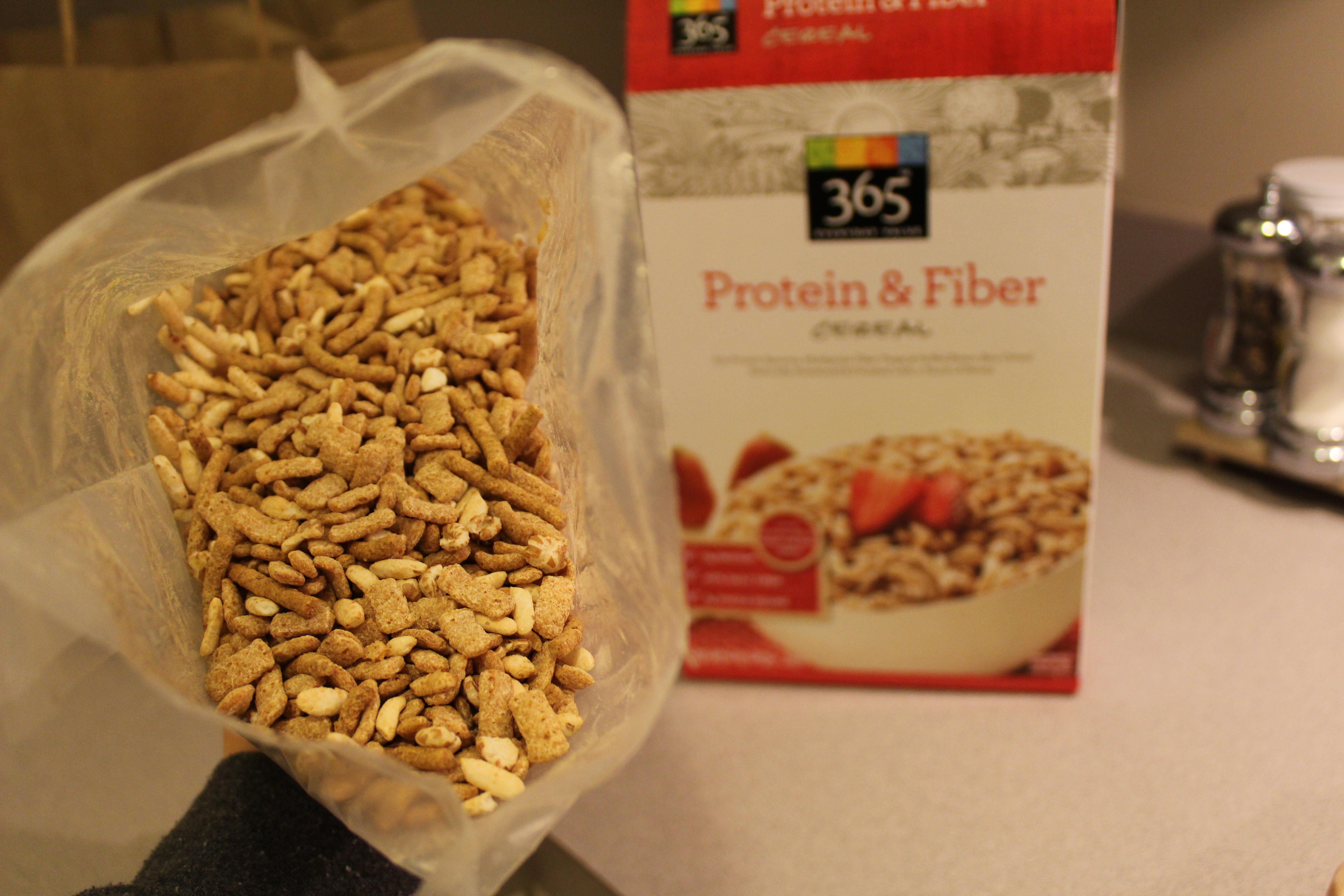 What really gets me is the perfectly crunchy texture – doesn't get soggy and it's lightly sweetened!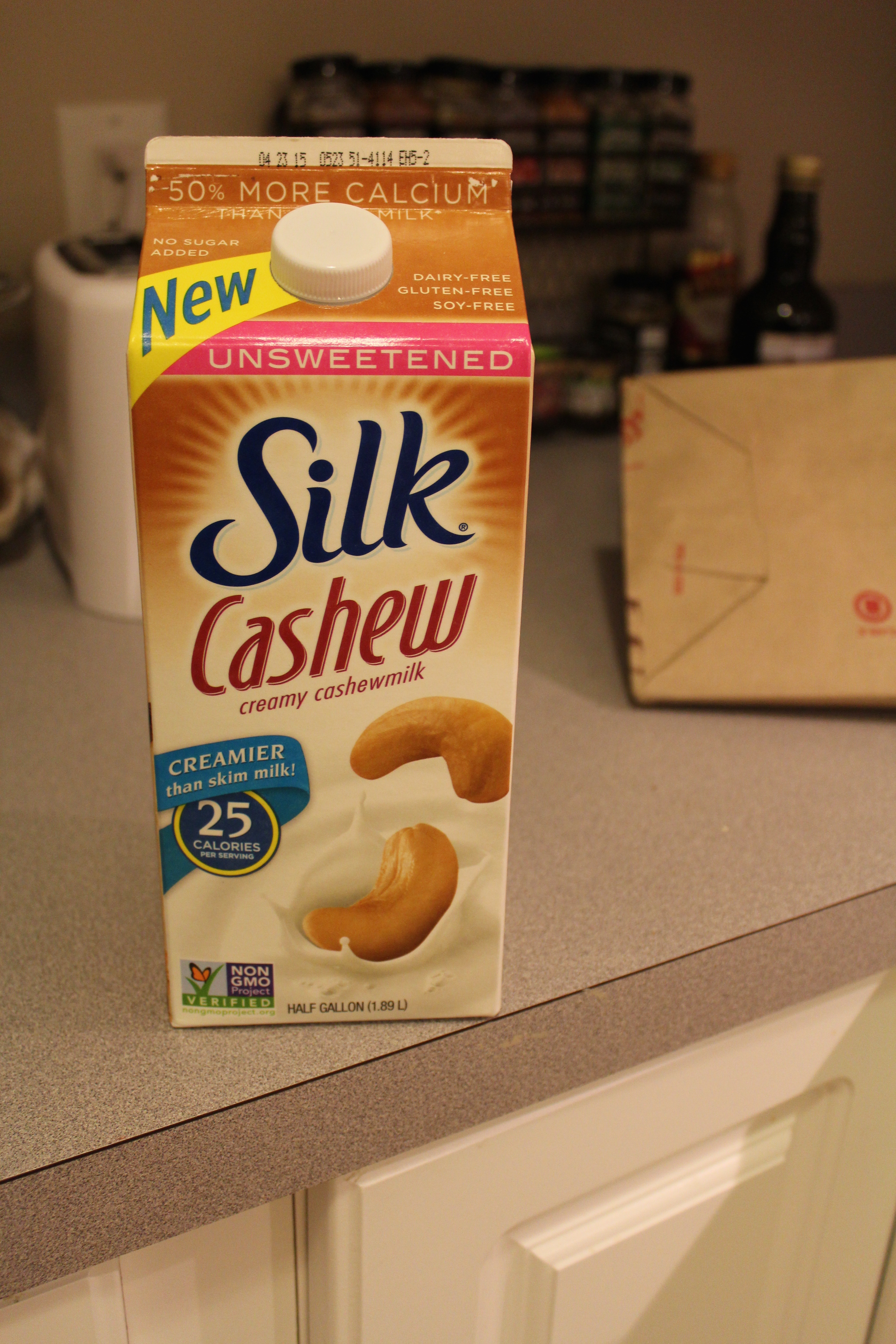 And pairs PERFECTLY with this cashew milk…which I'm currently loving. Cashew milk is more creamy than almond milk in my opinion…obsessed!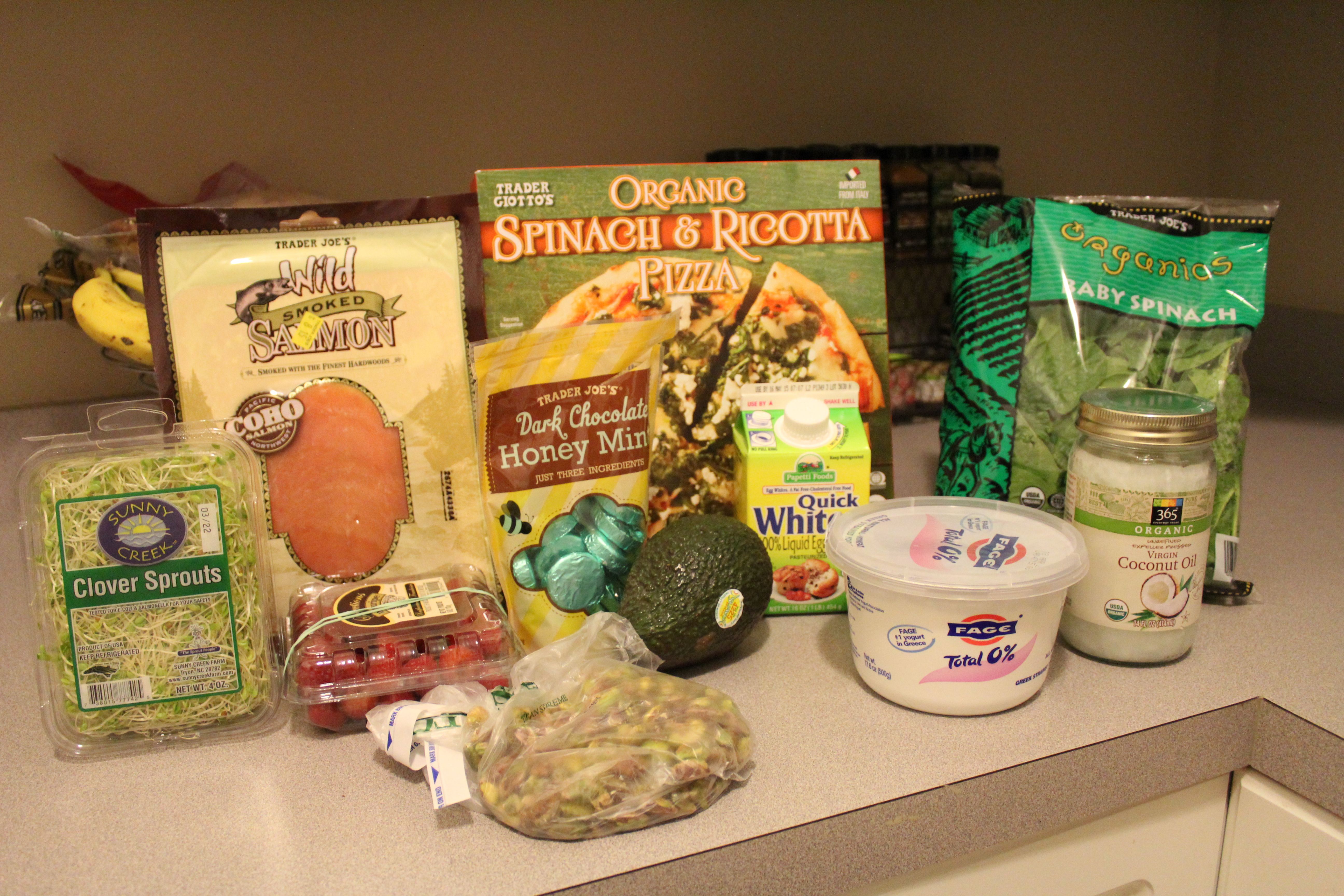 From Whole Foods: Clover sprouts, bulk bin raw pistachios, raspberries…again (#sale), virgin unrefined coconut oil.
Whole Foods has the best sprout selection in my opinion – my go to place when I'm buying them. I also love a good bulk bin, it's where I typically buy my baking flours, raw nuts, and oats.
From Trader Joe's: Wild Caught Coho salmon, Dark Chocolate Honey Mints (only 3 ingredients – chocolate liquor, honey, and mint extract – love them!), avocado, egg whites, Fage greek yogurt, organic spinach, and an organic spinach and ricotta pizza.
Trader Joe's tends to have the best price I've seen around for wild caught smoked salmon – I love pairing smoked salmon with avocado either as a breakfast (in a sandwich) or for lunch (on top of a salad). It's versatile and delicious! I also picked up a spinach and ricotta pizza I've never tried before since my foodie senses were tingling….good to have stocked in the freezer just in case! I love the dark chocolate honey mints – they're perfect for an after dinner bite. And like I said, just 3 ingredients – the honey really compliments the bitterness of the chocolate and mint.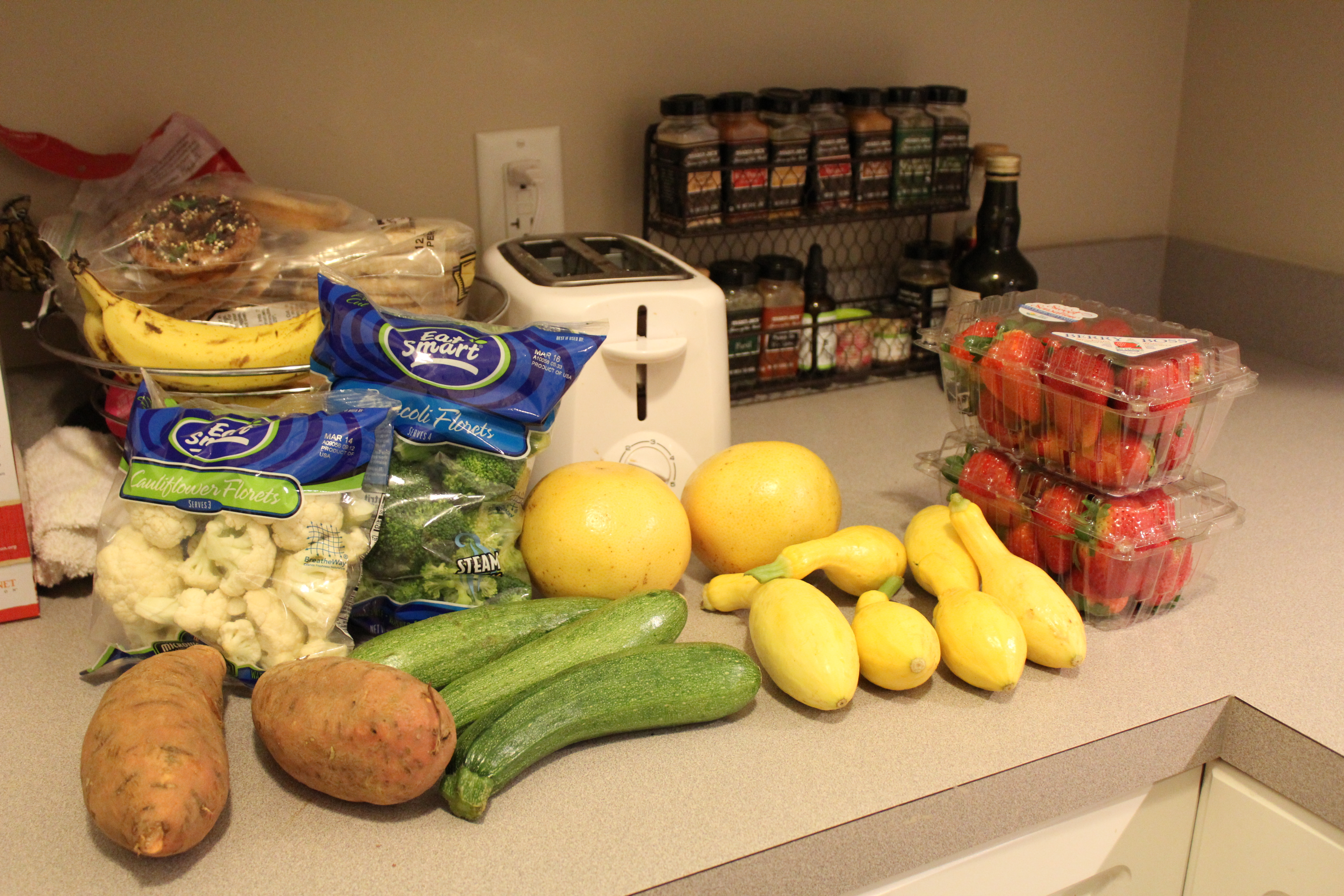 Produce: strawberries, yellow squash, broccoli, cauliflower, sweet potatoes, grapefruit. You know, just all the essentials. I'll cut up my produce early in the week and store them like so in zip-lock bags. Sometimes I throw them in the freezer if I have extra that I will use for a later recipe. I know, not the most eco-friendly, but truthfully, it's just so easy for me to store and clean up!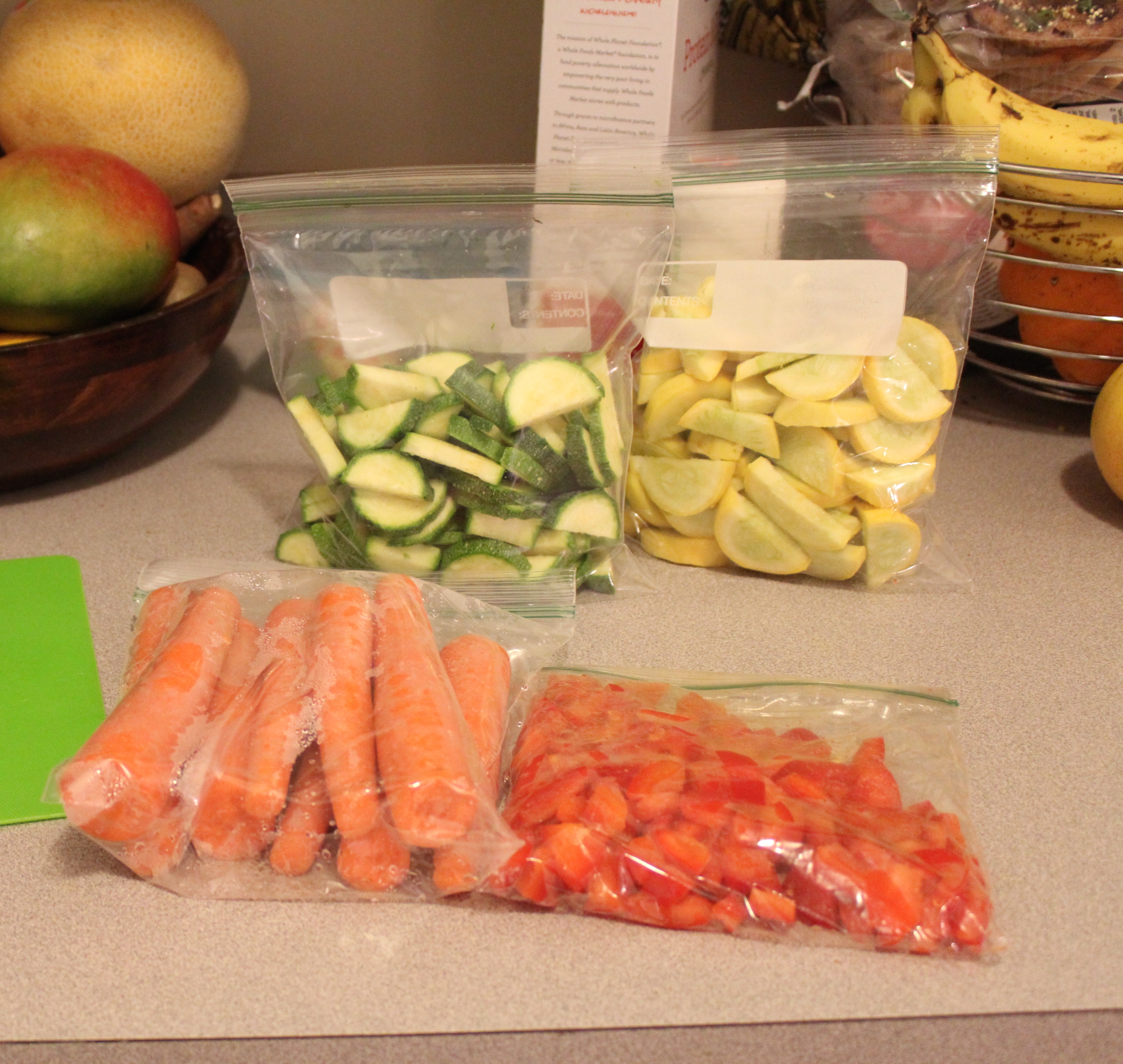 What was on your grocery list this week? Tried any of these items before?
(Visited 109 times, 1 visits today)