If you're oatmeal, then oat bran is like your cooler older cousin that wears army pants and flip flips so you wanna wear army pants and flip flops.
How's the current weather over at your neck of the woods? I've been dreaming of warmer weather, summer and all the tropical fruits….and by "all the tropical fruits" I mean mostly mango. I've found the solution to the constant daydream about summertime cured with the help of the Malawi Mango from Bai5. It's dreamboat because every sip is a trip to paradise without all the issues of leaving your couch or slippers behind.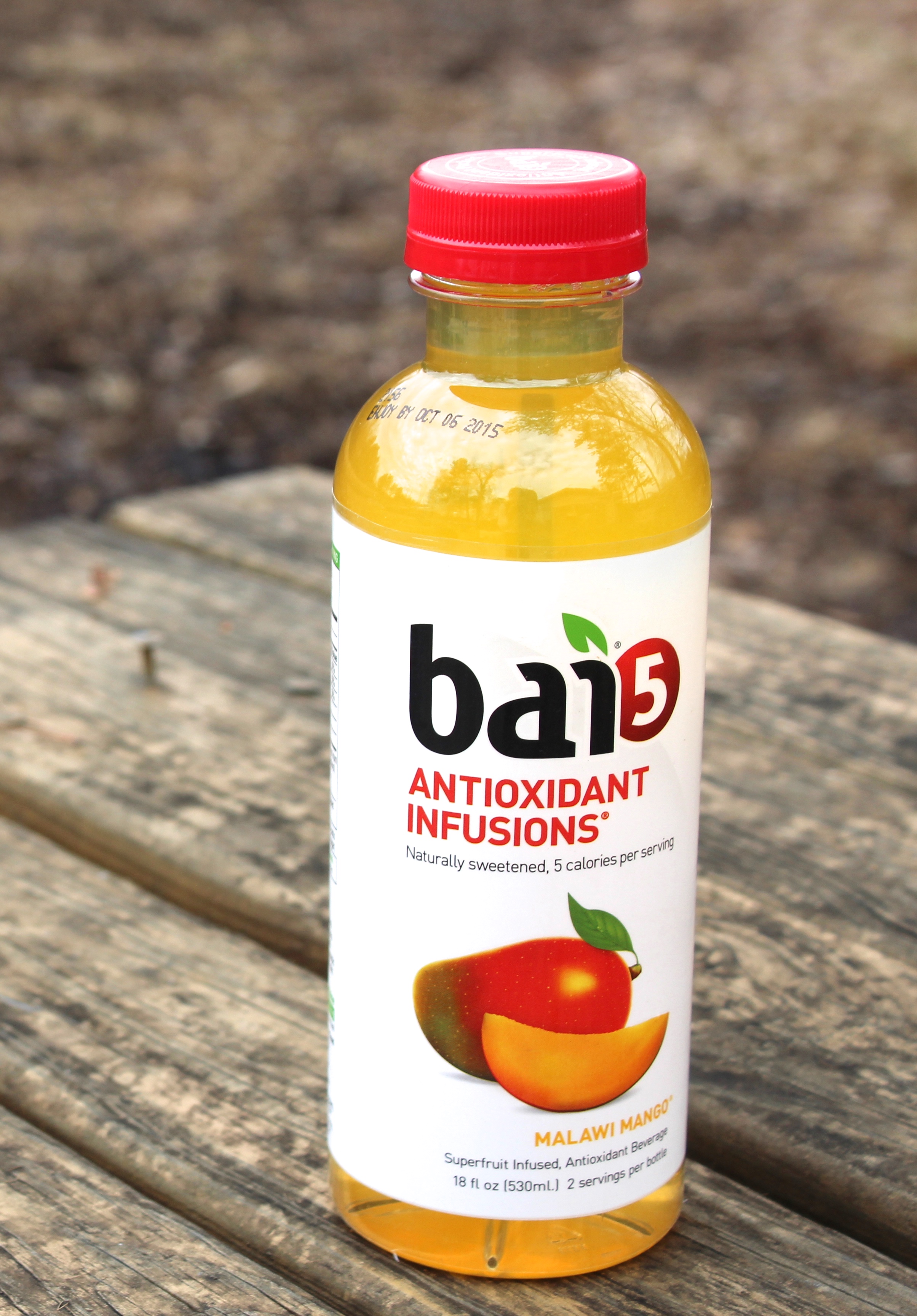 It's also perfect to soak oat bran in.
I have a variety of oatmeal types in my pantry but on days when I want something faster (aka no time for steel cut oats… and rolled/instant microwave oats are just not the same!) I like to reach for oat bran. Cooking it turns it into a hot, creamy cereal. I love the texture and it's a great way to switch up your usual rolled or steel cut oats for breakfast.
From a nutrition perspective, oat bran is a smidge higher in protein and fiber versus your traditional rolled oats. Mainly because its technically the "outer bran" of the oat grain – where most of the fiber is found. This also explains why it's also a fuller in certain vitamins and minerals, since your typical rolled oats has been stripped of the outer brain covering.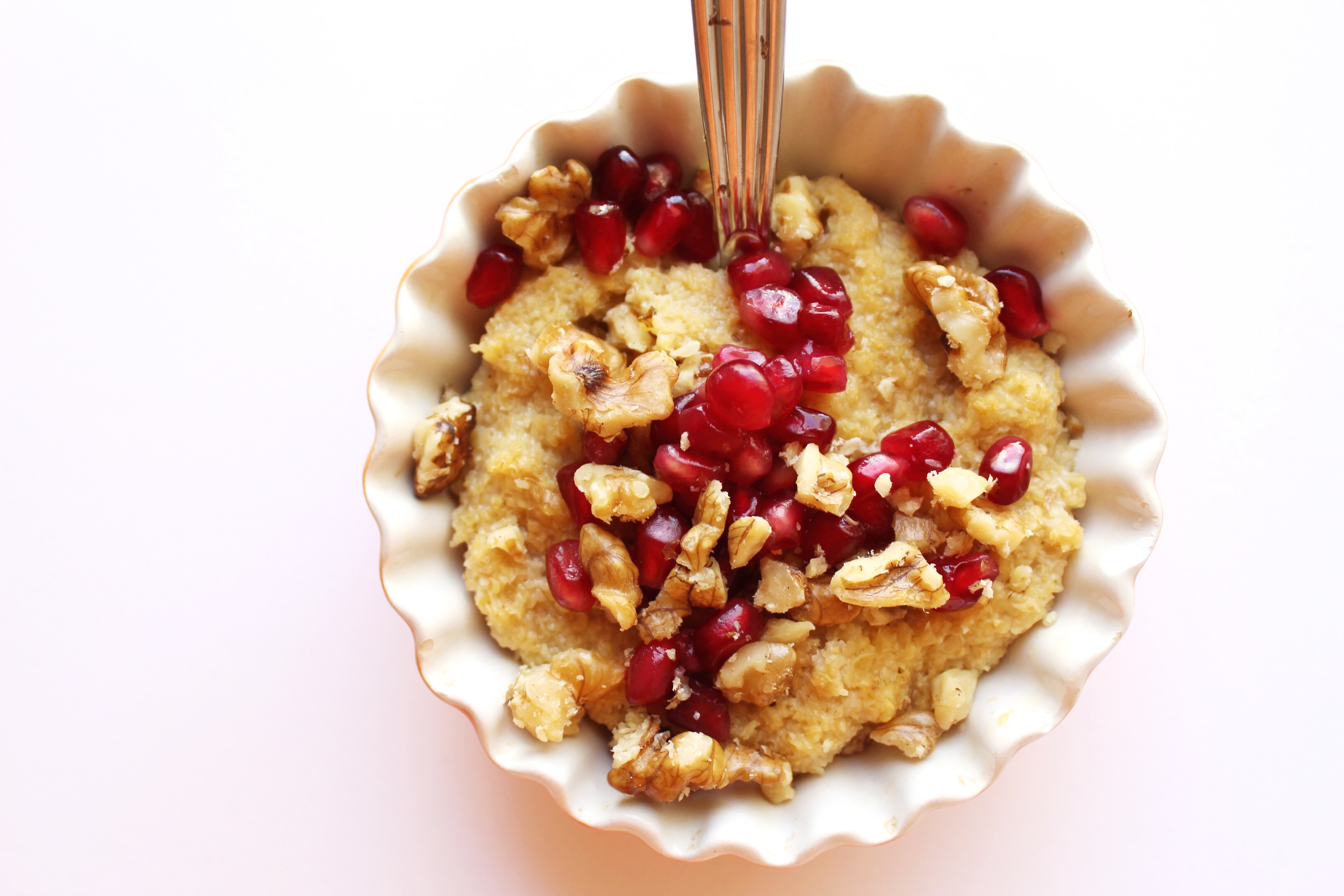 So until I'm beach bound 23/6 and don't have a complexion that rivals Casper, I've paired up mango (summer fruit) with pomegranate (winter fruit) to give you the best of both worlds while we all await spring and it's abundance of flowers and sunshine. All in a hot (or cold, that works too) bowl of creamy oat bran that (let's be real) works 24/7 and all four seasons, because breakfast foods is forever (and always).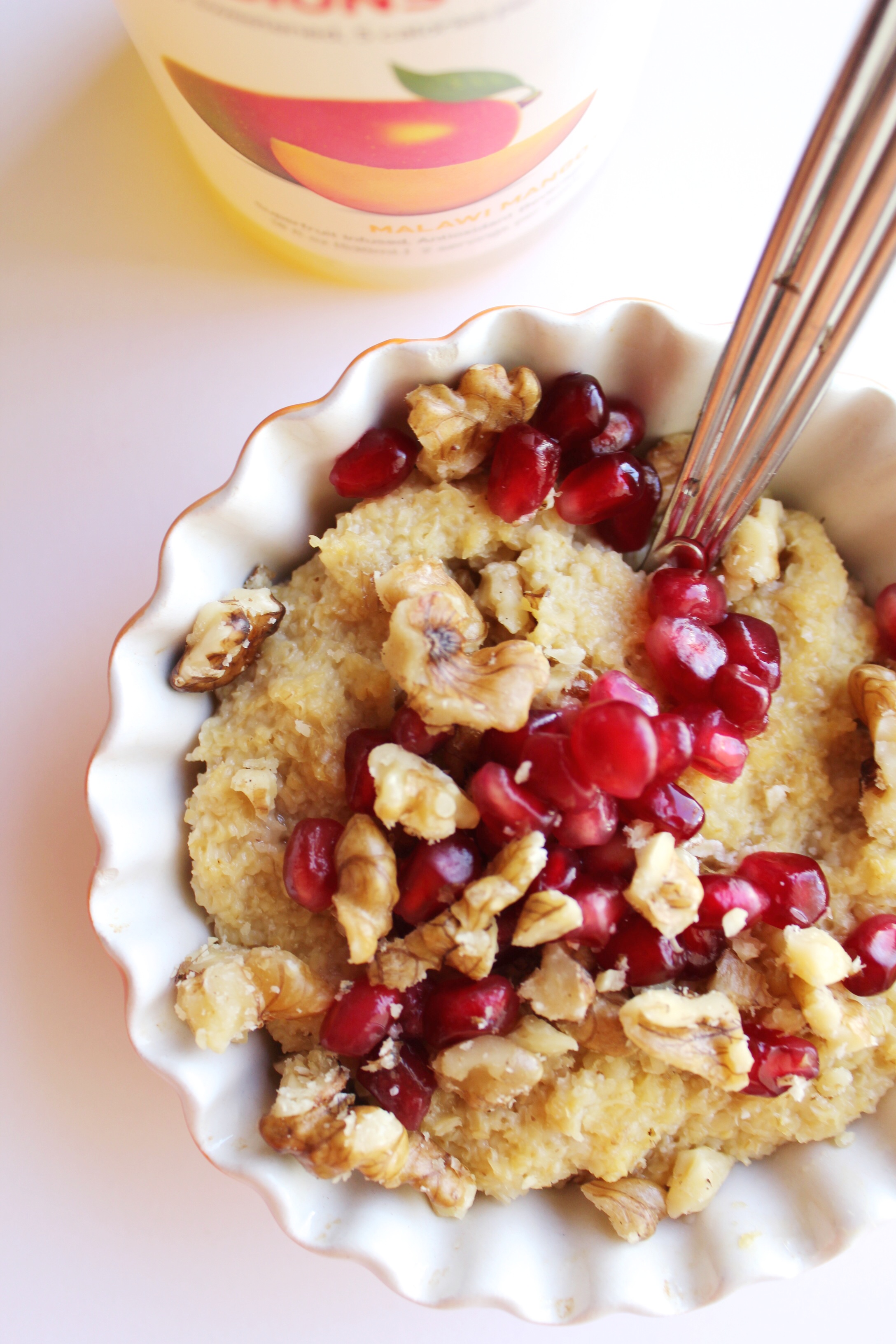 For more information on the different types of oats, I've linked up a few informational resources you may like:
The Ultimate Guide to Oats – The Yummy Life
Oat Bran Vs. Rolled Oats – Heather Eats Almond Butter
Check out my other recipes using Bai5:
Pear and Pomegranate Smoothie (with a coconut crunch)
Roasted Coconut Infused Pears with Chocolate Greek Yogurt
Oat bran cooks up in no time, so seriously keep an eye on while you make this. It soaks up liquid just like that, in a blink of an eye.*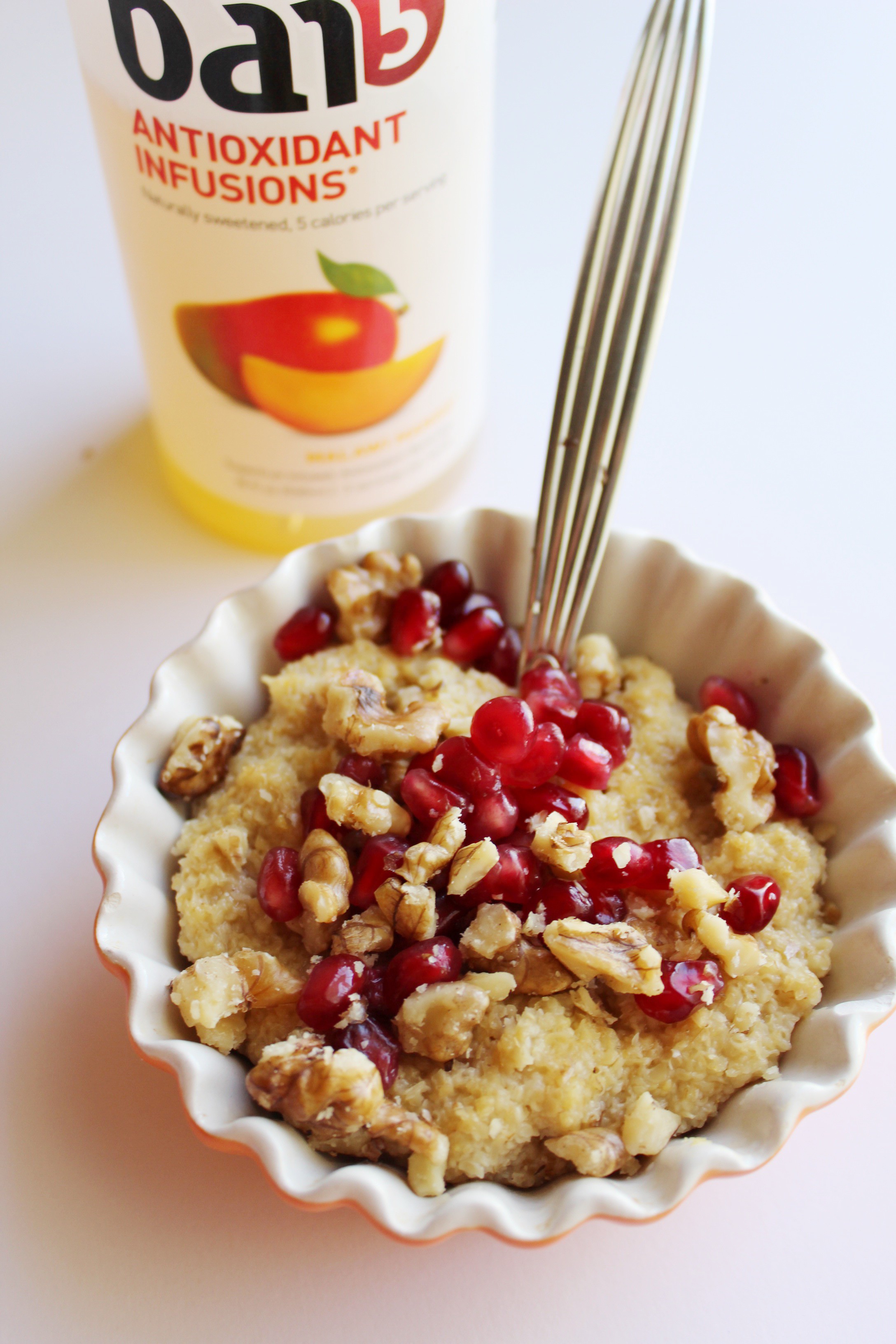 Pomegranate Mango Walnut Oat Bran
2015-02-07 19:34:13
Serves 1
A creamy, delicious mango flavored hot cereal with pomegranate and walnuts.
Ingredients
1/2 cup oat bran
1 cup Bai5 Malawi Mango
1/4 cup pomegrante seeds
1 tbsp chopped walnuts
1 tsp honey (optional)*
Instructions
In a shallow pan, add Malawi Mango Bai5 and bring to a simmer.
Slowly stir in oat bran. The oat bran will cook up fast so make sure you are stirring and adding additional liquid as needed.
Cook for 2-3 minutes, stirring as you go. Turn off pan.
Add more liquid and stir until desired texture (more if you like it creamier, less of you like it thicker.)
Top with pomegranate seeds and walnuts.
Notes
Adjust sweetener to preference.
Nutrition Happens http://www.nutritionhappens.com/
here
(Visited 85 times, 1 visits today)