Tempeh buns, huns.
Sorry I just sort of quoted Nicki Manaj. It's just too damn catchy and it's been stuck in my head all day after I heard it while trying to fill up my car at the gas station. (Don't you hate it when that happens?) Gas station music though. I mean, you go in for gas and leave singing Nick Minaj. My life.
Tempeh is a staple in my weekly grocery trips. For those of you unfamiliar with it, it's a fermented soy based food (similar to tofu) made by naturally curing soybeans into a vegetarian patty-like block. I know that was probably the most unattractive way to describe tempeh, but the hearty texture is the reason why I love it more than tofu. When you sear it in a pan, it gets all crispy on the outside but stays dense on the inside. And, for every one serving (based off Trader Joe's Organic 3 Grain Tempeh – my go-to tempeh brand!) it has 20 grams of protein – a great way for both meat eaters and non meat eaters alike to incorporate plant-based protein into their diet.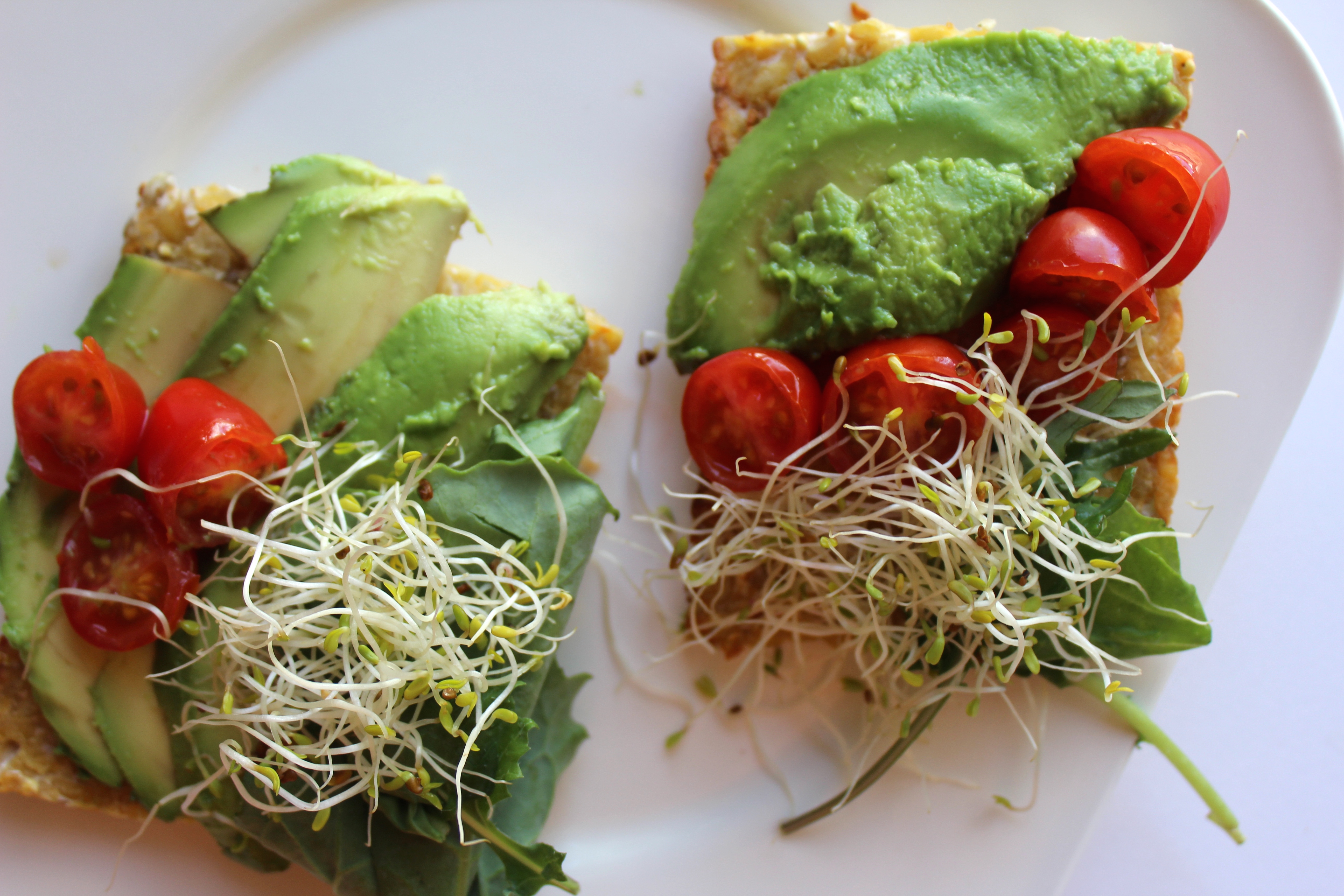 Tempeh is also great for digestion – per serving, it has 9 grams of fiber (based off Trader Joe's Organic 3 Grain Tempeh ). Because of the fermentation process, it has naturally occurring probiotics that help aid digestion – and also explains its high protein, vitamin, and fiber content.
Stir-frys, soups, salads, sandwiches…anything goes with tempeh! Just sub it in where you would usually incorporate meat into a dish. It works because of the hearty texture – you'll be surprised at what you think.
You know I have an thing for avocado toast. This is what I've been craving for those days I want to make my avocado "toasts" a more substantial (higher protein) meal – with tempeh buns!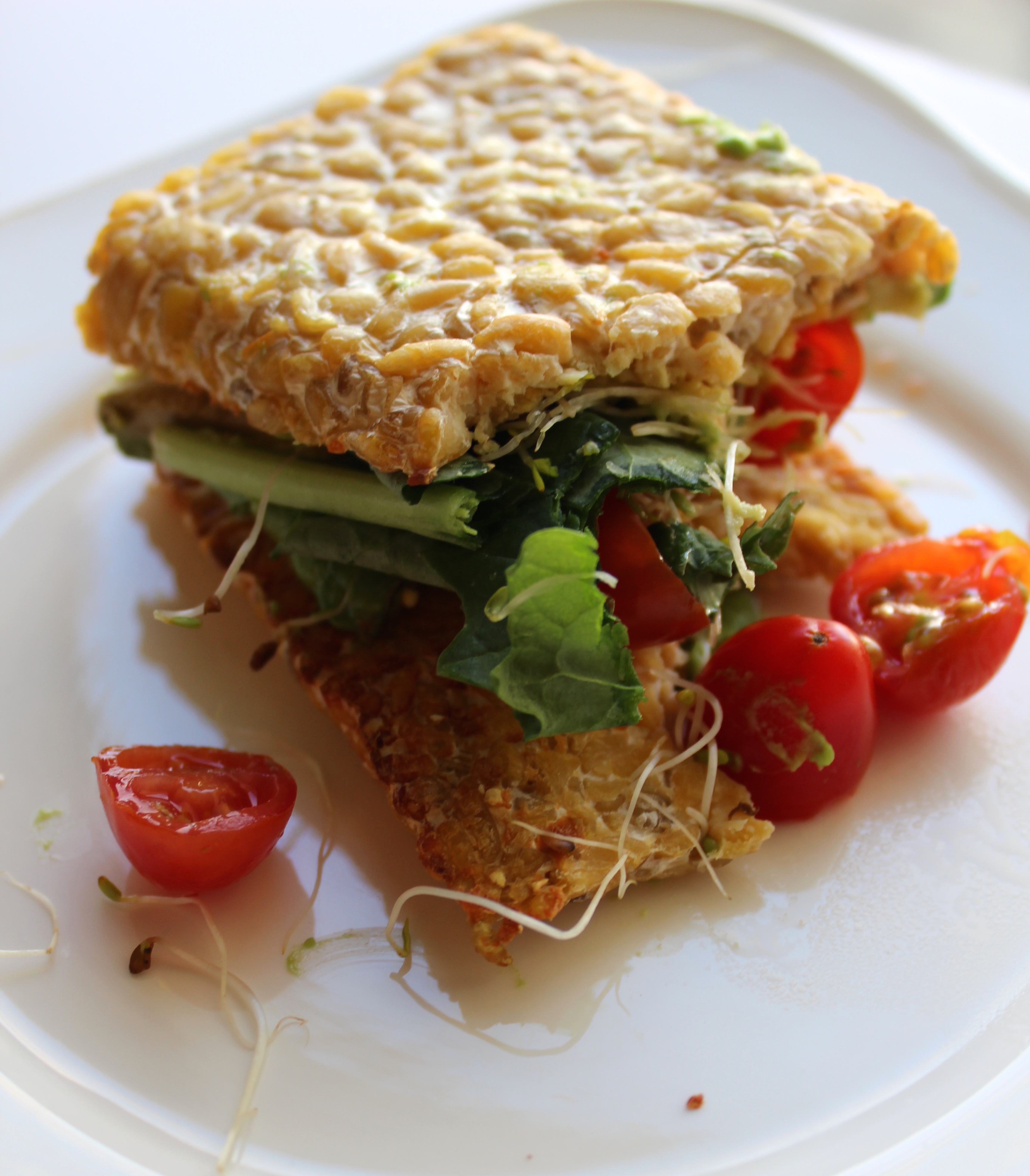 Just simply slice your tempeh into 2 horizontal slices and pop into the toaster. Then add your toppings of choice, like you would a regular sandwich. I'm partial to piling it high with veggies, though. I've been incorporating a lot more sprouts into my meals lately – and I'm digging it!
Avocado and Sprout Sandwiches with Tempeh Buns
2015-02-16 20:01:32
An avocado sandwich made with tempeh buns for a high protein, vegetarian/vegan meal.
Ingredients
1/2 block tempeh (I used Trader Joe's Organic Tempeh)
1/4 avocado, sliced
2-3 kale leaves
4-5 grape tomatoes
Sprouts
Instructions
Cut tempeh block horizontally, into 2 halves.
Toast tempeh in a toaster.
Assemble rest of ingredients onto the tempeh "buns" normally, as you would a sandwich.
Notes
Can sub in ingredients of choice - it's totally up to you!
Also extremely tasty with hummus.
Nutrition Happens http://www.nutritionhappens.com/
(Visited 71 times, 1 visits today)