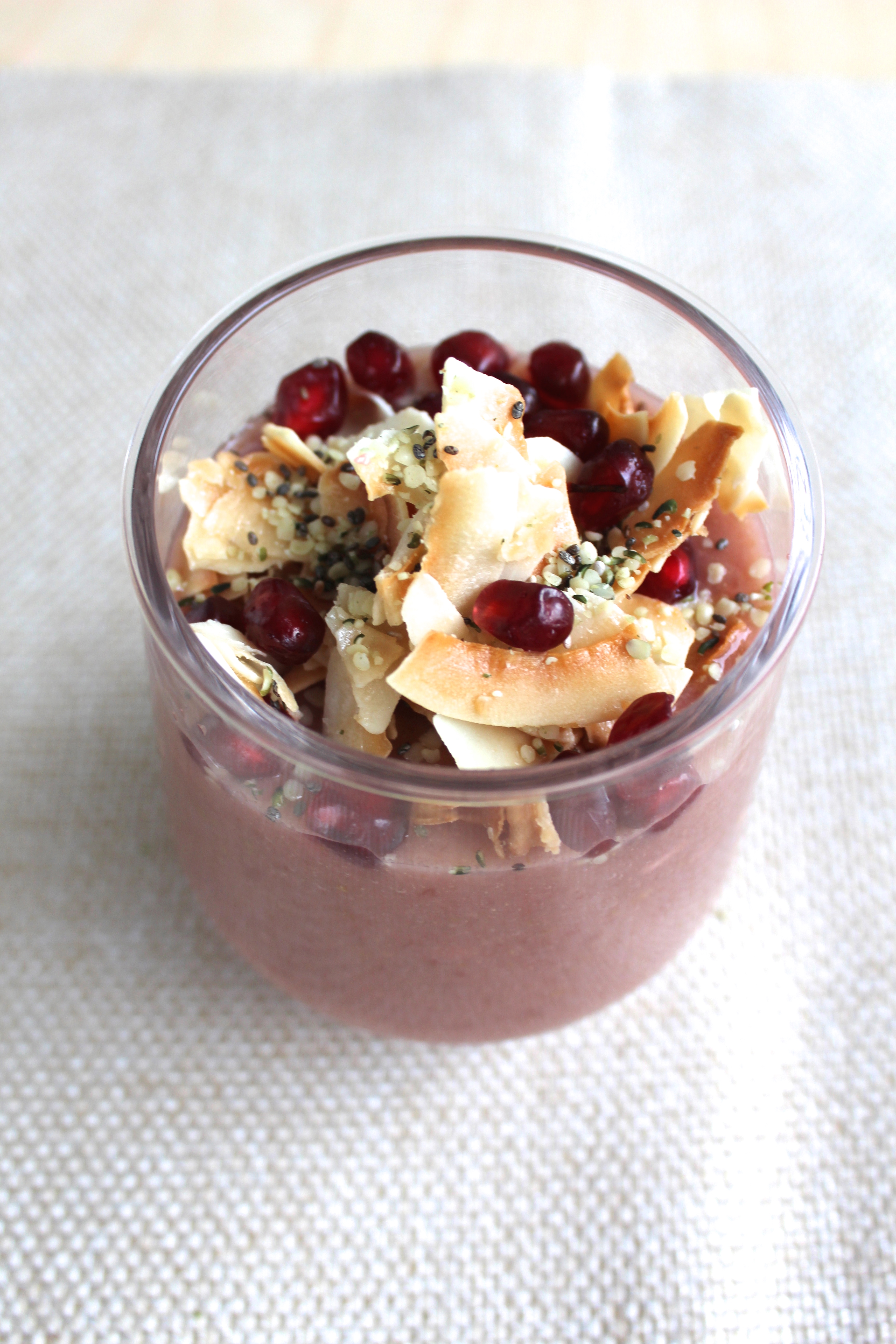 Can we talk about the weather here in South Carolina for a minute?
Seriously, it's like one day I'm bundled in five layers of fleece/cotton knits/cashmere and the next day I'm back in running shorts and a t-shirt. But really, as much of a difference there is in the weather here sometime, I am in no way complaining because the warm days here definitely out number the cold. Perks of living in the South! In my opinion, laying on the beach > trudging through the snow.
I'm still a dedicated smoothie drinker even in the winter. Smoothies are just awesome to nom on when you need a nutrient packed pick me up – quick to whip up and easy to take on the go. Hungry? Make a smoothie. Tired? Make a smoothie. Stressed? Make a smoothie. Bada boom. Welcome to the era of the Nutribullet.
The friendly folks over at Bai sent over some goodies the other day (so many awesome flavors!) and as soon as I saw the pear flavor I ripped that bad boy open and downed it in about 3 minutes flat. Woah there, new record. My college friends would be proud. No shame – it was delicious!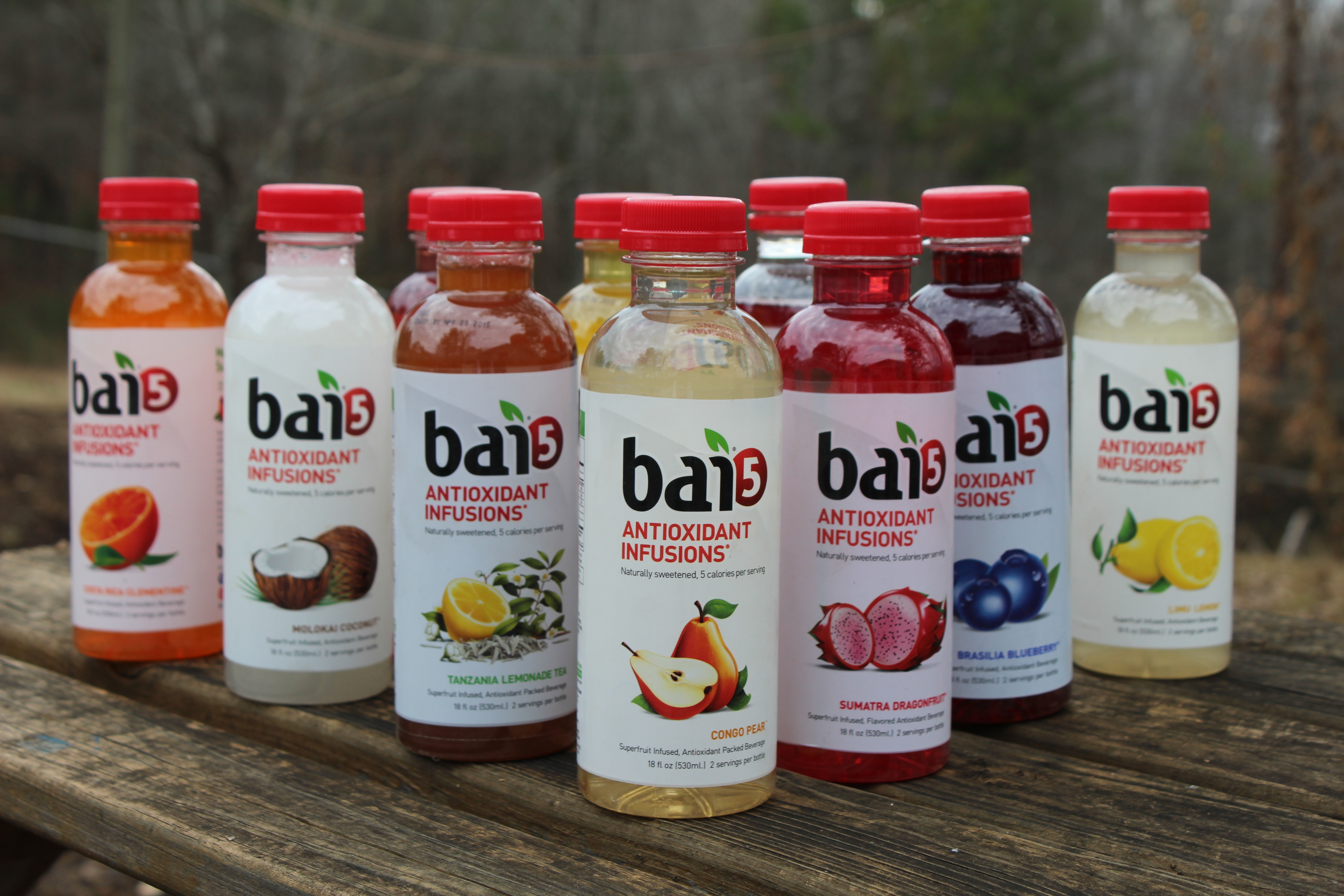 Bai5 is a company that makes these flavorful infused waters packed with antioxidants – all for 5 calories. It's pretty hard to find a beverage on the market these days that don't have a lot of added sugars, preservatives, and artificial flavoring to make it taste fabulous. The antoxidants in the beverage are extracted from organic coffeefruit and white tea, while the sweetness comes from stevia and erythritol – making it a low glycemic, vegan, and gluten/soy friendly choice.
My daily beverage choices rotates between water, coffee, tea, and kombucha tea – but I love adding Bai into the rotation when I've ran out of my coffee quota for the day and need another pick me up. Bai can also be used to make some fabulous cocktails too – as well as popsicles and frozen treats. But we'll save those for another day (promise).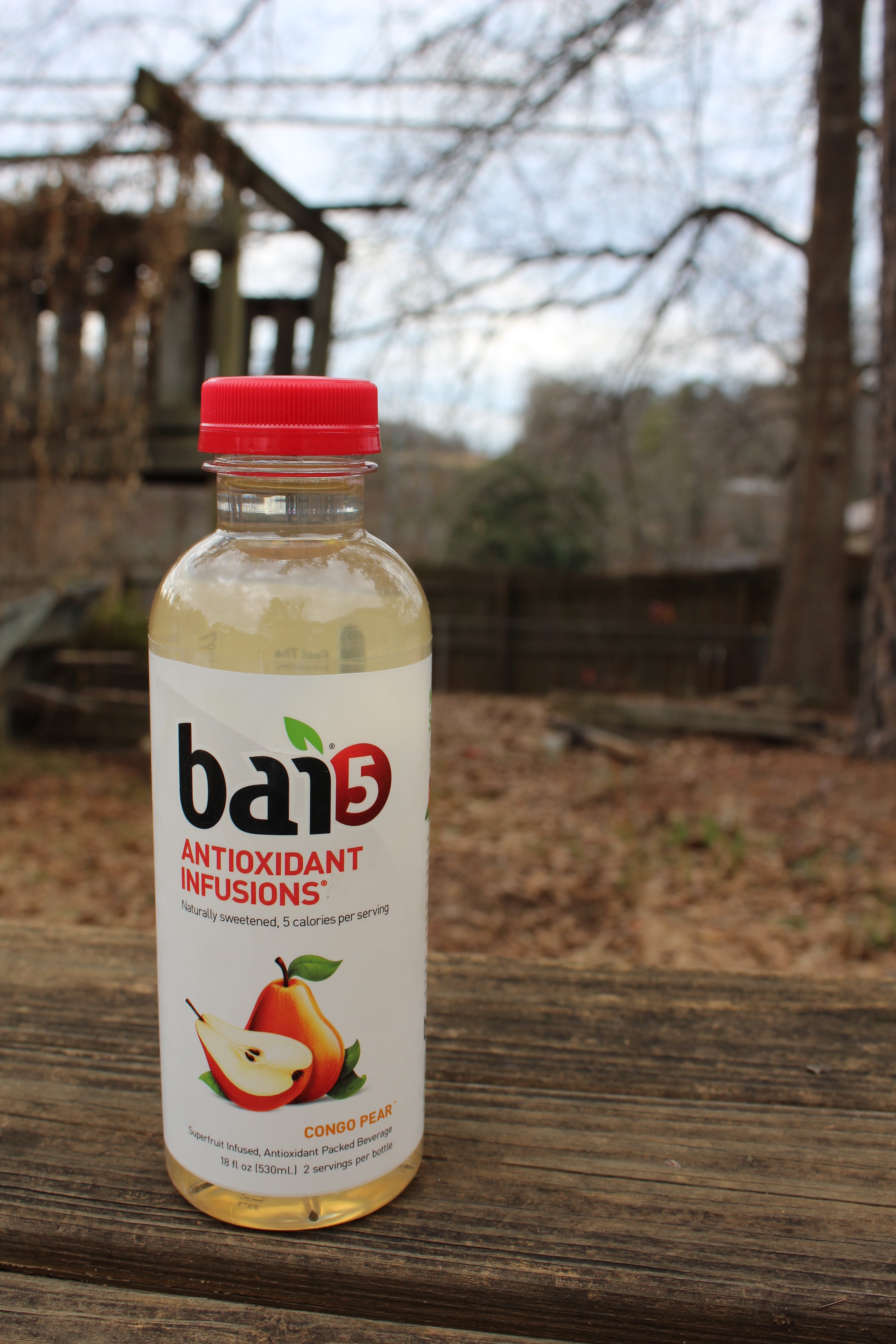 I love adding pears to my smoothies because as much as I like a good ripe banana as a base in my smoothies, adding pears gives this subtle sweetness that is less overpowering compared to bananas. Also, you get this great texture from the skin of the pear (hello fiber!). And since the water content in pears are a bit higher than bananas (84% according to the USDA vs 74% in bananas) it's a great hydrating fruit to aid your dry skin this winter (no shame – dry skin happens, friends. And chapped lips. Ugh, winter struggles, right?) Plus an extra vitamin C kick to aid in that immunity (clutch in the wintertime. This is my PSA to remind you to wash your hands often, people).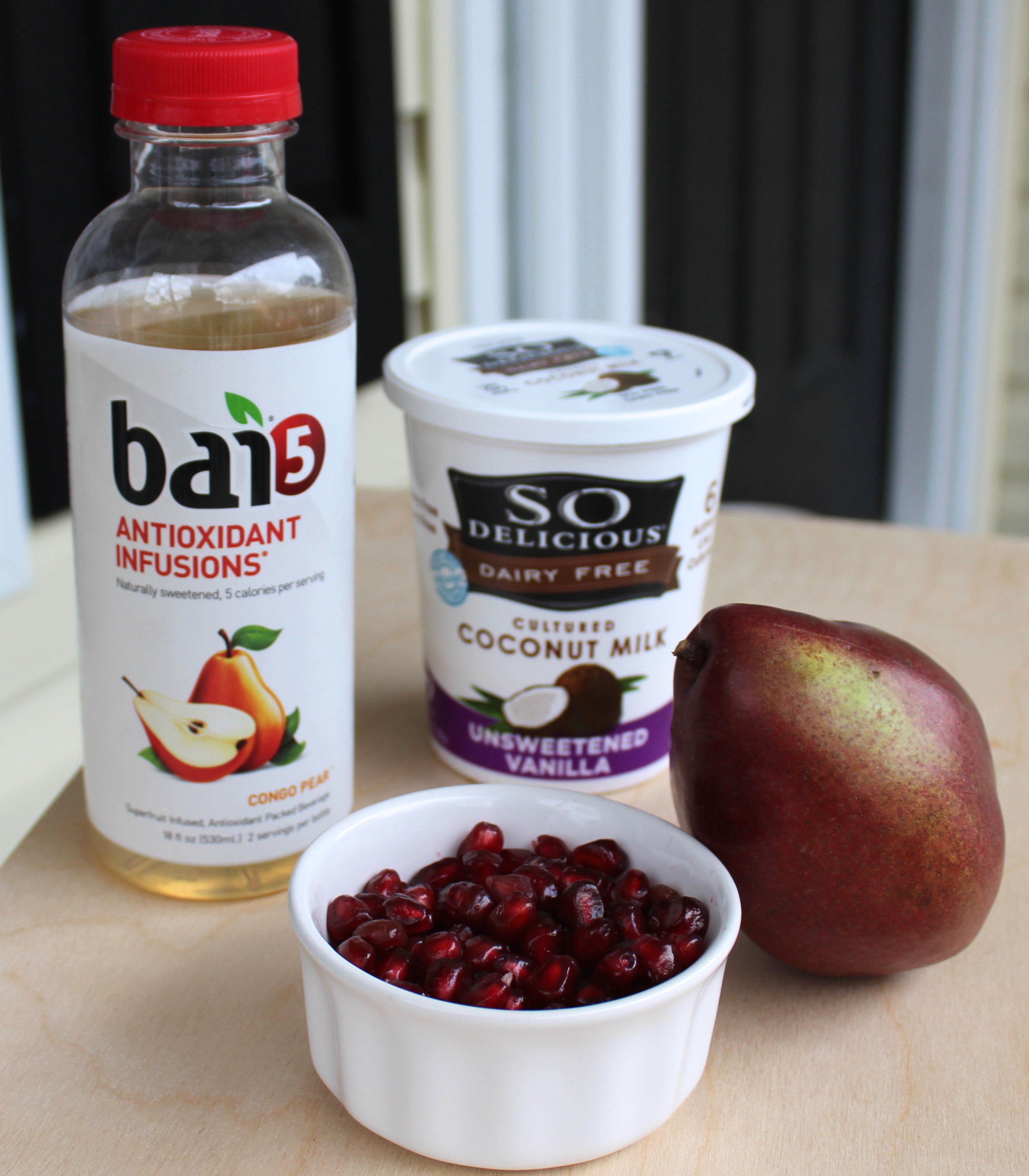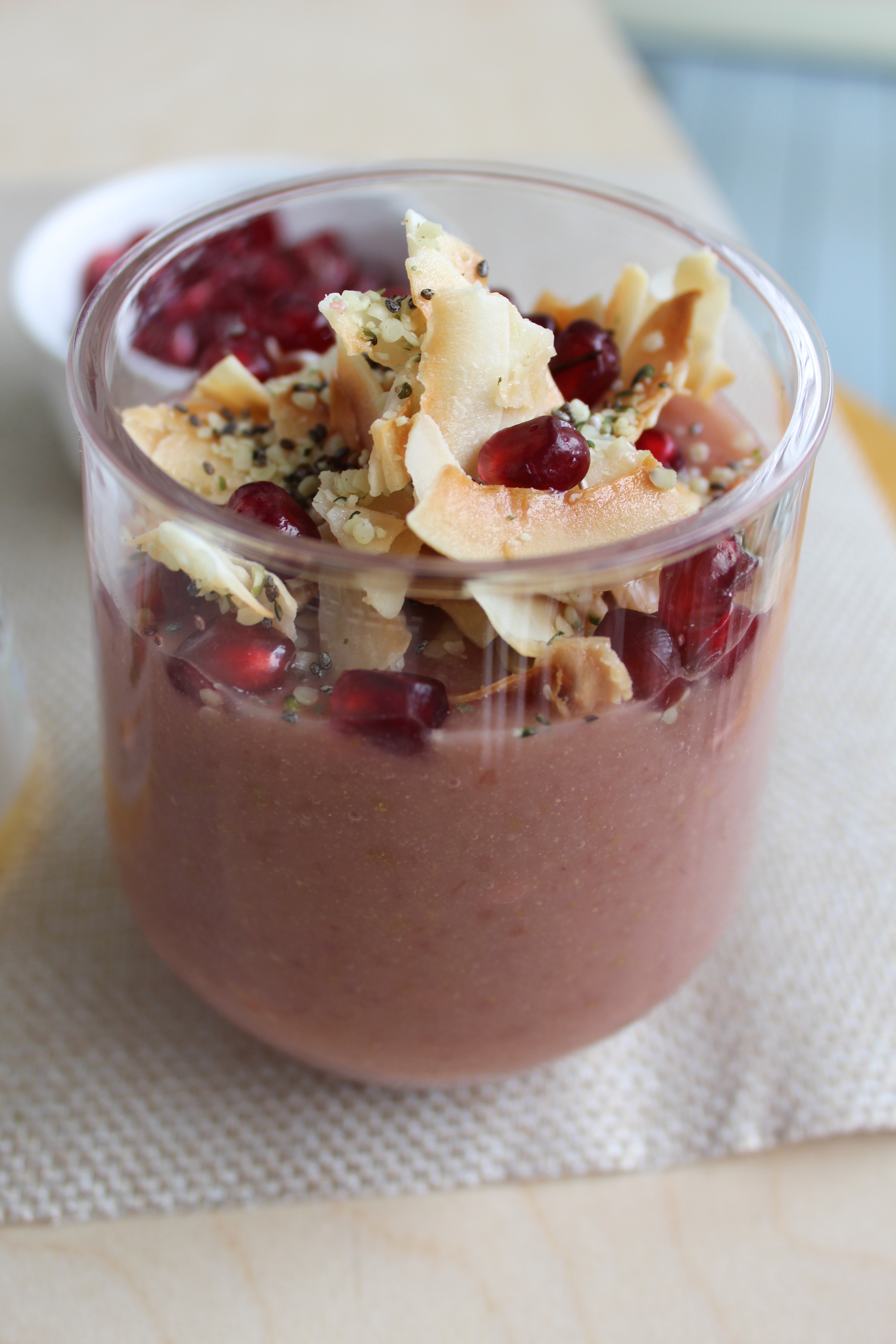 Plus, pears are totally in season and I'm all about that "in season produce" life. So, I made you this winter (or summer right now for those of you in the Southern hemisphere – hello to my Aussie friends!) appropriate pear and pomegranate match made in heaven drink (all year round appropriate, let's be real) that's about to knock your cashmere socks off. Blended with coconut milk yogurt and topped with coconut chips because (I'm obsessed with coconut) coconut is the perfect compliment and texture is king.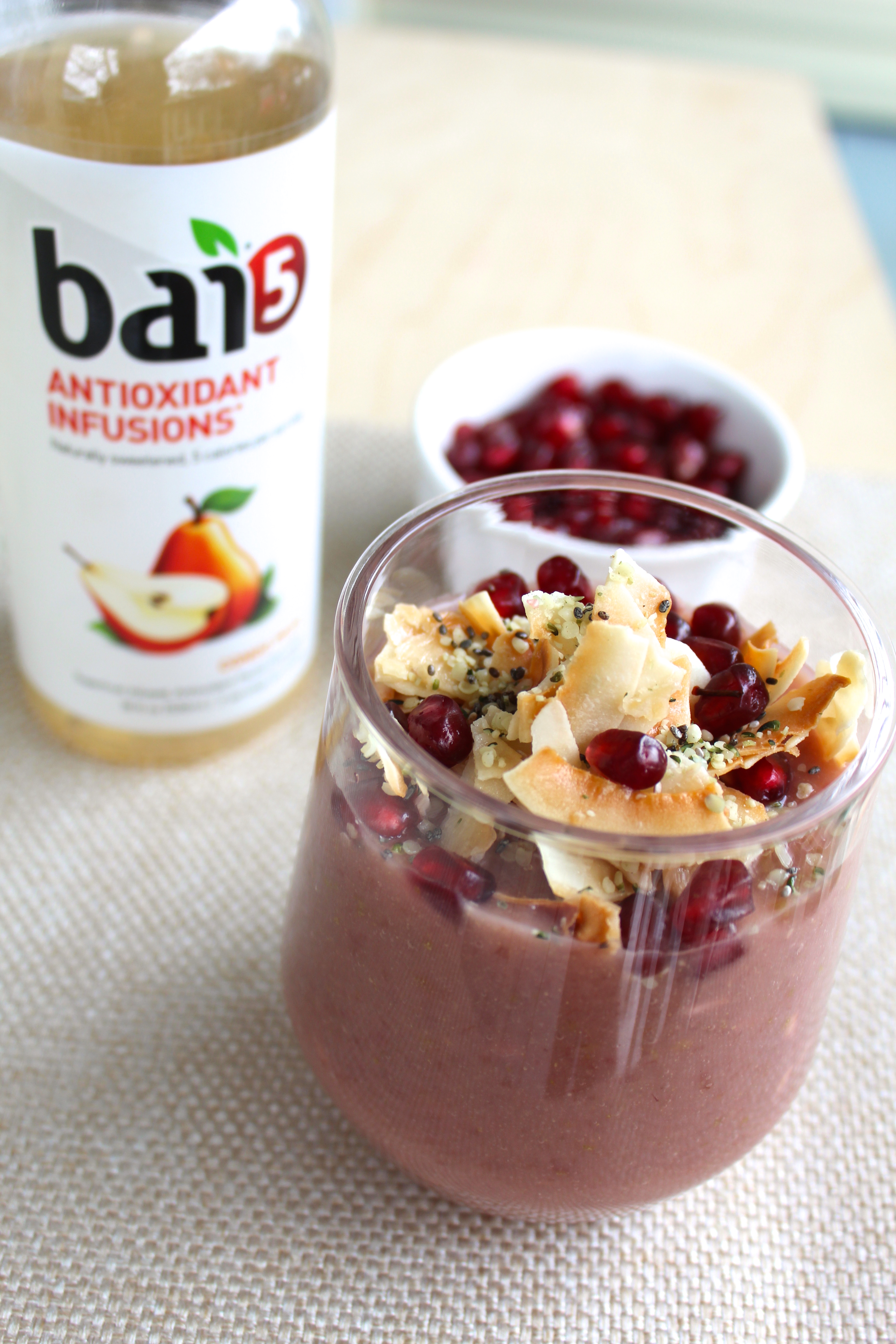 Pear and Pomegranate Smoothie (with Bai5 Congo Pear)
2015-01-05 14:32:38
It's a smoothie with winter appropriate fruits and literally so antioxidant packed it makes you want to jump around and dance to T Swift all day long (but don't call it basic, cause it's anything but).
Ingredients
1 D'Anjou pear
1/2 cup Congo Pear Bai5 Antioxidant Infused Drink
1/2 cup unsweetened vanilla coconut milk yogurt (I used So Delicious brand)
1/2 cup pomegranate arils (plus a little more for topping)
1 tsp vanilla extract
Optional: coconut chips, hemp hearts, chia seeds. Okay, coconut chips aren't optional. Trust me.
Instructions
Place all ingredients into a high speed blender and blend on high.
Top with extra pomegranate seeds, toasted coconut chips, hemp hearts, and chia seeds.
Notes
Add to make more filling: vanilla protein powder (or you can swap in greek yogurt) and 1 tsp honey
Makes 1 generous portion or can be shared to make 2 snack sized smoothies.
Nutrition Happens http://www.nutritionhappens.com/
(Visited 150 times, 1 visits today)