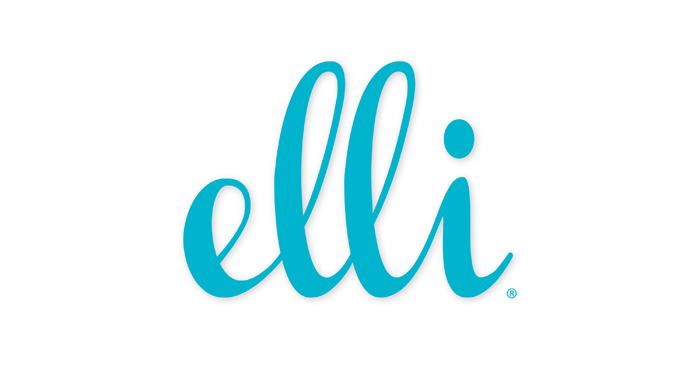 Say hello to Elli Quark!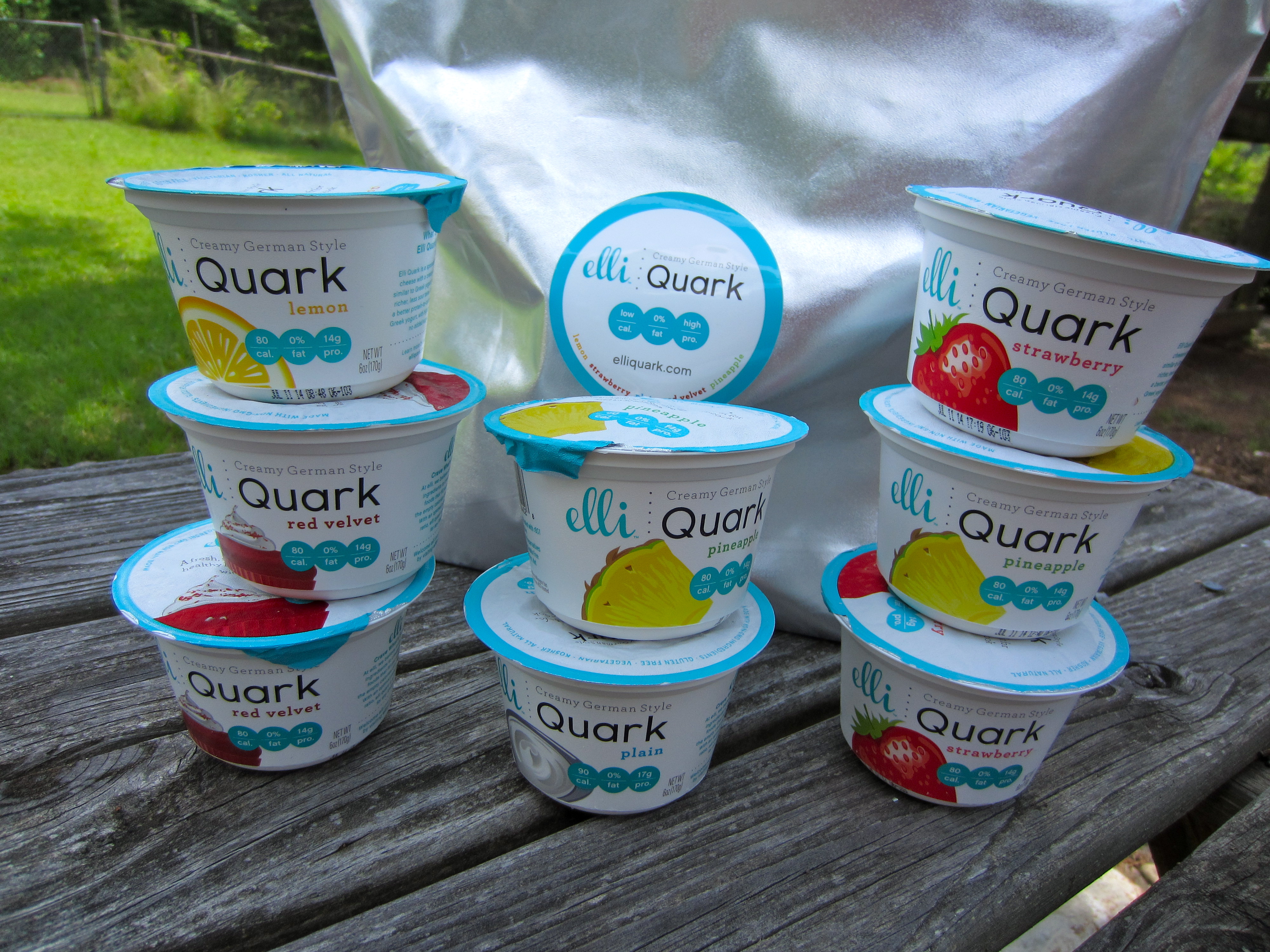 Greek yogurt and cottage cheese are pretty common products these days in the dairy aisle of grocery stores – but have you heard of Quark before?
Quark (pronounced "kvark" in German) is neither greek yogurt nor cottage cheese, but instead a creamy German-style fresh cheese product that has a consistency very similar to greek yogurt – with a less acidic/sour taste. It's a popular dairy product over in Europe due to its delicious taste and health benefits, and the founder of Elli Quark Preya Patel has finally brought the European snack into the U.S market – thank goodness!
Quark has the benefits of gut-friendly probiotics like greek yogurt, but does not contain the lactic acid found in greek yogurts – which explains the milder, less acidic taste. It's almost like a cottage cheese and greek yogurt crossover – resulting in a product that is creamy in texture and high in protein – without the added sugars and sodium. And it's pretty delicious!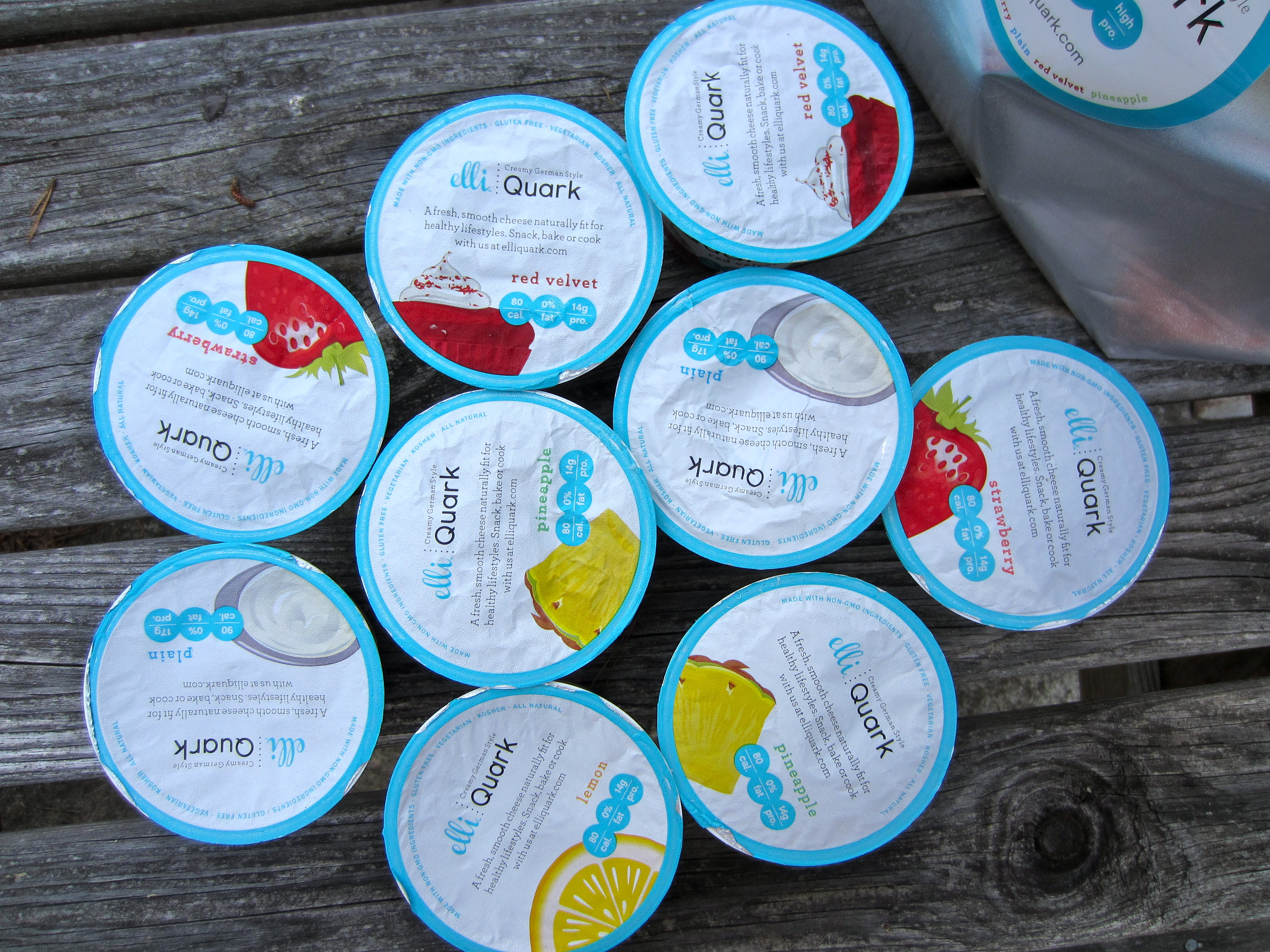 In terms of nutrition, compared to similar dairy products in the U.S market, Quark is lower in sugar and has a better protein to carbohydrate ratio. Elli Quark is sweetened with stevia – which is a very rare find in the U.S yogurt and dairy market these days. Additionally, there is no added salt.
A standard 6 oz serving of quark contains under 90 calories, around 14 grams of protein, and 0 grams of fat.
Overall, the result is a fresh, dairy product that has a texture very similar to greek yogurt, but with a less tangy, acidic aftertaste.
Elli Quark is Kosher certified, non-GMO certified, and vegetarian-friendly.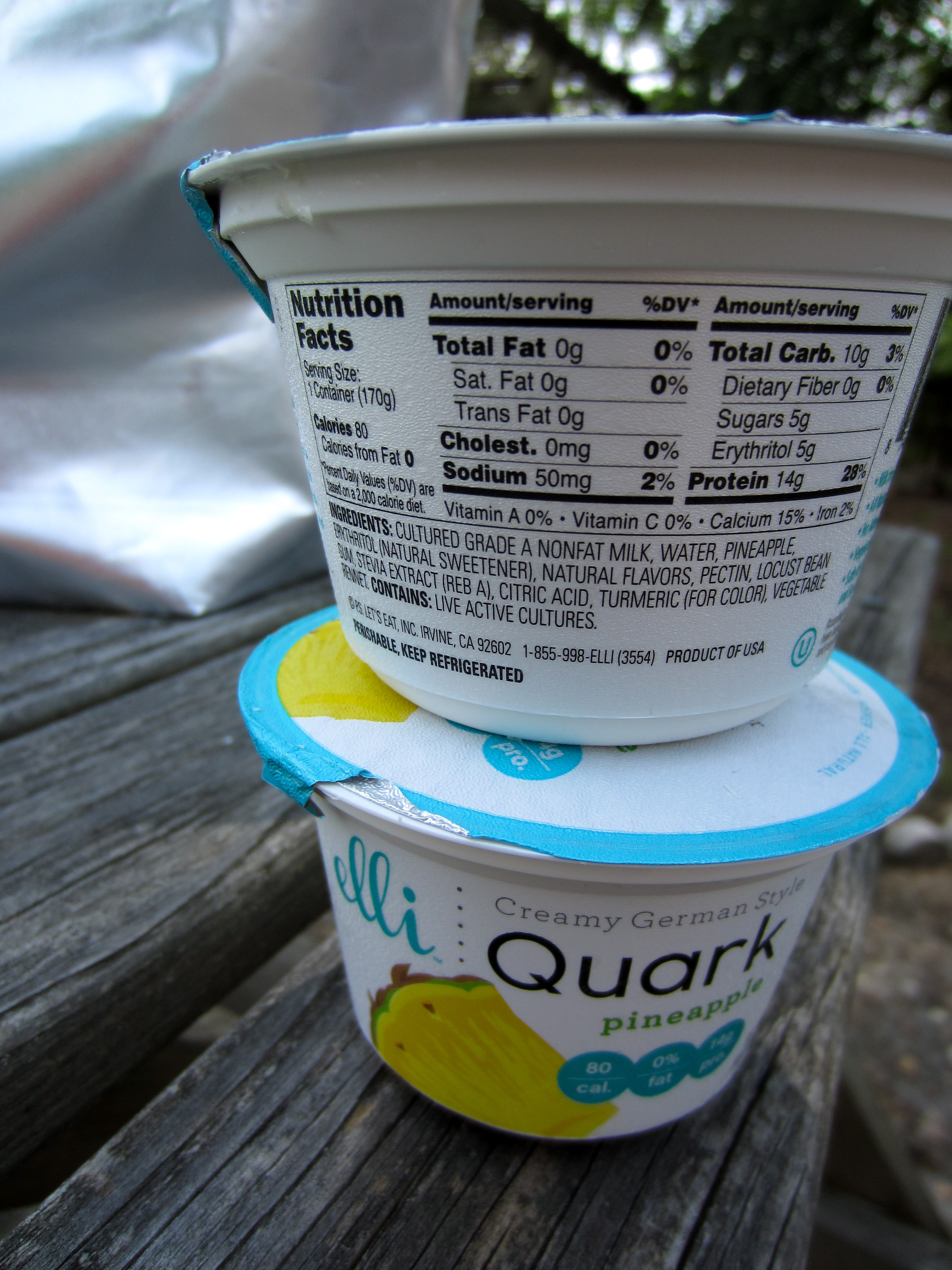 Current flavors:
Original
Lemon
Red Velvet
Pineapple
Strawberry
My favorite out of the 5 flavors is the pineapple – followed by the strawberry, and plain! Is it just me or do you love plain yogurt by itself too? I love getting creative by adding my own toppings. All of the flavors of the yogurt comes through and just leaves a lightly sweetened taste from the stevia – which I love because it's not overly sweet!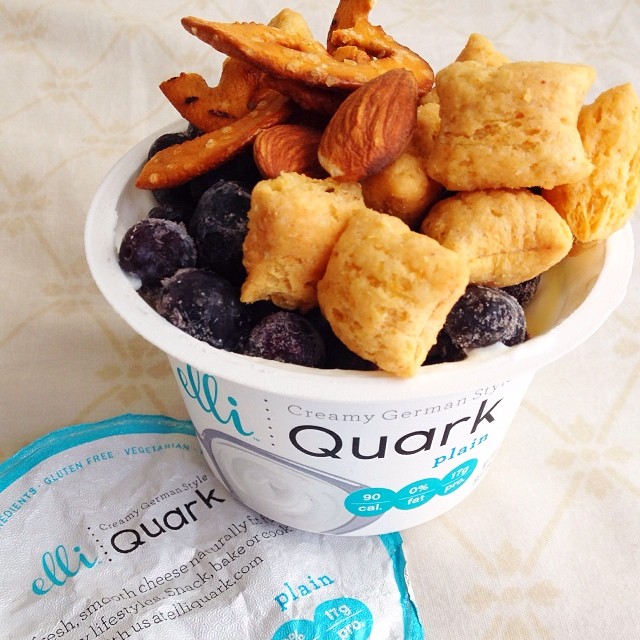 The uses for quark ranges widely. Not only does it make a great wholesome snack by itself with fresh fruit, nuts, and granola, but it can also be used as a base in low fat baking, smoothies, and as a substitute for cream in savory or creamy dishes. Because of the milder, less tangy flavor, it works beautifully in any recipe! Salads, sandwiches or cheesecake – you name it, there's a use for it!
Check out the Elli Quark Pinterest boards for some great ways to utilize quark, and make sure you give them a like on Facebook to keep up with their new products. Word on the street is that there are some new flavors making their debut soon – what flavors would you be most excited to see? Also, a big thanks to Preya and the Elli Quark team for the Quark love over here – I am dreaming up of so many snack ideas and smoothie recipes!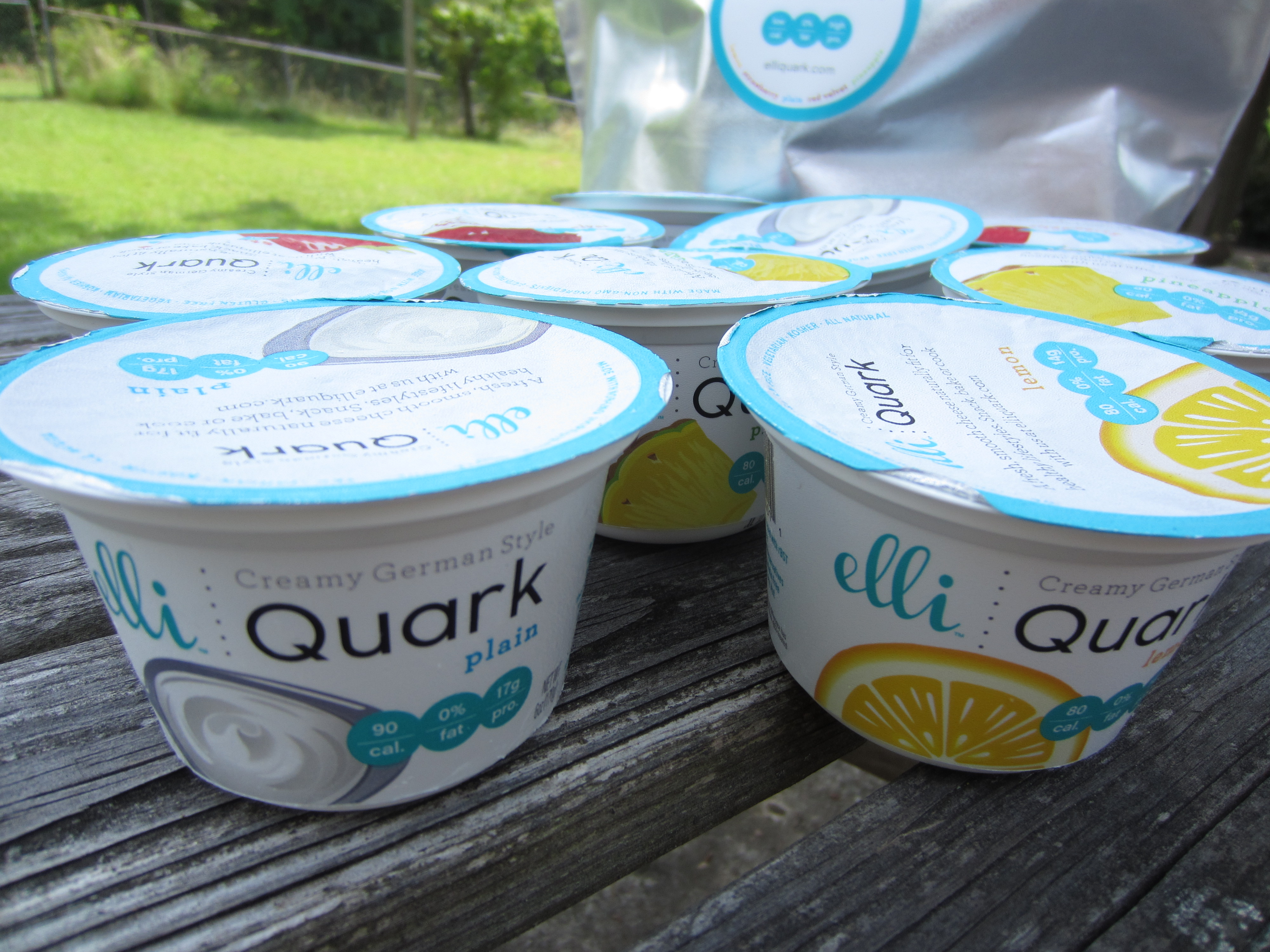 When I saw the red velvet flavor, I flipped out – a creamy red velvet concoction? Be still my heart.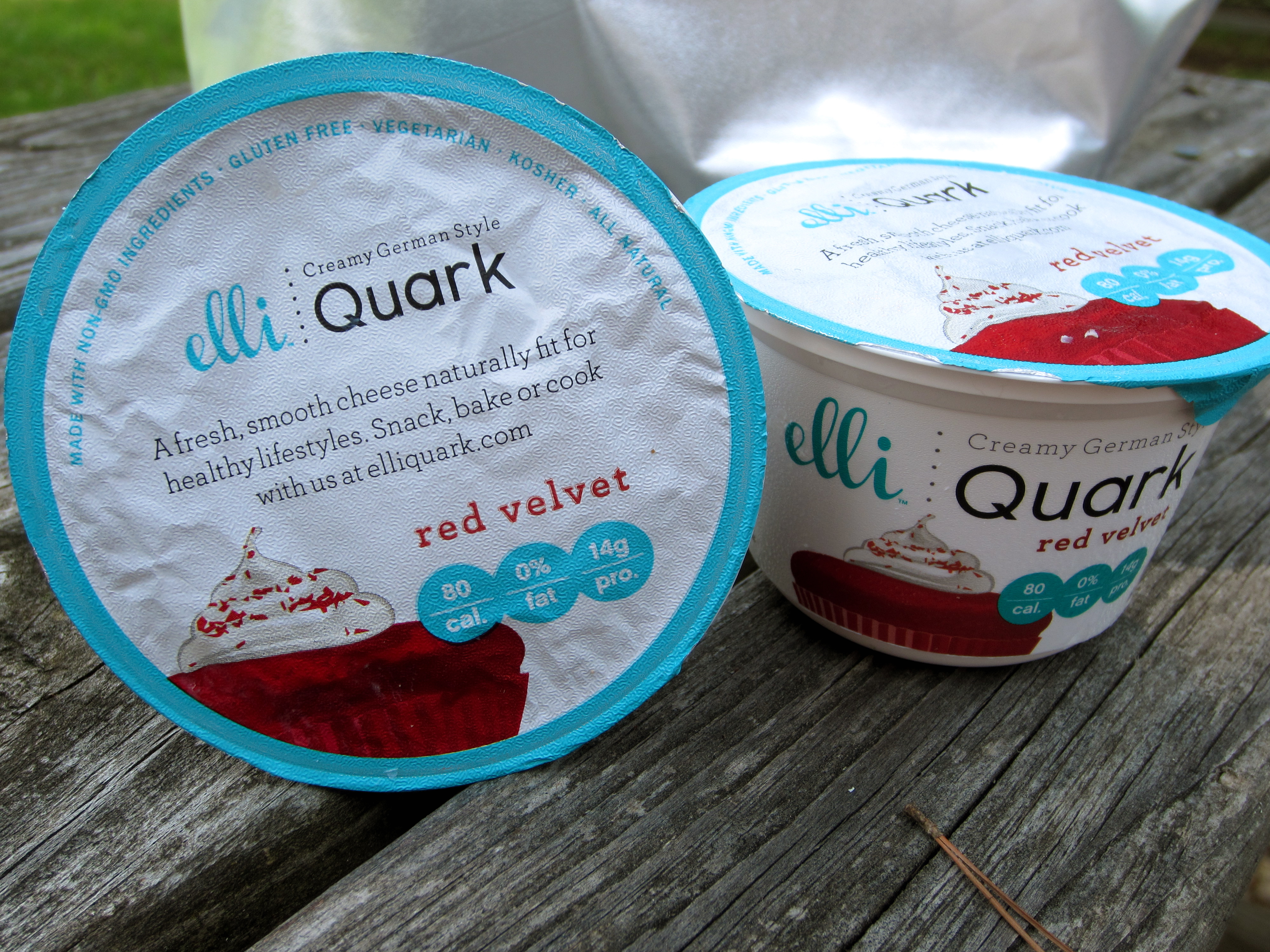 And then I knew these had to happen.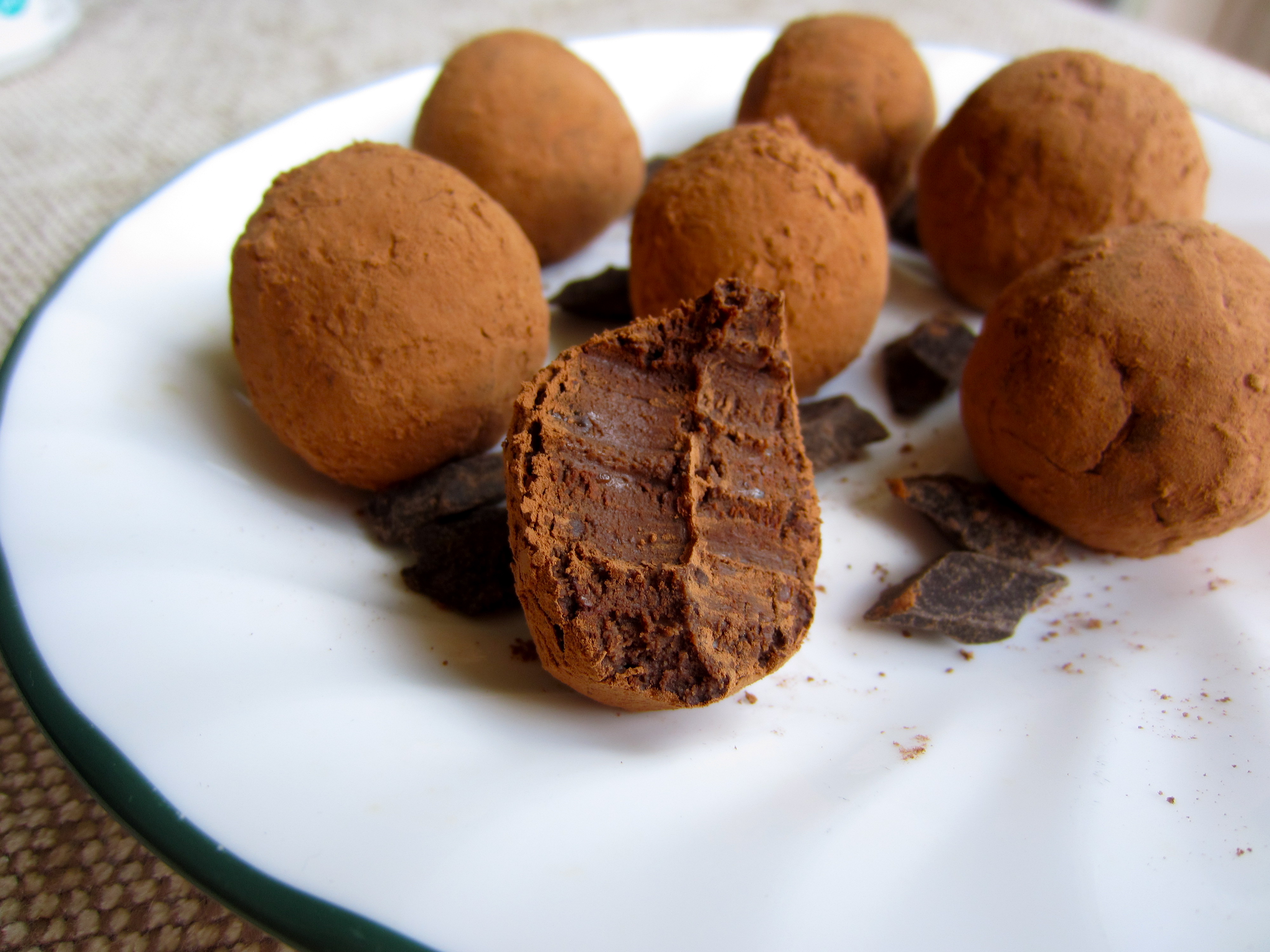 Truffles.
Easy, 4 ingredient red velvet chocolate truffles. Or chocolate balls. Okay fine, chocolate truffle balls. Oh, yeah. Whatever you want to call them, these are the perfect little bites to whip up and take to a party, or the perfect little bite to treat yo' self to. Made with just a few easy (wholesome) ingredients, it's the easiest bite of bliss you will ever make [for today, at least ;)].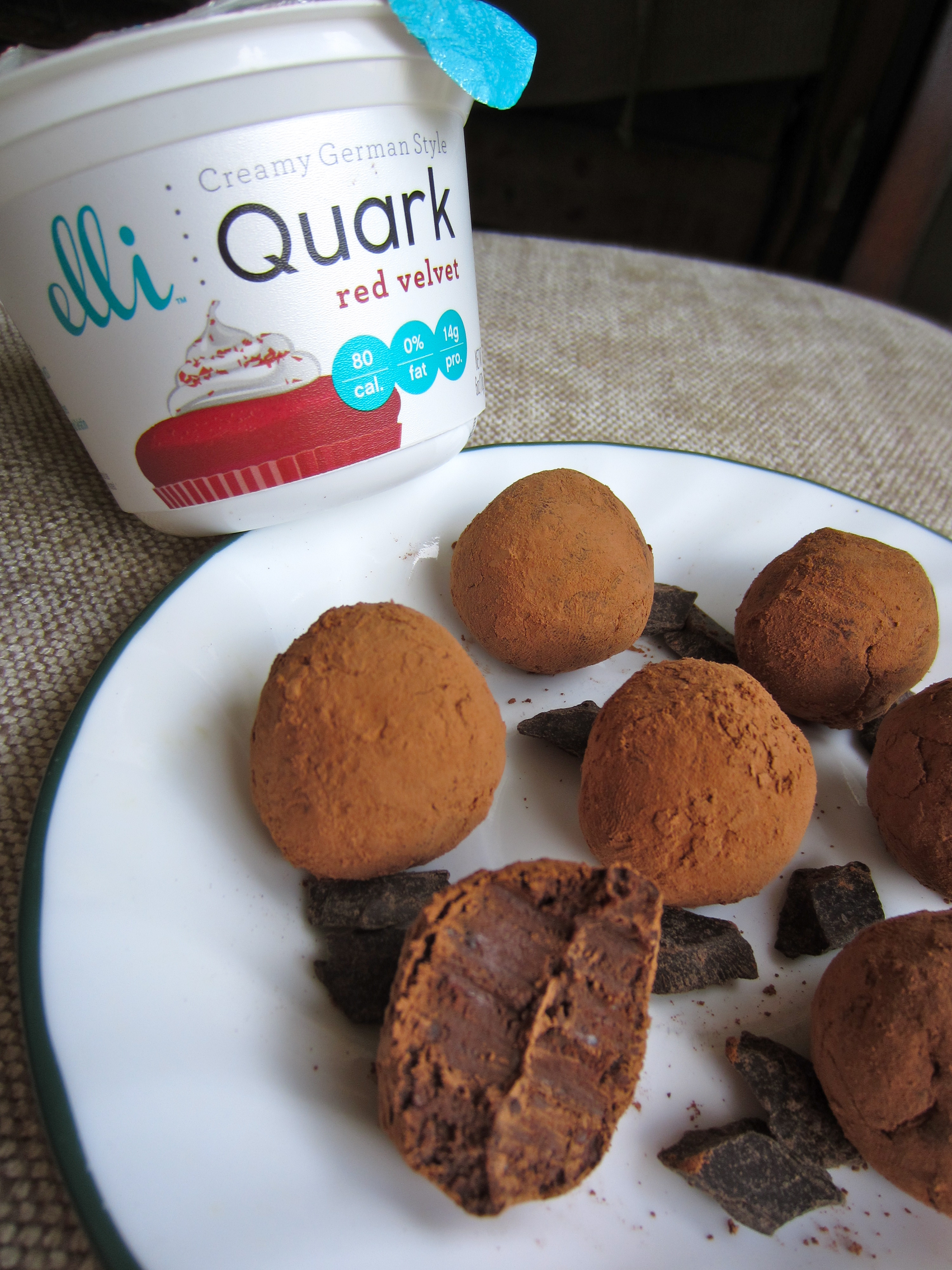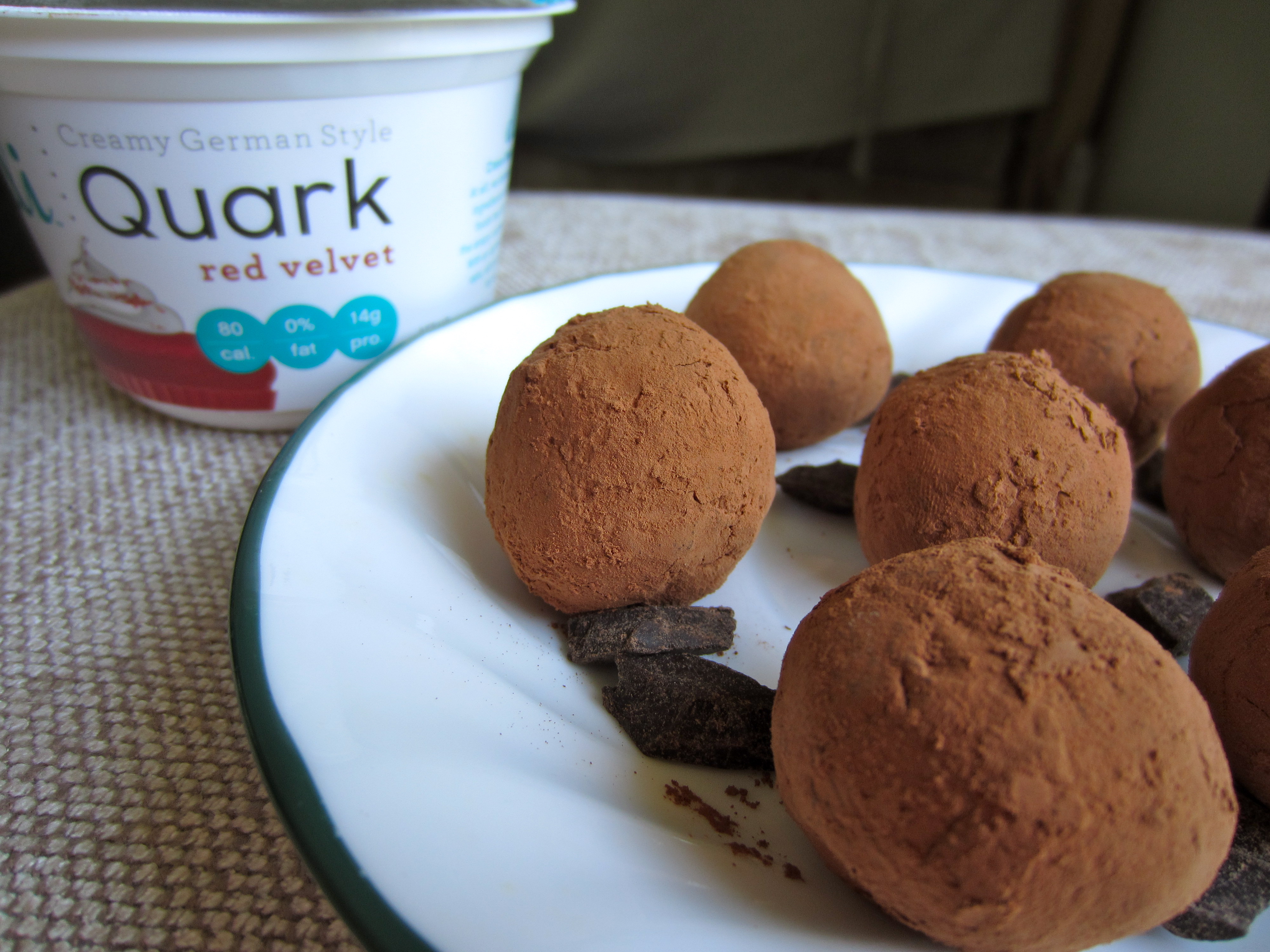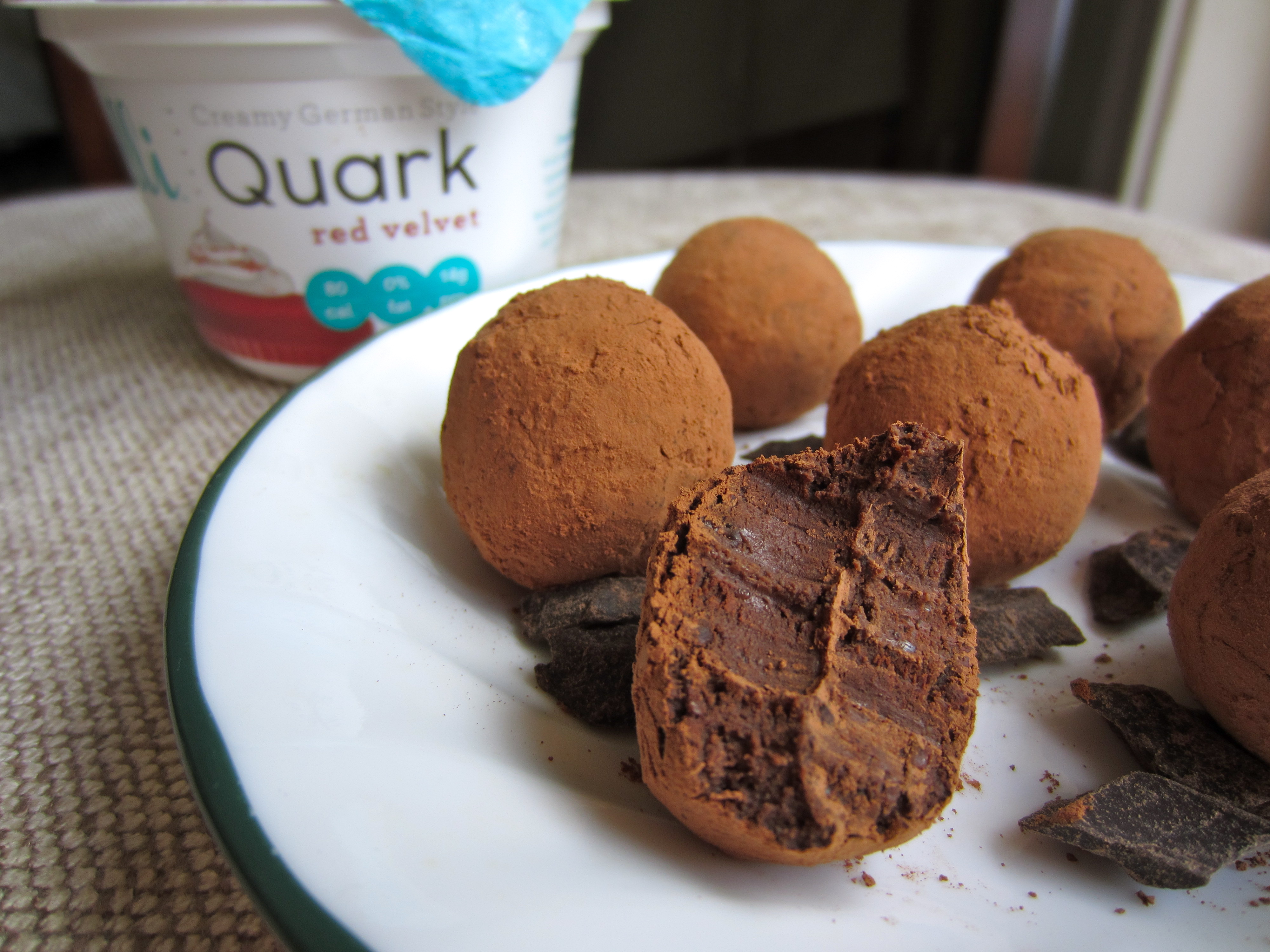 (Healthier) Red Velvet Chocolate Truffles
(yields 10-12 truffles)
Ingredients:
-1/2 cup dark or semi-sweet chocolate chips (I used Trader Joe's semi sweet chunks)
-1 (6oz) container of Red Velvet flavor Elli Quark (or 1/4 cup greek yogurt)
-1 tbsp almond butter (or any nut butter, I used Nuttzo Peanut-Free)
-1/4 cup extra dark cacao powder
Instructions:
1. Melt chocolate chips in the microwave at 15 second intervals, until melted.
2. Stir in nut butter and mix until well incorporated.
3. Add quark and mix to form a creamy consistency. Place in the refridgerator for about 20 minutes (or more, depending on how the mixture sets) until "dough" is hardened.
4. Taking about 1 tbsp of of the truffle dough at a time, roll into desired truffle form and coat them in the cocoa powder.
5. Store in refrigerator or freezer until ready to serve.
*Truffles will not last in high heat – so make sure that they are in the fridge or freezer until ready to serve!
(Visited 12,728 times, 12 visits today)