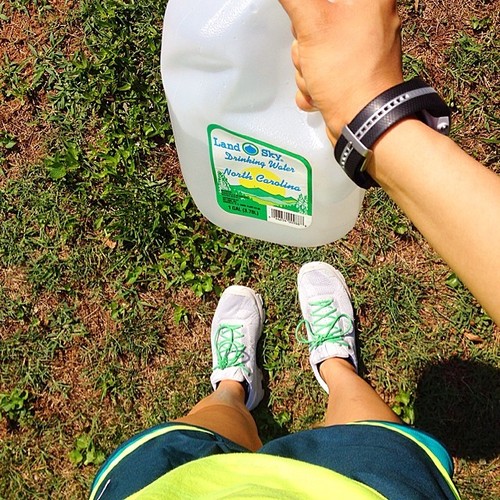 It's hot here in the South. 90 degrees at 8am makes for one sweaty run!
After a good morning sweat fest, I love to cool down with a good cold smoothie. Typically, I like to refuel after a workout with a good 3:1 carbohydrate to protein ratio. Protein would be a little bit higher on days after weight training. Most of the time my post-workout meal involves sweet potatoes and eggs! I'm all for fueling with nutrient dense foods – they work for me the best.
Smoothie-wise, however, I'm not that kinda girl to have eggs in her smoothies, so I aim for a good, dairy-free plant based protein powder. I have nothing against dairy protein powders – they just do not settle very well with me. Currently, I have Sunwarrior Vanilla Protein on hand, although I also use Vega Sport as well.
The sweet potatoe is one of my favorite smoothie ingredient these days because they add a creamier texture and less sugar compared to the other common smoothie base, the banana. I'm all for the natural sugars found in both, but the complex carbohydrates in sweet potatoes makes it a great carbohydrate choice after a workout.
Nutrition Breakdown, via United States Department of Agriculture:
Banana (100 grams)
Calories: 89
Carbohydrates: 23 grams
Sugars: 12 grams
Sweet Potato (100 grams)
Calories: 86
Carbohydrates: 20 grams
Sugars: 4.2 grams
I prefer bananas for a pre-workout snack – the simple fruit sugars breakdown faster to give me a boost during my workout.
I just wanted to share 2 of my smoothie combinations with sweet potatoes from last week. The natural sweetness in sweet potatoes is incredible in these smoothie recipes – no extra sweeteners needed.
Since I'm home for the summer before I enter the real world, it means my parents are gracious enough to share their abundance of purple sweet potatoes, which is my absolute favorite – lucky me! I added frozen grapes and blueberries to give an extra antioxidant boost and icy texture.
Purple Sweet Potato Recovery Smoothie
1 medium cooked purple sweet potato
1/3 cup frozen grapes
1/4 cup frozen blueberries
1 scoop vanilla protein powder
1/2 cup unsweetened almond milk
3-4 few ice cubes
Instructions:
Add to a high speed blender and blend until smooth.
*For this next combination, I made the combination even creamier by adding avocado (the love of my life!) I recommend having it as snack or for breakfast – although you can also have it after a workout as well! For me, however, I tend to keep fats pretty low after a workout, so I can absorb the protein and carbs more efficiently.
Sweet Potato Avocado Shake
1 medium roasted sweet potato
1/2 small avocado
1 scoop vanilla protein powder
1/2 cup unsweetened coconut milk 3-4 ice cubes
Instructions:
Add to a high speed blender and blend until smooth.
Have you tried sweet potatoes in your smoothies before?
If not, what's your favorite smoothie recipe?
(Visited 92 times, 1 visits today)