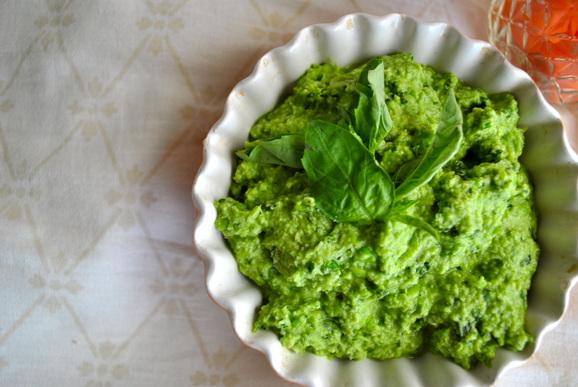 What do you get when you marry my two recent favorite food combinations?
A delicious dip. A delicious chickpea-less hummus!
Well, if I had chickpeas on hand, I would totally add them in, but since I am trying to clean out my fridge before moving out of my apartment, I ditched the chickpeas and this dip resulted. It has the texture of hummus, but with a more of a basil-y, pesto taste. Sometimes the most spontaneous creations are the best creations!
Edamame and Sweet Pea Hummus with Basil
2015-03-03 17:56:02
A delicious, high plant-protein dip made with edamame, basil, and sweet peas.
Ingredients
1/2 cup edamame, cooked
1/2 cup peas, cooked
1/3 cup basil leaves, chopped
2.5 tbsp olive oil
2 tbsp lemon juice
1/2 tsp Himalayan pink sea salt
Instructions
Add all ingredients to a food processor or blender and blend until desired consistency. Top with fresh basil leaves.
Nutrition Happens http://www.nutritionhappens.com/
(Visited 50 times, 1 visits today)