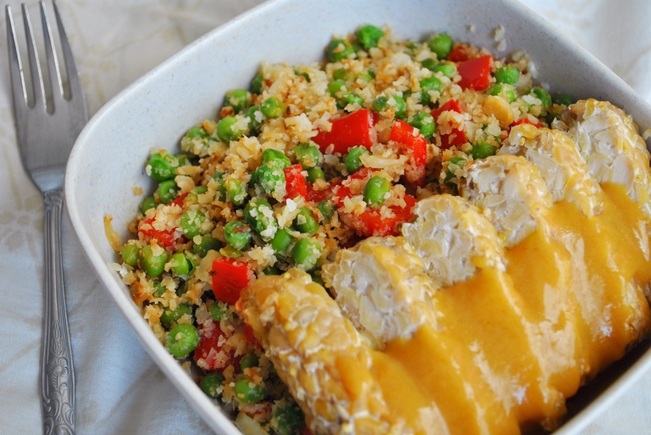 Every time I go home during a break from school, I always come back with loads of fresh groceries – all thanks to my generous parents! Growing up, my parents did an incredible job of allowing me to explore in the kitchen and introduced to me at a young age the different varieties of fresh produce available. We had our own garden and I remember my dad bringing in fresh watermelon every summer. Watermelon is good obviously in itself, but oh my goodness, fresh watermelon right from your garden is such a treat! I feel incredibly blessed to have such a strong and supportive family that shares the same interests as I do.
After coming back to school from Easter last weekend, I realized my mom had tucked in a giant head of cauliflower into my grocery bag. I love pretty much all vegetables, but I have always preferred broccoli over cauliflower. Maybe it was because broccoli looked like trees to me, and as a kid and that amused me. Okay, it actually still does! C'mon, I know you're with me on this one – doesn't broccoli look like trees?

Anyways, back to cauliflower. (I have a great attention span, as you can see) Cauliflower is an incredibly versatile vegetable – which is why I rarely just eat it plain. So knowing that I didn't want to eat it plain like broccoli (trees), I decided to put the cauliflower to good use as cauliflower "rice."
This is one of those recipes for those of you who really love having something good and hearty (like rice!) but are looking for a lower carb and higher nutrient alternative. When you grate or pulse cauliflower in a food processor, the texture resembles rice. I'm definitely not saying that rice is bad – remember, I think that all foods can be a part of a healthy diet! (And I'm a carb-lovin' type of girl.) But for me personally, I have never really been super into rice. I've mentioned this before, but I much prefer my starches to come from starchy root vegetables, quinoa or oats. However, sometimes when you need a big bowl of comfort food and aren't willing to skimp on the portions, cauliflower makes a great alternative. This also took me less than 30 minutes to prepare. Efficiency is the name of the game, friends!
And you guys know how much I love peas – so I had to include it here. I really can't help it- look at all those cute little peas rolling around!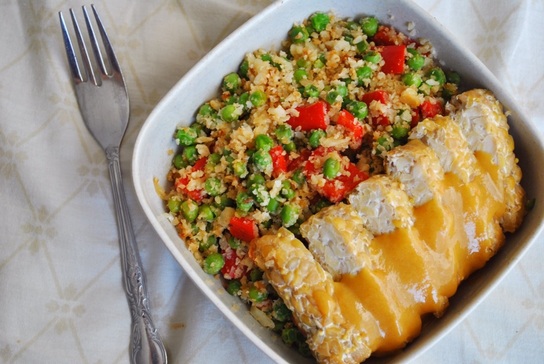 Sweet Pea and Red Bell Pepper Cauliflower Rice with Baked Tempeh
(serves around 4)

1 head of cauliflower**
1 cup of sweet peas
1 red bell pepper, chopped
Garlic powder (or 2-3 tsp garlic)
1-2 tbsp Coconut aminos (or Bragg's liquid aminos/ soy sauce)
Coconut Oil Spray (or 2 tsp coconut oil)
Directions:
1. In a food processor or blender, add cauliflower and pulse for about 10 seconds, until texture resembles rice.
2. Pre-heat stovetop to medium-high heat. Spray pan with coconut oil spray ( or add 2 tsp of oil) and add peas, red bell pepper and garlic. [Add garlic first if you are using fresh cloves – but if you are using garlic powder, you can add at any step]
3. After sautéing peas and red bell pepper until tender, stir in the riced cauliflower. Add in coconut aminos and cook for about 5 minutes until the cauliflower is tender and brown. Add any desired spices or extra garlic to taste!
*For the tempeh, I simply baked it at 400F for about 15-20 minutes, flipping halfway through, and then added Trader Joe's hot and spicy mustard – nothing too difficult or special! I typically have tempeh prepped for the week so I can grab and go. I love the texture of baked tempeh, best – but feel free to prepare it to your liking. My go to brand is Trader Joe's organic 3 grain tempeh.
**Note: 1 large head of cauliflower will generally yield 6 cups of "rice"
What's your favorite way to prepare cauliflower?
(Visited 94 times, 1 visits today)