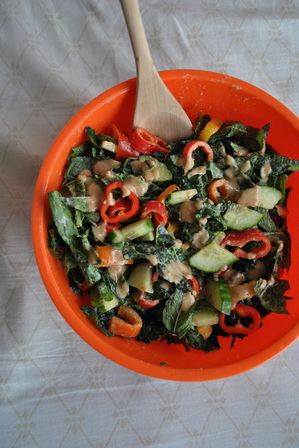 Well, here I am approaching the end of the semester and counting down the days until summertime – which really this means one thing – making batch salads that I can eat for a week straight!
This week's salad mix combines my favorite kale variety, the dinosaur kale (aka lacinato kale) and one of my favorite herbs, mint! I really prefer the smoothness of the dinosaur kale for raw salads. Most people recognize kale via the curly kind, but I find that lacinato kale is a little less bitter for eating raw. I prefer eating curly kale cooked, or warmed. Since I also had mini bell peppers and cucumbers on hand, I tossed them in as well. I'm all about cleaning the fridge – hate wasting good produce!
Also, did you know that I am a certified tahini addict? Well, actually, I just made that title up, but the truth still lies in the fact that I LOVE tahini. A little bit of savory to go with veggies and I'm sold. Those who know me understand that I am all about a sweet and savory combination. I tossed the salad together with a tahini-based dressing that pairs wonderfully with the crunchy kale.
And you know I'm a big fan of Powercakes – in addition to her peanut flour fluff, I have always been loving her creamy dijion sauce. I've been adding it to EVERYTHING. Mustard is life, folks! This time I tossed a variation together and added it to some leftover pre-cooked grilled chicken breast strips from Trader Joe's. Side of the kale salad. Talk about the world's fastest dinner, ever! You do not need to slave away all day in the kitchen to eat well. All it takes is a little planning and preparation!
---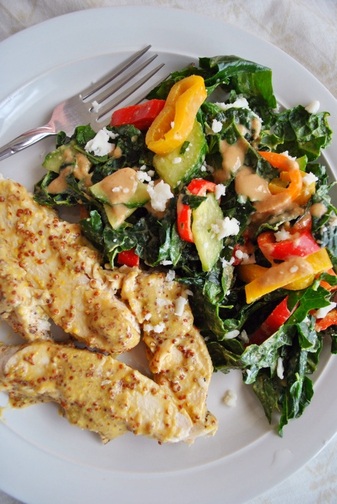 Kale and Mint Salad with a Spicy Tahini Dressing
(inspired by Food52)

1 bunch lacinato kale
1 cup mint
1 large package of mini bell peppers (or 1-2 red bell peppers)
1 medium english cucumbers
Spicy Tahini Dressing
2 tbsp tahini
2 tbsp warm water
1 tbsp coconut aminos
1 tsp garlic (fresh or powder)
1-2 tsp ginger (powder or fresh)
1 tsp olive or sesame oil
4 drops liquid stevia
Paprika to taste
Directions:
Chop kale and mint into bite-sized pieces and toss together with bell peppers and cucumbers. Combine all the ingredients for the dressing and either mix by hand or in a blender. Toss dressing with the salad and serve immediately. Leftovers can be placed in the fridge for 3-4 days.
Hot and Spicy Dijon Mustard Chicken
1 tbsp nutritional yeast
1 tbsp Trader Joe's whole grain dijion mustard
1 tbsp apple cider vinegar
1/2 tbsp Trader Joe's Hot and Spicy mustard
3-4 drops liquid stevia
4-5 oz grilled chicken breast
Directions:
Combine dressing and toss with cooked chicken, coating evenly. Add extra dressing on top as desired.
(Visited 89 times, 1 visits today)