Have you tried 
Nuttzo
 nut butters yet?
They are a little bit different from your usual nut butter because it contains a blend of 7 different nuts and seeds – and I personally LOVE the blended flavors of all of the nuts!
Currently, it is available in an Original, Chocolate, and Peanut-Free flavor (in both creamy and crunchy) – offering a pretty standard selection to cover a wide taste palate.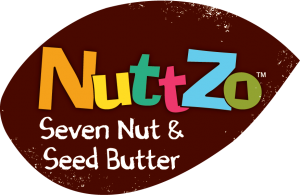 The products boasts of a short ingredient list:
Nuttzo Original 
Ingredient List: Peanuts, Almonds, Cashews, Hazelnuts, Brazil Nuts, Sunflower Seeds, and Flax Seeds.
Nuttzo Chocolate

Ingredient List: Dark Chocolate, Peanuts, Almonds, Cashews, Hazelnuts, Brazil Nuts, Sunflower Seeds, and Flax Seeds.
As you can see from the ingredient list, it is short, simple and to the point – the way nut butters should be. Just nuts, no added oils or sugars. The thing I enjoy about Nuttzo is the benefits of the added flaxseeds, for extra omega 3s! When blended together, the mix of nuts create a very delicate nutty flavor, which I love. Not overtly sweet but just flavorful enough – even with the chocolate flavor! I'm big on texture in foods so the fact that I can still get a little bit of texture from the flaxseeds makes this product even better for me. If you note the ingredient list, the chocolate flavor is made with just the addition of dark chocolate – at only 2 grams of sugar per serving. Who doesn't want a little dark chocolate every now and then? Sort of reminds me of Nutella, but way less sweet and so much more flavorful.
Nuttzo is also currently 100% organic given the USDA parameters and Non-GMO certified.
The design of the jar is unique in the fact that it is upside down. According to Nuttzo, this helps prevent the oils from being separated. Good for this klutz here, because I have DEFINITELY opened a fresh jar of nut butter and spilled all the natural oils on me before I even take a taste test. Has that happened to you before? [Please say yes]. 
I have previously found Nuttzo at my local Whole Foods for anywhere between $13-18 per jar. Recently, they had a sale on their website, selling jars for just $5! Such a steal. If you haven't already, I suggest you head on over and stock up!
What do you think of Nuttzo? 
(Visited 59 times, 1 visits today)