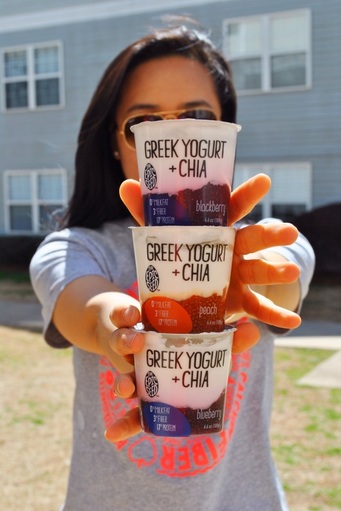 If you know me at all, you probably know about my slight obsession with chia seeds.
Not only to they add the perfect texture/crunch to anything, but they pack in a ton of nutrition benefits. Per serving, chia seeds pack in 60% of Omega 3's.  According to the Academy of Nutrition and Dietetics, research has shown that consumption of chia seeds may be beneficial in reducing the risk for cardiovascular diseases – these little seeds are jam packed with vitamins and minerals!
But really, I put chias on everything.
So when Jesse over at The Epic Seed sent me a few of their products to try, my chia radar obviously buzzes off the charts.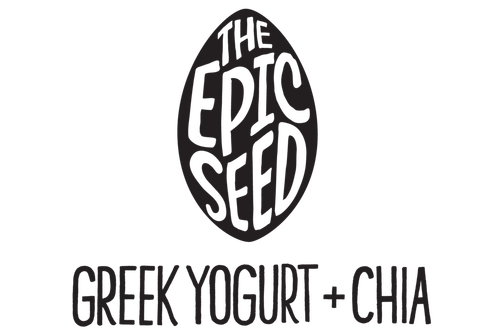 Ready for this greek yogurt-y, chia seed-y, creamy, delicious-y creation?
You know my love for greek yogurt by now, so the combination of chia seeds and greek yogurt couldn't sound any more perfect to me. The products over at the Epic Seed is basically a greek yogurt infused with chia seeds and a touch of fruit. I love that it is made with wholesome ingredients I can understand and pronounce [i.e. chia seeds, fruit, and yogurt – all you need in life] and each serving contains 17 grams of protein and 850mg of Omega-3 fatty acids. A true nutrition powerhouse combination! Seriously though, every health nut's dream.
If you have ever had chia pudding before, this sort of reminds of that. Only creamier – from the yogurt, which I much prefer. And then there's an addition of fruit, which adds exactly the right amount of sweetness.
Currently, here are flavors available:
Strawberry
Blueberry (my favorite!)
Blackberry
Peach

Here's a breakdown of the nutritional facts, based off The Epic Seed's website:
Strawberry Flavor
Calories: 150
Fat: 1 gram
Carbohydrates: 17 grams
Protein: 17 grams
Fiber: 3 grams
Omega-3 = 850mg
Omega-6= 310 mg
Ingredients:
Strained yogurt – Pasteurized Skim Milk, Live Active Cultures (L. Bulgaricus, S. Thermophilus, S. Acidophilus, B. Lactis) Fruit and Chia base: Hydrated Chia (Water, Chia seeds), Strawberries, Pure Cane Sugar, Natural Flavors, Purple Carrot Extract, Citric Acid.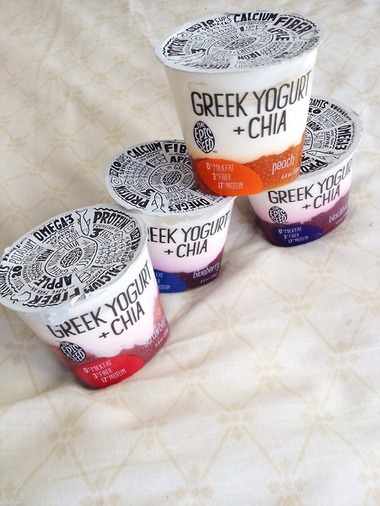 Personally, these make a perfect snack for me after a long workout – the combination of the protein, fiber, and omega's are exactly what I look for to refuel  from a hard workout. But at just 150 calories per serving, this makes for a great snack anytime through the day or the perfect accompaniment to breakfast or lunch.  Texture-wise, I love the way the chia seeds adds texture to the creaminess of the greek yogurt – creates a really delicious combination!Aside from the excellent nutritional benefits of the yogurt, I also really like the company's passion and mission to produce a wholesome, high quality product that is both good for you and the environment. Read about the company's use of quality ingredients 
here
.
Check back later this week for some of the ways I've been using my Epic Seed yogurts, But first, how about greek yogurt protein some muffins?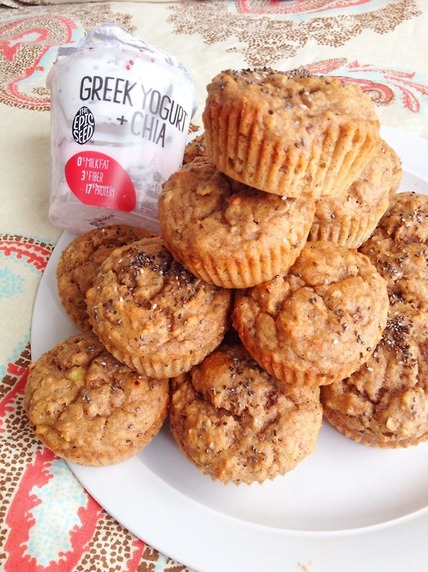 Maple Peanut Butter Banana Strawberry Chia Protein Muffins 
Ingredients:
3/4 cup spelt flour
1/2 cup quick oats
1/4 cup flaxseed
1 tsp baking powder
1/2 tsp baking soda
1/2 tsp cinnamon
2 large ripe mashed bananas
1/2 cup maple peanut butter (or peanut butter + 2tbsp maple syrup)
2 tbsp honey ( or agave/maple syrup)
1 large egg
1 tsp vanilla extract
1 tsp butter extract
1 container of Strawberry Chia greek yogurt via The Epic Seed [ or 1/2 cup strawberry greek yogurt + 3 tbsp chia seeds]
Instructions:
Preheat oven to 375F.
Combine spelt, oats, flaxseed, baking powder/soda, cinnamon together. In a separate bowl, mix bananas, peanut butter, honey, egg, extracts, and yogurt.
Mix dry ingredients into wet. Spray muffin tins and add batter.
Bake for 15-18 minutes, or until golden brown. Makes about 12-15 muffins.
A big thanks again to Jesse and the folks over at the Epic Seed for such bomb products. Head on over the Epic Seed'ssite to look for a yogurt near you!
(Visited 950 times, 1 visits today)