Alright, confessions from this coconut crazed lady time. You know those completely addicting Snakaroons? Or Coco-roons? The kind with coconut and stuff? Though they are INCREDIBLY tasty [ let's face it – no one can turn down macaroons] , it is currently classified in my mind under the list of things that are toooo good. By that I mean good for my soul, bad for my wallet [ College kid problems. Or rather, college senior that is about to graduate soon problems.]
So in celebration for my love of coconut, macaroons, and not wanting to pour my wallet's contents towards these delicious treats, I decided to whip some up of my own. And I dipped them in peanut butter. You're welcome.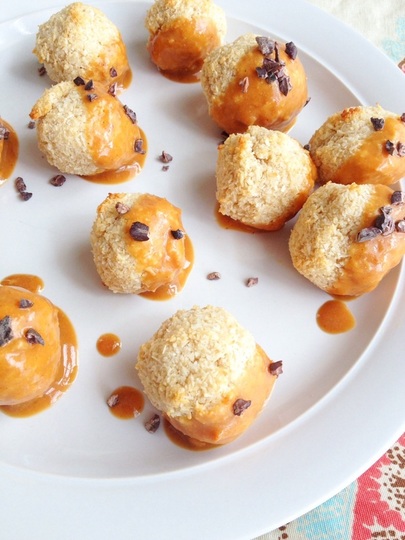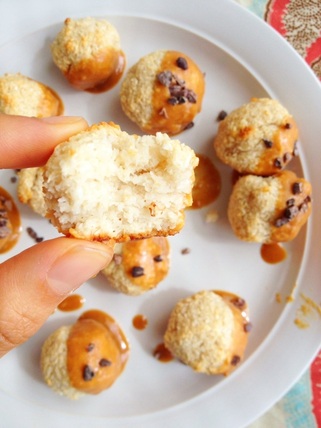 Peanut Butter Dipped Coconut "Macaroons"

1.5 cups unsweetened coconut shreds
2 tbsp oat flour
1.5 tsp vanilla extract
2 egg whites
2 tbsp unsweetened applesauce
1.5 tbsp maple syrup (or agave/ honey/ choice of liquid sweetener)
Extra garnish:
Cacao nibs (optional)
Peanut Butter dip – (2 options):
Option 1:
4 tbsp of peanut  butter of choice, melted + 1 tsp vanilla extract
Option 2:
1/4 cup peanut flour
10 drops liquid stevia
1 tsp vanilla extract
2 tbsp melted coconut oil
Instructions:
Preheat oven to 325F.
Mix coconut, oat flour, vanilla extract, egg whites, and applesauce together. Form dough and roll into a ball or macaroon shape. Makes around 12 – 13 macaroons.
Spray a baking sheet [I used coconut oil] and baked macaroons for for 23-25 minutes or until golden brown. Allow for macaroon to cool completely.
For PB option 1, simply melt peanut butter and dip macaroons in before serving. Sprinkle with cacao nibs for extra texture!
For PB option 2:
Melt coconut oil and combine together with peanut flour, vanilla extract, and stevia. Dip macaroons into the "sauce" and allow to set before serving. Sprinkle with cacao nibs for extra texture!
(Visited 35 times, 1 visits today)