Yeah…the most tragic of all breakfast tragedies.
Or so I thought.
Don't worry, I'm restocked on my beloved oats now, but I tell ya, that morning I ran out of oats, I thought about crawling back into bed again.
[Always, the solution, right? I'm such a good influence.]

But rather than actually crawling back into bed, I decided to do a variation of my protein mugcake and call it the 'protein oatcake' – and it was basically like having cake for breakfast, which is the second best thing to oats. [Right?] I recently bought Vega's Vanilla Chai protein powder and thought it was a fun way to pack in some protein for breakfast. Instead of oats I actually had oat flour on hand – so that is what I used in this recipe. You can also ground up whole oats in a food processor if you don't have oat flour. I ended up loving it so much that I have to admit to you that I cheated on my oats these past few mornings in favor of it. I'm so bad and rebellious, I know.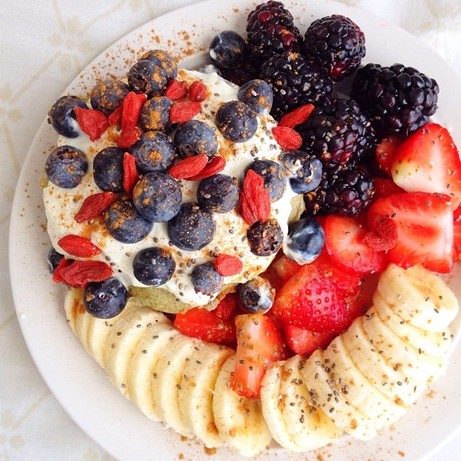 Vanilla Chai Protein Oatcake
Serves 1
2 tbsp vanilla chai protein powder (I used Vega Vanilla Chai)
2 tbsp oat flour (or 2 tbsp oats, grounded up in a food processor)
1/2 tsp baking soda
1 pack stevia
1/2 tsp vanilla extract (optional)
2 egg whites (6 tbsp)
1 tbsp almond milk
Mix all ingredients together into a mug or bowl, and microwave for 90 seconds. Top with desired toppings. Pairs well with mixed berries and any fruits! I also topped mine with a dollop of plain non-fat greek yogurt.

So you have my word here, folks – you can definitely have your breakfast cake and eat it too. Just in a less sugary, protein-filled way. Happy eating! 
(Visited 40 times, 1 visits today)