It's February 19th, and currently a sunny 70 degrees here today.
I'm only pointing out this obvious fact because this is what I was doing last week:
After a few inches of snow and 3 days off from class, I'm ready for spring and warmer weather! [My apologies to my Northern readers – but I guess this is South Carolina weather for ya!] I don't know about you, but I get cabin fever if I'm stuck inside for too long. I would rather be prancing outside somewhere.
[You're welcome for the wonderful image of me prancing outside somewhere. I'm adorable and you know it.]

Also, this video:
https://www.youtube.com/watch?v=FDzRIg6cV3g#action=share
She gets me. Also, kudos if you make it through all 3 minutes and 19 seconds. 
In celebration of my favorite weather, I decided to whip up a smoothie after my workout today. Refreshing is the name of the game lately – I've been craving every fresh produce in the book lately! But hey, you gotta give the body want it wants.

I love smoothies, and I typically do a mixture of some type of green (spinach or kale) + banana + berries + almond milk + protein powder.
But for days when I want something lighter, I take out the banana and protein powder and leave in just the greens. To make the texture a bit fluffier and creamier without the banana, I add in xanthan and guar gums, which are both thickeners that really adds texture to my shakes and smoothies. [I order both from IHerb] I also use less berries and add applesauce for a little sweetness – but not the too overtly tooth numbing sweetness.
This smoothie makes a great addition to a meal or snack – one of my many ways to get those greens in! Maca powder is added for superfood kick!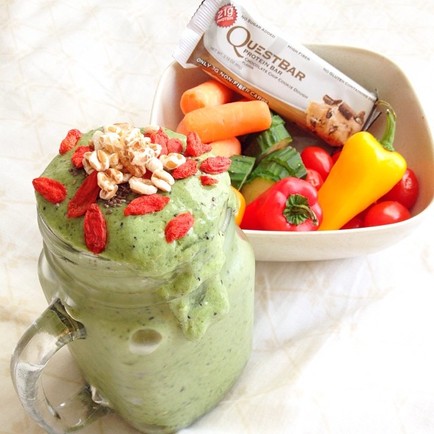 NutritionHappens Low Sugar Green Smoothie
Serves 1
1 cup (or handful, or however much you want) spinach
1/4-1/3 cup frozen blueberries
1 tbsp maca powder
2 tbsp oats
2 tbsp apple sauce
1/4th of an avocado
1 cup almond milk
4 drops vanilla stevia
handful of ice
1 tsp vanilla extract (optional)
1/2 tsp xanthan gum
1/2 tsp guar gum
Add everything but the xanthan and guar gums to a high speed blender and blend. After a few minutes, add in the gums and keep blending until the desired texture is reached. I like to add crunchy toppings to my smoothies for texture – goji berries and chia seeds are my favorite!
What are your favorite smoothie recipes?
(Visited 27 times, 1 visits today)